As regular readers know, I'm in the process of relocating from Tampa to Bellevue, and one of the questions I faced was whether to drive or ship my car cross country. I decided on the latter after getting some quotes, since gas alone would've cost me almost as much as just shipping the car.
So I went ahead and made the booking, and got to the confirmation page in a matter of minutes. It included the following: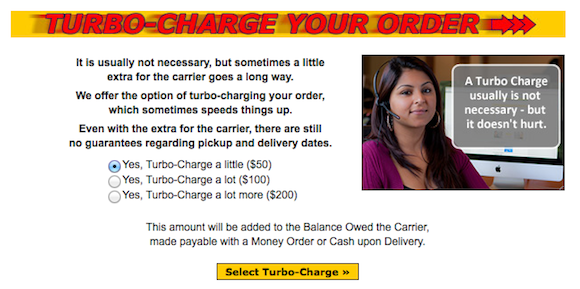 This cracks me up on so many levels:
"It is usually not necessary"
"Even with the extra for the carrier, there are still no guarantees regarding pickup and delivery time"
"A little," "a lot," and "a lot more"
Then again, it felt no different than being waitlisted for an upgrade while being offered a buy up to first class at check-in…
On a more serious note, I'm curious, should I do it? Anyone have any experience with this? If $100 got the car there a few days earlier it would totally be worth it. But I'm not convinced it actually makes a difference.