A couple of days ago I posted about how I (stupidly) had an accident in my rental car in Germany, and you guys were more helpful than I could have ever dreamed of, so thank you! Up front, here's a picture of the damage, since a lot of you have been asking just how bad it was: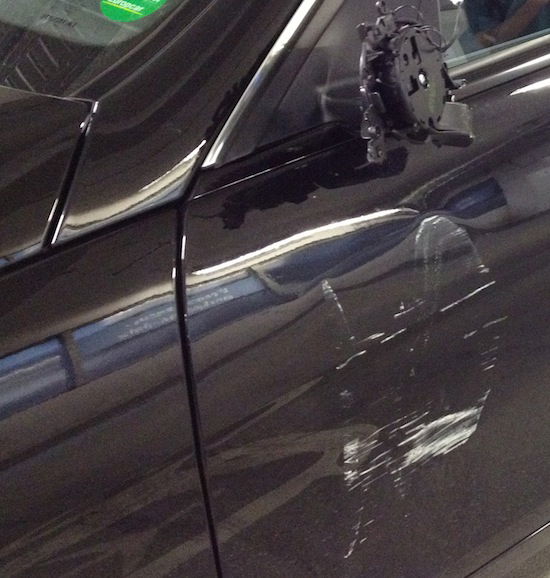 With that out of the way, here's how it went down, since I had the accident at about 10PM in Berchtesgaden, and had a flight the following afternoon out of Munich, at around 3PM.
We left Berchtesgaden for Munich at around 10AM, and the ride was supposed to take ~90 minutes. Unfortunately traffic was awful, so the drive took about three hours instead.
I was driving without a driver's side mirror so was worried I'd be pulled over by the police, though amazingly enough I didn't see a single police car until we were on the airport grounds about to return the car, at which point the police car followed us.
He drove up close behind me and it looked like they were running the license plate. I made a left turn and the cop made a left turn as well. Crap. Fortunately when I turned into the rental car return area the cop didn't follow me, so at least I didn't have to deal with the police.
I was even more terrified of the reaction I'd have to deal with from the people at the rental car agency. Munich Airport has contract workers that handle rental car returns, so all agencies' cars are returned in the same place, and employees come up to your car once you park it to take the keys, record the speedometer, etc.
I was embarrassed and terrified about the situation, so as the guy walked up to my car I simply said "I had a bit of an accident, unfortunately." He didn't say a word, took a few pictures of the damage using the portable tablet he had, and said "okay." "Okay?!?" I was fully expecting someone like Matt from "Operation Repo" to come outside and kick my a$$ when they saw my accident, though there was none of that.
I asked the guy what I should do next, and he said "you can go to the Europcar counter if you want." If I want?! You mean I'm not going to be handcuffed and taken to prison? Whew.
I did that, and explained to the agent at the Europecar counter that I had a bit of an accident with my rental car, and handed him the invoice I was given for the rental by the agent outside.
He said "okay, and what do you want me to do?" I said "shouldn't I fill out a form or something?" He walked away and said "you can fill out this form." I just had to write down my name, address, and my recap of the accident (aka "I'm an idiot and hit a pole"). He photocopied it and sent me on my way. He said they would contact me if I needed to pay anything, though said when the damage isn't too bad they usually won't even contact the person.
So yeah, that was far too easy. Maybe they deal with accidents all the time, but I was amazed by how calm/lax everyone was about it. I figured a manager would be called right away, he'd ridicule me, and then I'd have to fill out paperwork for hours.
I'm not sure what exactly I should do now. I believe I have 30 days to file my claim with American Express. My Europcar rental came with 1,050 Euros worth of insurance, which is the standard for them, so I'm not sure if that will cover it or not (I suspect not?).
Do I contact American Express anyway to open a claim, or should I wait a couple of weeks to see when Europcar contacts me, still leaving plenty of time for me to file a claim with American Express if need be?
Thanks again to everyone for their help, and I've gotta say this experience was at pleasant as I could possibly imagine (well, within the realm of being an accident). Unfortunately I suspect it's not over yet, but I guess we'll see!