---
We arrived in Santiago at 9:40PM, while our connecting flight was at 11:40PM, so we had a decent connection time. However, the transit process ended up taking longer than expected. I found the signage in the airport to be bad, and as we made our way from the domestic terminal to the international terminal, we followed the signage towards business class check-in, figuring there might be a priority security & immigration queue there.
Well, there was a premium queue, though it took forever. There was one immigration officer working, and there must have been at least three dozen people in line. So we ended up having to wait about 30 minutes. On the plus side, the bottleneck was at immigration, and then there was no wait at the premium security line.
The security line let out right into the LATAM VIP Lounge. Unfortunately we only had a few minutes in the lounge, so I won't be reviewing it this time, especially given that it was crowded, making it tough to get good pictures.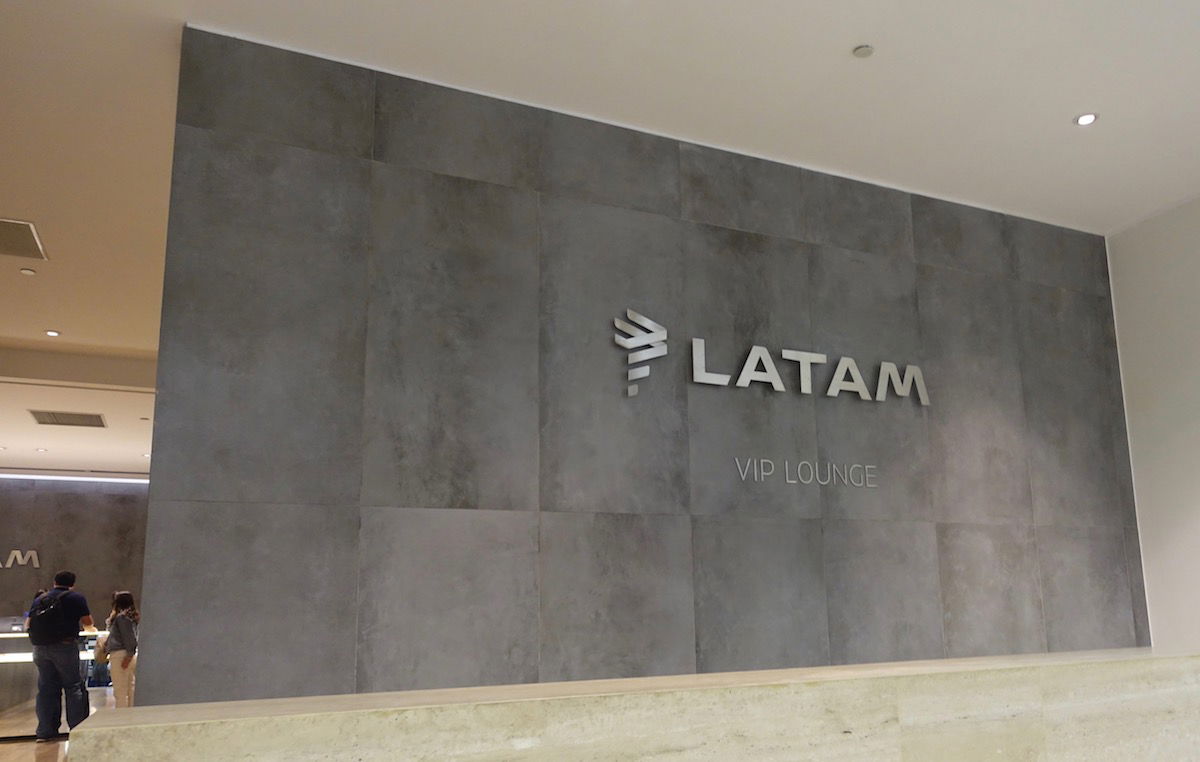 LATAM VIP Lounge Santiago Airport
Our flight was departing from gate 17A, and we got there just about five minutes before boarding started, at around 10:55PM.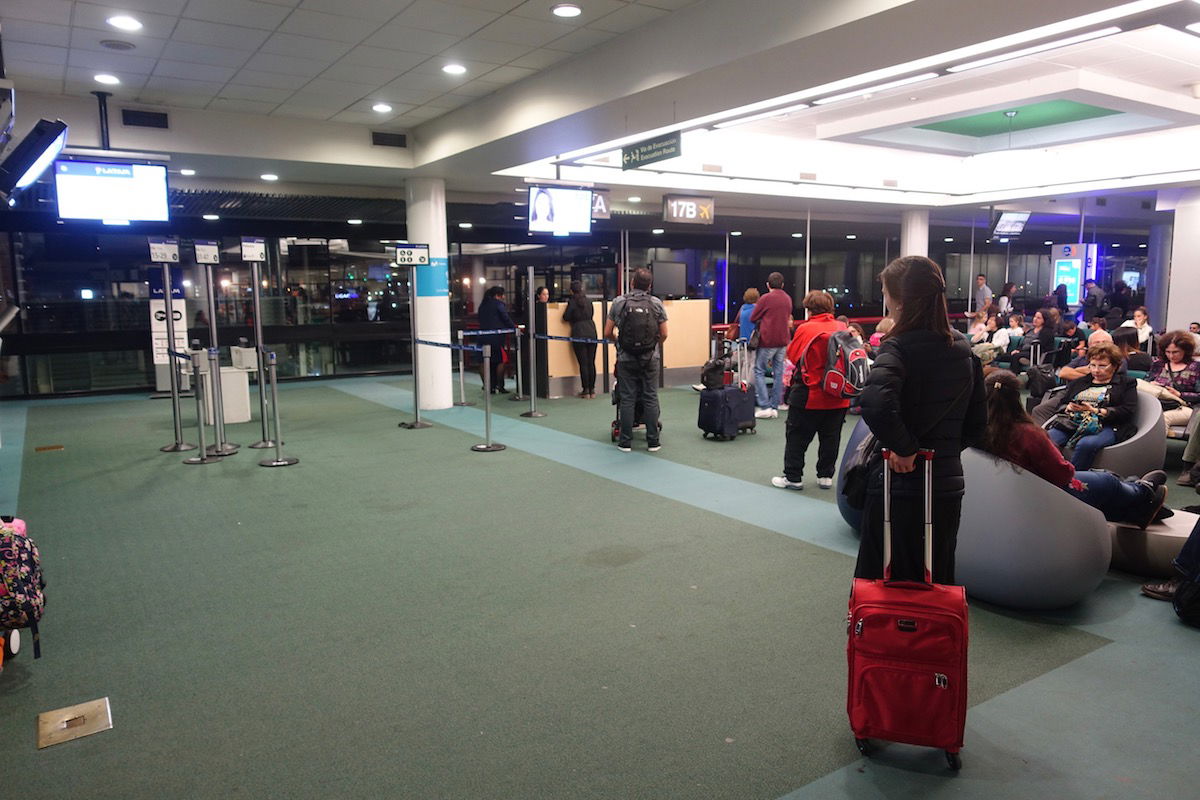 LATAM departure gate to Mexico City
LATAM 622
Santiago (SCL) – Mexico City (MEX)
Wednesday, December 6
Depart: 11:40PM
Arrive: 5:30AM (+1 day)
Duration: 8hr50min
Aircraft: Boeing 787-8
Seat: 2C (Business Class)
At the door we were greeted by the flight service manager, who had zero charm. While the previous crews were all fairly friendly, this one wasn't. They were downright cold.
This flight was operated by the same 787-8 we had from Mexico City to Santiago, featuring 30 business class seats, spread across two cabins.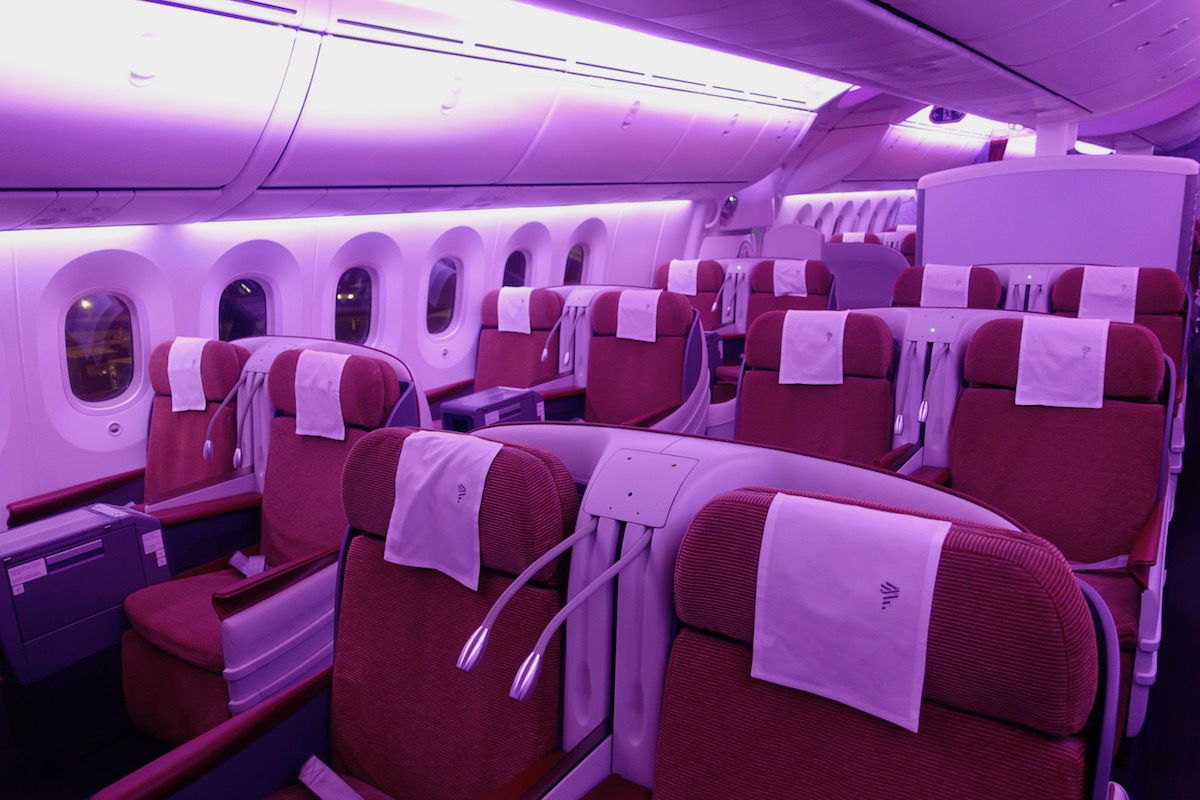 LATAM 787 business class cabin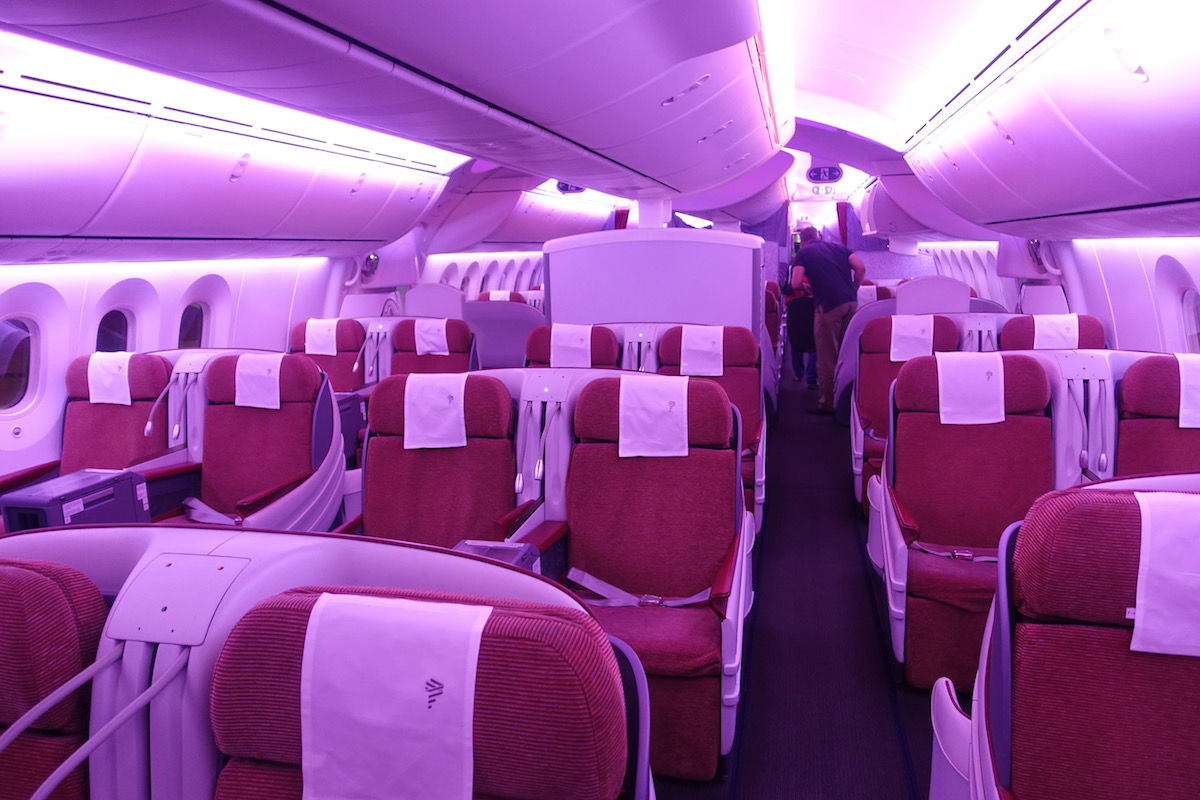 LATAM 787 business class cabin
This time around we assigned ourselves seats 2A & 2C. These are standard seats in the cabin, though personally I far preferred the seats we had in row four on the way out, which I found to be much more private and cozy.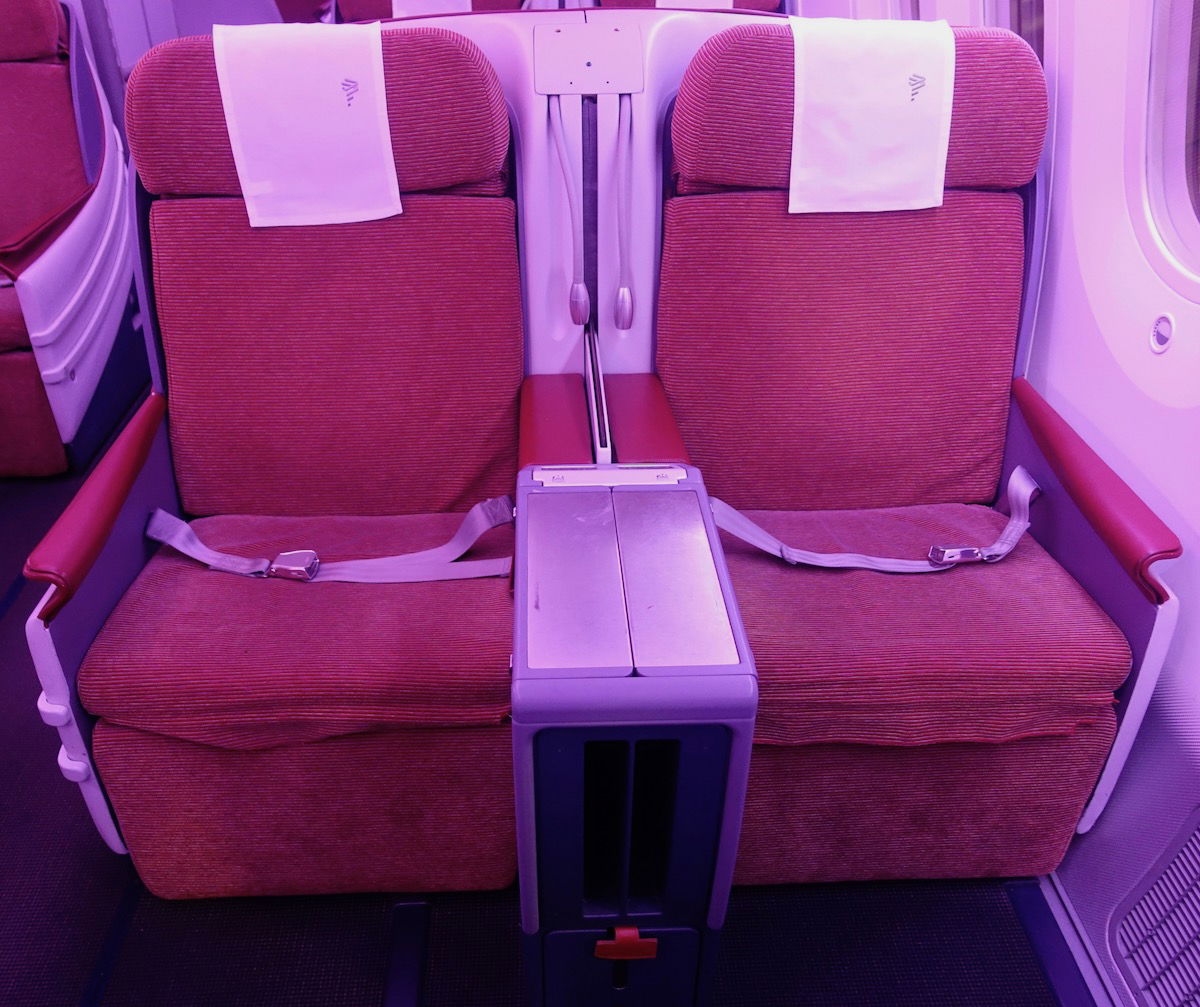 LATAM 787 business class seats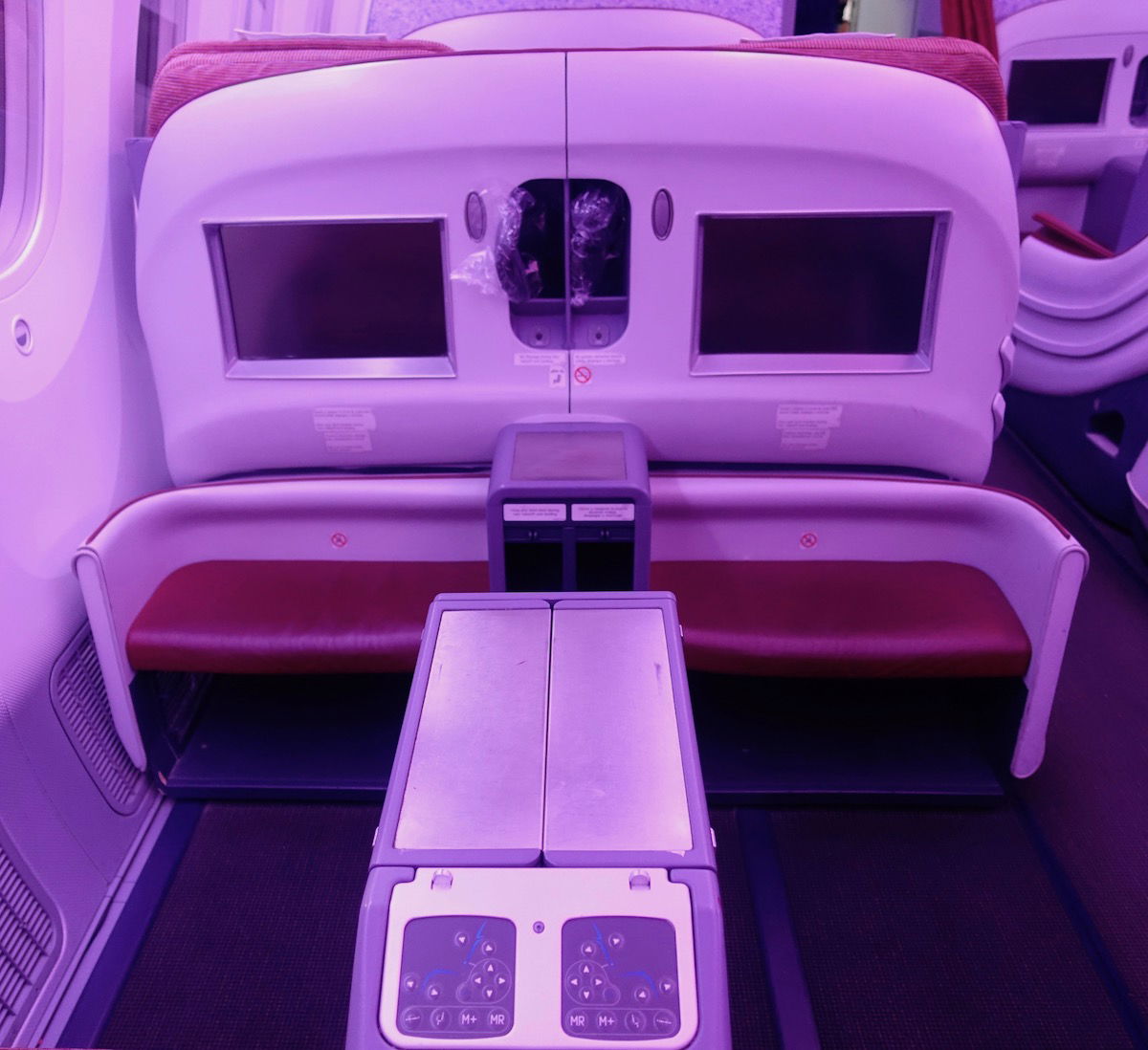 LATAM 787 business class seats
By the way, am I the only one who finds the bulkhead to be hideous? That's another advantage of row four — you don't have to look at that ugly bulkhead the whole flight. 😉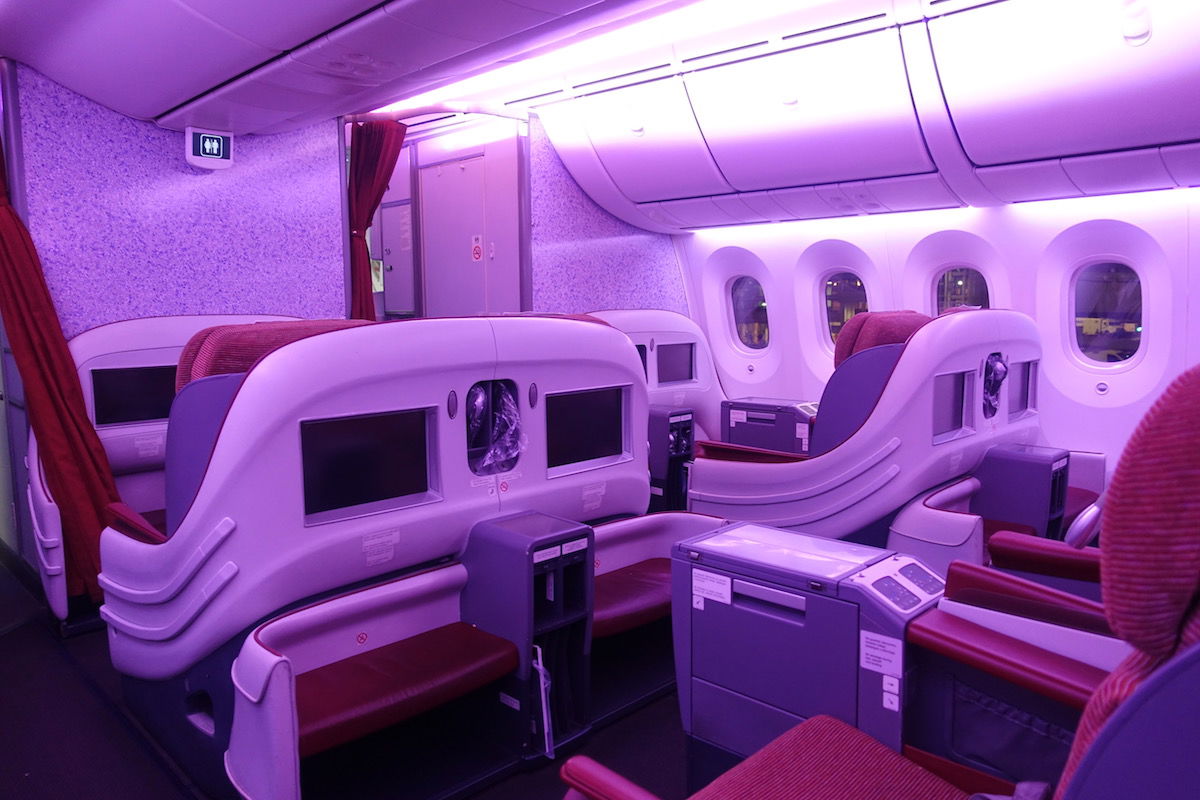 LATAM business class cabin 787
A few minutes after settling in, "our" flight attendant introduced herself and asked if we wanted anything to drink (rather than coming around with a tray with four options). We both just asked for water, and minutes later she returned with that along with some nuts.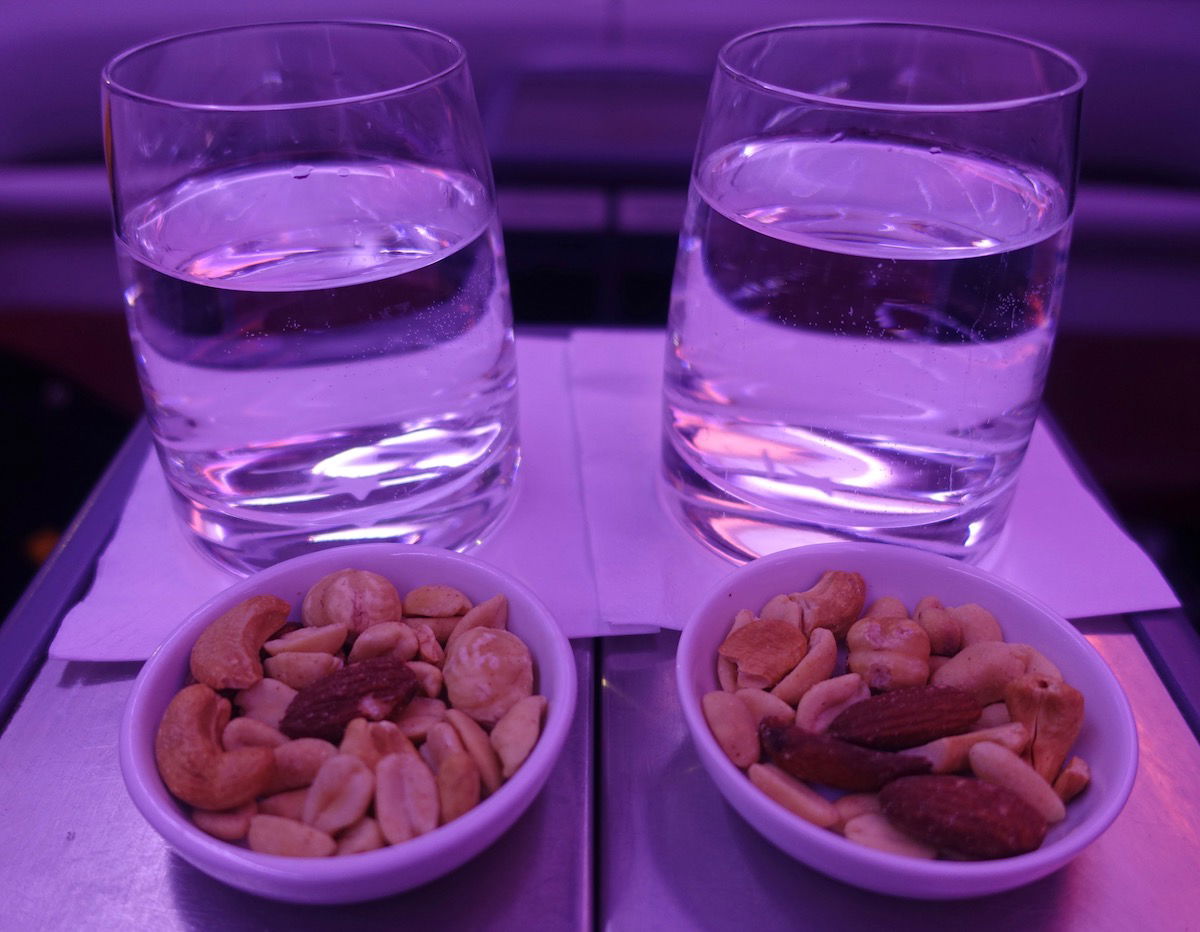 LATAM business class pre-departure drinks & nuts
She then returned with LATAM's excellent amenity kit, landing cards for Mexico, and a menu. This was the first of the four LATAM flights where we received menus.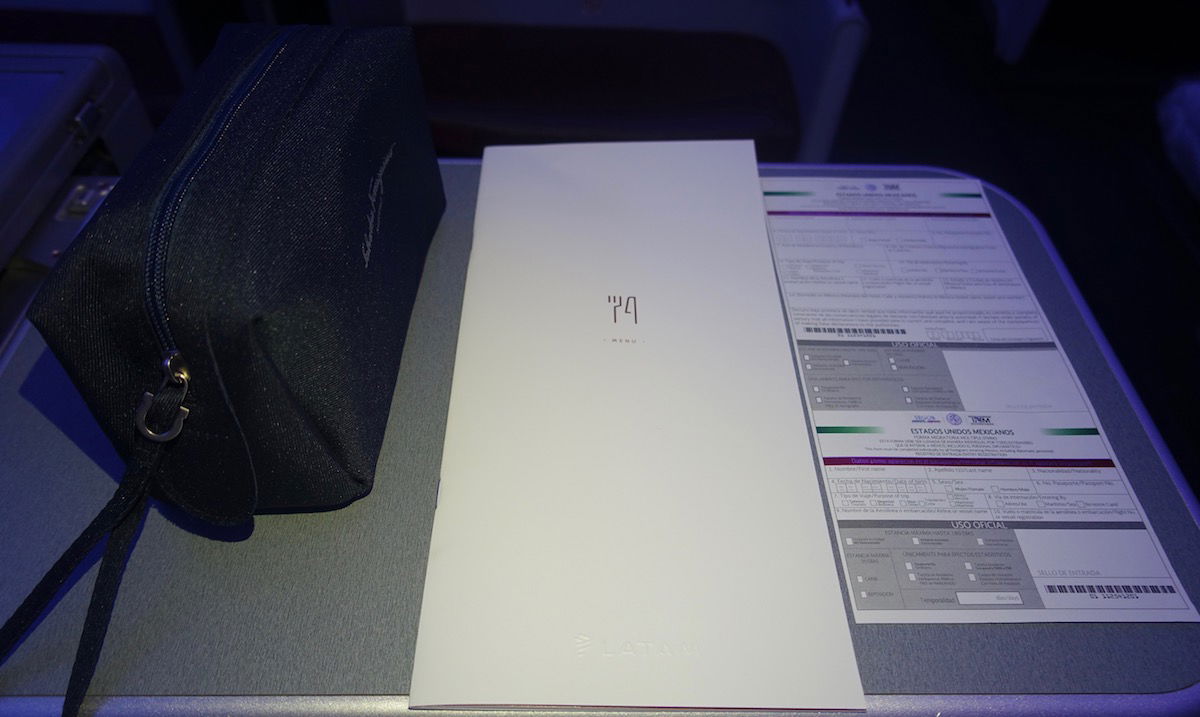 LATAM business class amenity kit, menu, and landing card for Mexico
Since this was a redeye and we wanted to maximize rest, we already grabbed our bedding out of the overhead bins while on the ground.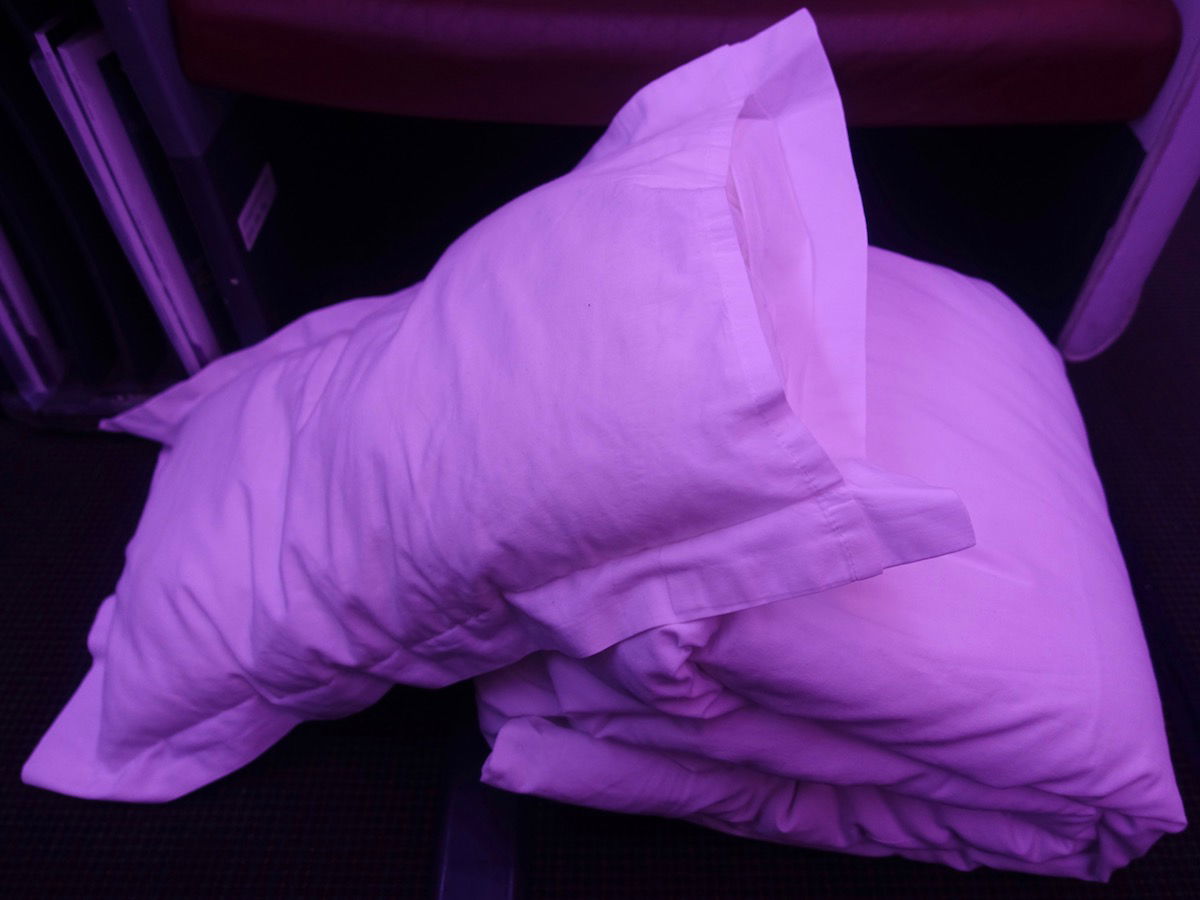 LATAM business class bedding
The flight was quite full (29 or 30 business class seats were taken), and with everyone boarding through the forward door, there was quite a bit of foot traffic. At 11:35PM the door was closed, at which point the captain announced our flight time of 8hr5min, and said that we should be taking off within 25 minutes.
At 11:50PM we began our pushback, and had a short taxi to the runway. By 12:05AM we were airborne, and five minutes later the seatbelt sign was turned off.
As we climbed out we browsed the entertainment selection, and somehow Ford convinced me to watch "Annabelle: Creation." I'm terrified of scary movies, and perhaps a plane isn't the ideal place to watch one. But I actually made it through the whole thing, and frankly I found the movie so ridiculous that it barely scared me.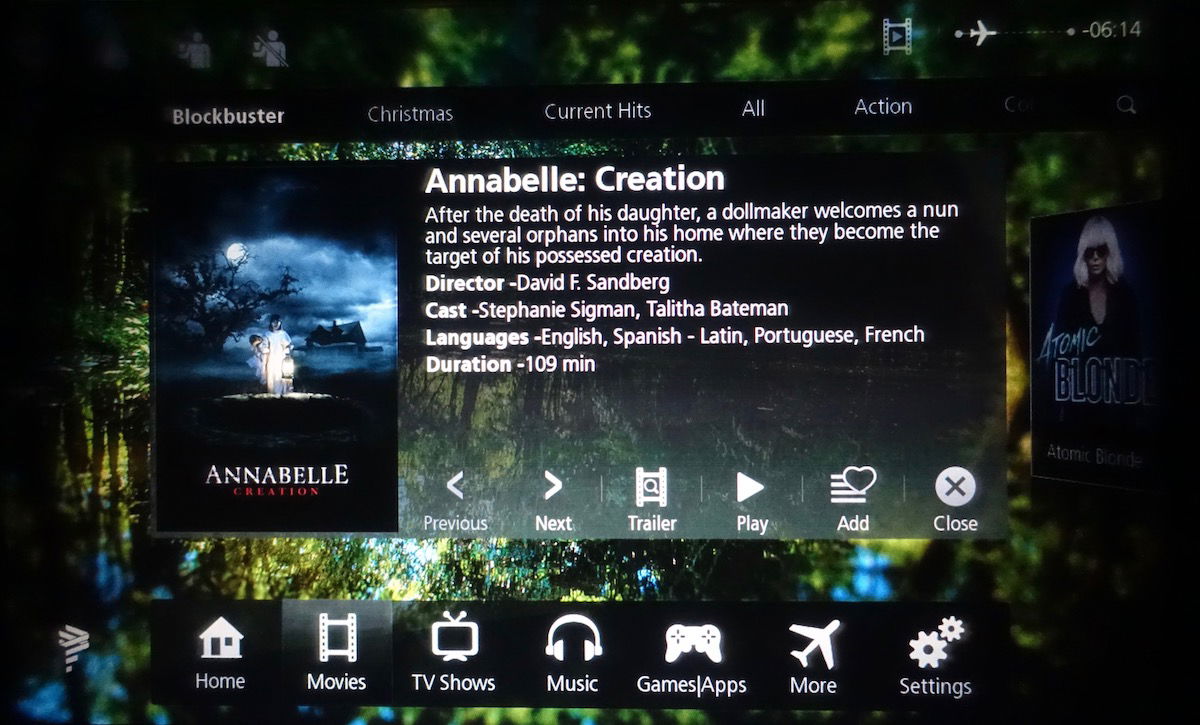 LATAM business class entertainment selection
About 25 minutes after takeoff, our flight attendant came by to take meal orders. The menu read as follows: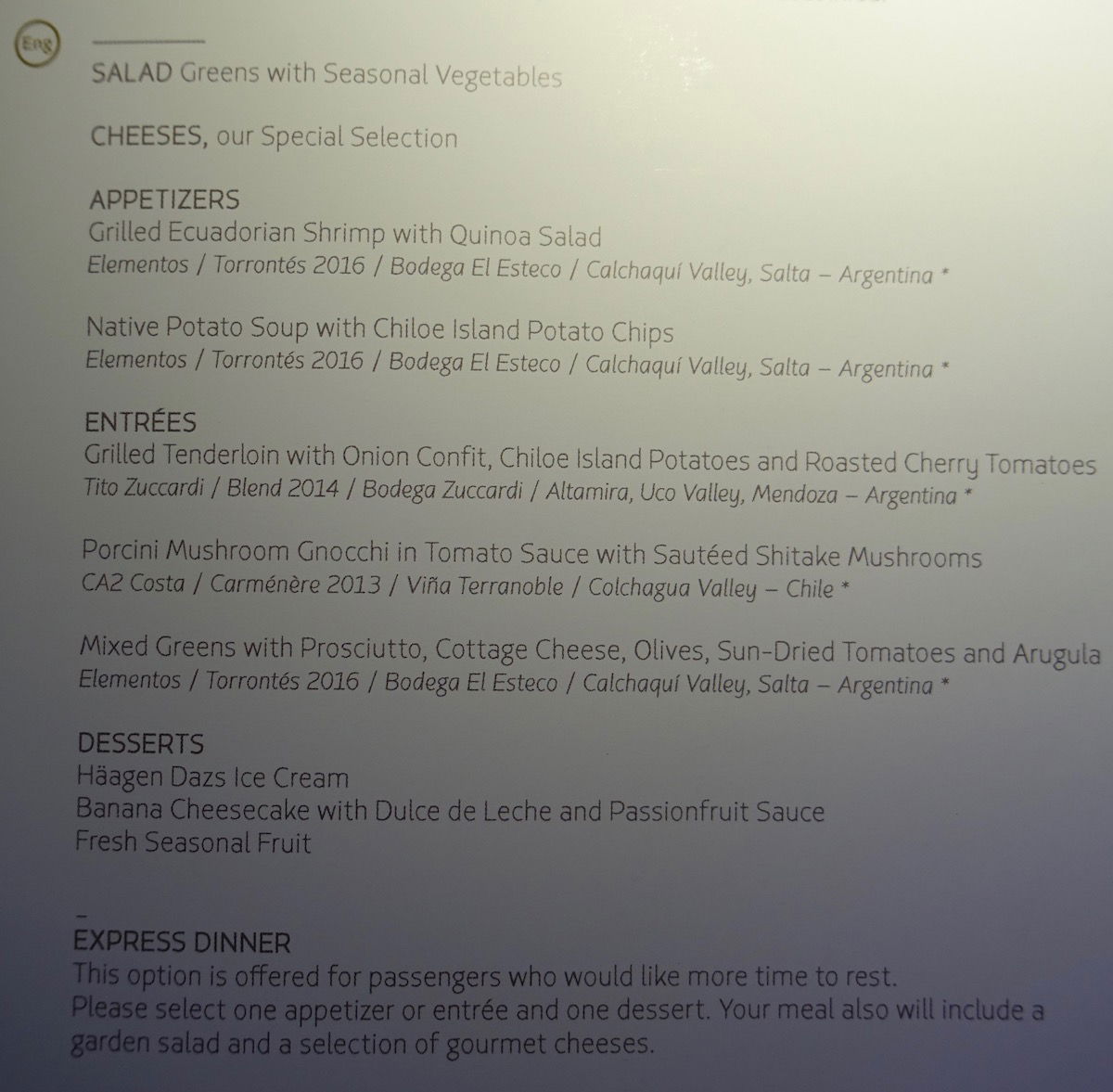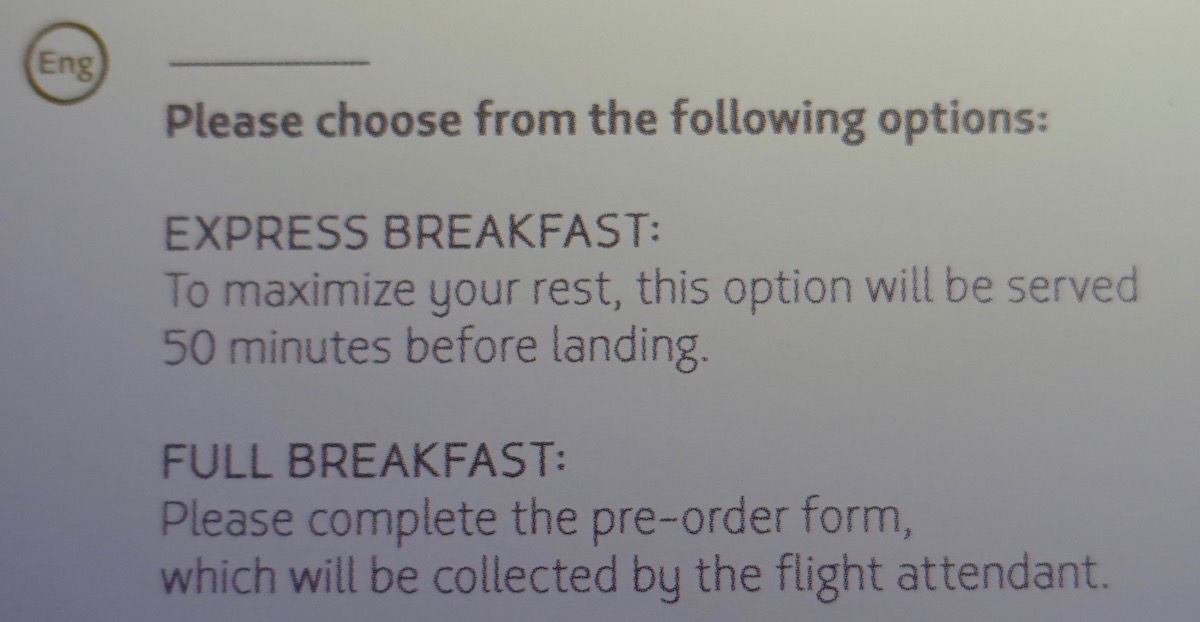 The drink menu read as follows: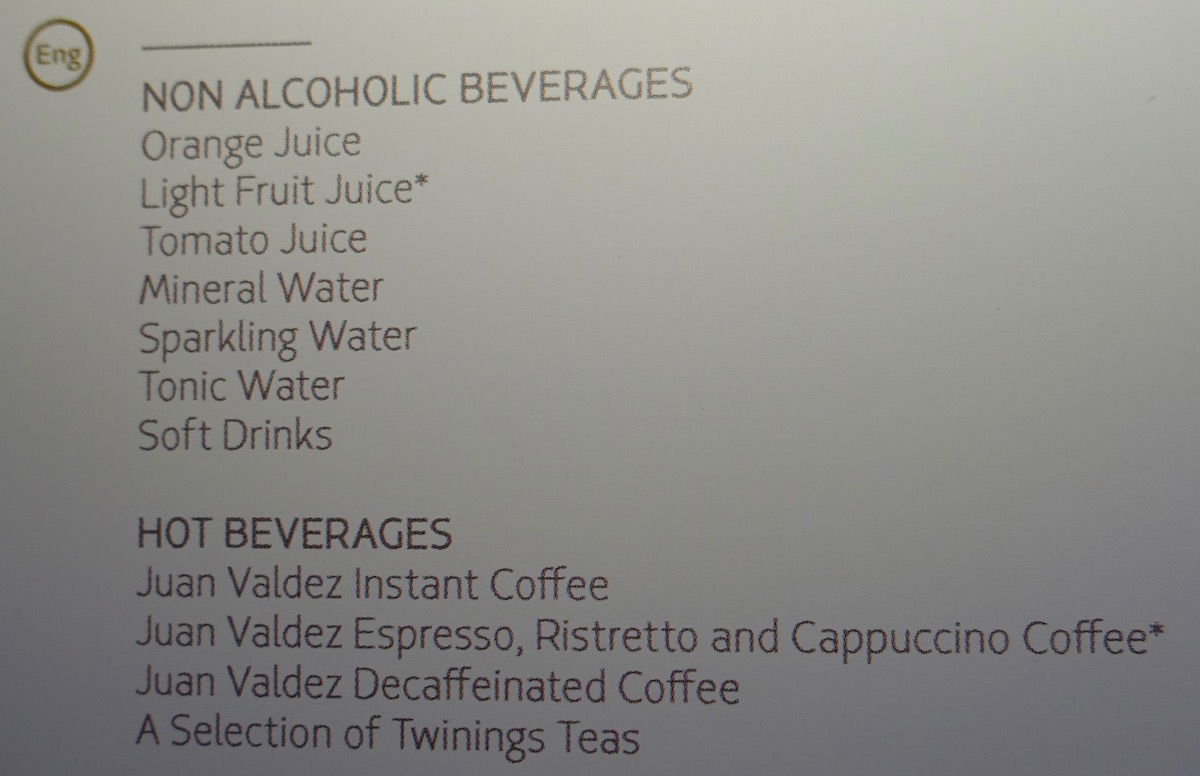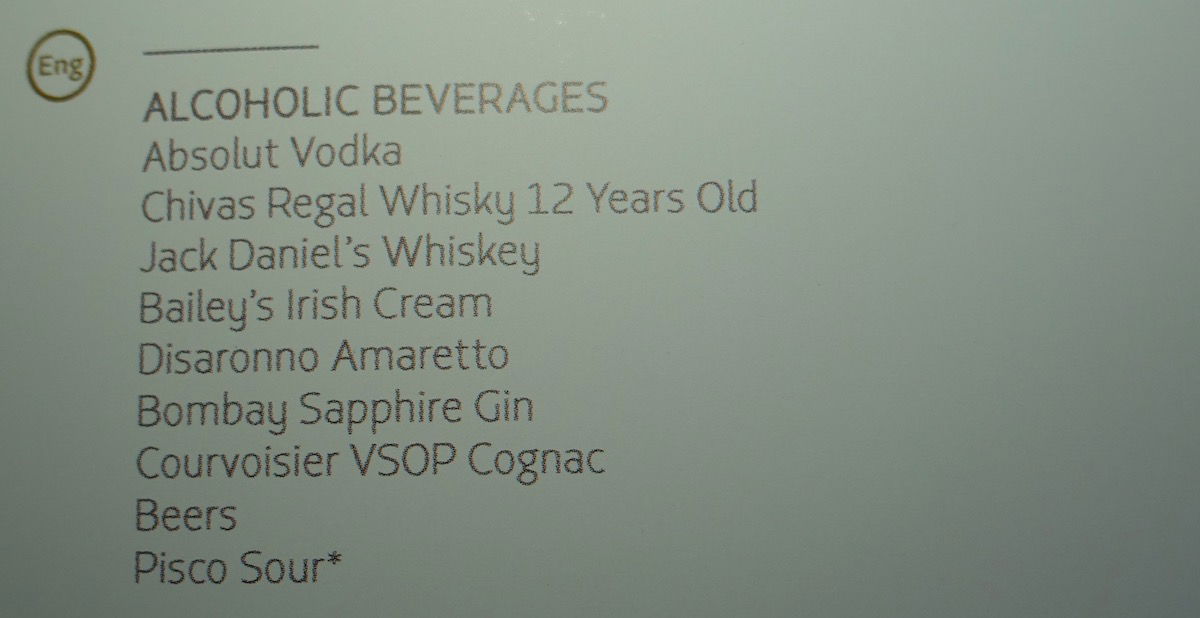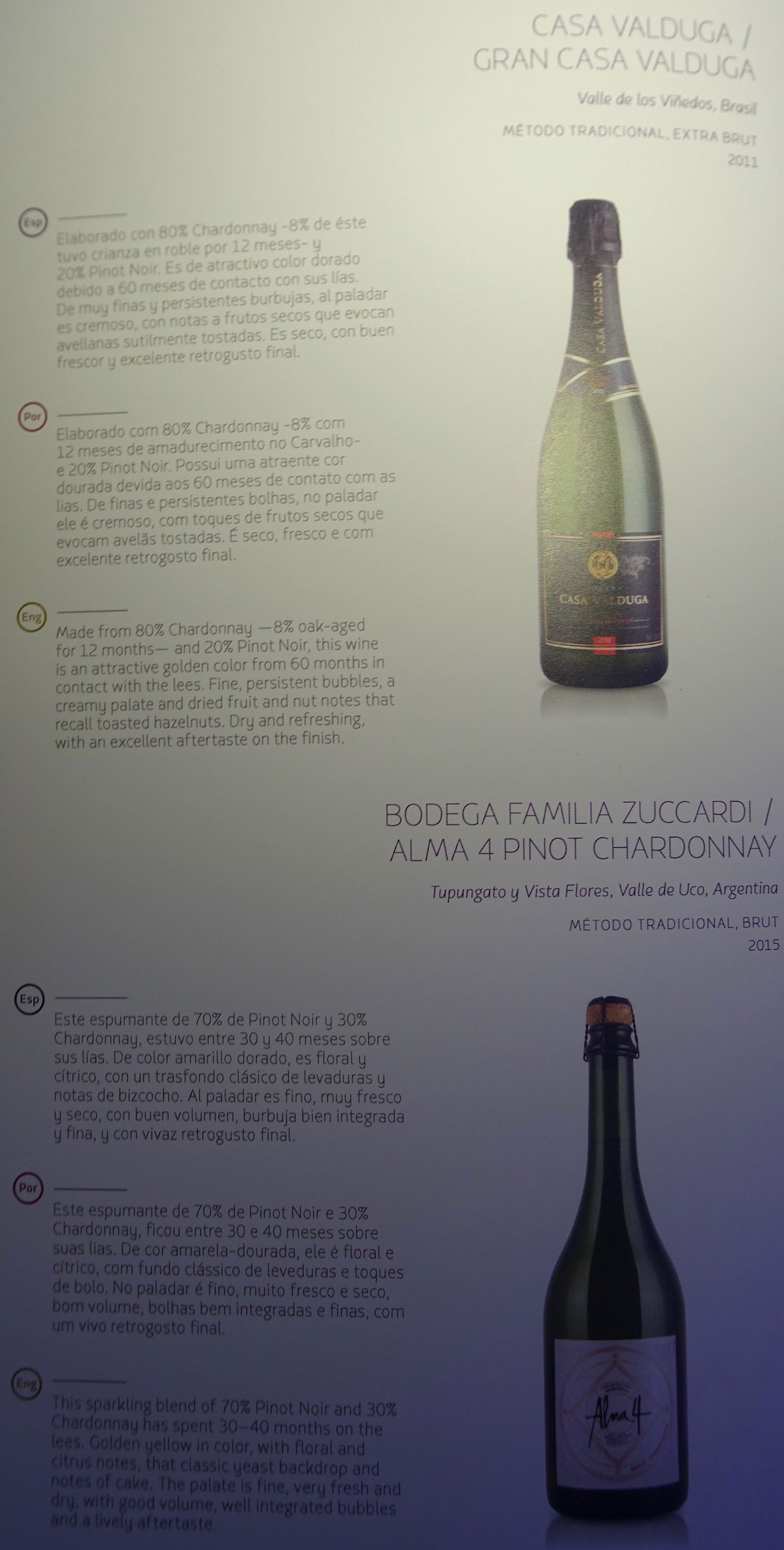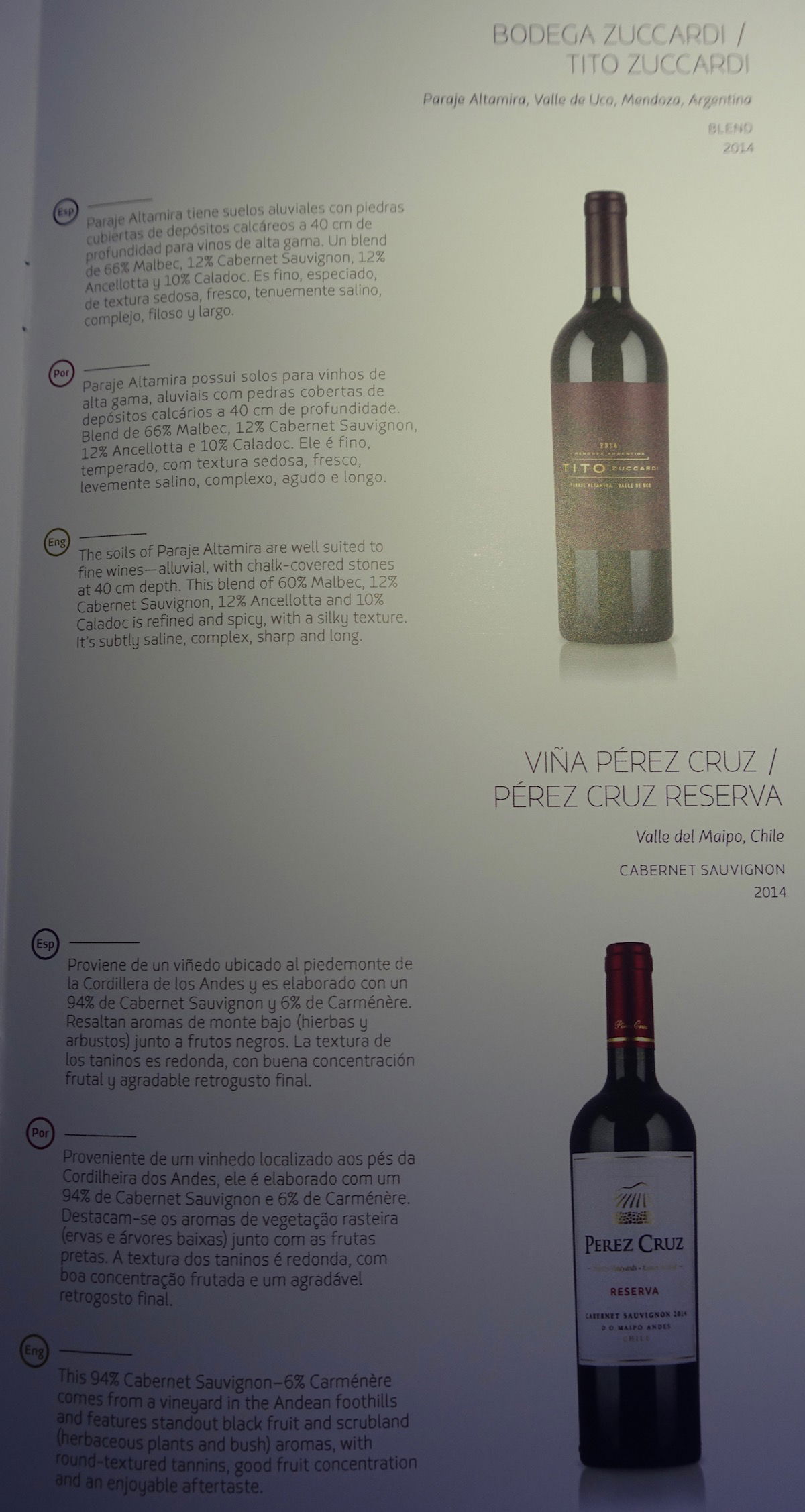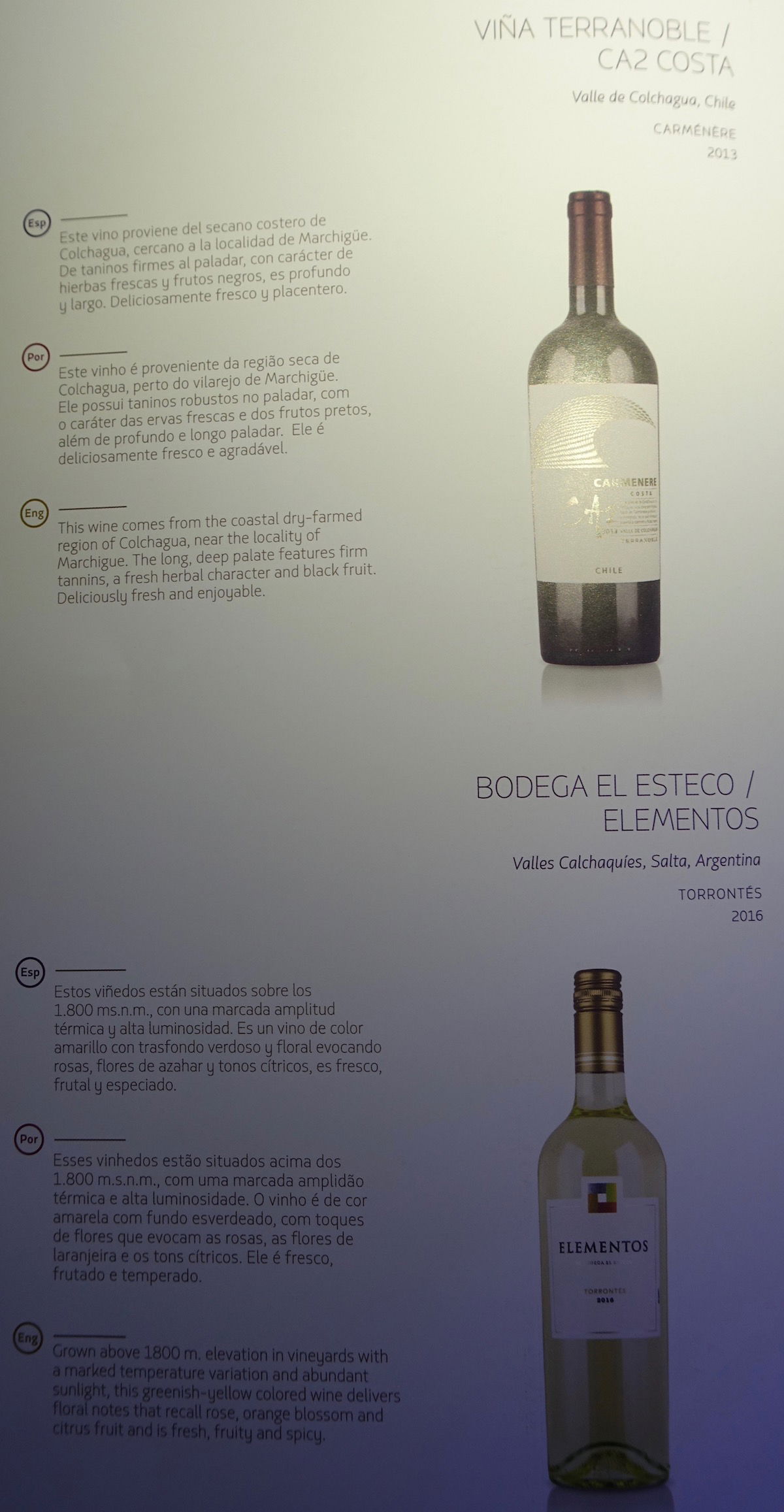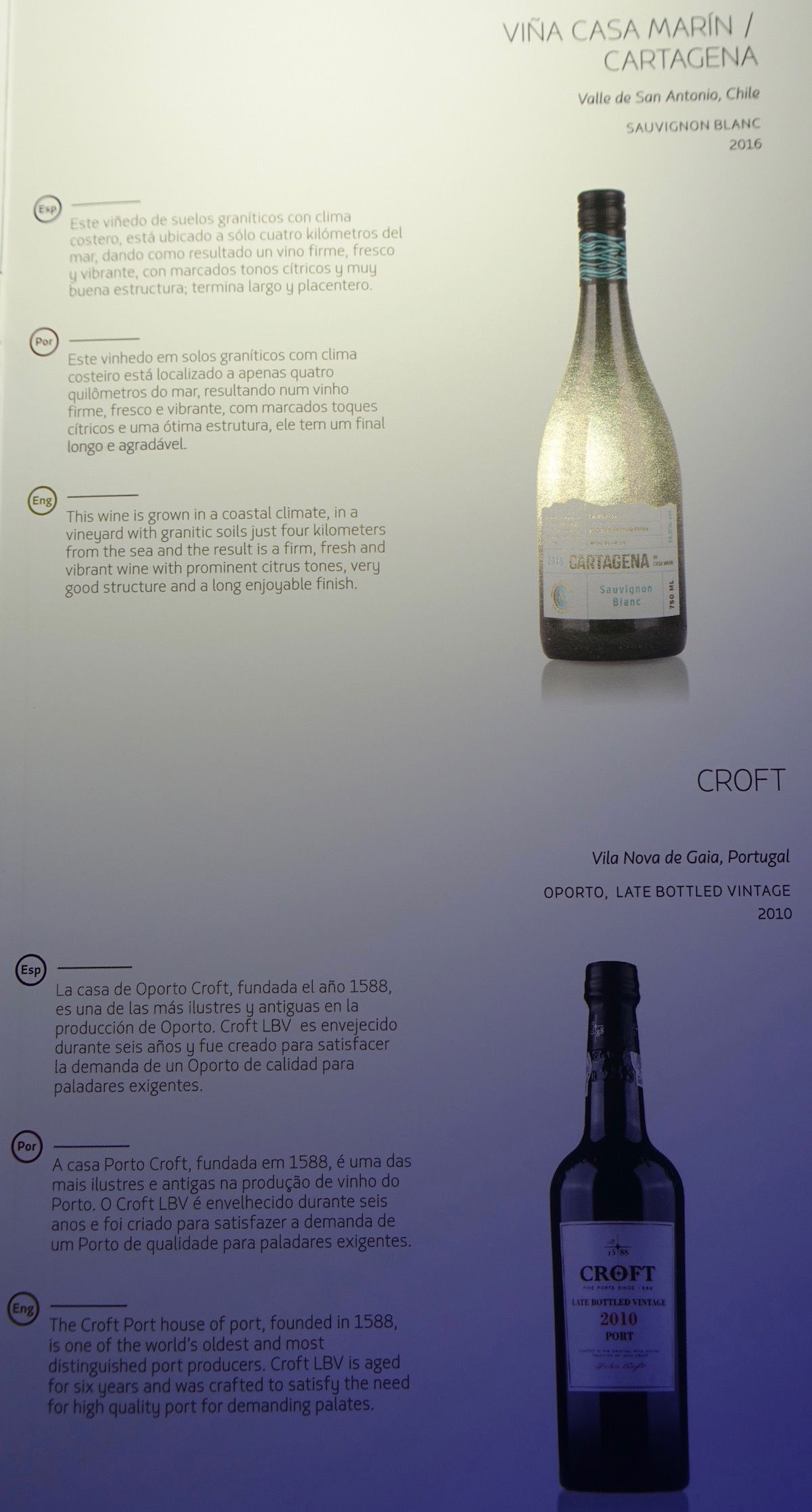 Service began with warm towels, about five minutes after meal orders were taken.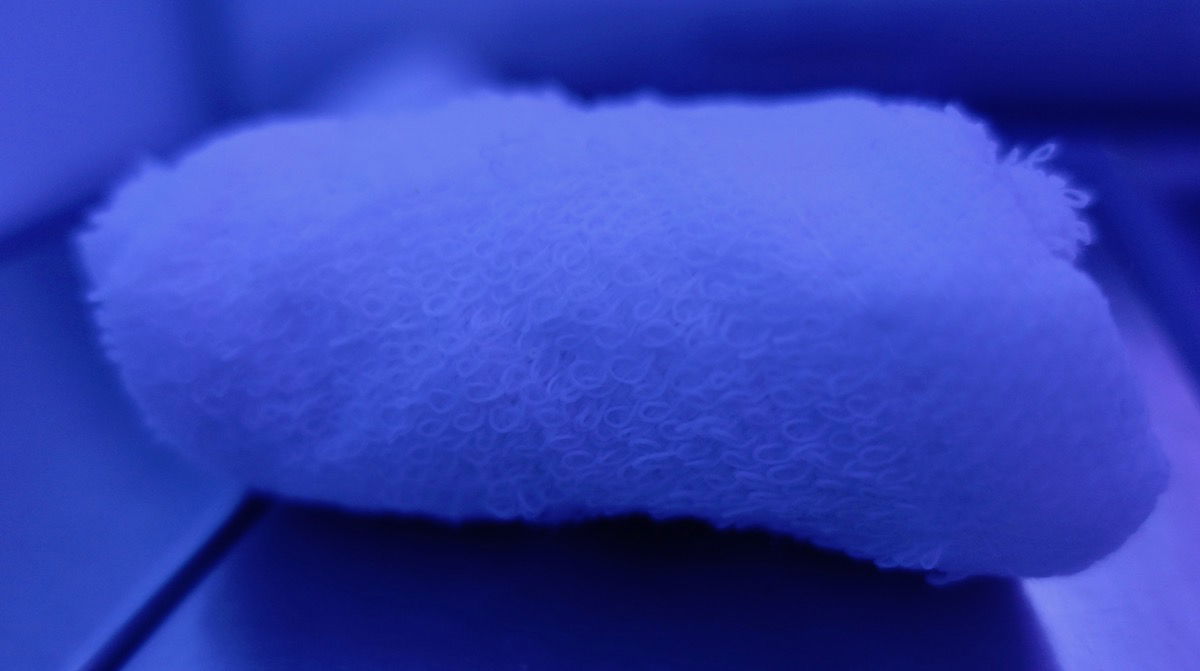 LATAM business class warm towel
The service on this flight was quite efficient, and 50 minutes after takeoff the salad, cheese, and appetizer course were served.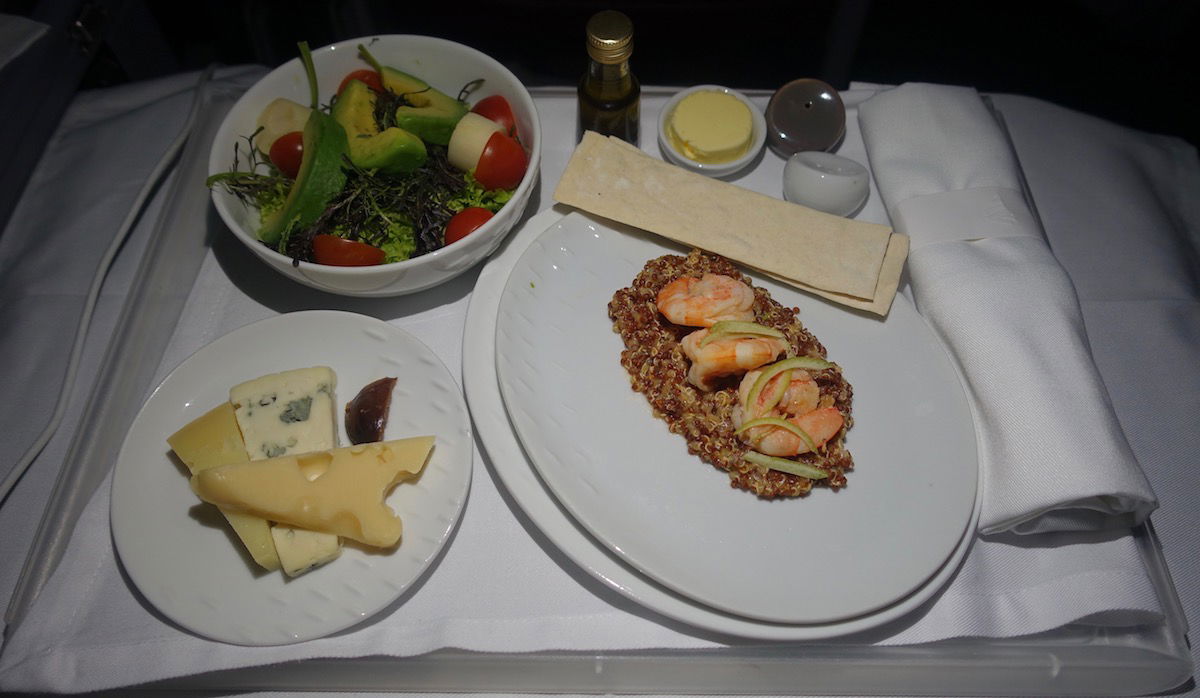 LATAM business class dinner service
Everyone got the same salad and cheese plate. The salad was delicious, as it's rare you see decent avocado on a plane.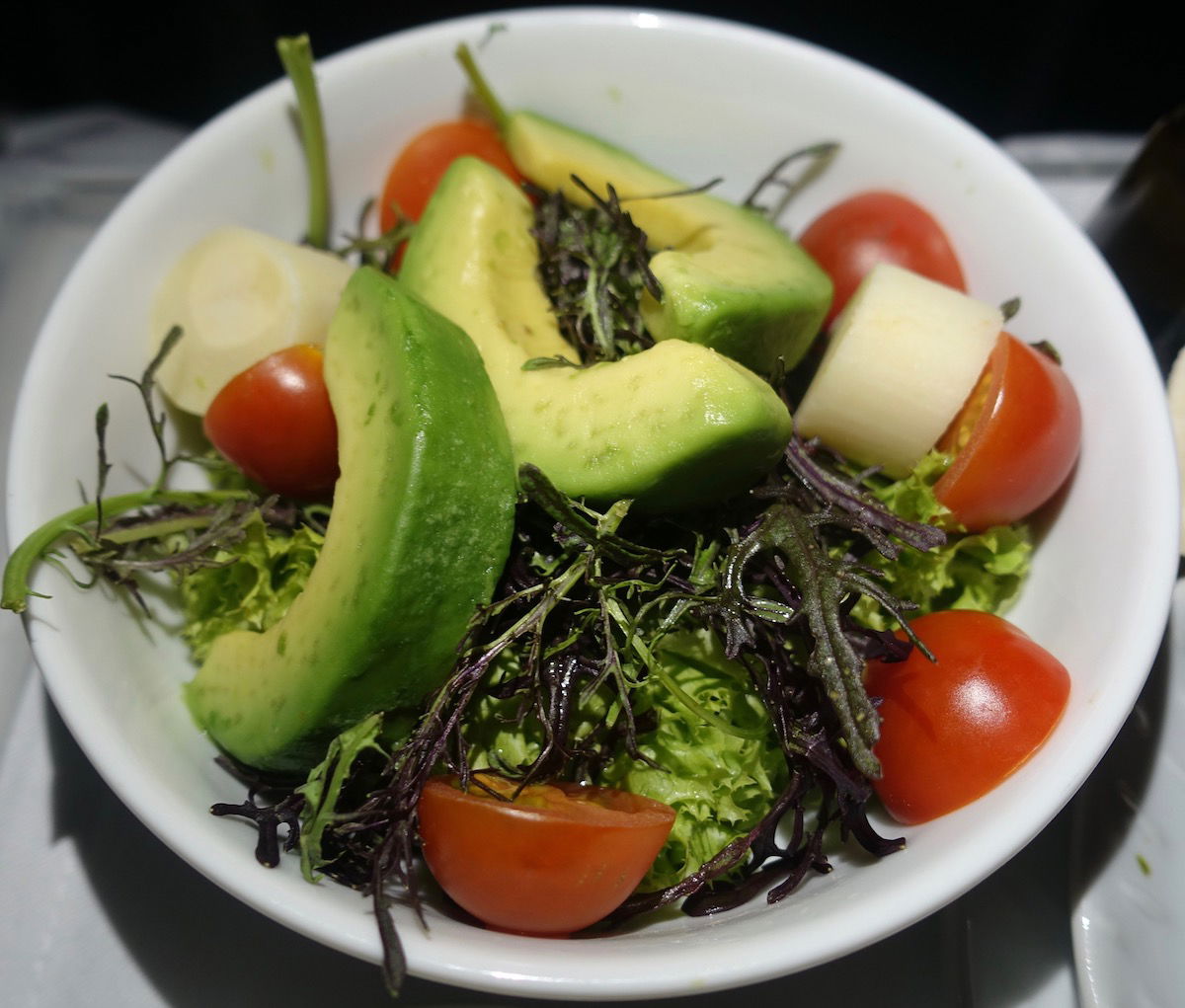 LATAM business class dinner — salad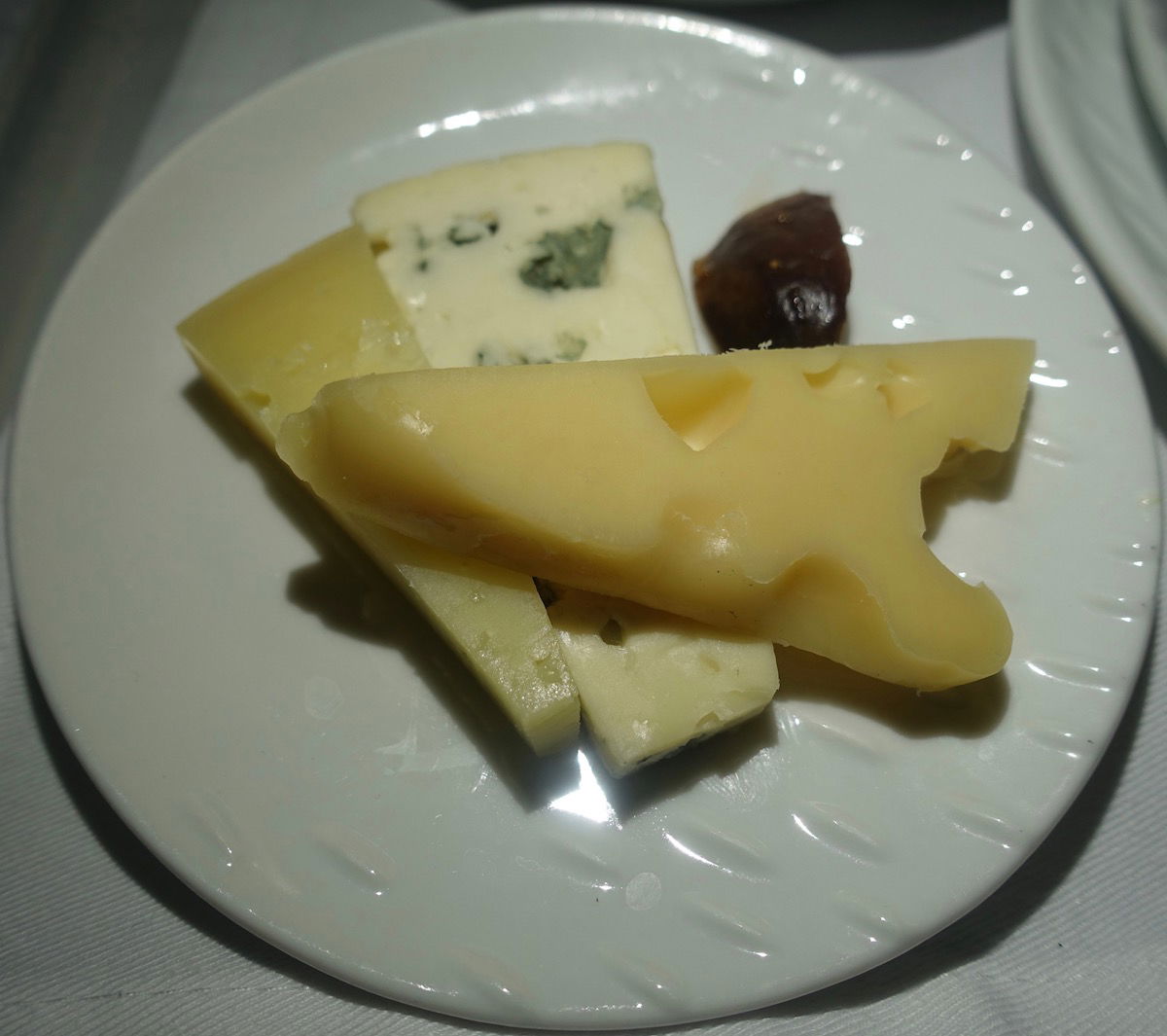 LATAM business class dinner — cheese
Then there was the choice of appetizers. I selected the grilled Ecuadorian shrimp with quinoa salad, while Ford had the native potato soup with Chiloe Island potato chips. Both appetizer choices were quite good.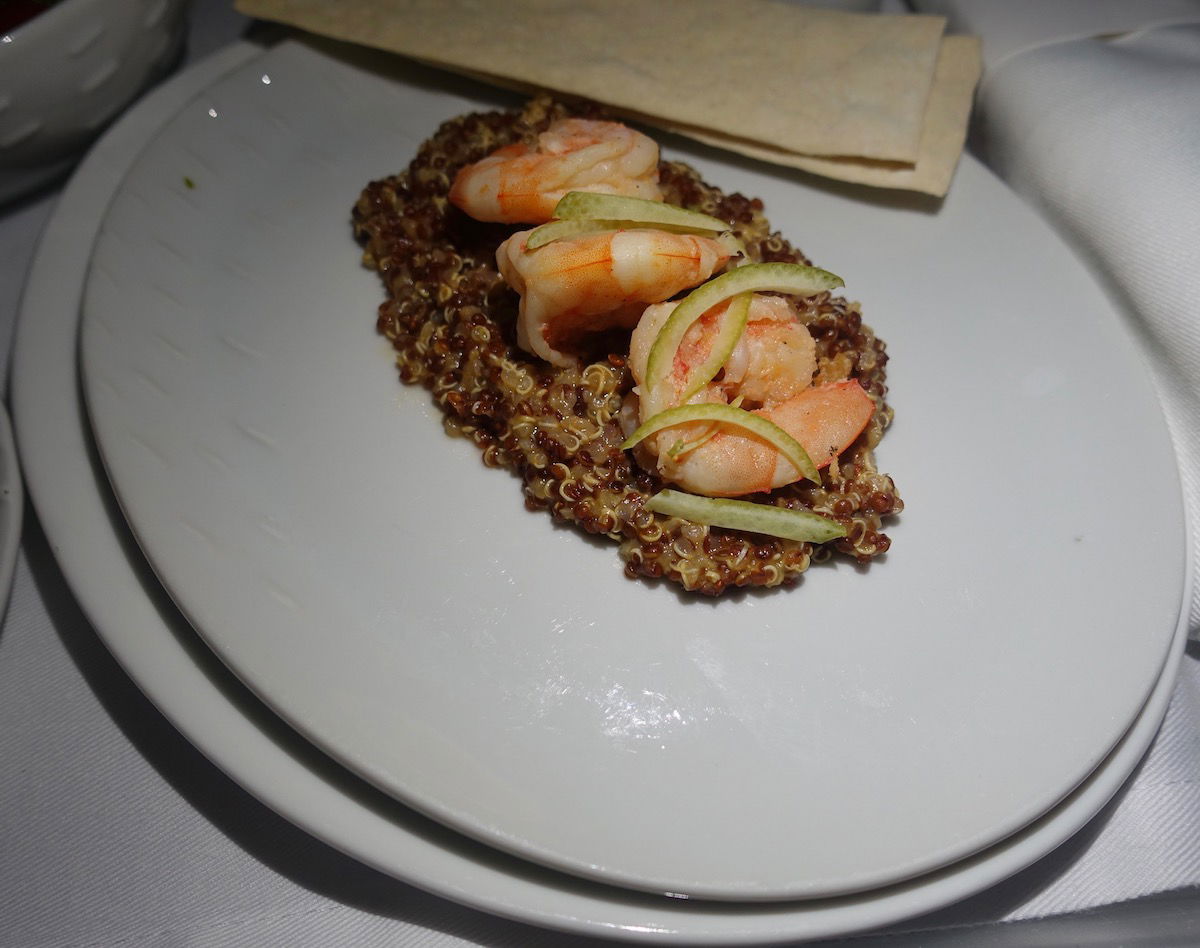 LATAM business class dinner — appetizer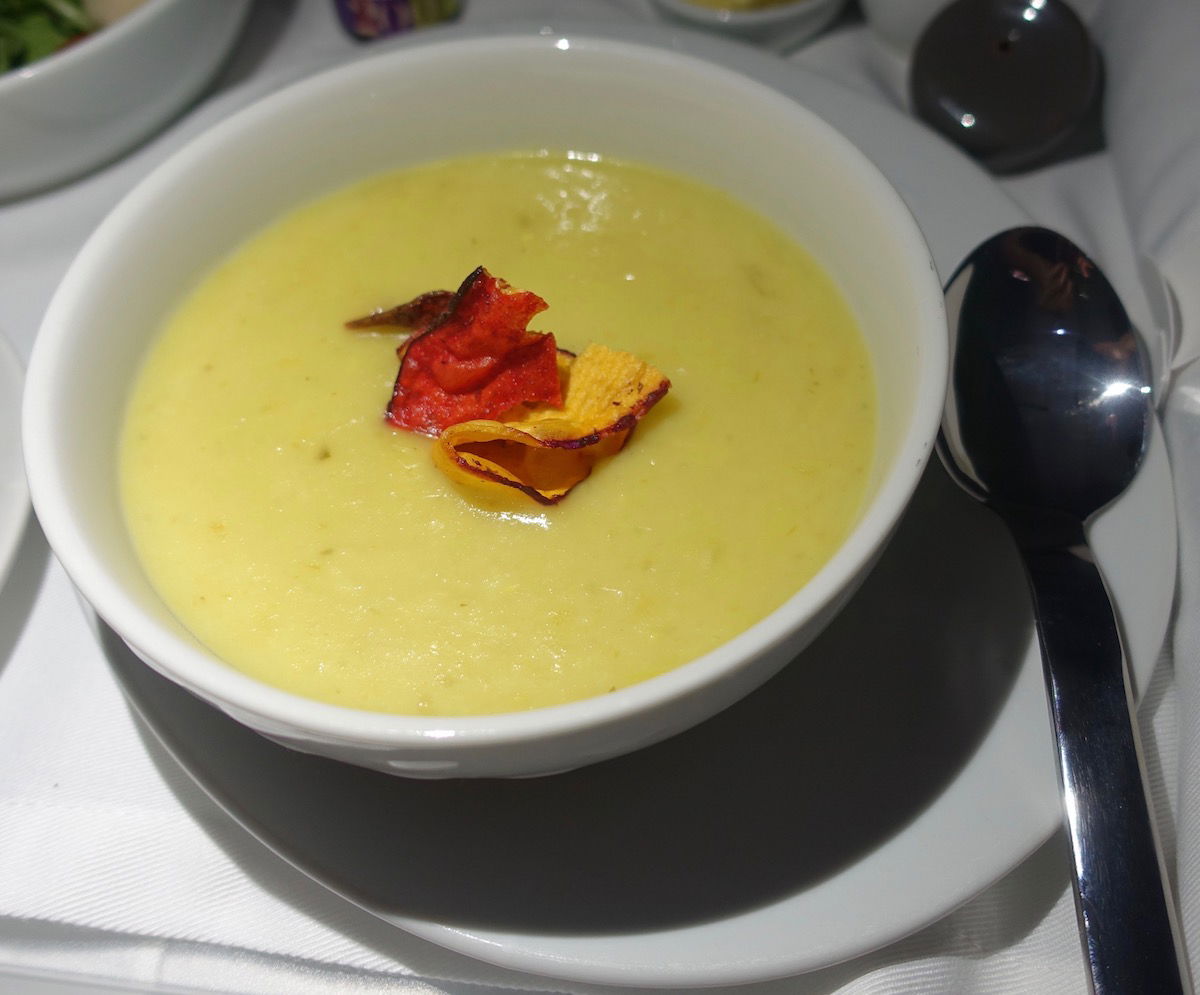 LATAM business class dinner — soup
We were also offered our choice of drinks, and each had a glass of white wine and a sparkling water.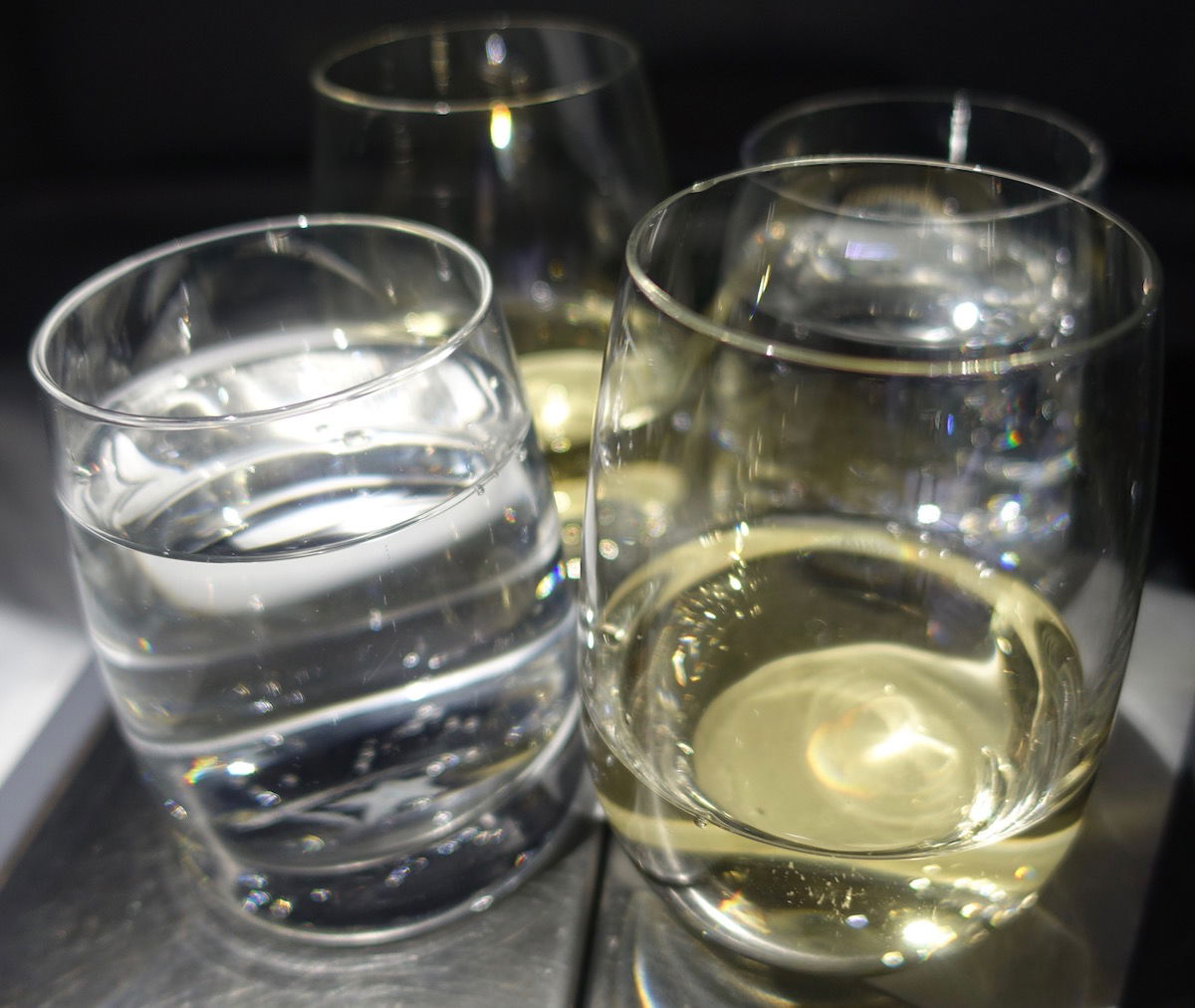 LATAM business class dinner — drinks
Our appetizers were cleared quickly, and our main courses were brought right out. For the main course I ordered the porcini mushroom gnocchi in tomato sauce with sautéed shiitake mushrooms, which was borderline inedible.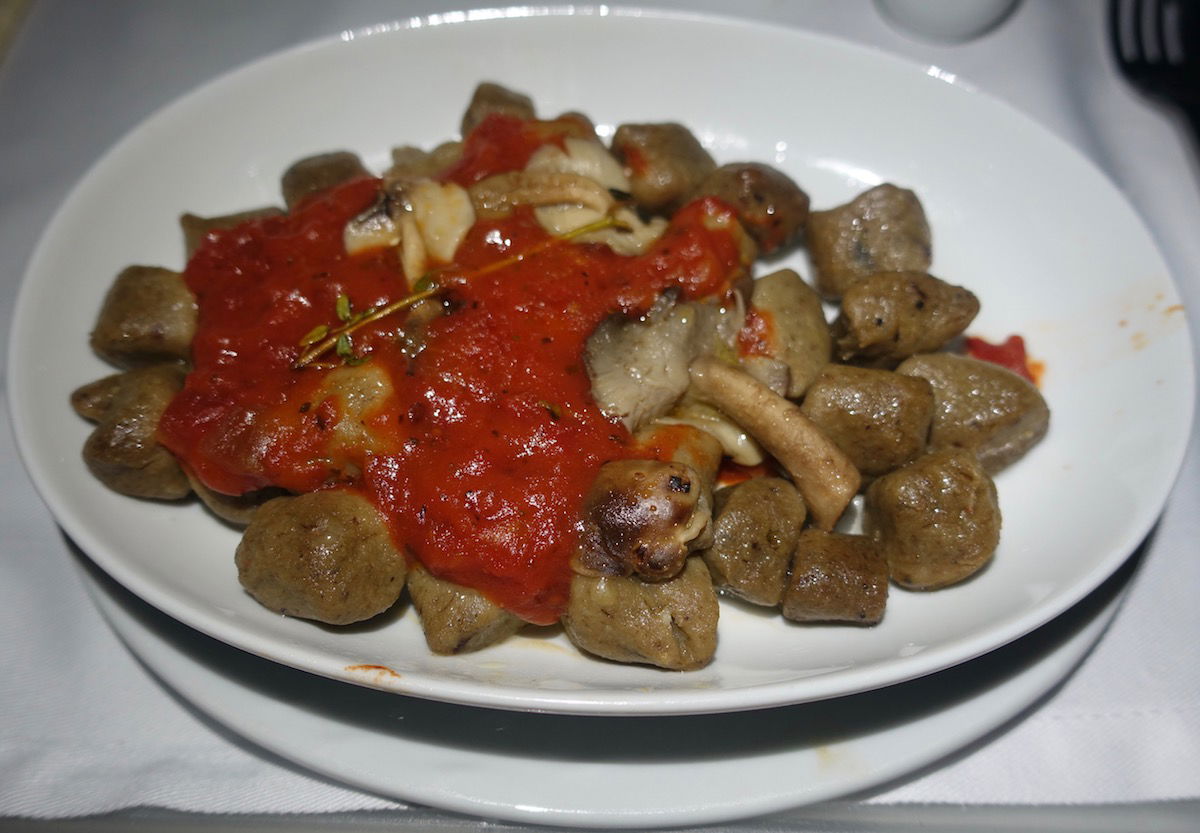 LATAM business class dinner — main course
Ford had the grilled tenderloin with onion confit, Chiloe Island potatoes, and roasted cherry tomatoes.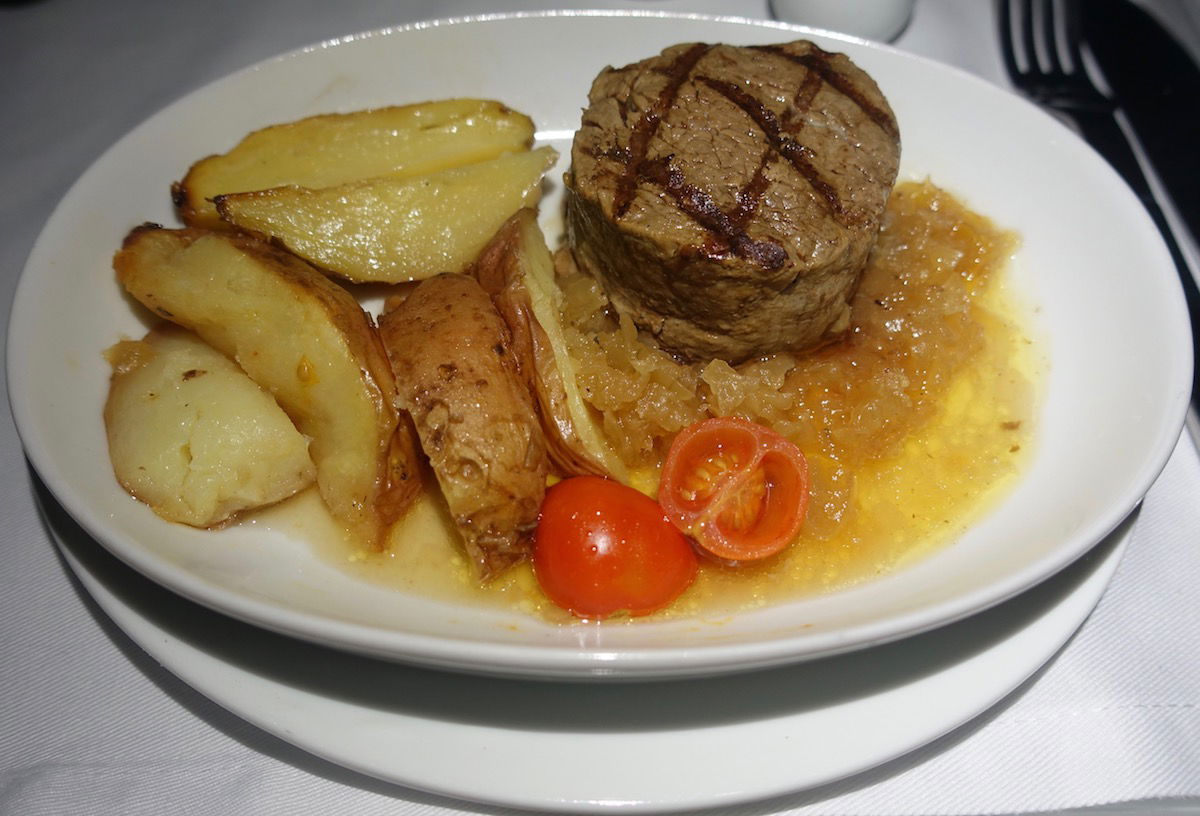 LATAM business class dinner — main course
As soon as our main courses were cleared we were offered dessert. Ford had the ice cream (Haagen-Dazs cookies & cream flavor), while I had the banana cheesecake with dulce de leche and passionfruit sauce.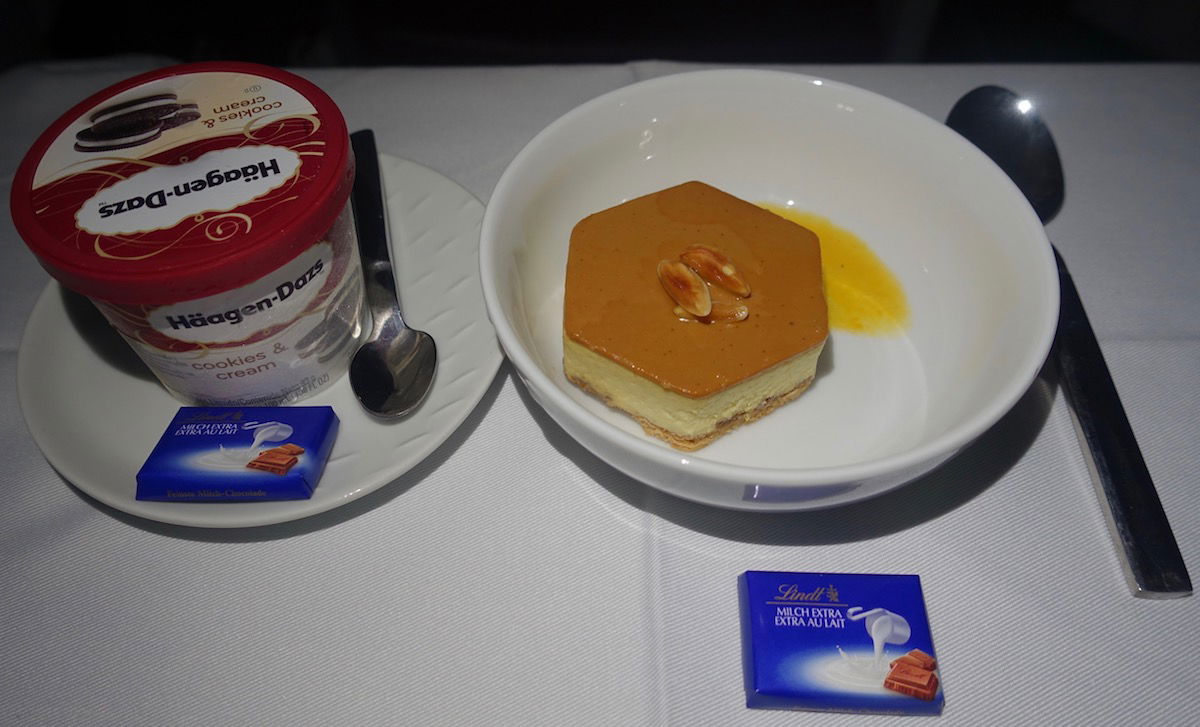 LATAM business class dinner — dessert
Once the meal was done we were presented with bottled water, and also breakfast cards that we were asked to fill out.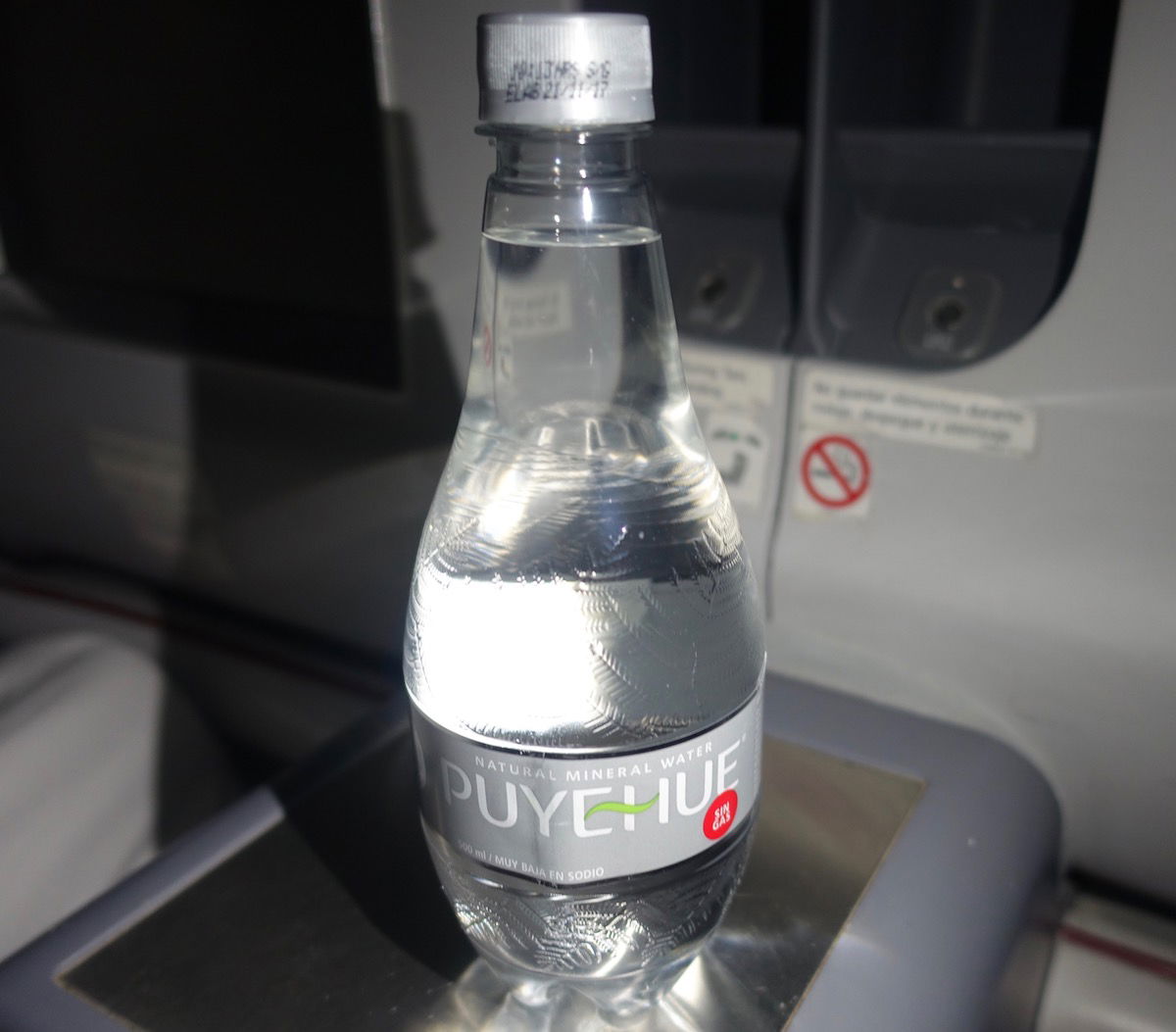 LATAM business class bottled water
The breakfast card read as follows: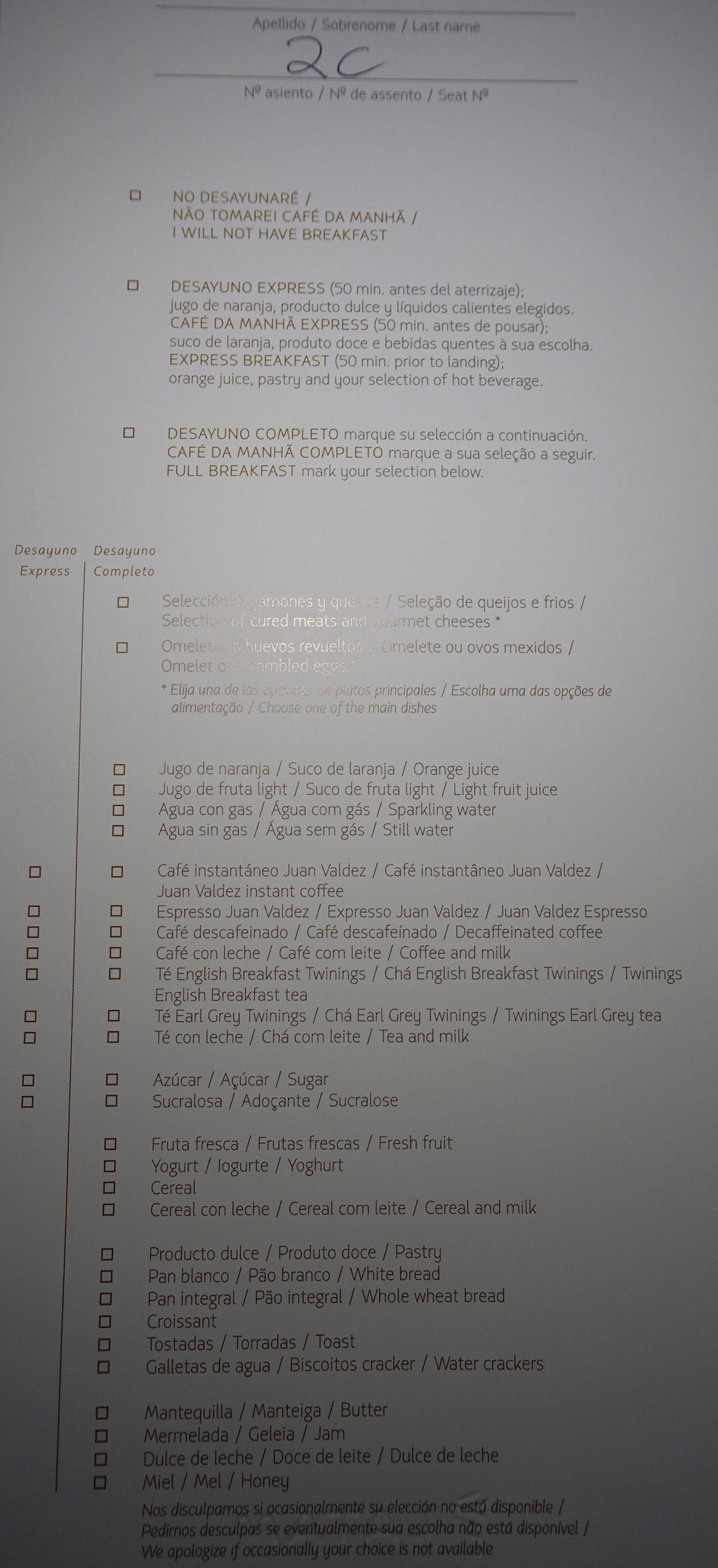 The meal was finishes at 1:25AM, about 80 minutes after takeoff, which I thought was pretty good. Shortly thereafter the cabin lights were dimmed.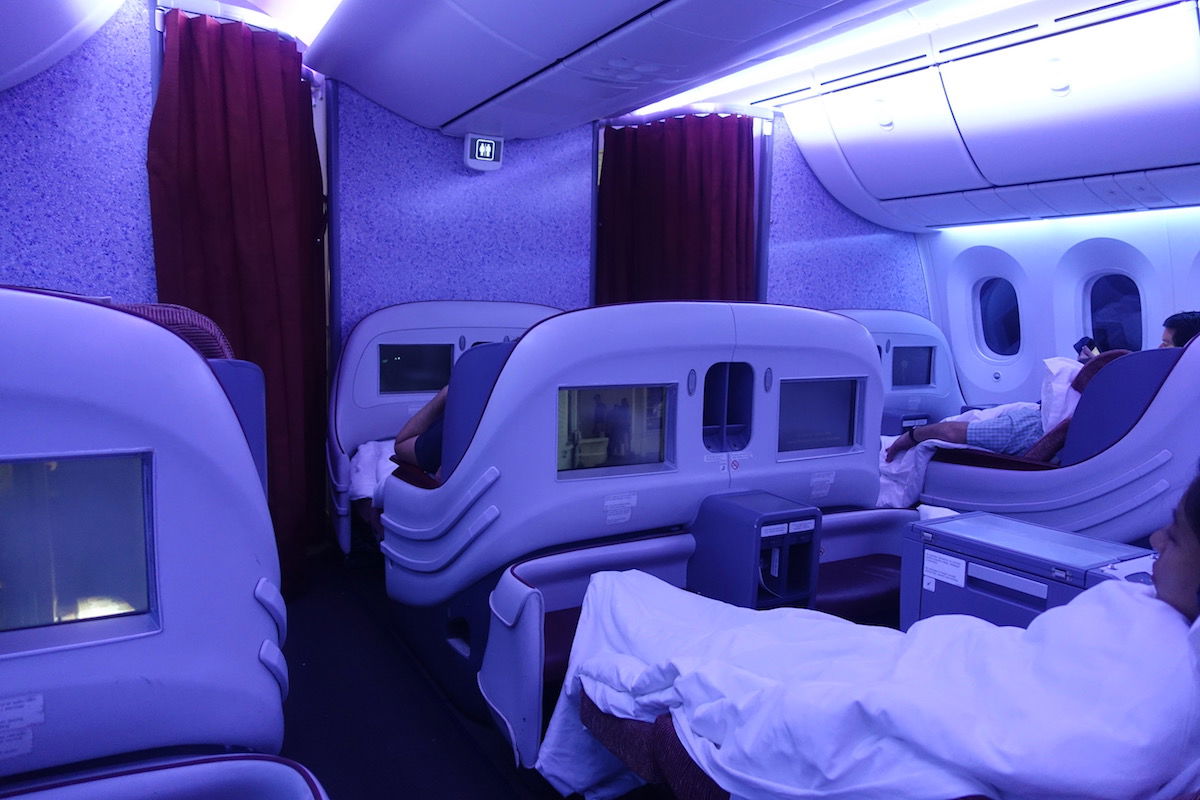 LATAM business class cabin after takeoff
We finished our movie, and then fell asleep with about six hours remaining to Mexico City.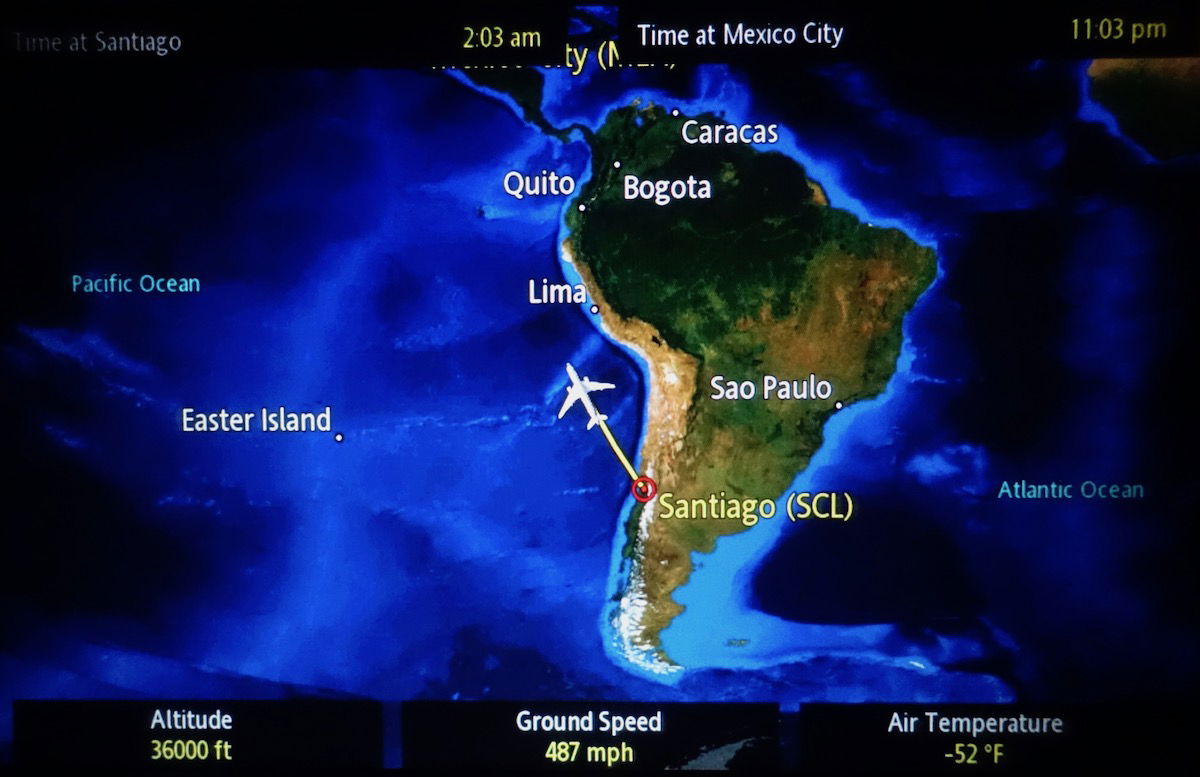 Airshow enroute to Mexico City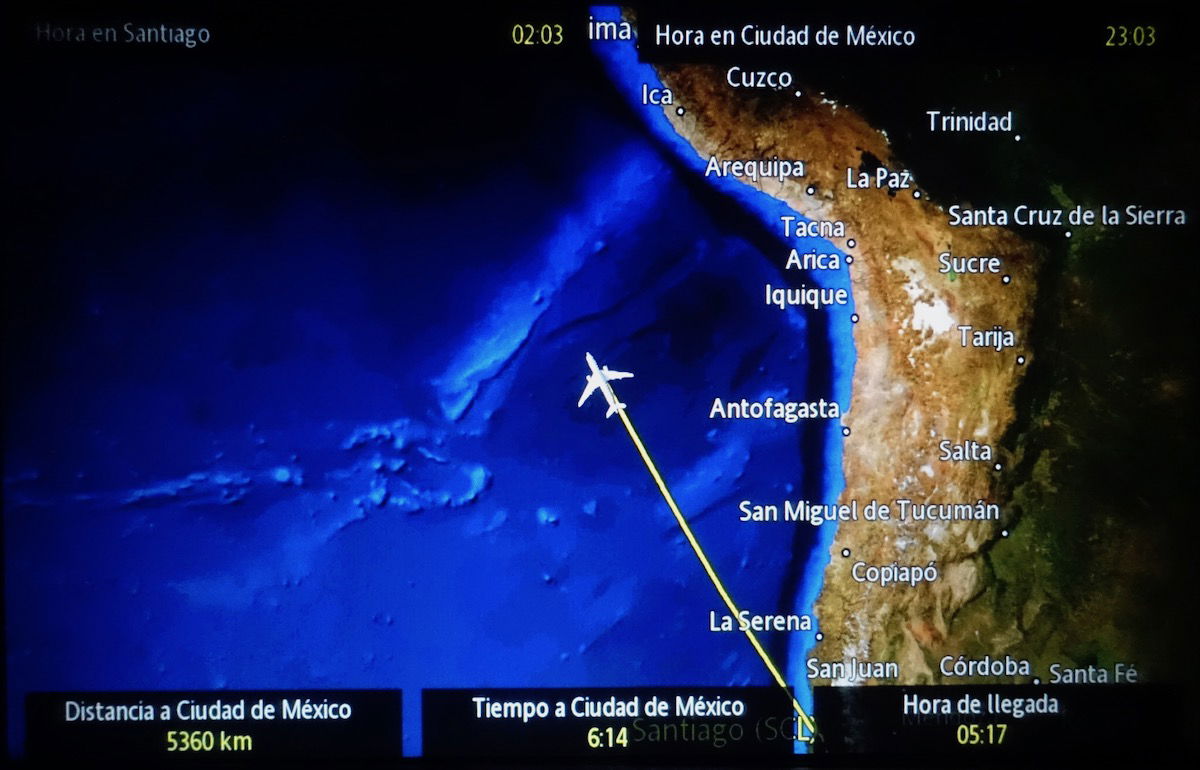 Airshow enroute to Mexico City
I slept extremely well, and naturally woke up just under an hour from landing.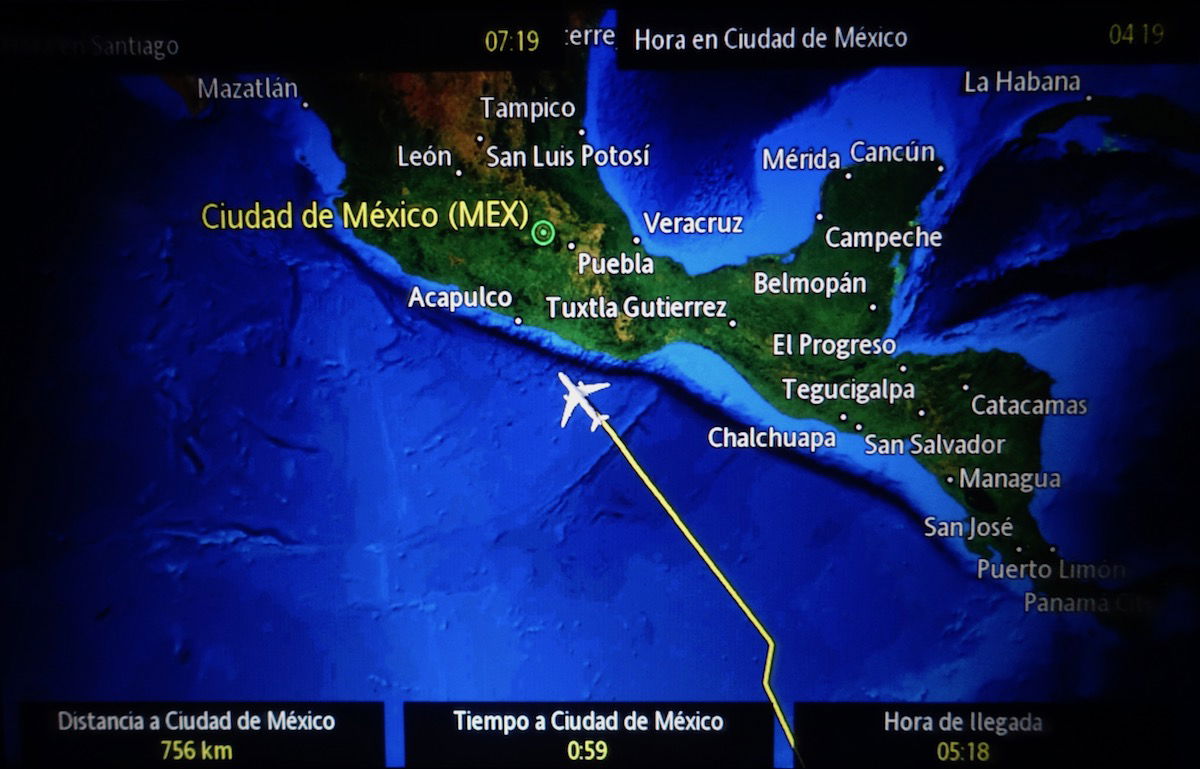 Airshow enroute to Mexico City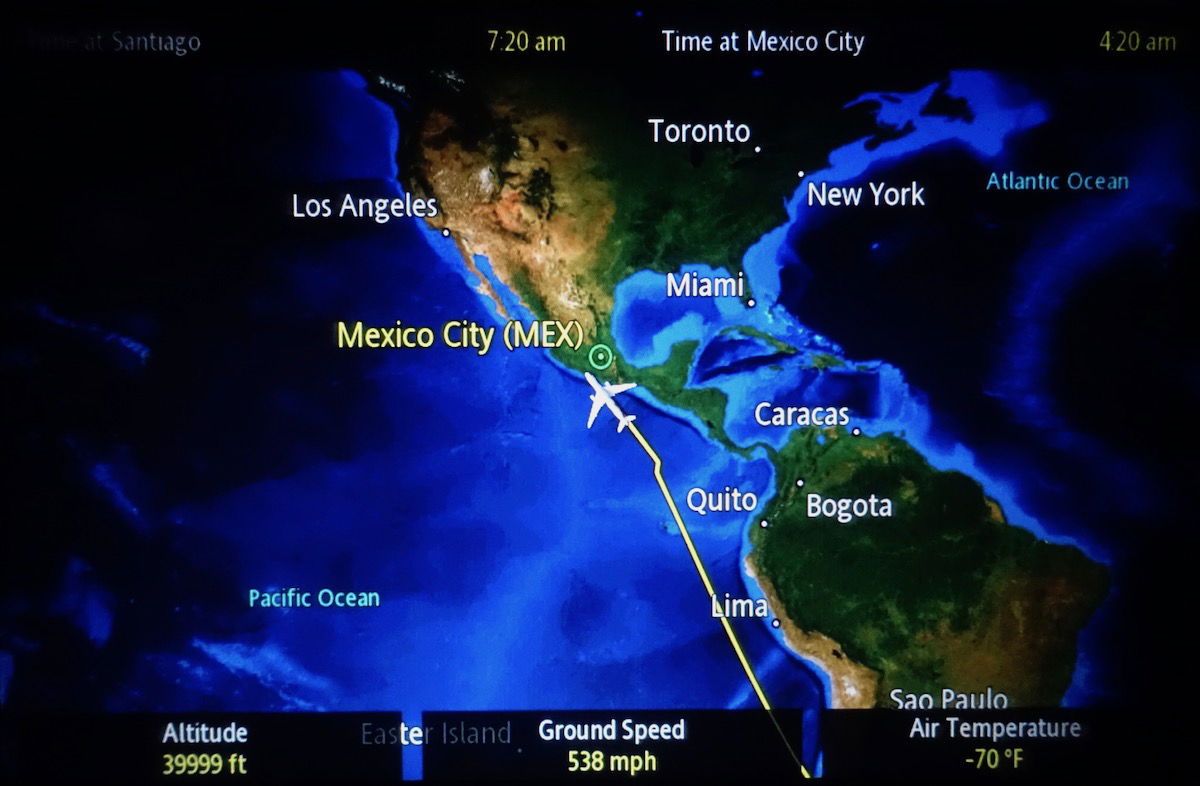 Airshow enroute to Mexico City
Ford and I had both just selected the express breakfast option, which includes orange juice, a hot drink, and a pastry. I just ordered coffee and a muffin. The muffin was surprisingly tasty.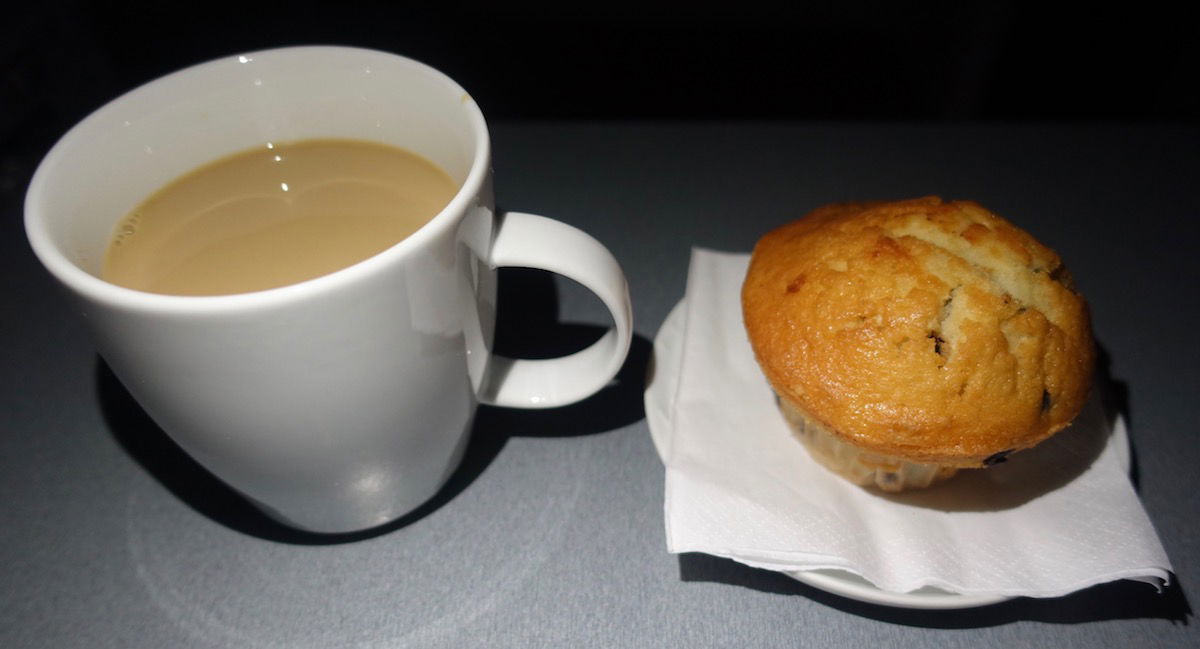 LATAM business class express breakfast
After breakfast I freshened up, and at 4:45AM local time the captain announced that we'd be landing in about 35 minutes. We touched down at 5:15AM, and from there had a 10 minute taxi to our arrival gate. As usual, immigration lines in Mexico City were long.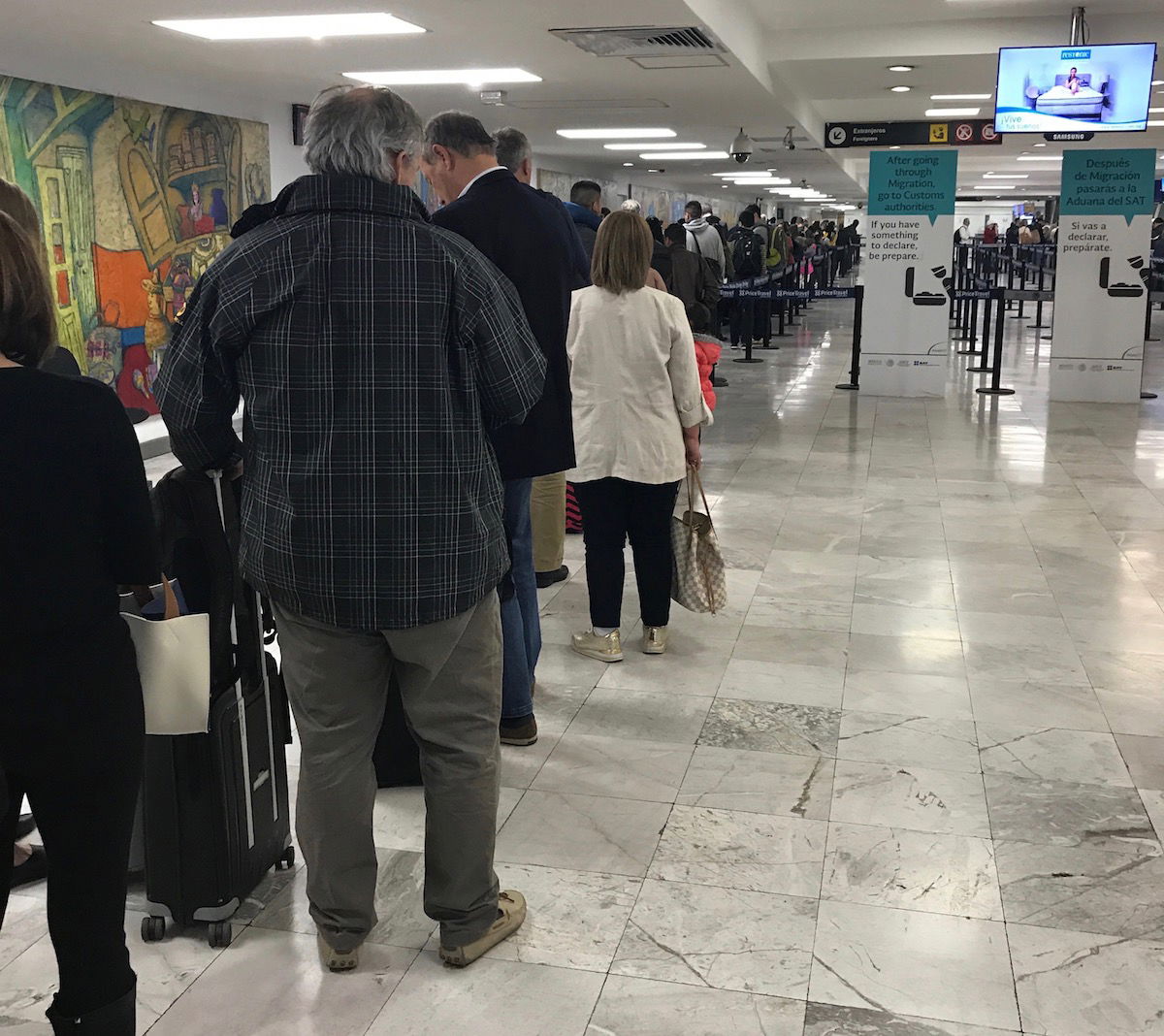 Mexico City immigration line
LATAM business class bottom line
We got a great night of sleep on this flight, thanks primarily to LATAM's excellent bedding. The food on this flight was okay, while the service definitely wasn't friendly, especially compared to some of the other great crews we had. All things considered, LATAM offers a solid business class product to/from South America, and I'd fly them again in a heartbeat.
Thanks for following along for this trip report!