While a lot of people want to travel around the holidays, typically holidays themselves (Thanksgiving, Christmas, New Year's Eve, etc.) are pretty slow days for travel. Most airlines offer reduced schedules those days, though it looks like La Compagnie, the all business class airline flying between Newark and Paris, has a fun surprise for those who plan to go to sleep in New York and wake up in Paris.
For one, La Compagnie is offering a special $750 one-way fare for those flying from Newark to Paris on December 31, 2017. That's actually not that exceptional, since just a couple of weeks ago they were offering $1,000 roundtrip tickets.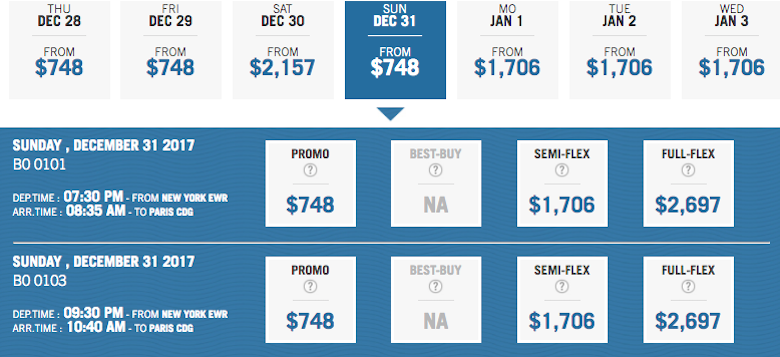 Not only that, but they're making these flights special in terms of the onboard service:
Let's be honest. How you celebrate New Year's Eve matters. We've got a wild little proposition for you: spend it at 36,000 ft. and wake up on J‌anuary 1‌st in Paris.

Our New Year's Eve promo makes this extraordinary D‌ec. 3‌1 possible. Champagne Piper-Heidsieck Vintage 2‌008 and Petrossian caviar will be served liberally, included in that low, business class price!

For sure, you won't end 2‌017 singing Old Lang Syne. You'll be kicking off the New Year in spectacular style!
So you can expect both Piper-Heidsieck 2‌008 champagne and Petrossian caviar to be served "liberally" on these two flights.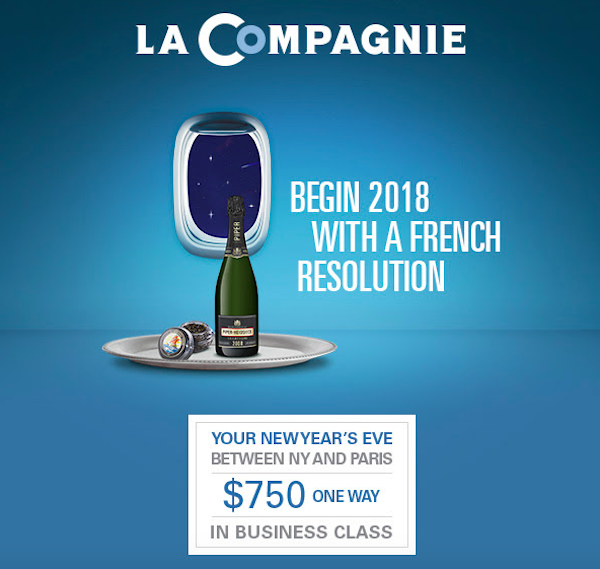 That's solid champagne, better than what they usually serve. However, of course the greatest potential "value" comes from the caviar. When I first saw the headline I figured that maybe they were serving some canapés sprinkled with caviar (as American does in first class on some routes), though they make a point of saying that it will be served "liberally." Too bad I have plans, or else I might put this to the test.
This is a cute concept from La Compagnie. The airline continues to offer great value for travel in business class between the US and Europe, and they seem to be operating reliably lately. While they don't have the best business class product — seats are angled flat and the soft product is just okay — they do offer exceptional value. You can find my review of the La Compagnie business class experience here.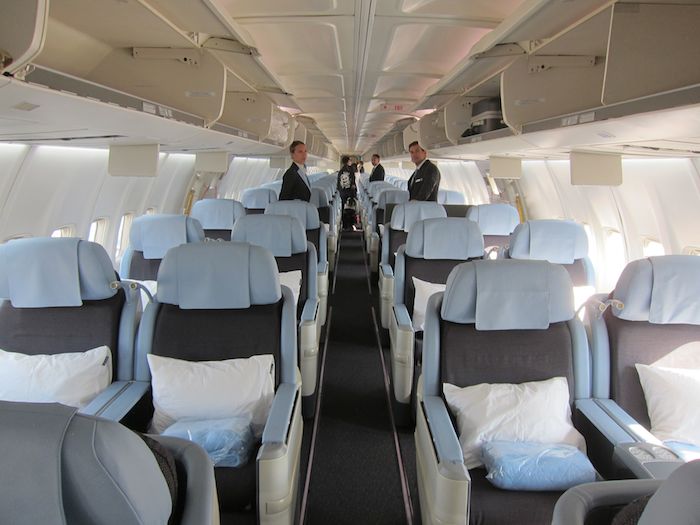 I certainly plan to give them another try at some point, at the latest when they get their new A321neos in 2019.