One of the best business class products in the world is the Apex Suite, and in particular, the window seat in this configuration. Unfortunately not many airlines have this type of seat so far.
Earlier in the year I flew Oman Air, which has the Apex Suite on some of their planes.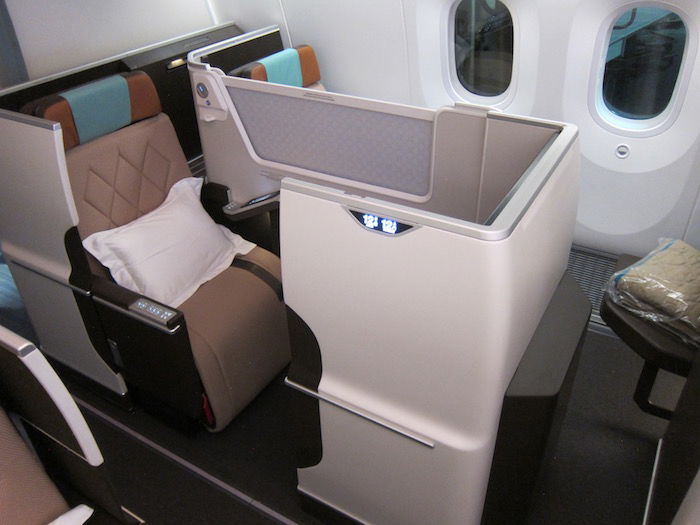 Then just a couple of months ago I flew Japan Airlines, which also has the Apex Suite on their 777-300ERs.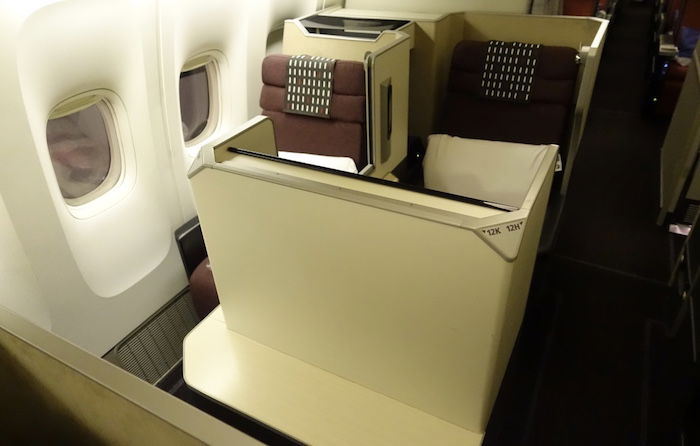 Specifically, it's only the window seats in this configuration that are truly exceptional. The rest of the seats are perfectly fine, though I love the window seats for how private they are, along with the amount of personal space they afford. It's sort of unreal, as the product is almost as spacious as first class on many airlines.
The only other airline I know of with the Apex Suite is Korean Air, which has the product on all their 747-8 aircraft, as well as select 777-300ER aircraft. So in this post I figured I'd talk a bit more about that, given that it's a great product to redeem miles for.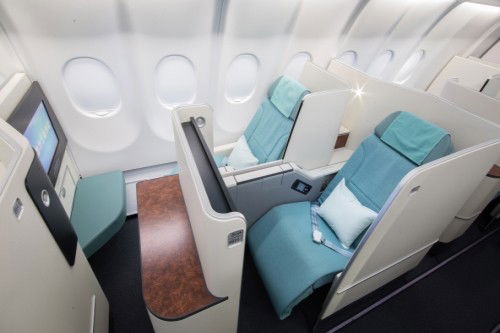 Which Korean Air planes feature the new business class product?
As stated above, all of Korean Air's 747-8 aircraft feature the Apex Suite in business class. That being said, Korean Air only has a total of seven of them in their fleet at the moment, with another three due to be delivered soon. So this is a plane that isn't especially easy to book.
The routes they use their 747-8 aircraft on seem to vary, but over the coming weeks they're operating them to New York, San Francisco, Singapore, Vancouver, Frankfurt, etc.
On top of that, select Korean Air 777-300ER aircraft feature Korean's new business class product. Korean Air has a total of 20 of these planes in their fleet, with another 10 on order. I believe roughly half of them have been reconfigured at this point.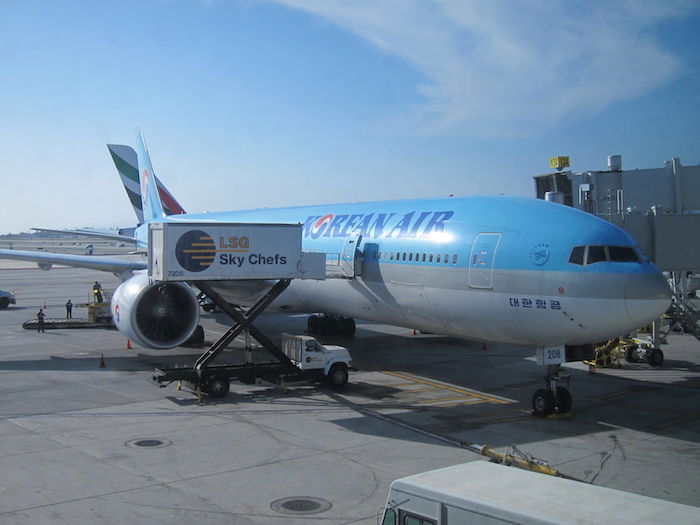 How can you tell if your Korean Air 777-300ER is scheduled to feature the new business class product? Based on the seatmap.
If a 777 seatmap shows just six seats per row in business class, the plane features the new business class product.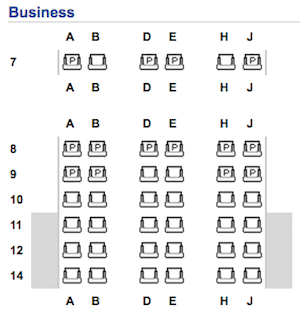 Meanwhile if a 777 seatmap shows seven seats per row in business class, the plane features the old business class product.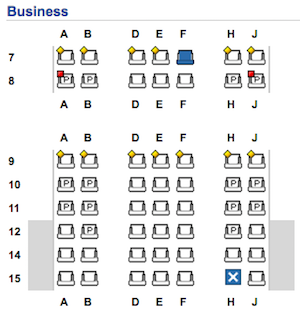 As you can see, Korean Air is reducing business class capacity from 56 to 42 seats with their reconfigured 777-300ERs.
This is a very nice layout, by the way. Japan Airlines' 777s with the same new business class product are still in a 2-3-2 configuration, so Korean Air seems to have an especially spacious layout.
However, I have to imagine that a window Apex Suite on the upper deck of the 747-8 might just be the best business class seat there is.
How can you redeem miles for Korean Air business class?
UPDATE: Unfortunately, as of 2018, Korean Air SkyPass is no longer a transfer partner of Chase Ultimate Rewards.
I've written a lot about the Korean Air SkyPass program, and how Korean Air first class redemptions are pretty wide open, probably thanks largely to the fact that only those with Korean Air miles can book them.
As far as business class goes, in theory you can redeem partner miles (Delta SkyMiles, Alaska Mileage Plan miles, etc.) for Korean Air business class as well. However, they only have access to a very small portion of Korean Air's award availability.
If you're booking directly though Korean Air SkyPass, however, you should find plenty of business class award availability. We're not just talking a couple of seats per flight, but rather typically 9+ flights. Seeing that many seats is the norm, not the exception. Crazy, eh?

Korean Air one-way business class awards booked through SkyPass cost the following number of miles:
North America to North Asia/Korea: 62,500 miles
North America to Southwest Asia: 85,000 miles
North America to Oceania: 97,500 miles
There are some mild fuel surcharges on Korean Air awards, on top of the miles. For example, between the US and Korea you'll pay about $100 one-way for business class.
Bottom line
Korean Air SkyPass really is an incredible program. In the past I've always highlighted how easily you can redeem for first class on Korean Air, which is pretty awesome, given how tough it is to typically snag first class awards in advance nowadays, let alone multiple seats on one flight.
However, there's a lot of value to be had in redeeming for business class as well, especially if you're looking to travel as a larger party and/or want to save miles. Now that Korean Air has one of the world's best business class product on many of the planes they fly to the US, this is even more tempting than before.
Do keep in mind that Korean Air SkyPass only lets you redeem miles for family members, though on the plus side they also let you hold awards for a very long time, and have great change and cancelation policies.
Has anyone flown Korean Air's new business class product? What did you make of it?