Just when I thought one of my least favorite lounges in the US couldn't get any worse…
This afternoon I was at JFK before my 5PM Saudia flight from New York to Riyadh. Saudia uses the Korean Air Lounge for their premium passengers at JFK. Best I could tell Saudia actually uses the first class section for all their premium passengers, which seems generous on the surface.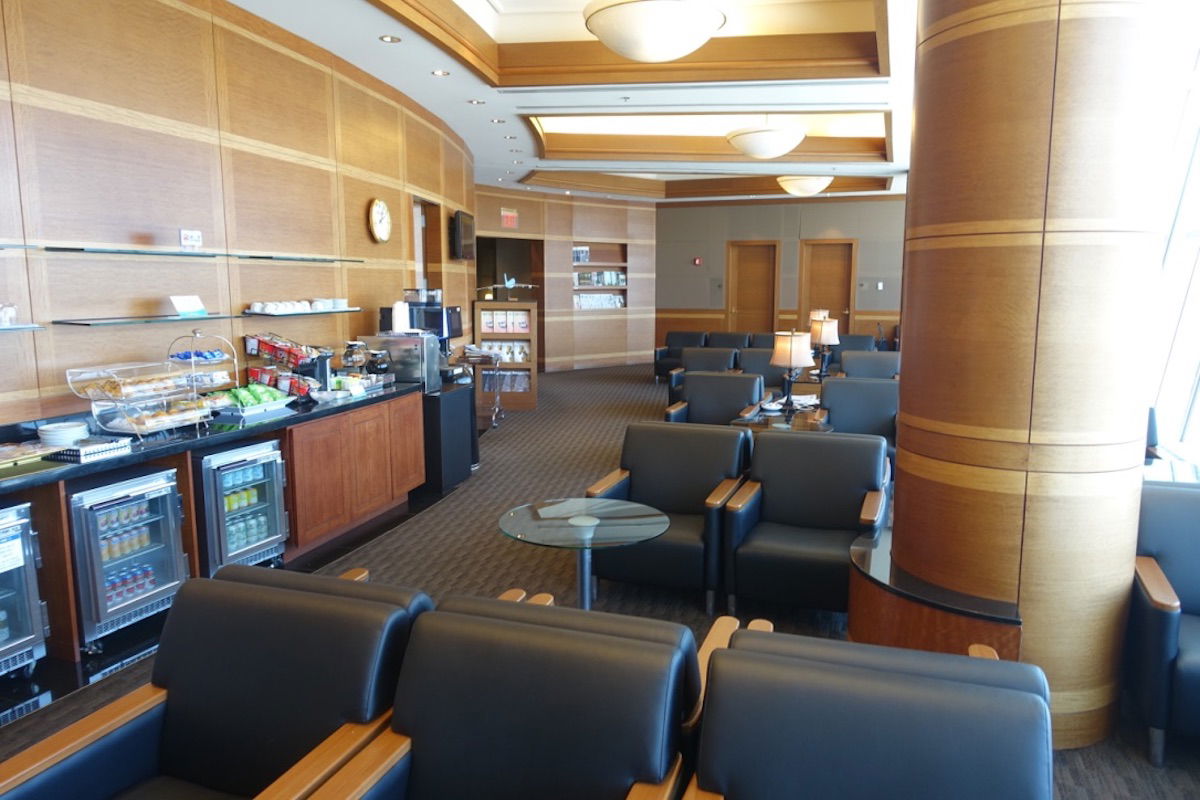 I've reviewed the Korean Air Lounge JFK before, and if you're a longtime reader, you may remember the issue I had with them. I'd hardly consider myself a social justice warrior, or anything, but the lounge had a ridiculous Wi-Fi network filter. Going to websites like HRC or GLAAD returned the following message:
"The web page is blocked because it violates network policy.

Reason: Gay, Lesbian or Bisexual – Web pages that cater to or discuss the gay, lesbian, bisexual or transgender lifestyle."
God forbid that in 2014 (at the time) a US airline lounge lets guests access websites that "cater to the gay lifestyle!" Fortunately they've fixed that in the meantime.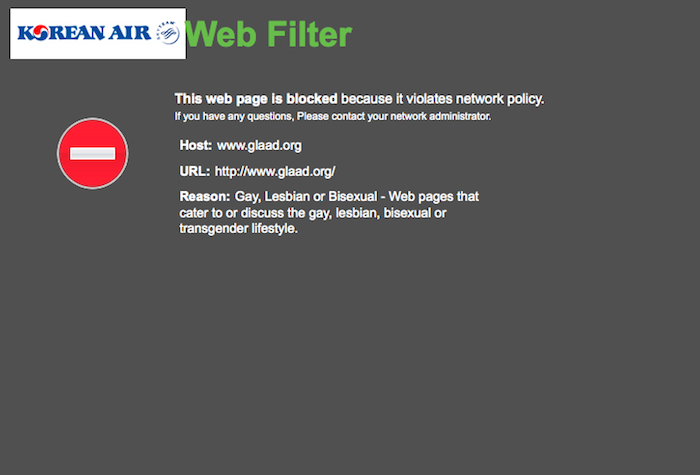 And then there was my experience today…
This has to be one of the only international first class lounges I've been to that serves water in ration cups. I may have had a bit too much water, given the novelty of these to me (sorry, I was trying to figure out the ideal way to drink from these cups), and needed to pee.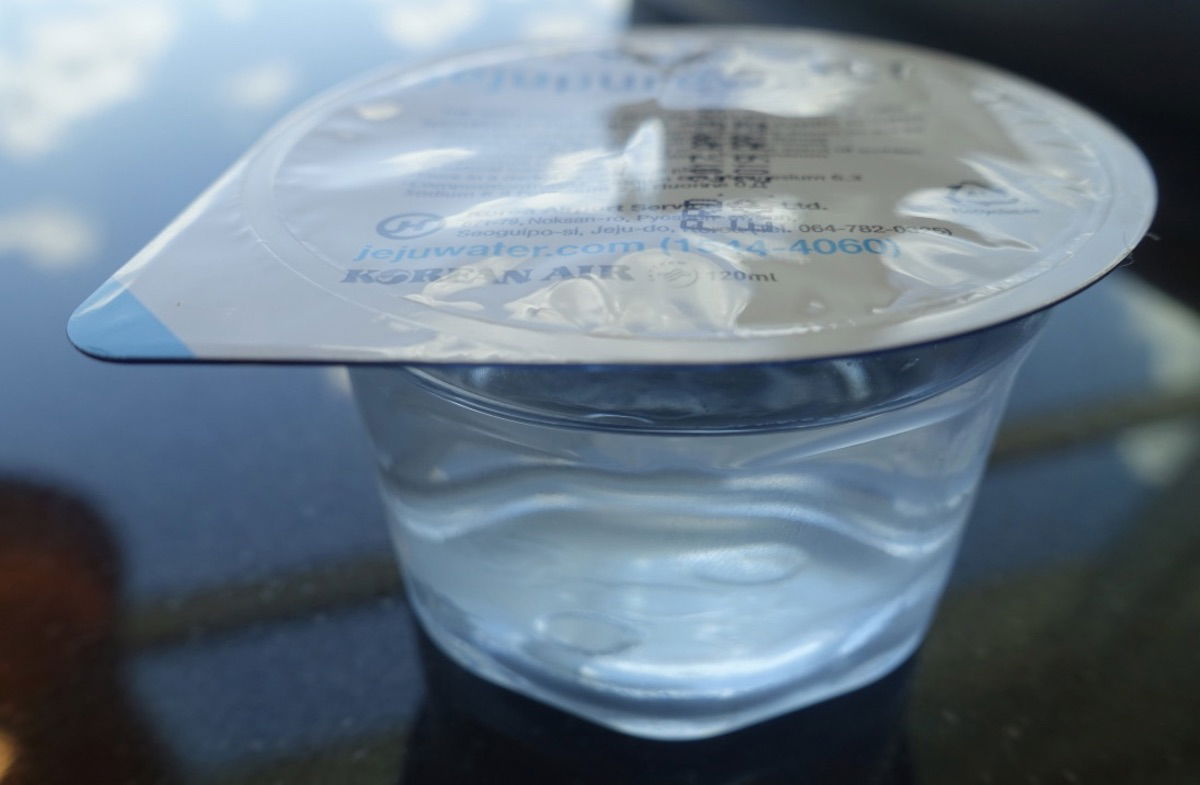 There are gender segregated bathrooms in the first class section of the lounge, and they're the types of bathrooms that only one person can use at a time.
I checked the men's bathroom and it was locked. I checked again 10 minutes later and someone was still in it. I checked 10 minutes later and someone was still in there. Lord have mercy.
At that point I went to reception and asked the Korean Air associate if I could use the business class bathroom, and she pointed me in that direction. When I got into the men's bathroom there were two guys with hard hats blocking the urinal, as they were taking the door off one of the stalls. Um, what the heck? This didn't look like a short process, so I left.
I checked the nearby shower rooms, and they were also locked.
I really had to pee, so I did something I don't think I've ever done before, but that I don't see an issue with — I decided to use the women's bathroom in the first class lounge. Let me say that first of all I think the concept of gender segregated bathrooms is unnecessary, but beyond that, this was a bathroom that only one person could use at a time. To top it all off, there were no women in the first class section of the lounge.
I did my business (and made sure to aim well), washed my hands, and emerged from the bathroom.
As I walked out of the bathroom the Korean Air agent literally yelled at me and said "what are you doing?!?!? You can't do that!"
"The men's bathroom has been occupied for 20 minutes, there was construction in the other bathroom, and I had to use the bathroom."
"No, you can't do this, you have to wait."
At this point I just sort of looked at her in disbelief, because I wasn't sure what to make of this. Like, lady, have you ever been on a plane before? Somehow we all manage to get along just fine sharing bathrooms.
She called over her colleague and said something to her in Korean, and then that lady ran off to the women's bathroom. She returned a few moments later and gave her the "clear." Are you freaking kidding me?!
I assume she was sent there to make sure I didn't plant cameras in there or get off all over the toilet seat to the thought of being in a women's bathroom, or something.
On top of that she got on the phone. I didn't hear all of her conversation, but heard her say "security."
At this point I'm standing there wth my jaw halfway to the floor in disbelief at this situation. I just said "wow, this is unbelievable" to her, grabbed my bags, and left.
I'm curious what you guys make of this. Was I completely crossing the line by using a one-person women's bathroom in a lounge with no women after the men's bathroom was occupied for 20+ minutes, while the practical alternative was under construction?