Update: Delta has now bought a 4.3% stake in Korean Air, which they hope to increase to 10%.
A bit over a month ago, Korean Air's president hinted that a joint venture would be coming shortly between Delta and Korean Air. Well, that has now been confirmed.

Delta and Korean have signed a memorandum of understanding to implement a transpacific joint venture agreement. Here's what the highlights of the agreement are, according to the airlines:
The intent to create a fully integrated trans-Pacific joint venture arrangement, with both airlines sharing the costs and revenues on flights and coordinating schedules for seamless, convenient connections.
A combined network, serving more than 290 destinations in the Americas and more than 80 in Asia, providing customers of both airlines with more travel choices than ever before.
Enhanced frequent flyer benefits, providing customers of both airlines the ability to earn and redeem miles on Delta's Sky Miles and Korean Air's SKYPASS programs.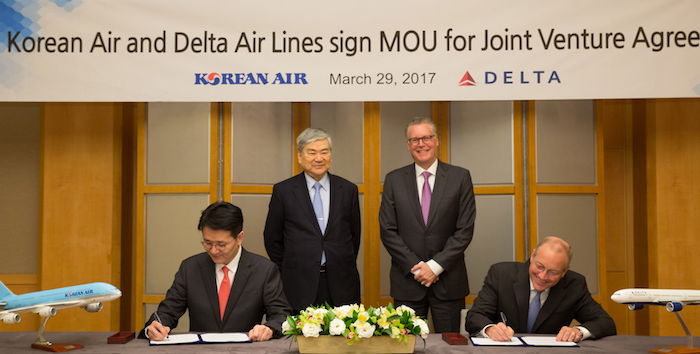 Here's what executives from both airlines had to say about the agreement:
"This agreement deepens our longstanding partnership with Korean Air and will provide the global access and seamless service our customers demand," said Delta CEO Ed Bastian. "We look forward to providing customers of both carriers with industry-leading service between the U.S. and Asia."

"This Joint Venture will benefit our customers by providing more convenient connection schedules and widen their opportunities in earning mileages," said Korean Air's Chairman and CEO, Yang Ho Cho. "With this agreement, we will reinforce Incheon airport's position as a major international hub in North East Asia and support the growth of Korea's aviation industry."
Delta will launch a flight between Atlanta and Seoul Incheon as of June 2017, which complements Korean Air's flight in the market. Furthermore, Korean Air will look at continuing to expand their US routes — they already serve more US destinations than any other Asian airline.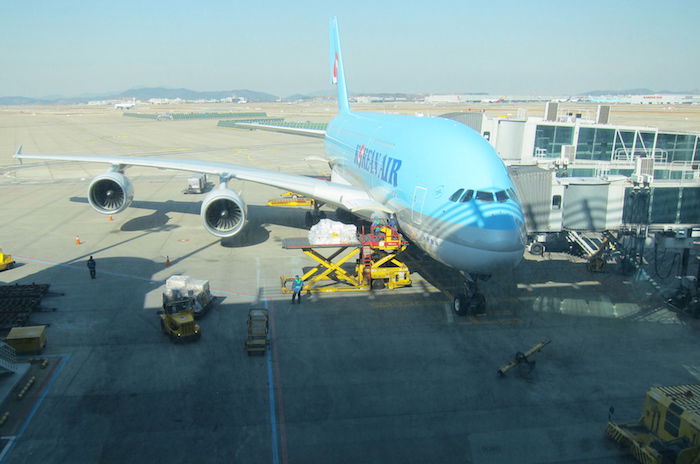 So we'll see Delta and Korean Air align their schedules and fares in the transpacific market, which is almost the same as a competitor being eliminated, since the two airlines will be acting as one.
This joint venture should be good news for Delta SkyMiles members. Presently Korean Air is a "Group 4" SkyMiles airline partner, meaning that as of now you don't earn Medallion Qualifying Miles or Medallion Qualifying Dollars when flying Korean Air marketed flights. While it hasn't been updated yet, I imagine this will change very shortly. It will once again make sense for Delta SkyMiles members to take Korean Air flights.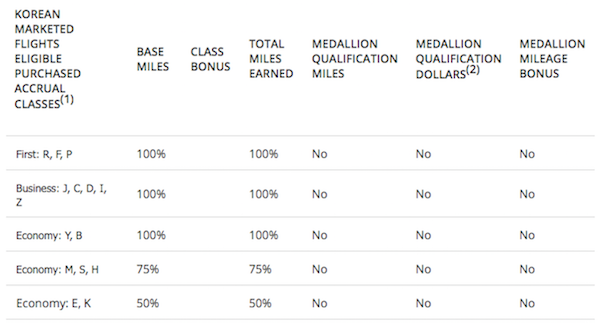 Bottom line
While Delta owns an equity stake in China Eastern, it makes sense for them to have another strong partner in Asia. China Eastern covers their needs for mainland China, though for much of the rest of Asia, Incheon Airport is a more convenient hub. So as much as the two airlines have intentionally been competitive and haven't played nice for a while, I think they see the mutual benefit in working together, which might explain why they've been warming up to one another lately, and why this joint venture is happening.
Do you view the Delta & Korean Air joint venture as good or bad for consumers?