Update: Read my full Korean Air Business Class 777 Seoul To Kathmandu review.
Hello from Kathmandu, Nepal! Yesterday I flew Korean Air's 777-200 business class from Seoul Incheon to Kathmandu. While I'll have a full trip report soon, I figured I'd share my initial impressions of the experience.
The first thing that makes this flight unique is that it's operated by a three cabin 777-200, though Korean Air doesn't sell first class on this route. But it gets weirder than that.
The plane has eight first class seats and 28 business class seats. So they sell the eight first class seats and first 14 business class seats as business class, and then the other business class seats are sold as economy.
I asked about the possibility of assigning a first class seat at check-in, though I was informed that my fare class wasn't high enough. I was on an award ticket, so I suspect they'll only let revenue passengers snag the seats, even though the service is identical.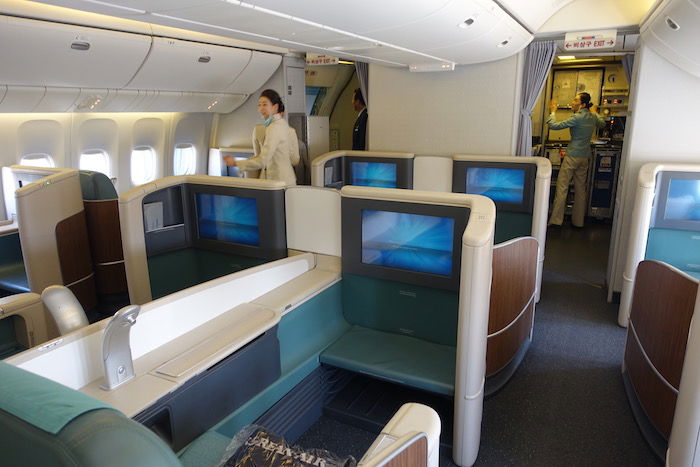 The business class cabin consisted of seven seats per row, in a 2-3-2 configuration. There were two rows between doors one and two (which were the ones being sold as business class), while the two rows behind row two were used for economy passengers.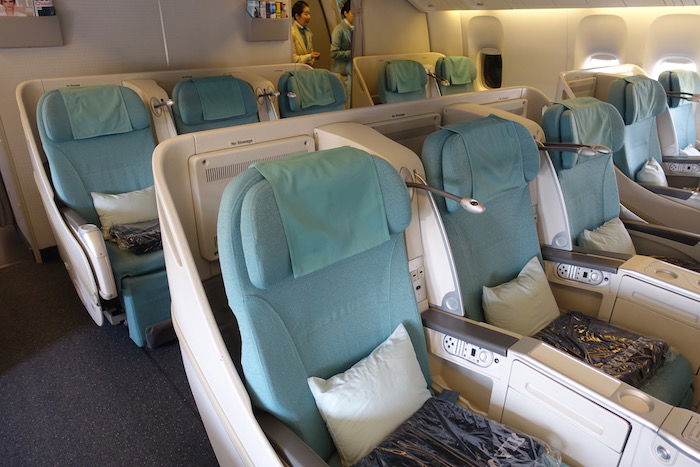 As I explained yesterday, despite the flight covering a distance of under 2,500 miles, the flight time was 7hr45min. You can see yesterday's post for the explanation of why the flight was so long — interesting stuff.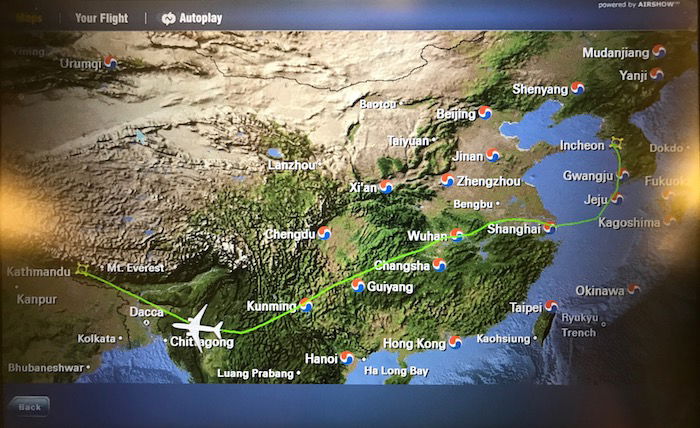 After takeoff lunch was served, which had a similar format to the meal we were served the previous day from San Francisco to Seoul.
Service began with a roasted fig tart with feta cheese and tomato salsa.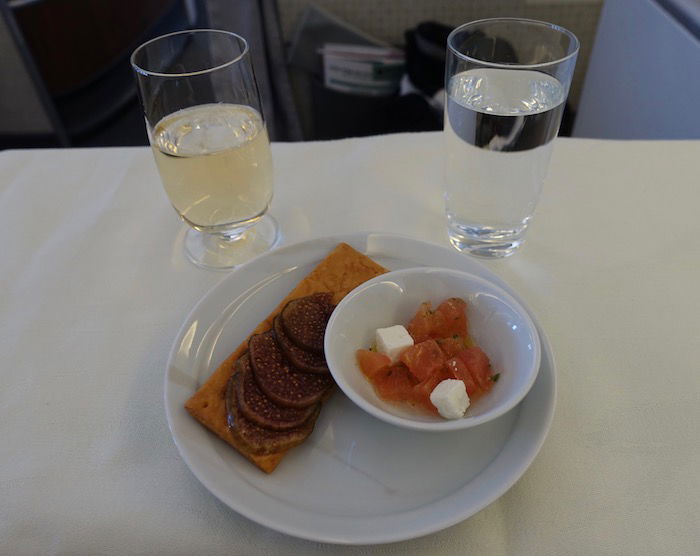 That was followed by an appetizer consisting of a mixed green salad with shrimp, along with some garlic bread.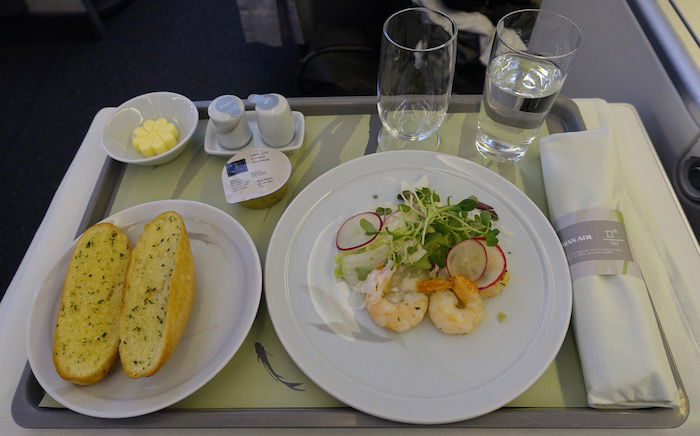 Then there was a broccoli cream soup.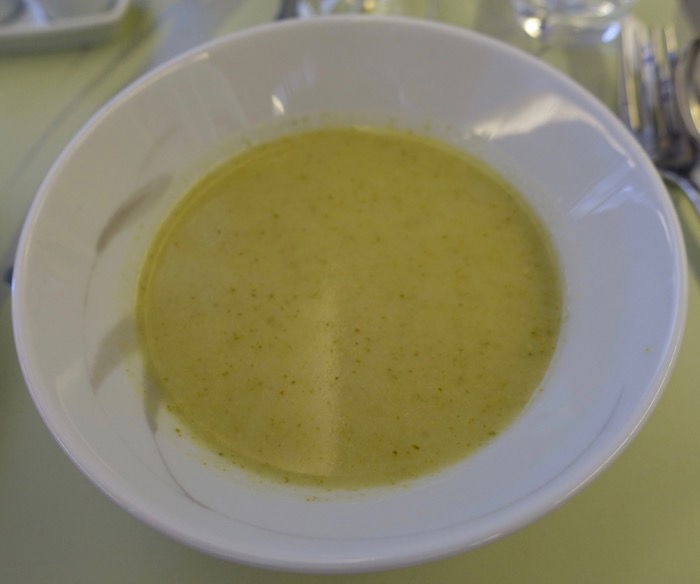 For the main course I selected the cod with pesto cream sauce, roasted potatoes, and vegetables. The dish was really good, surprisingly.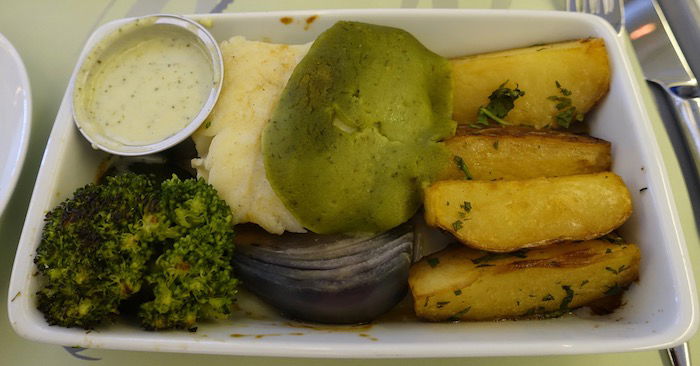 For dessert there was the choice between ice cream and fruit.
Then about 90 minutes before landing a roast beef sandwich was served (which wasn't so good).
Service throughout the flight was excellent. The flight attendants were attentive and friendly. However, I guess that's pretty easy to do when there are just a total of nine people in business class.
While totally random, one other thing I found interesting was that the captain was American. Every Korean Air flight I've taken within Asia had an American captain, while all the longhaul Korean Air flights I've taken had Korean captains.
Even though this was a daytime flight leaving around 1PM and arriving around 6PM, I was tired. We had only flown in from the U.S. the day before, so we were still adjusting.
I didn't think I'd be able to get much sleep, since I knew the seats were angled, and figured the angle would be substantial enough to make the seat uncomfortable in the reclined position. However, I was happy to find out that wasn't the case. While the seat is angled, it was similar to the angle in business class on the EgyptAir 777, which I still found comfortable for sleeping.
So while it's not the widest seat out there, I got a solid four hours of sleep, which was great.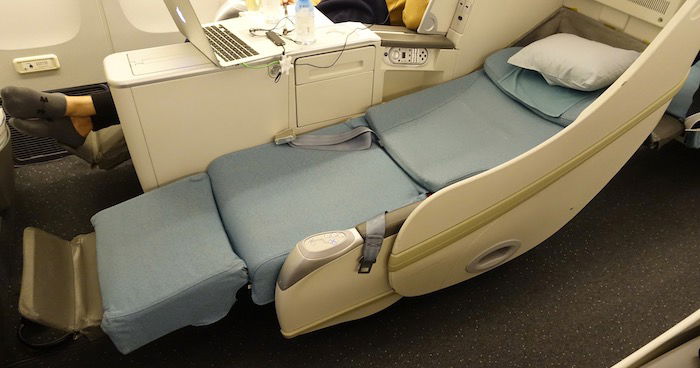 The flight was smooth (despite the strong headwinds and routing), and the views on descent were interesting.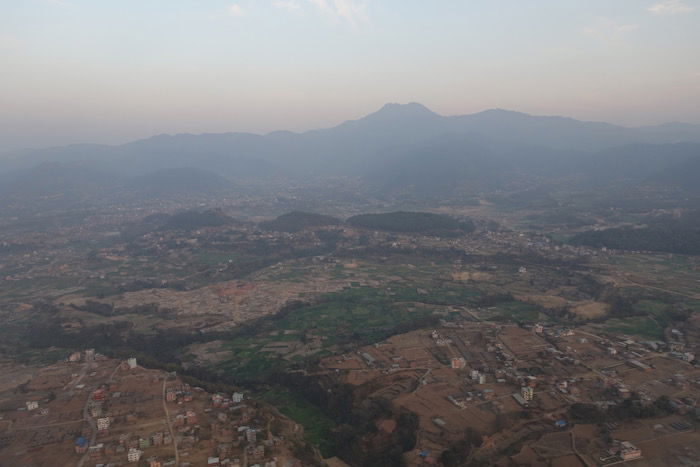 Kathmandu Airport is pretty small and doesn't have any jet bridges, so we deplaned by stairs. The 777 is so big that it almost seemed out of place at the airport.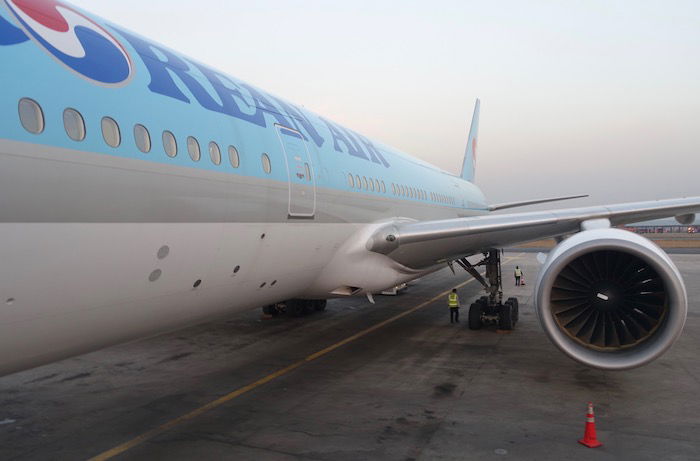 We were able to get a visa on arrival, and were out of the airport within about 20 minutes (in order to get a visa on arrival you need to fill out a short application on a computer when you arrive, and then see an agent to pay the fee).
Overall our Korean Air flight was excellent. While the flight was much longer than I was expecting, that turned out to be a blessing, because I managed to get some real sleep. The Korean Air 777 business class seat is much more comfortable than I was expecting as well, so I wouldn't hesitate to book it for a longhaul flight. Do keep in mind that many Korean Air 777-300s feature the Apex Suite in business class, which is top notch.