I'm flying from Seoul Incheon to Kathmandu today. I had mapped out the flight when I first booked this, and noted that it covered a distance of 2,469 miles.
When flying a route for the first time, I typically compare it to a route I take more frequently in terms of length. I thought to myself that the flight was just a few miles shorter than New York to Los Angeles. Since this was a westbound flight, I figured the flight would be maybe 5hr30min in the air. U.S. carriers typically schedule New York to Los Angeles flights at around 6hr30min gate-to-gate, and that includes generous padding, plus plenty of time for dealing with two congested airports.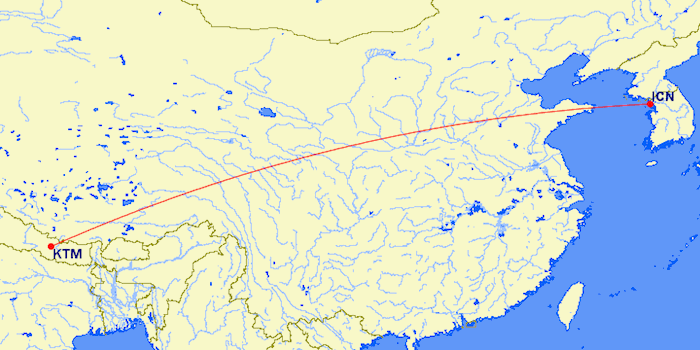 Ford asked me how long the flight was, so I said "maybe five and a half hours, or so." I knew what time we were scheduled to depart and arrive, though with timezone differences hadn't investigated the actual flight time.
When I pulled up the flight on Google Flights, it indicated that the flight time was 7hr45min. I assumed this was a glitch, because I've never before seen a sub-2,500 mile flight that's blocked that long.
However, I pulled up the flight on Flightaware, and saw that the flight doesn't just have that long of a block time, but actually has a flight time that long. A few days ago the flight took 7hr46min in the air, which is longer than the block time.

In looking at the map, it's clear the flight takes a really circuitous routing: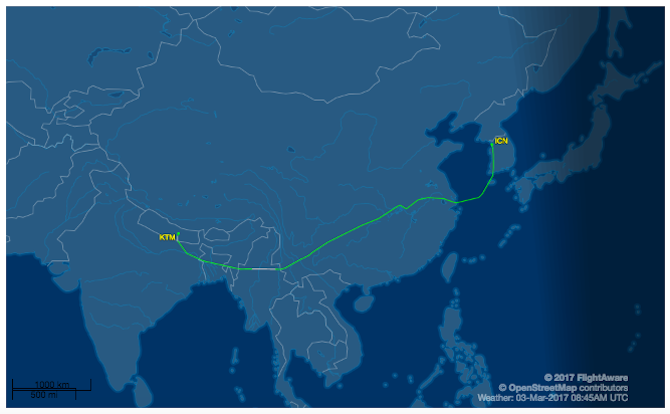 For example, a few days ago the flight covered a distance of 3,176 miles, while the direct distance is 2,467 miles.
I understand why airlines avoid certain airspaces. For examples, a few months ago I flew Ukraine Airlines from Baku to Kiev, and the flight time was 3hr30min, even though we were just covering a direct air distance of 1,150 miles. But Ukraine Airlines also has a lot of airspace they need to avoid.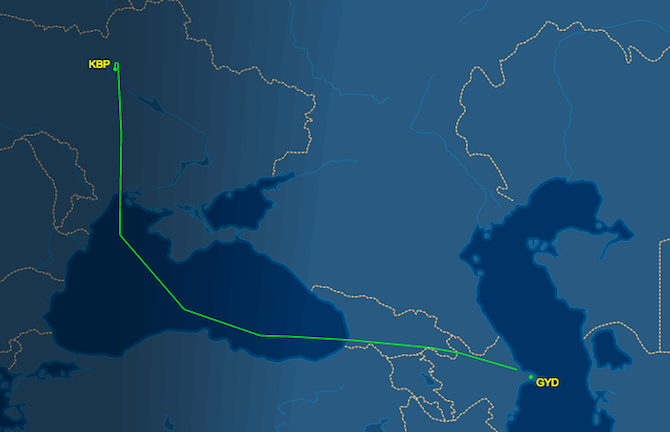 However, I didn't think that would be the same flying from Incheon to Kathmandu, unless it's terrain related?
So anyone have any insight as to why Korean Air's ~2,500 mile Incheon to Kathmandu flight takes nearly eight hours?!