Update: Read my full Korean Air Business Class 747-8 San Francisco To Seoul review.
Hello from Incheon! I just flew Korean Air's 747-8 business class for the first time ever. I've flown Korean Air's first class product several times before, including on the A380, 777, and 747-8, and have always enjoyed my experience on them, so I was curious to see how their business class product compared.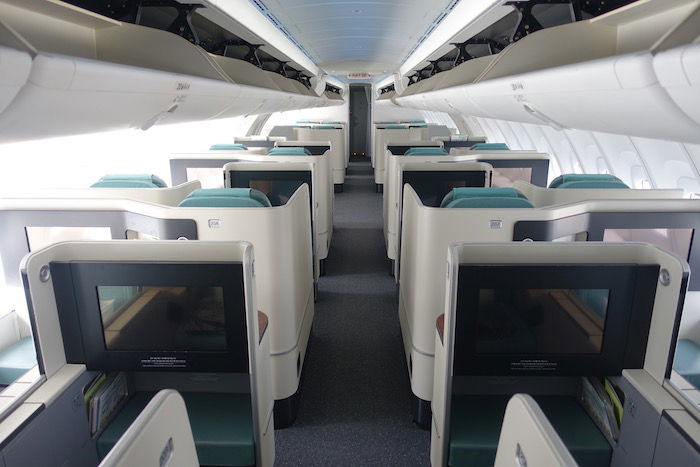 Korean Air has Apex Suites in business class on the 747-8. I've flown the Apex Suite on Japan Airlines and Oman Air, and the window seats in this configuration are the best business class hard product out there, in my opinion.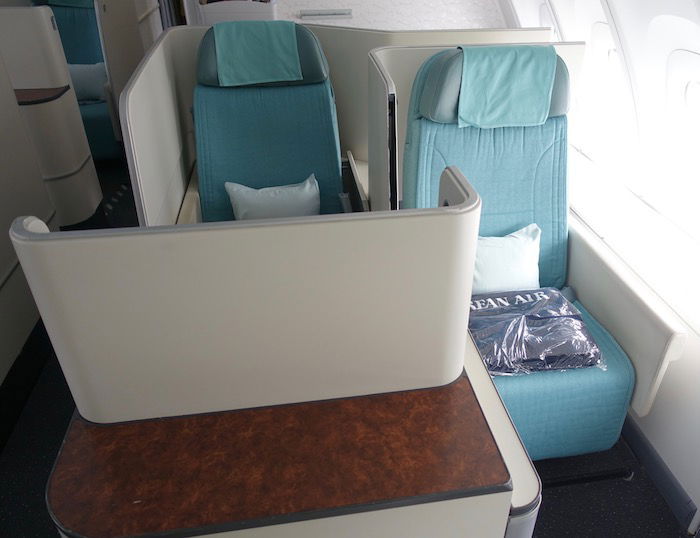 Well, I'd say Korean Air's upper deck window seats on the 747-8 are the best Apex Suites out there, and by extension, the single best business class hard product in the world. Not only does the upper deck feel private, but there are huge storage bins along the side of the cabin, which make the seat feel even more spacious. I genuinely think the hard product is the best in the world.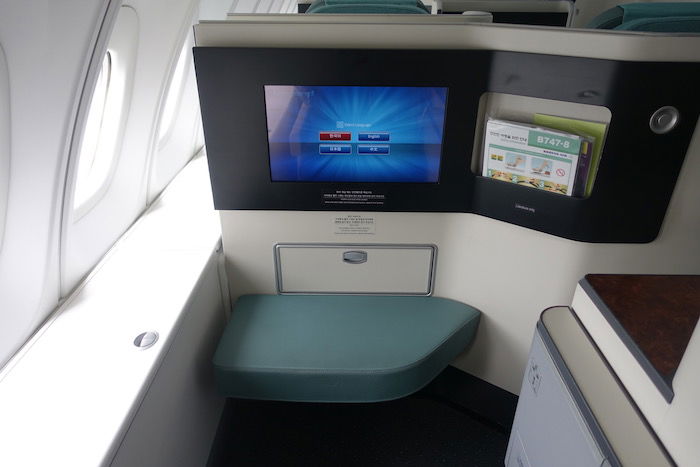 To focus on the other huge positive, the three flight attendants working the upper deck were a delight. I've generally found Korean Air crews to be excellent, and they were just as good in business class as in first class. They were genuine, constantly smiling, and attentive.
That being said, the service did feel a bit like an assembly line — everything is served from carts, there's no dine on demand, and the meal timings were bizarre. This was a 12 hour flight departing San Francisco at 11:30AM and arriving in Seoul the next day at 5:30PM.
As you'd expect, a meal was served after takeoff. But instead of serving the pre-arrival meal a couple of hours before landing, it was served five hours before landing. What the heck?! I had finally just fallen asleep 30 minutes before that meal service started (I tend to sleep during the second half of daytime westbound transpacific flights), but then the cabin lights were turned on and it was quite noisy. I really don't get it.
As far as the food quality goes, I'd say it was above average, but not amazing. After takeoff there was an amuse bouche consisting of a roasted bell pepper cream cheese roll. Then there was a prawn and scallop starter, followed by a green asparagus soup.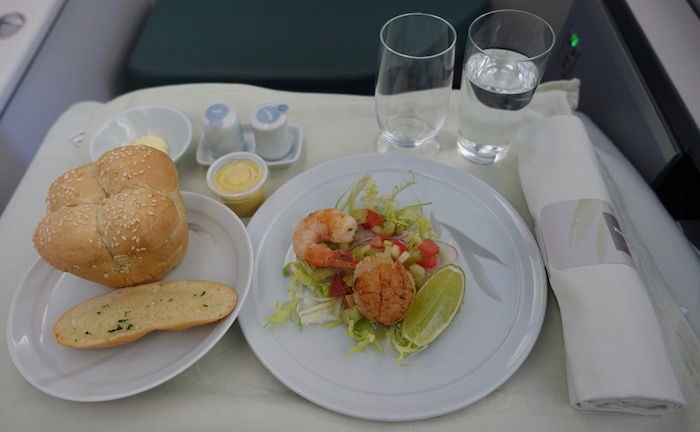 For the main course I had the sautéed salmon, which wasn't great, as the fish was pretty dry. I'm also not sure I get why they served spaghetti with it.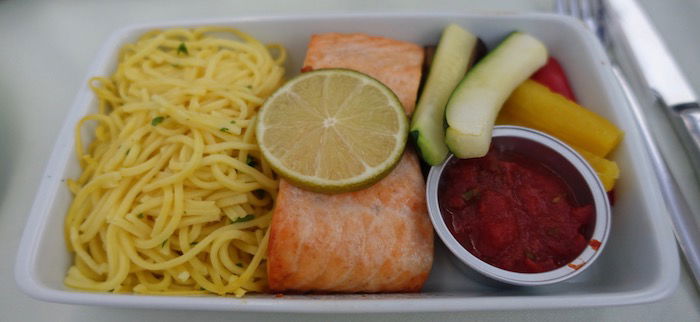 Then there was a cheese course, followed by dessert.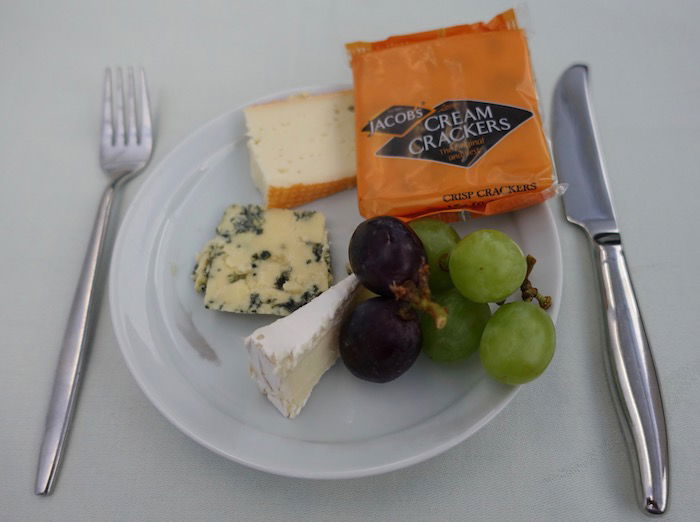 For dessert there was the choice between ice cream and white almond cake.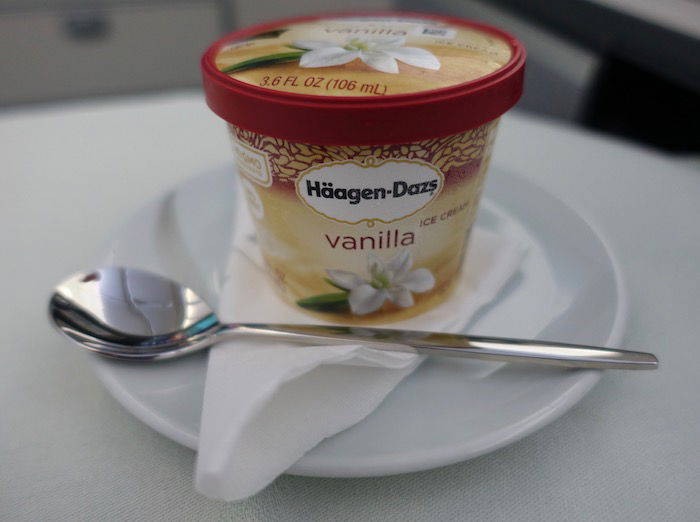 As usual you could also have bibimbap as your main course. I've had it many times in the past, so didn't select it this time around. However, Ford had it, and he enjoyed it.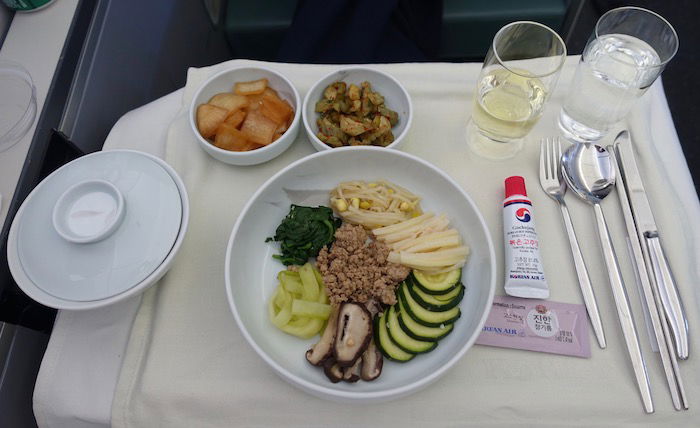 Overall it was a solid meal, though not amazing.
In terms of amenities, Korean Air business class is a mixed bag. There's a very nice amenity kit and slippers, as well as pretty good noise canceling headphones.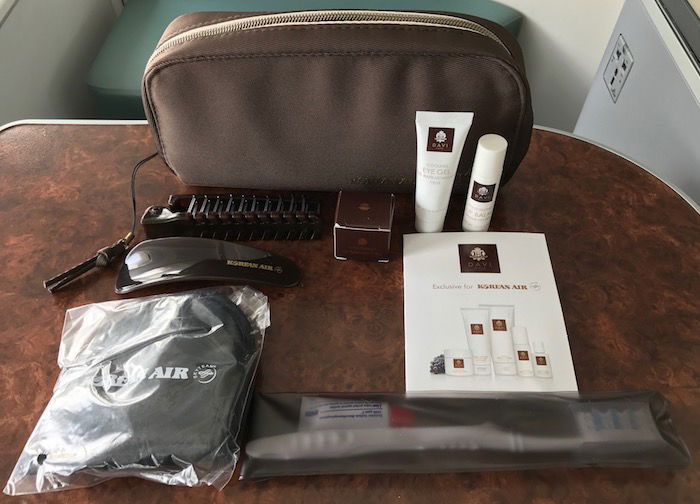 However, the pillow in business class is tiny, and there's just a fleece blanket. At a minimum I wish they'd have a better pillow, as it's sad to invest so much in a great seat and then skimp on the bedding, which can make a huge difference in terms of seat comfort.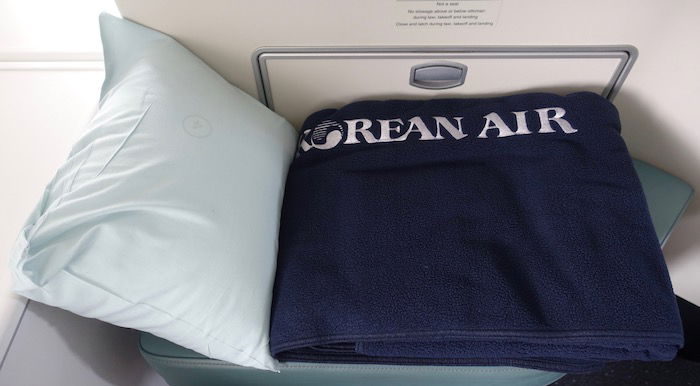 The entertainment selection was decent as well. I worked for much of the flight, though did watch La La Land (I still don't get all the hype?). Unfortunately Korean Air doesn't have Wi-Fi, though I guess it was nice to disconnect for 12+ hours.
Bottom line
Overall my flight in Korean Air business class was excellent. I realize I have some complaints about it, but that's just because I'm trying to be thorough.
The upper deck window seats on the 747-8 are the best business class product out there. The seats are incredibly spacious and private. The flight attendants were friendly, professional, and well intentioned.
The food, amenity kit, slippers, etc., were good overall.
Meanwhile there was definitely room for improvement with the odd meal timings, the small pillow, and the fleece blanket. I'd also love to see Korean Air add Wi-Fi, though it looks like that's not happening anytime soon.
Some of the other aspects of the soft product were a bit off as well. For example, they only had one small bottle of water per person, and their water glasses almost felt like shot glasses to me, so staying hydrated was a challenge. I was also a bit surprised that they had no packaged snacks between meals. You could have noodles or warm cookies, though on longhaul flights most airlines have an area where you can just grab some packaged snacks, which Korean Air didn't have.
Overall I highly recommend Korean Air business class, as they're one of the few airlines to offer Apex Suites in transpacific business class. If they put just a bit more effort into the soft product, they'd have one of the most well rounded products out there.
If you've flown Korean Air's business class, what was your experience like?