I know the whole Knee Defender controversy is totes last month, but I just have to chime in now. For those of you not familiar with the Knee Defender, it sparked a national controversy over seat recline, after an August 24 flight was diverted when two passengers got in an altercation over seat recline.
The Knee Defender is a product that prevents the seat in front of you from being able to recline by basically locking it into place.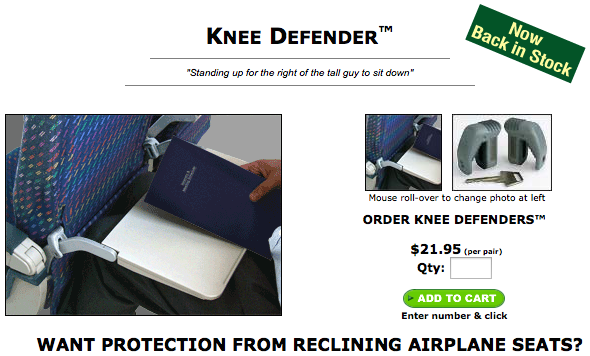 My good pal Chris Elliott, consumer advocate extraordinaire, is having his annual fundraiser. In order to take his fundraiser "up a notch," he was giving away one Knee Defender every hour yesterday. I don't get how any self-proclaimed consumer advocate could be in favor of the Knee Defender. And for that matter I don't get why anyone would actively be trying to piss people off during a "fundraiser," but that's a whole different story…
My stance on seat recline in economy
Almost four years ago I wrote a post entitled "Is Reclining Your Seat On An Airplane A Right Or A Privilege?"
My stance on reclining is as follows:
When available, reclining your seat in economy is a right — after all, the recline control is located at your seat, and not the seat behind you
Personally I'll never recline in economy, because legroom is usually tight to begin with
If you are going to recline in economy, I think it's courteous to ask the person behind you if it's okay, or at least recline slowly and make eye contact as you do, to make sure they don't have a negative reaction
My stance on being reclined on from the seat in front of me is as follows:
If you're reclined on and it's absolutely unbearable, kindly ask the passenger in front of you if they wouldn't mind keeping the seat upright
If they have an issue with it and it really is unbearable, kindly explain to a flight attendant and see if they can intervene, or perhaps reseat you
If you know upfront economy will be extremely uncomfortable (for example, if you're really tall), pay extra for a seat with more legroom — almost all airlines will sell you extra legroom seats for a nominal premium
If you really have an issue with seat recline, fly an airline which doesn't allow you to recline your seats, like Spirit — for travel on airlines that still offer seat recline, it's considered a right and not a privilege
In my opinion, at 35,000 feet and in a post-9/11 world (where almost anything can cause a diversion) you should never:
Do anything that would provoke another passenger to take physical or verbal action against you
Approach another passenger in an angry way in order to "take matters into your own hands"
Do something passive aggressive, like disabling controls they have at their seat
Chris Elliott's stance on the Knee Defender
Chris Elliott has a completely different and much more passive aggressive approach towards seat recline, calling the Knee Defender a "necessary deterrent." He even goes so far as to call the Knee Defender "not controversial," because he thinks he's so right.
Chris argues that people should only use the Knee Defender to "carve out a compromising amount of legroom," whatever that means:
If you're a responsible air traveler, you shouldn't be offended by my Knee Defender premium. You would never arbitrarily lock someone else's airline seat in the full upright position. You'd use the Knee Defender to carve out a compromising amount of legroom, and only after offering the passenger in front of you the Knee Defender courtesy card and receiving permission to protect your laptop, your knees or the child on your lap.
He also argues you shouldn't be offended if someone "uses" the Knee Defender against you, because surely you'd never arbitrarily recline your seat without first asking the person behind you:
If you're the passenger in front of the person with a Knee Defender, you shouldn't be ticked off, either. After all, you would never arbitrarily recline your seat without first asking the passenger behind you if it's OK. Right?
I agree with him, that as a courtesy you should always ask.
But this is where his argument slips from "fair enough" to downright passive aggressive:
If, however, you're one of those passengers who feels entitled to all the space behind you and who slams the seat all the way back as soon as you reach cruising altitude, maybe you should be offended.

Maybe I don't care if you're offended.

I see the Knee Defender as a necessary deterrent. Airlines are removing legroom and trying to sell it back to us. They're making the ludicrous assertion that we "asked" them to do it by buying cheap fares.

But they are really fomenting a revolution at 36,000 feet by removing much-needed personal space. The presence of a Knee Defender can change that dynamic and restore a little order to the flying experience.
Why Chris Elliott is wrong on Knee Defender
What he says sounds okay in theory… okay, well that's not even true, but let's pretend. Let's play out Chris' scenario here.
In the case of limited legroom, my approach would be to talk to the person in front of me like an adult. "I'm sorry, I already barely have any legroom here, do you mind maybe not reclining if possible? It's totally within your rights, but my knees already physically can't move."
Chris' approach involves handing the person in front of you a "courtesy card," sort of informing them of their supposed rights.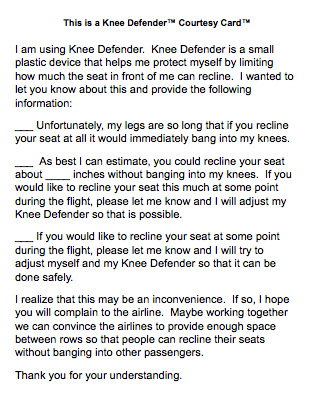 And if they don't agree with you, that's too damn bad, because you'll use the Knee Defender anyway.
I'd really love to know about the next step, though. Where does Chris think things are going from there? If you hand the passenger the Knee Defender card and it pisses them off or they still want to recline, then what? You'll put the Knee Defender up, and an in-air altercation will ensue?
The Knee Defender doesn't accomplish anything that simply having a conversation with someone wouldn't. And I'd argue it actually accomplishes less. I certainly don't see how a Knee Defender would "restore a little order to the flying experience," as Chris suggests.
Chris, if you're a consumer advocate, how about informing passengers how to have a civilized, non-passive aggressive conversation, rather than immediately starting off in a way that can only be interpreted as passive aggressive.
Where do you stand on seat recline, and where do you specifically stand on the Knee Defender?