The other week I was talking with someone about the little houses offered to business class passengers on KLM flights. I realized it's a story that has never been told here on OMAAT, which is a shame, as this is one of my favorite pieces of avgeek trivia.
Once upon a time, the Civil Aeronautics Board (CAB) regulated all manner of aviation-related policies in the United States. The CAB's reach extended far beyond the safety and fare regulations we see today — prior to the Airline Deregulation Act in 1978 everything from fares to routes and even schedules were subject to government approval. There were separate standards controlling international routes and carriers, with the general idea being to ensure an equal playing field.
One of these rules prohibited airlines from incentivizing passengers. Given tariffs were regulated such that airlines could not compete on price — in other words, airlines had to sell tickets from New York to Los Angeles at the exact same fare — tangible incentives (gifts, for instance) had a monetary value which could effectively "reduce" the price of the trip for the customer, and were thus not allowed.
Airlines, of course, tried to circumvent the restrictions, because that's what people do.
Arguably the most successful effort was made by KLM Royal Dutch Airlines. In 1952 the airline started presenting passengers with finely-crafted ceramic Delft houses, which appeared to be obviously and blatantly against the rules.
The catch? The miniature houses were hollow, and filled with Dutch gin.
When other airlines and regulators (unsurprisingly) protested, KLM offered a Taylor Swift-worthy retort:
"Is there a law that tells us drinks have to be served in a glass?"
So the tradition of a last drink — ahem, "on the house" — was born.
KLM Delft Blue Houses Today
Over the years, KLM has not only continued to offer the little blue-and-white houses to their premium cabin passengers, they've also created a bit of a cult following. There are now 96 KLM Delft Blue houses, and each is numbered, dated, and filled with Bols Genever, just as they've been since 1952.
KLM even has apps for Apple and Android so you can keep track of your collection. The airline generally stocks a few different houses on each flight, though only a handful are in circulation at any given point in time.
Between my husband, my in-laws, Ben, and Nick, we have a small assortment of KLM houses, with surprisingly no repeats.
My in-laws have house #5, which is based on a "generic" house in Amsterdam: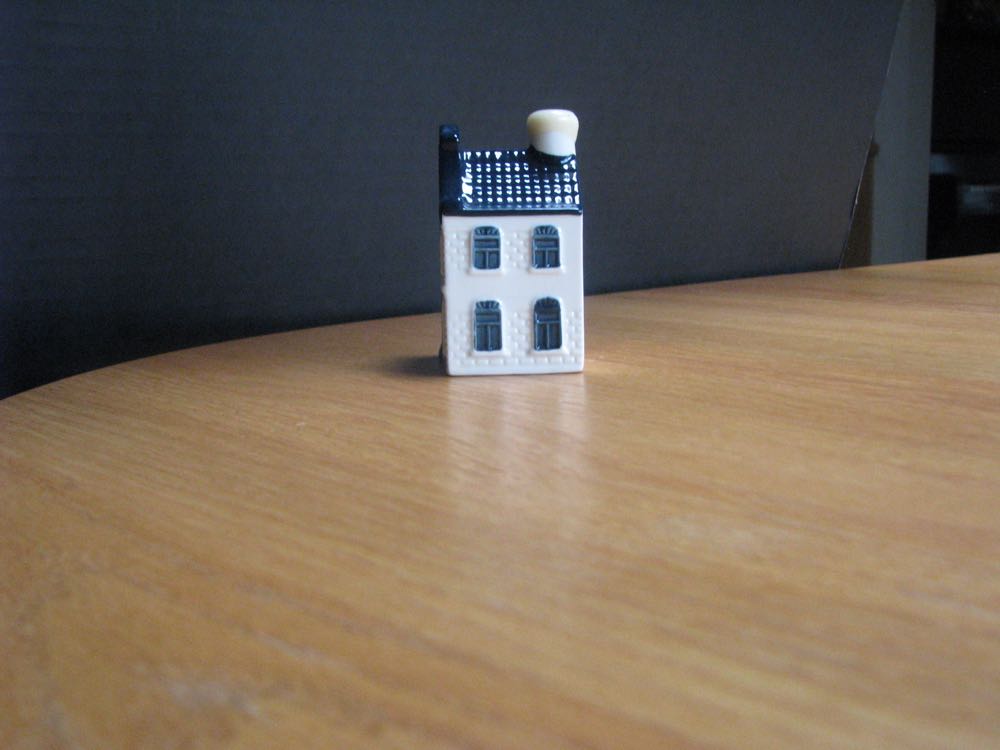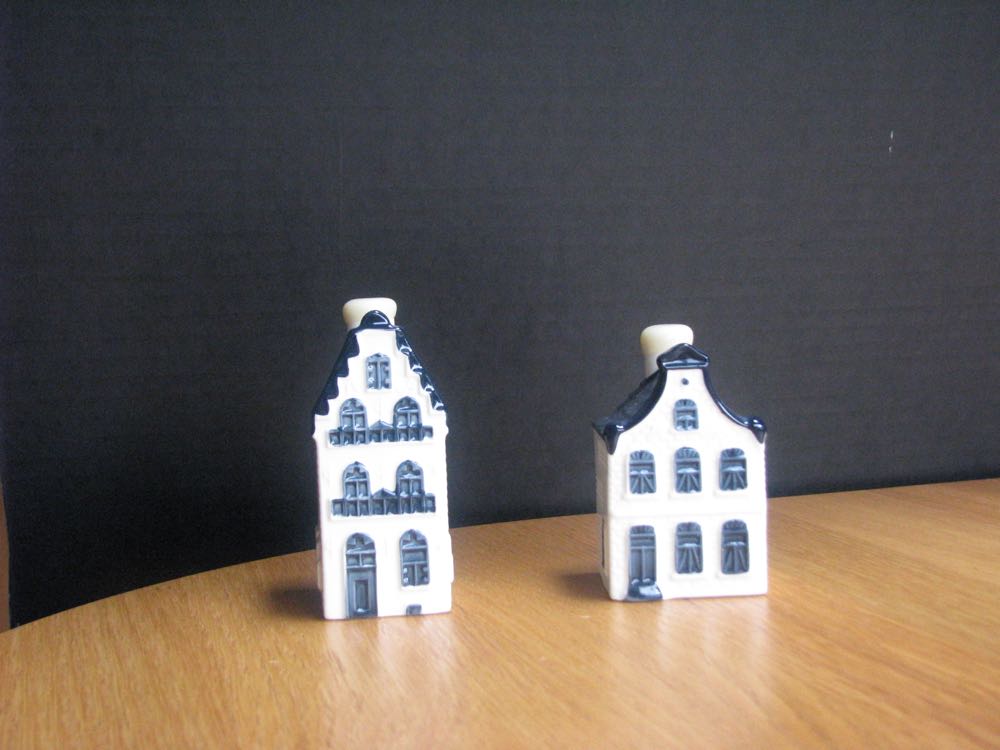 They also have house #18, which has an actual address in real life, though the historic building from 1569 is apparently now hosting a lingerie store.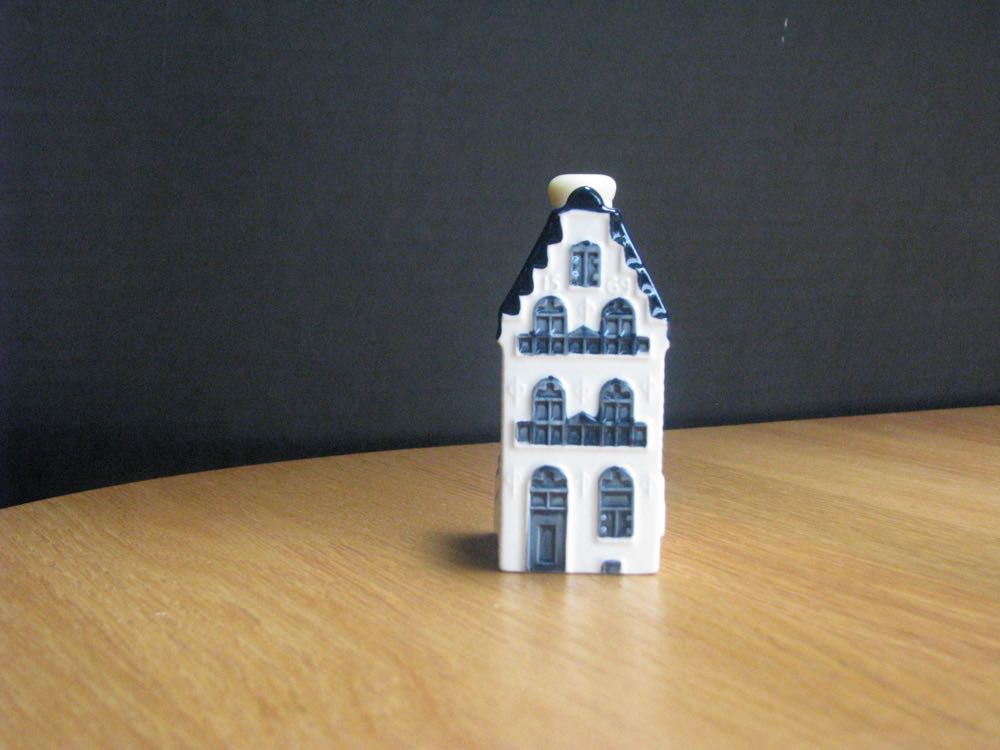 Meanwhile, Nick's house #17 is inspired by the architecture in Gouda: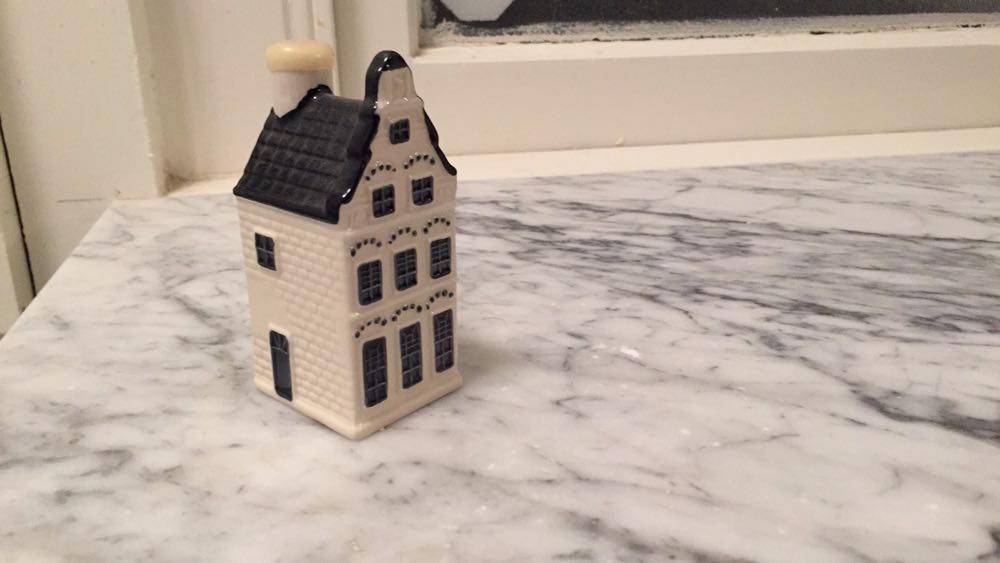 Ben was given house #37 on one of his flights, which is a replica of the historic Bank van Lening in Amsterdam: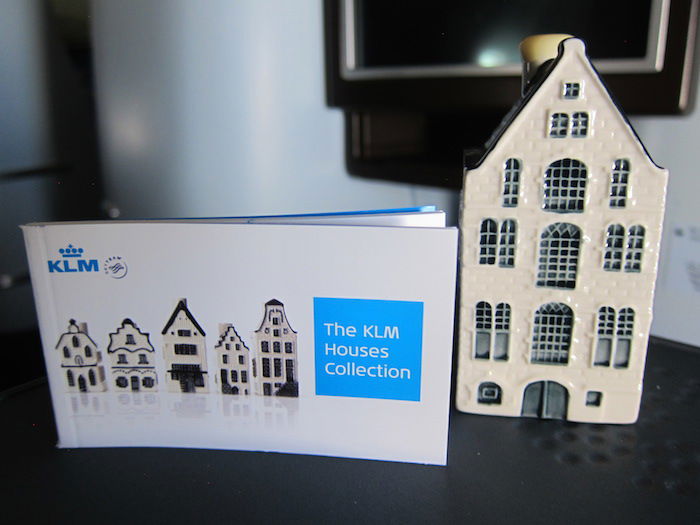 Here at home we have house #39, which is modeled on a 17th century house in Hindeloopen: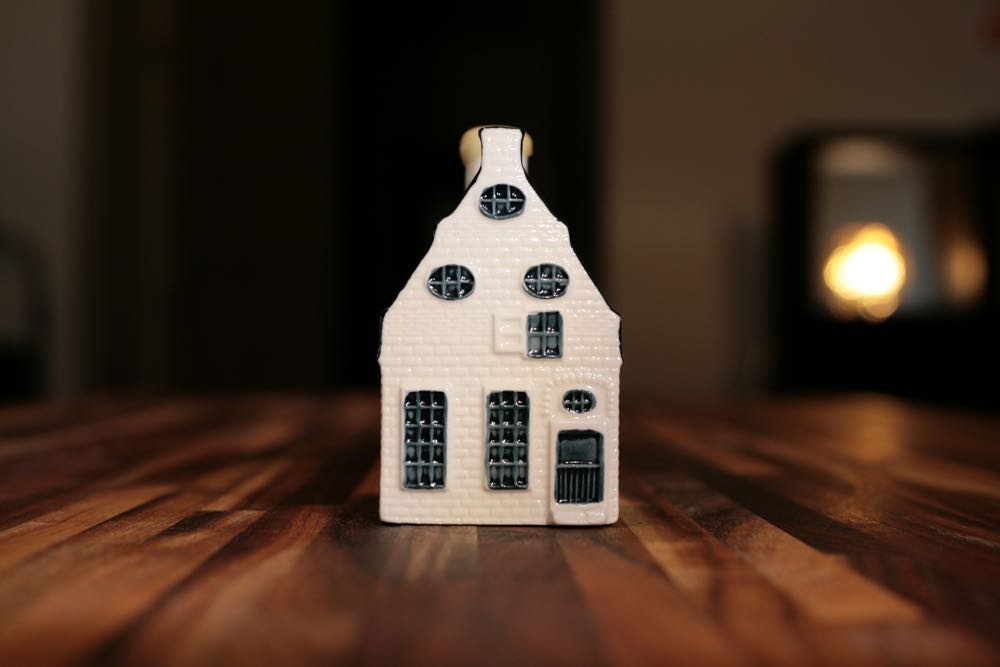 Fun, right? I always love when airlines offer creative amenities, and this is one of my favorites.
Get your own Delft Blue house
KLM still offers all their World Business Class passengers a miniature house, and there are several ways to use miles on KLM.
Alaska Mileage Plan
Alaska charges 62,500 miles one-way for KLM business class flights between North America and Europe, though you can't mix partners, so you'll need to leave from an Alaska or Air France/KLM city.
Transfer partners: Starwood Preferred Guest
Delta SkyMiles
If you're booking 10+ months in advance, or very close to departure, the best way to book is through SkyMiles. Delta charges 62,500 miles for a one-way between North America and Europe, with no fuel surcharges for trips originating in the United States.
Transfer partners: American Express Membership Rewards and Starwood Preferred Guest
Air France/KLM FlyingBlue
Of course, you can also redeem miles through the FlyingBlue program. Awards start at 62,500 miles one-way, though FlyingBlue also offers promo awards for business class on occasion, which can be a very good deal. Beyond that, FlyingBlue offers enhanced availability through their program — you'll often spend more miles, but you also have access to more flights. Either way, you do pay fuel surcharges on all FlyingBlue redemptions.
Transfer partners: American Express Membership Rewards, Citi ThankYou, and Starwood Preferred Guest
Bottom line
I think the KLM Dutch houses are a fun tradition, especially given the history. I love how distinctive the blue houses are, and that an entire culture has sprung up around collecting the individual pieces.
What do you think of the KLM houses? Does anyone have one?