The Chicago Seminars were last weekend, which is always one of my favorite events of the year. There's a great sense of community, and Howie does an incredible job setting the tone for a friendly and helpful weekend. Additionally, the event isn't done on a for-profit basis, so the generosity of attendees, speakers who donate their time, and sponsors who contribute towards costs means that a significant amount of money is given to charity each year. This year alone more than $15,000 will be donated, adding to the over $100k that the event has generated over the past decade.
Throughout the event, we spent a bunch of time talking about actually using miles. One of the trickiest things about redeeming miles is accurately searching award space. You have to know where to search for it, the foibles of each search engine, and that's before you even get into the thick of what partners each airline has and the corresponding routing rules.
It can be a lot.
Of course, we all build that knowledge up over time, or can research for a particular trip, but even when you're knowledgeable about all that stuff — the reality is that actually searching inventory can be incredibly time-consuming.
Juicy Miles was one of the Chicago Seminars sponsors, giving attendees a code for a free trial (and I have instructions on that below, in case you haven't activated yours yet), so I spent some time in my sessions and in the hallways going over the tool and how folks could use it to learn about award space. The Juicy Miles award search tool is a subscription service — users pay a flat fee, which gives them unlimited searches across unlimited programs
The impressive thing about the Juicy Miles tool to me is not just that it searches space (which I of course love), but that it will also show you a variety of practical options for using your miles. The interface is simple, so you can quickly compare itineraries, and I think it will also help people get a better idea as to the possibilities with mileage redemptions, even if they aren't researching for a particular trip.
If this is something that sounds interesting to you, you'll want to check out the special promo for OMAAT readers that goes through the end of the month (more on that in a bit), but let's go through the features first so you can see what you'd be getting.
Using the Juicy Miles award tool
One of the things that I like about this is that it's very intuitive to use, so I think once you jump in you'll get the hang of it pretty quickly. But I figure it's helpful to go through it regardless, especially for those who aren't sure if they'd really use something like this.
Let's say you're looking to go to Hong Kong — you can search for round-trips, one-ways, or basic multi-city options. I'm going to use one-way, because that's how I search 99% of the time anyway.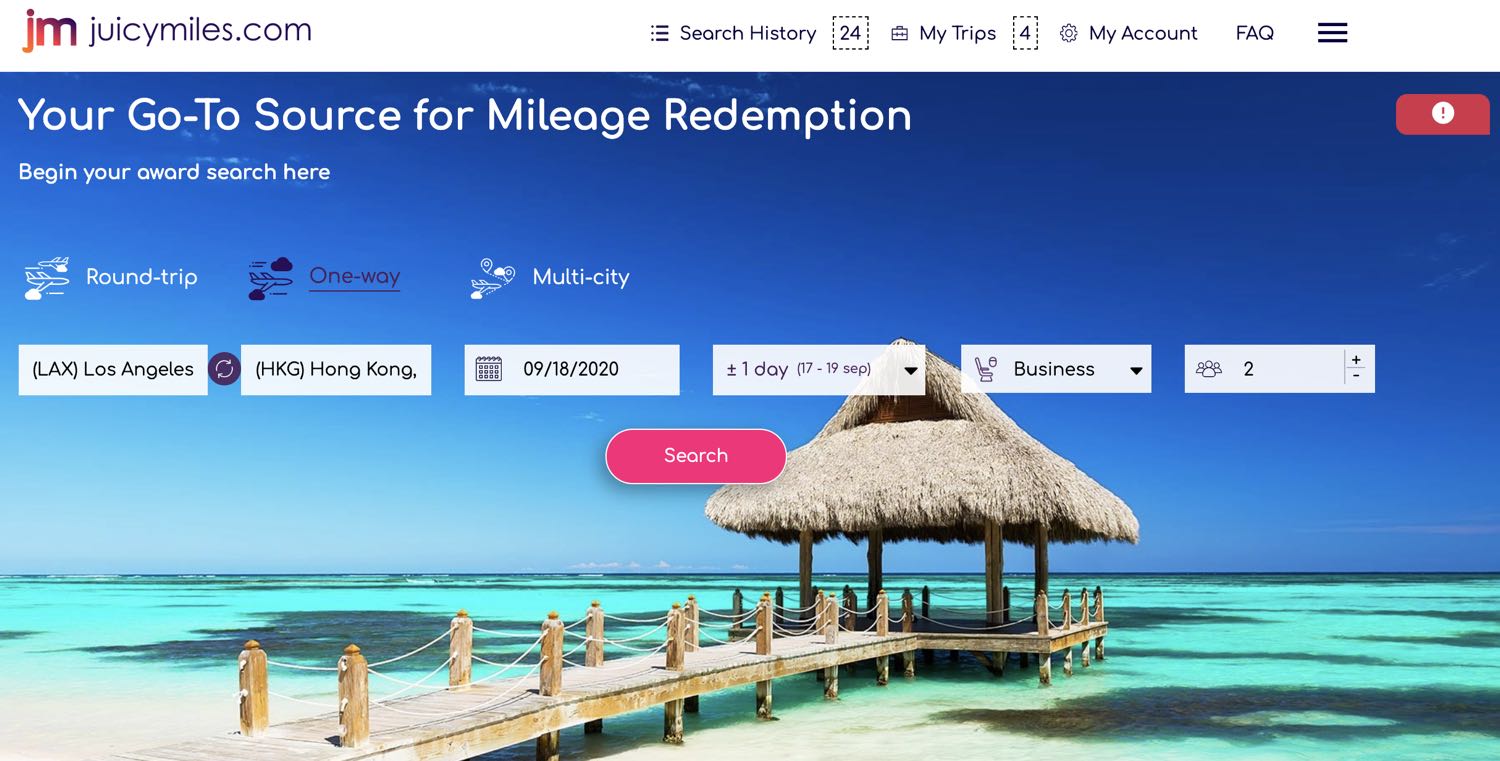 Once you hit "Search" the results will start loading. You'll see some things immediately, but depending on the airline or partner program others may trickle in. But you can click around and refine your search without impeding the search process.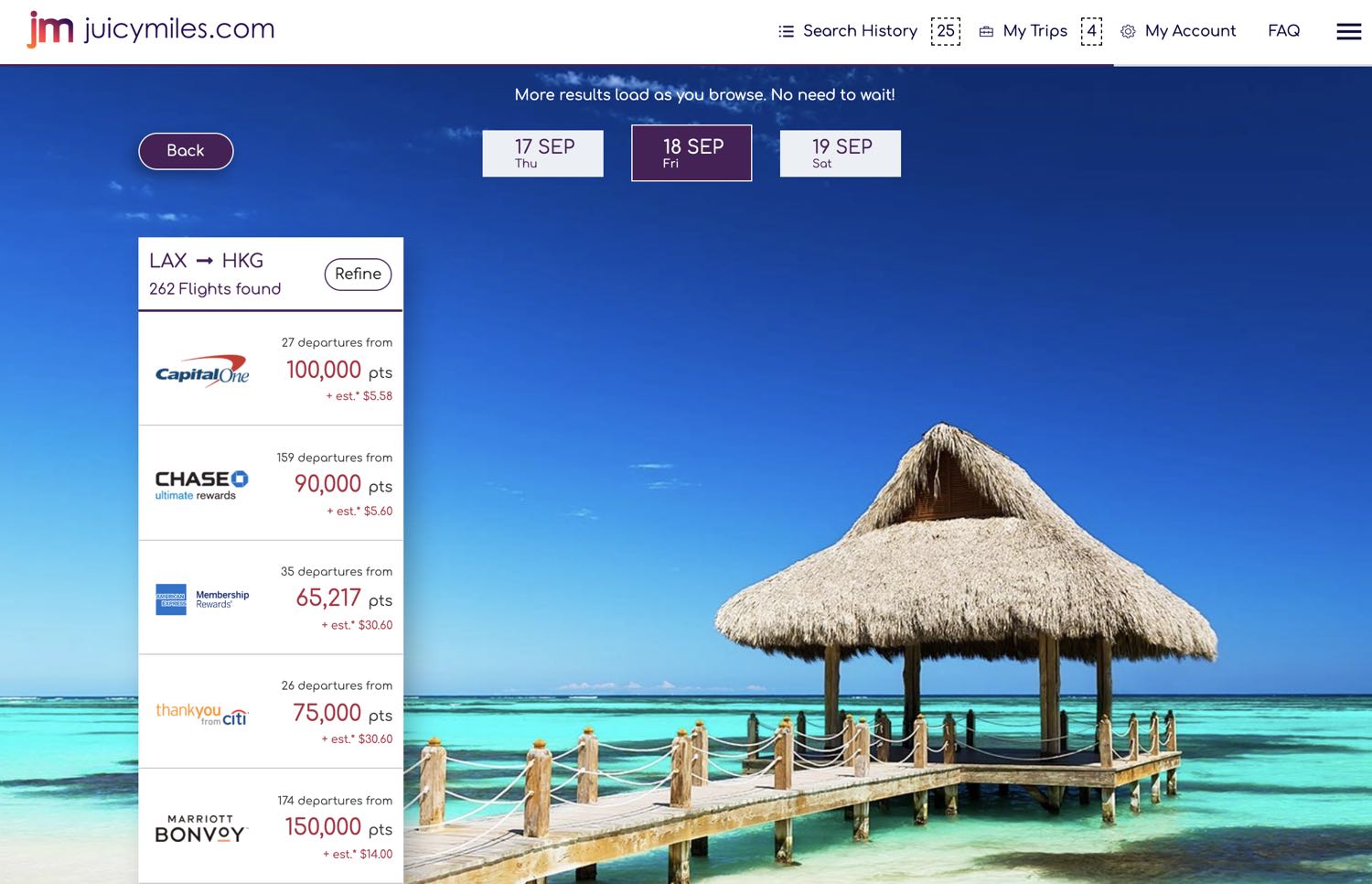 You can filter your search to only include certain options — like if you don't have Amex points you can choose to not show those redemption possibilities.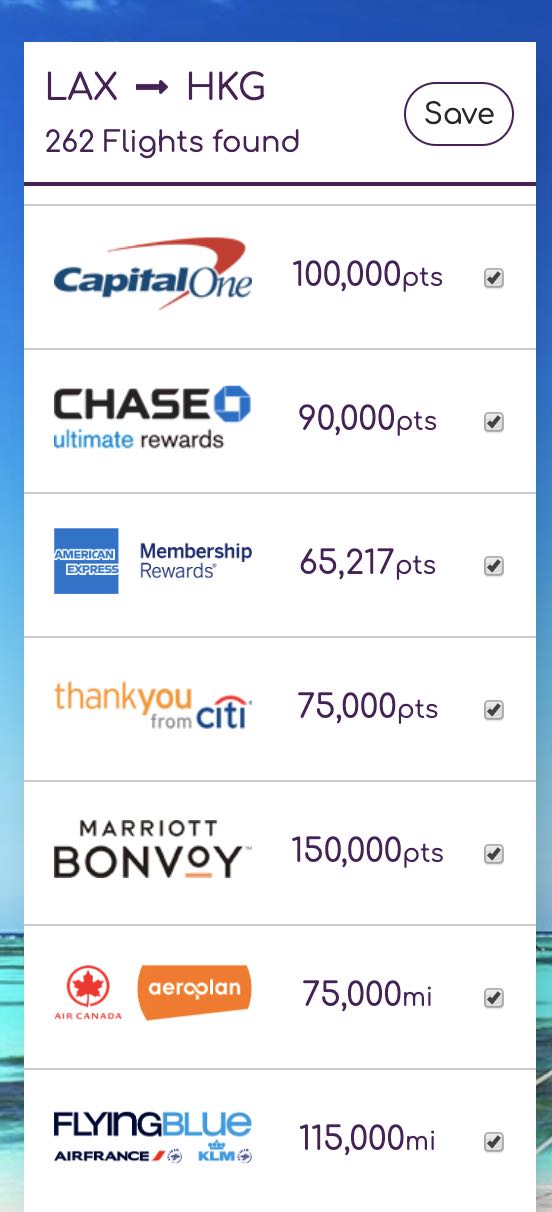 You can also refine by number of stops, or particular operating carriers: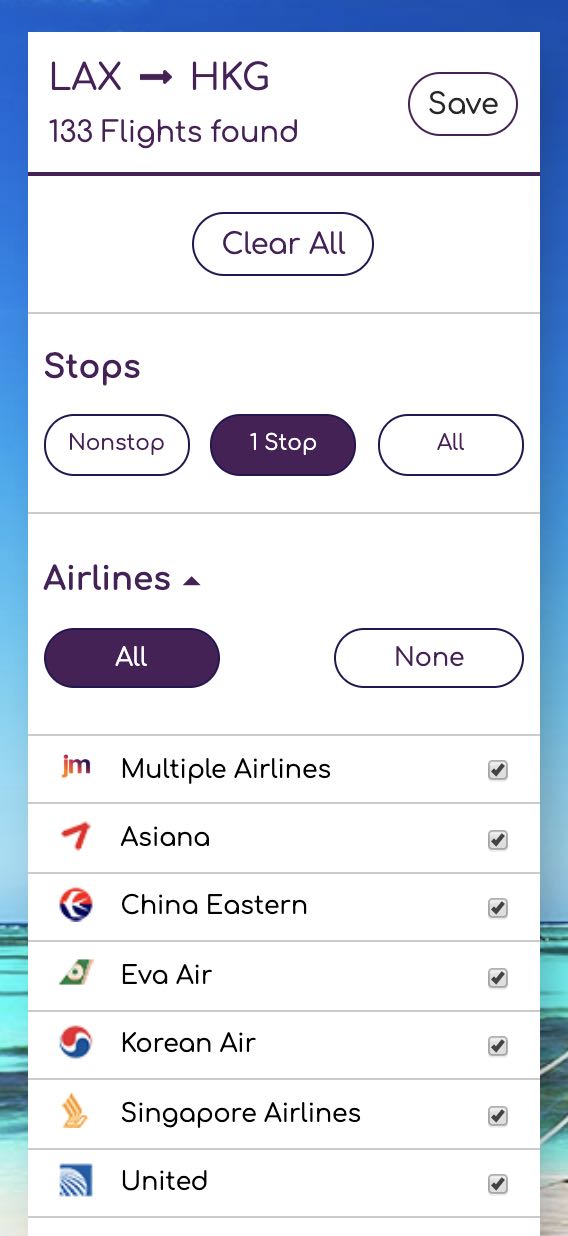 But I'm going to keep everything unfiltered for now, and suggest that if you're using this tool to determine what might be possible that you do as well. After all, the best mileage currency for a future trip might be one you aren't earning yet!
So as results fill in, you'll see that the transferable points currencies are displayed first, followed by the program-specific points. In this case the "cheapest" option is though American Express Membership Rewards, and if you click on it you'll see an EVA itinerary, bookable through LifeMiles. The current transfer bonus between Amex and LifeMiles is already factored in to the displayed price: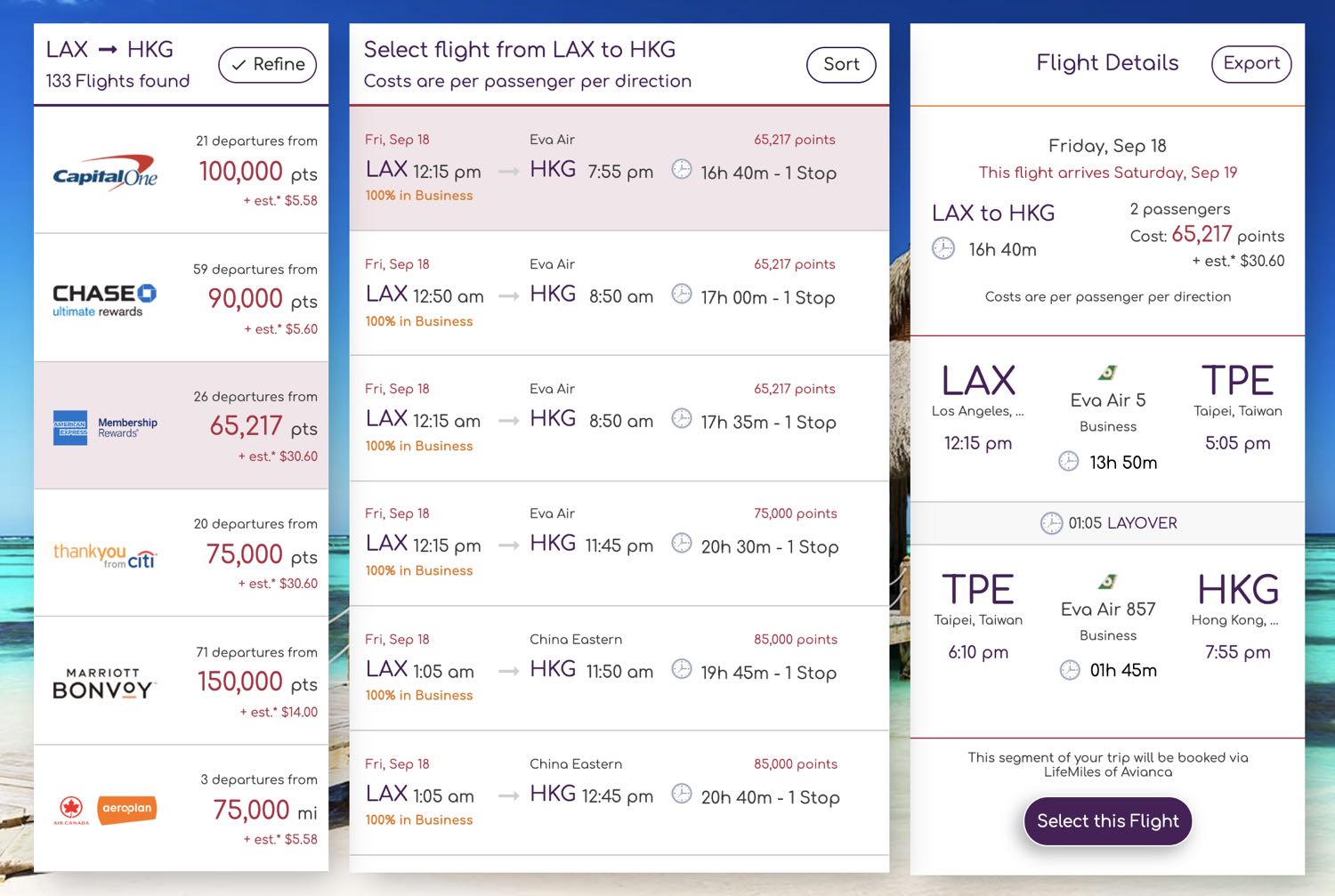 One of the big improvements to the JM search since it first launched is the addition of the class of service indicator. You can see at a glance what % of the itinerary is in the cabin you requested, which is much better than most airlines even offer.
You can see that this same itinerary is available using Chase Ultimate Rewards points; you'd just book through United MileagePlus, which charges a few more miles than LifeMiles on the route: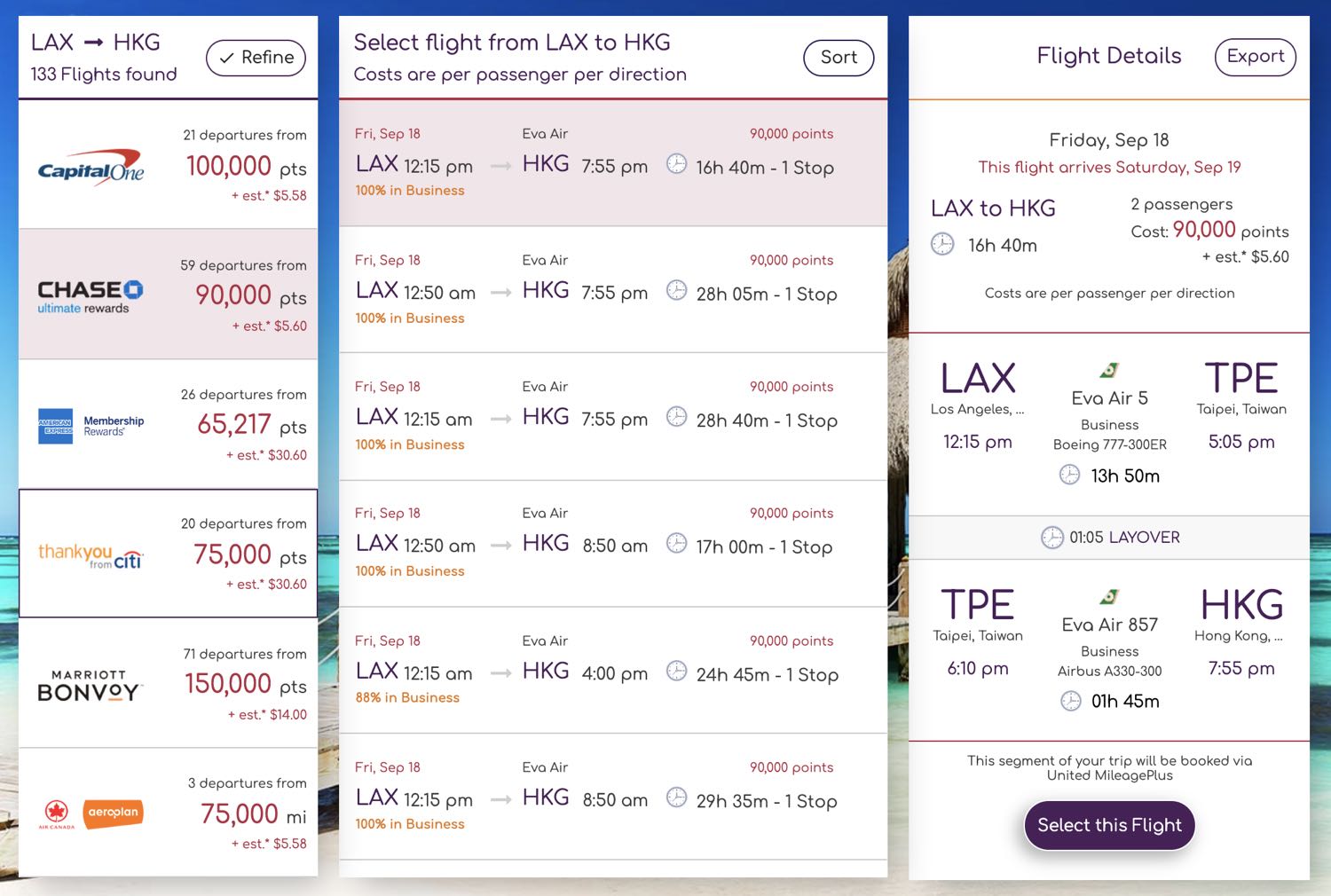 Or you can book the same itinerary using Citi points, also through LifeMiles, but it requires a few more miles as there isn't currently a transfer bonus: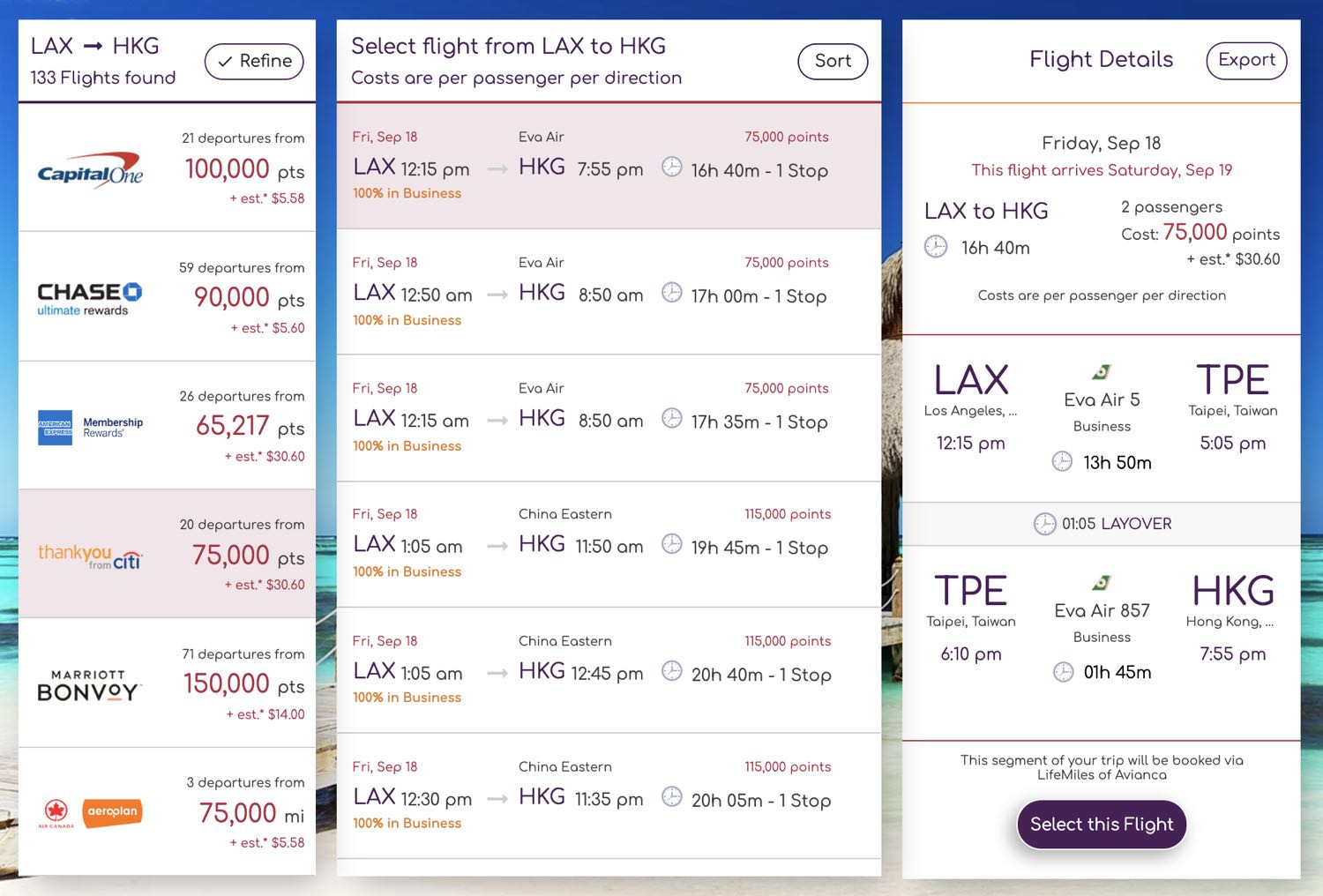 And the same itinerary shows with Capital One Miles, which doesn't have a 1:1 transfer ratio to LifeMiles: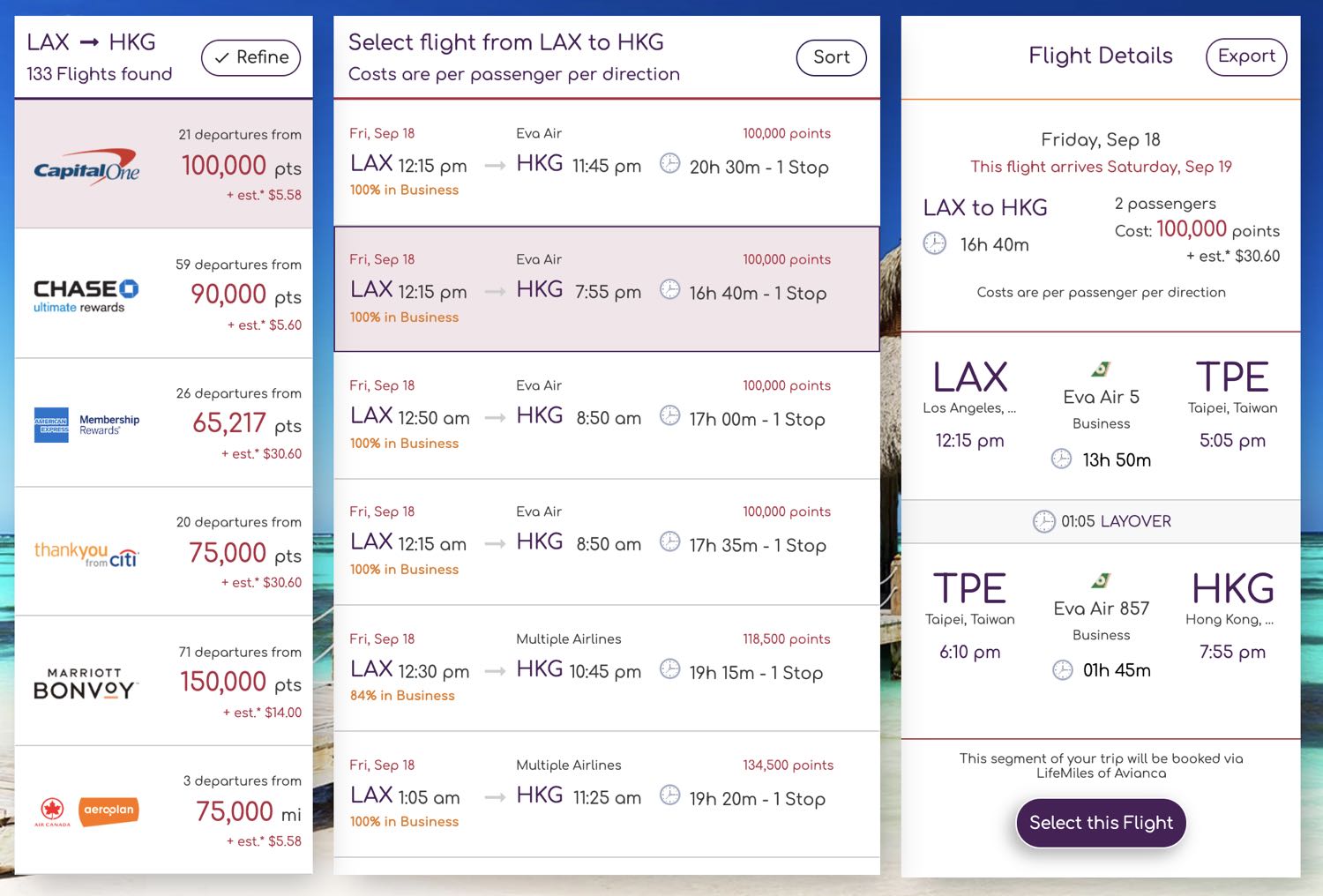 I like being able to quickly compare options between programs, as it can definitely be difficult to keep track of all the potential options otherwise.
Once you've selected a flight, a tile will open up with some basic booking instructions, including points transfer options: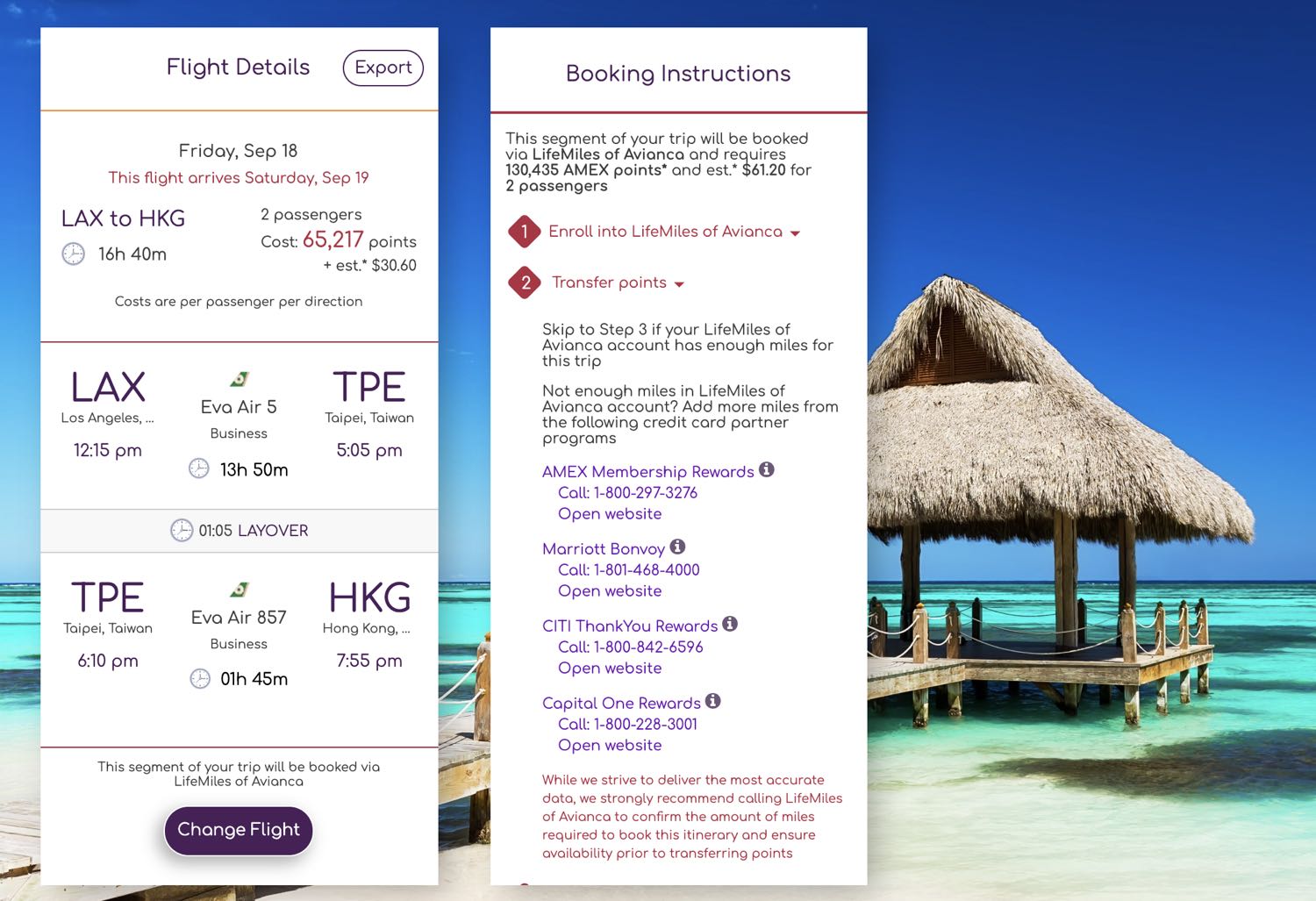 And that's pretty much it!
An example to Europe
Let's look at another example, this time from Seattle to Amsterdam, since West Coast to Europe awards are always annoying to search for.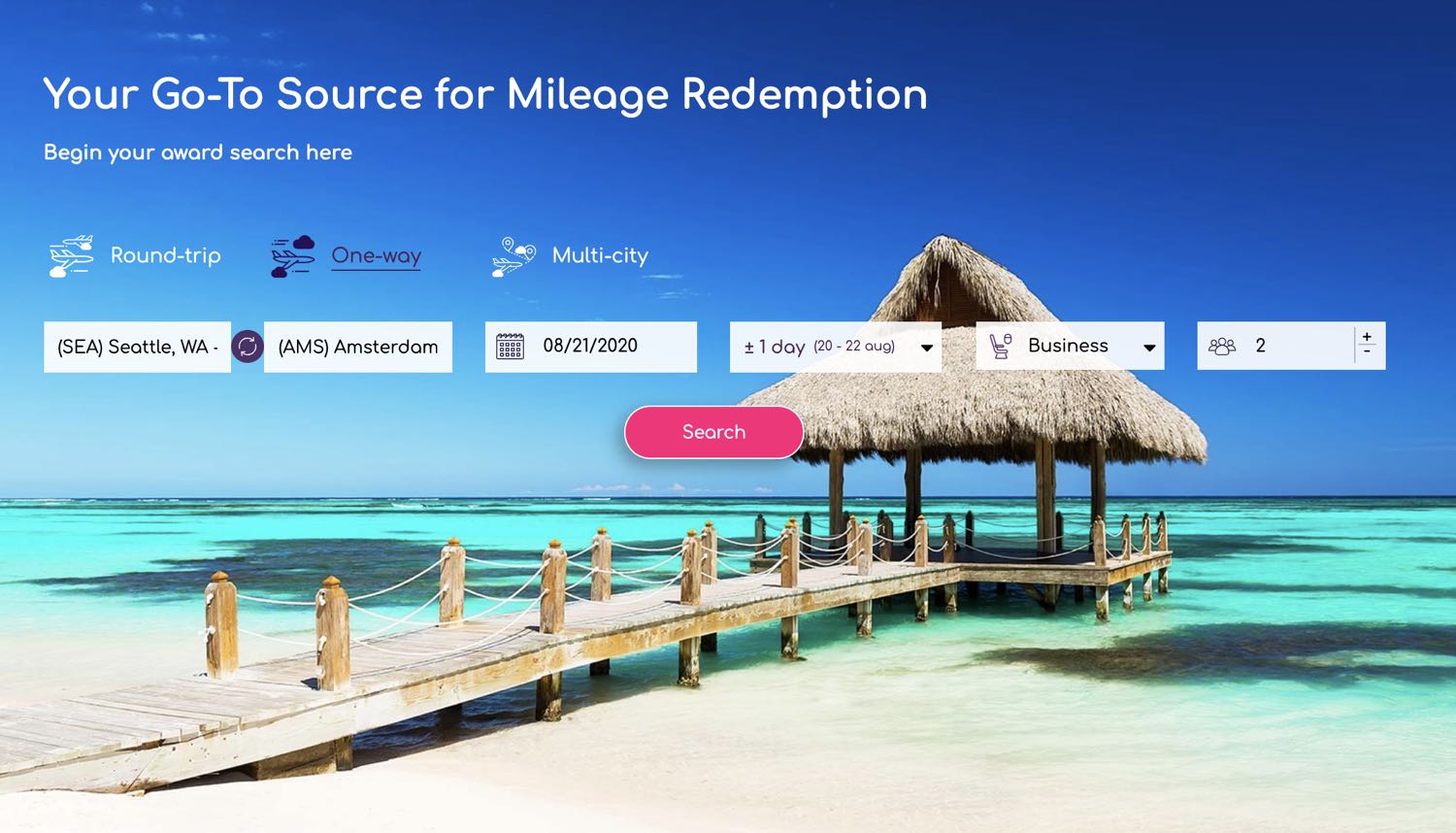 A few results pop up right away, and this time the Juicy Miles tool shows an 80,000 mile option through Membership Rewards (via Delta):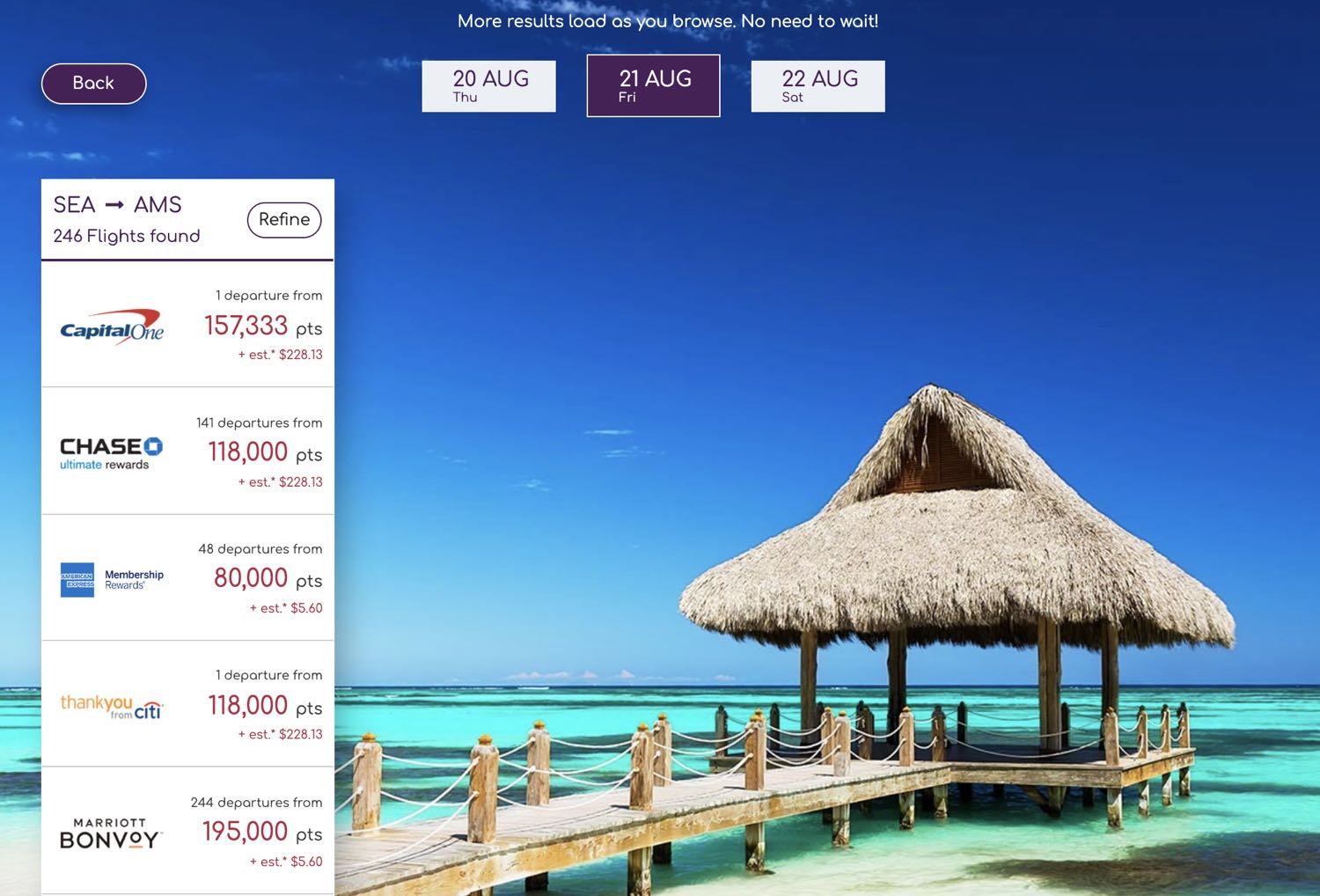 This is a great option and you should book this. It's worth noting that this particular flight is only available via SkyMiles — if Delta were making the inventory available to partners, Juicy Miles would show the correct prices for Virgin Atlantic and Flying Blue.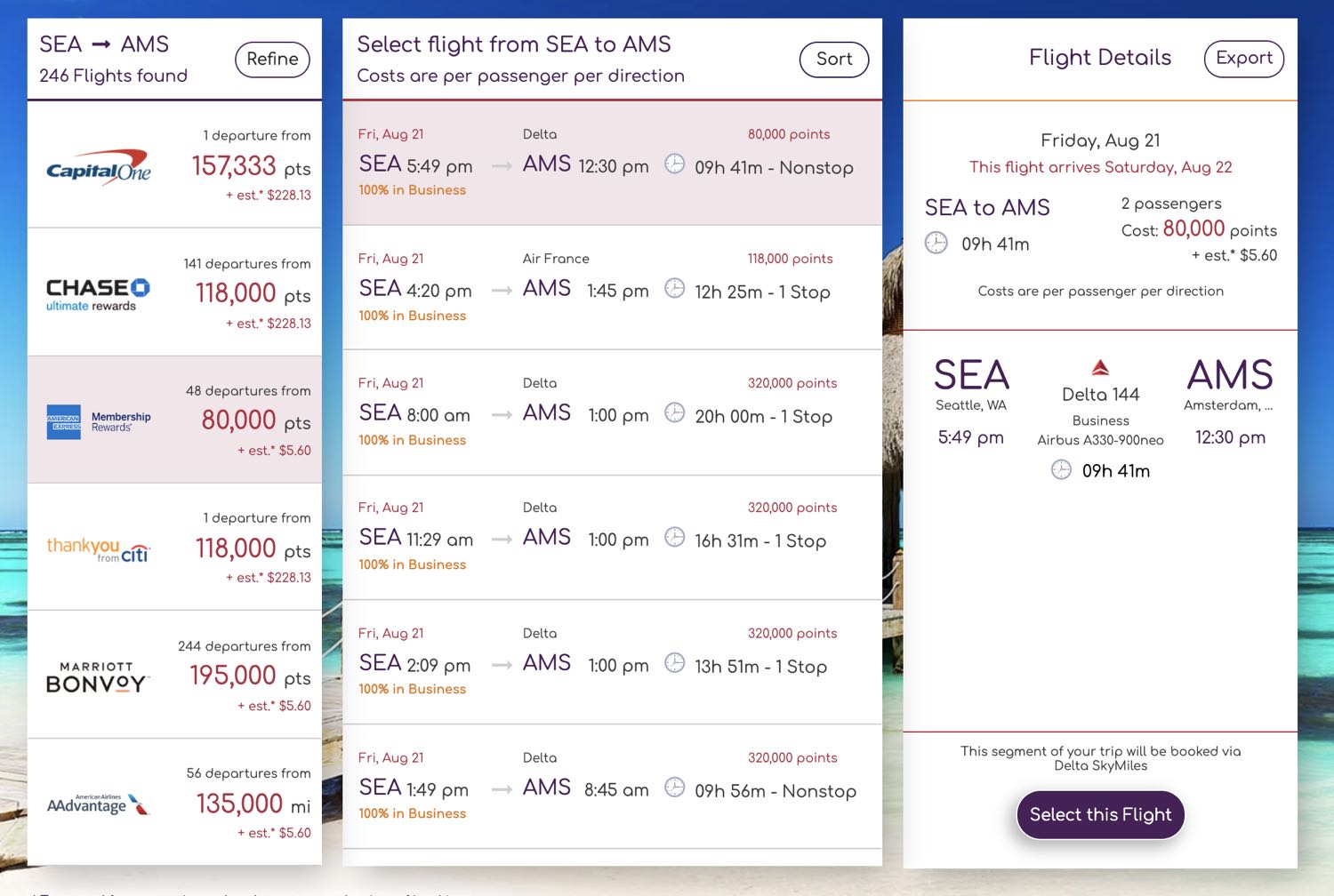 What about short-haul flights?
While we often talk about snazzy and aspirational awards, sometimes it's the shorter flights that can have the biggest disparities in pricing. Take flights between Sydney and Auckland, for example — the JuicyMiles tool lets you quickly see that British Airways offers the best price for a business class flight, at roughly half of what you'd pay booking directly through Qantas: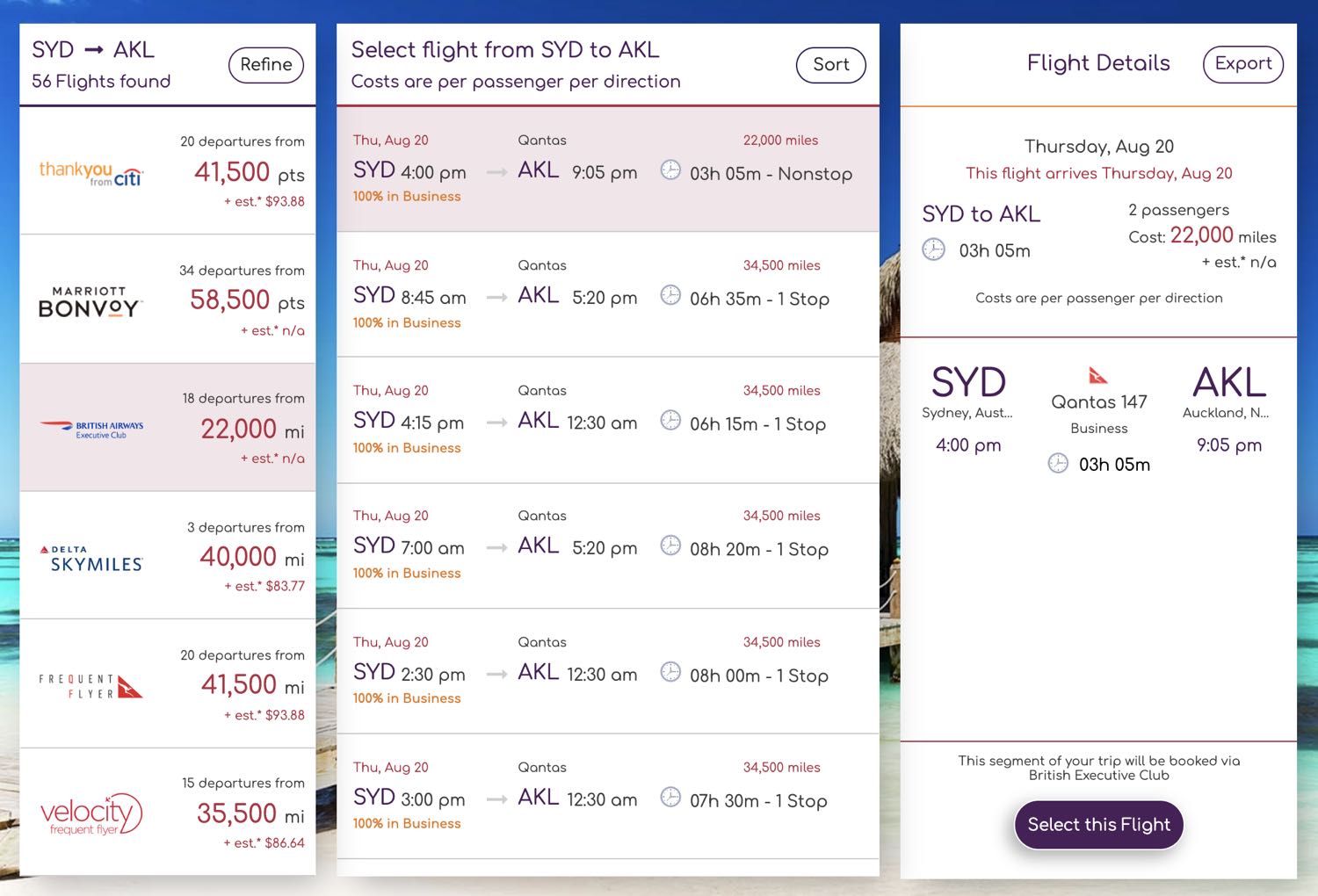 Again, selecting this flight would give you some general instructions as to how to book the award, and I appreciate that the Juicy Miles team has added lots of language about double-checking with the airline, putting awards on hold when possible, and exercising general caution.
Fundamentally, the most frequent question I get about redeeming miles is "But how do you know to check all those places?" — so JM is a great visual way to start getting over that hurdle.
Basic multi-city search
While you can't enter complex itinerary strings (and there's really no need to, honestly), you can still give the computer a bit of help. Let's say for example that you're returning from South Africa to New York.
You can enter up to two flights in the multi-city fields, so if I wanted an overnight in Abu Dhabi, I might structure it like this: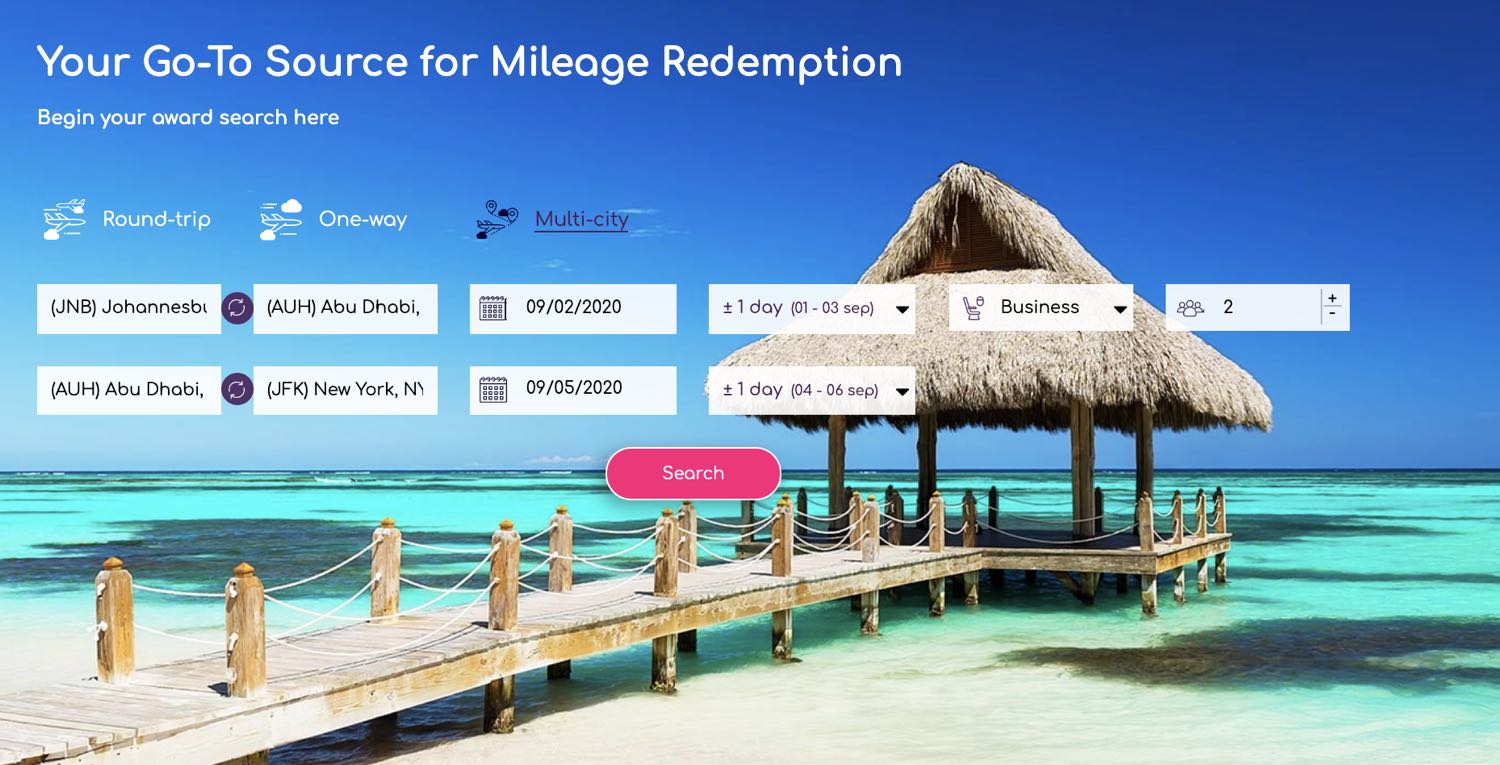 The process is basically the same. Once you've selected your first set of flights, you'll be prompted to choose the next bit of your journey. Once both portions have been selected, you can see both on one screen, along with the booking instructions for both programs: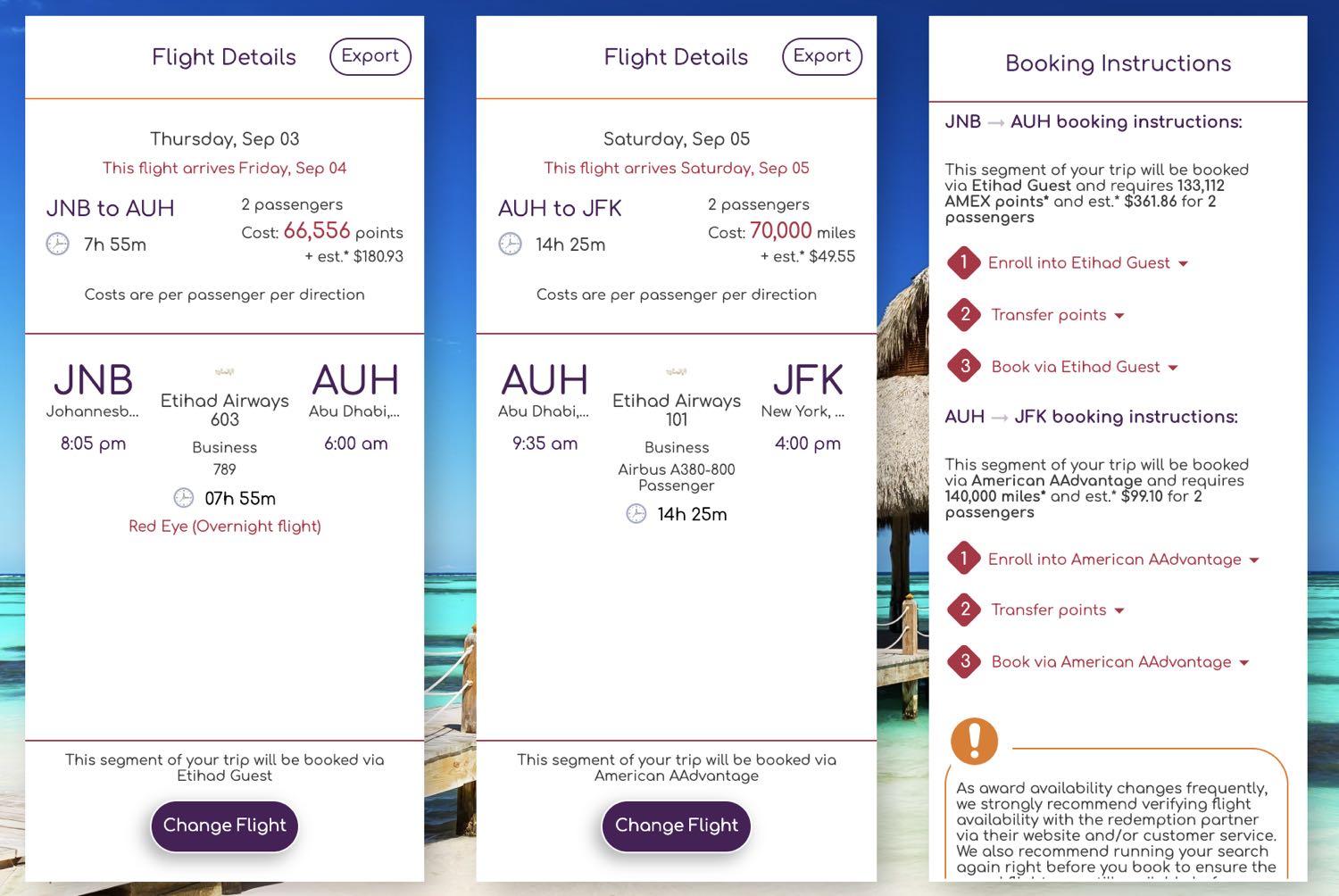 It's worth noting that the system effectively treats multi-city trips as two one-ways. So if a mileage program allows a stopover, that won't necessarily be reflected in the JM pricing. But it is convenient if you want to see a full itinerary on one page.
So hopefully that gives you an idea of how Juicy Miles works.
Special Promo for OMAAT readers
For the next week, Juicy Miles is offering a preview pass to readers of One Mile at a Time:
Register within the next seven days
Receive a code for a 24-hour pass for just $5
Use the code at your leisure (even a few months from now), only one IP address will be allowed per registration
The logistics of this are a bit more complicated than I'd prefer, but here's how it works. To take advantage of the offer, follow this link to Juicy Miles before [date]. Scroll down to the pricing section, and select the $29.99 plan (you won't actually pay this though):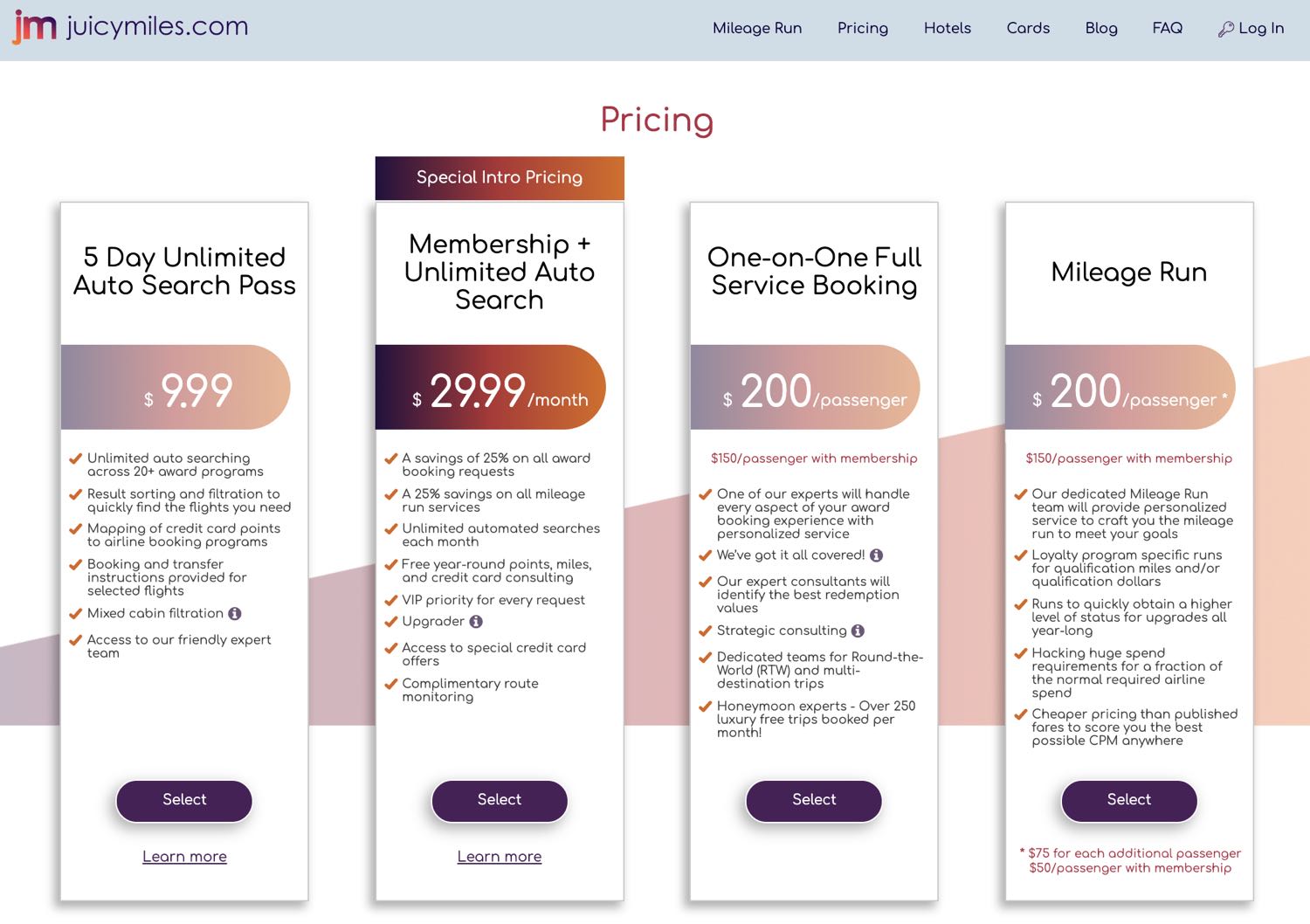 From there, you'll create an account by entering your contact details and creating a password: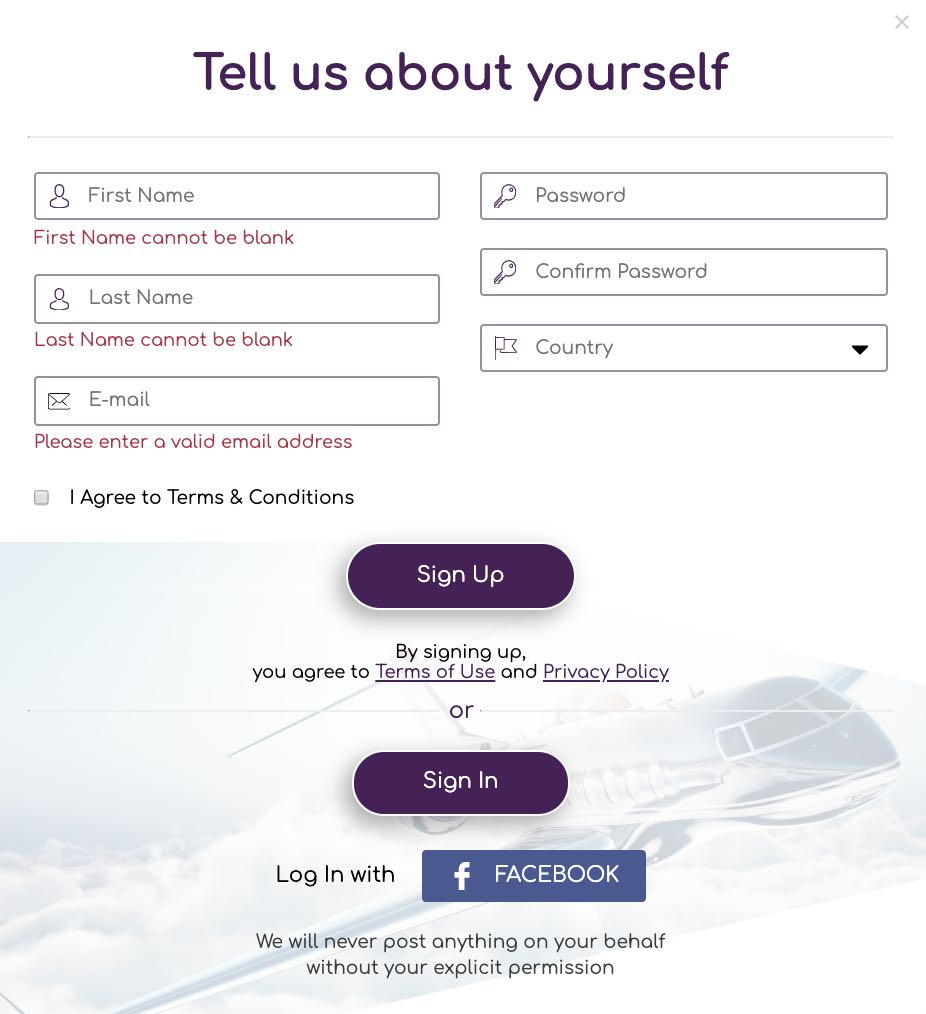 Click "Sign Up" then you'll be brought to the payment screen: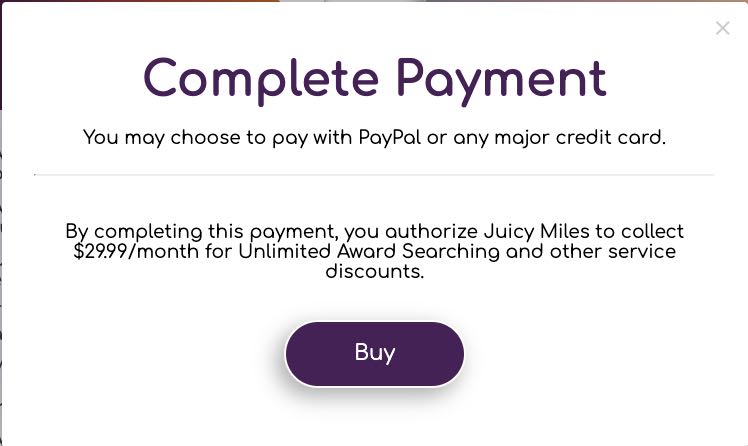 Go ahead and x out of this screen. The Juicy Miles team will activate your account behind the scenes, and you'll be sent a promo code for the $5 pass.
Yes, it's a little complicated, but that's the way their subscription system has to work. And I'm excited for y'all to be able to try the search tool without committing to a longer pass.
Even better, once you receive your unique promo code, you don't have to use it right away. So if you have a trip you're thinking about for December 2020 or something, you could wait to activate the code until January when schedules and award space open. But you do have to register in the next seven days to be eligible for a code.
A note for Chicago Seminars attendees
To access the free 3-day trial from Juicy Miles' sponsorship of the event, navigate to the link given out at the event, then follow the same process as I shared up above.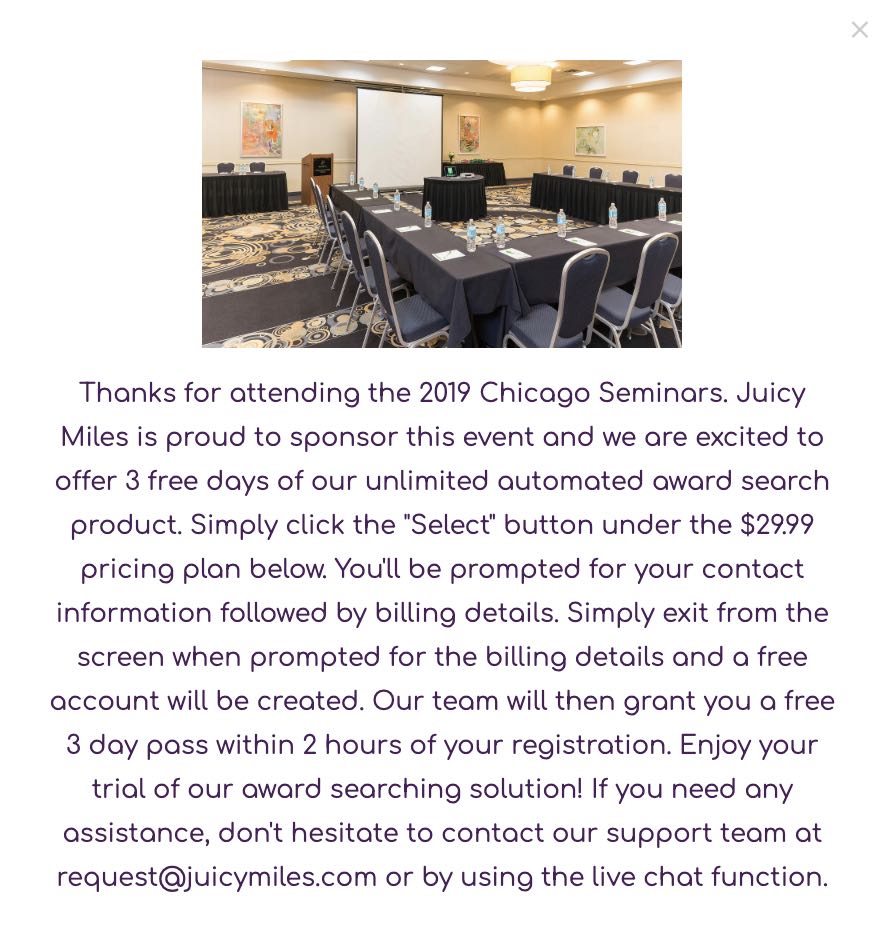 Be sure to use the same email address as you registered for the Seminars with! You'll be sent your pass once the account has been activated.
Bottom line
The new Juicy Miles award search tool is cool, and I think for many people it will be a big time saver. This is absolutely something I would recommend to those family friends and neighbors who think they want help using their miles, but don't really want to use miles the way that we do. So a "check out this tool to compare your options, decide what itinerary you want, and then I'll help you book it" might make things easier on everyone in those cases.
The searching functionality is good, and the pricing layers are accurate for the most part. I like that Adam has found a way to offer this to more people at some more reasonable price points, and think it's well worth trying it out to see how it can help you with redeeming your miles.
There is still an element of "knowing the tricks" involved to make this most successful, but if you take the approach of using Juicy Miles as training wheels for, it absolutely can make searching easier.
Have you used the Juicy Miles (or other) award search tool? What was your experience?