An airline you've probably never heard of (and frankly that I hadn't heard of prior to today) wants to start flying to the United States… cool!
Jordan Aviation requests permission for US flights
Jordan Aviation has this week filed with the US Department of Transportation (DOT) for a foreign air carrier permit.
The airline is seeking expedited approval, as it plans to start operating scheduled service between Jordan and the United States by April 1, 2021, at the latest. However, if approval comes before then, the airline plans to offer charter-only service prior to that.
Jordan Aviation's charter services would involve the carriage of persons and property (primarily PPE), though it sounds like the airline would offer regularly scheduled service after that.
Jordan Aviation hasn't made it clear which US airport it wants to serve, or which airplane it would use for the service (though there are only three real options, as I'll get into below).
What is Jordan Aviation?
Jordan Aviation has no relation to Royal Jordanian Airlines, which is a oneworld member and already flies to the US. Rather as I'm finding out now, Jordan Aviation is a privately owned Jordanian airline that has been around for over 30 years.
The airline primarily operates charter and wet lease flights, and even provides transportation for UN peacekeeping forces.
Jordan Aviation's fleet consists of about a dozen planes, including A320s, A330s, 737s, 767s, and a 777. Here's a breakdown of the registration codes and configurations of Jordan Aviation's planes: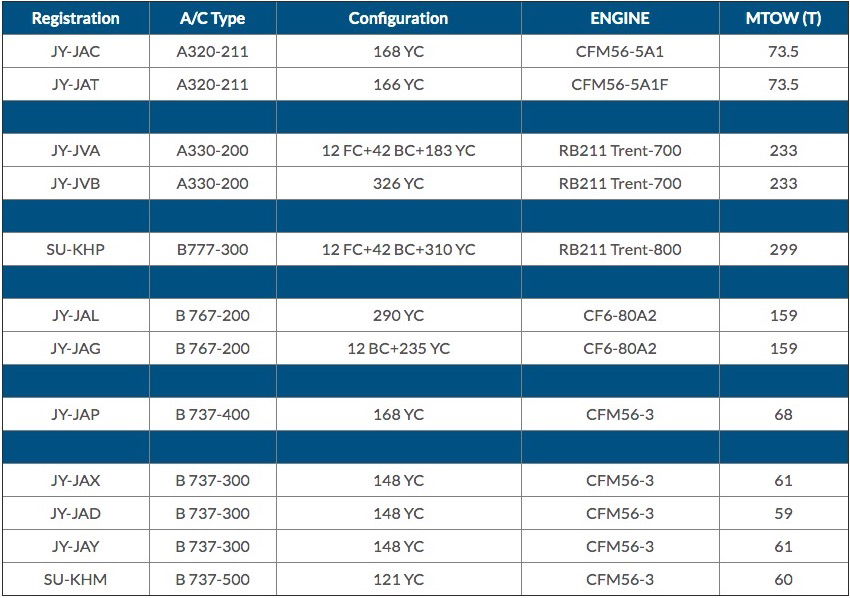 Presumably Jordan Aviation would use one of its A330s or the 777 for US service, based on the range required:
The 777-300 is a former Emirates plane, and it has maintained the same configuration; it features Emirates' old-style first class cabin, which is quite cool
The A330-200s have two different configurations; one is a former Emirates plane with first class (similar to this cabin), while one is a former KLM plane that then flew for Pakistan's Shaheen Air, and it's in an all-economy configuration
A Jordan Aviation A330 in São Paulo. https://t.co/wcqIwwhw1w © Antonio Carlos Carvalho Jr. pic.twitter.com/yzzrTlnxfF

— JetPhotos (@JetPhotos) August 3, 2020
Bottom line
Jordan Aviation plans to launch flights to the US by April 2021. While details are limited about the service, the airline will presumably fly one of its A330s or its 777.
Now, in fairness, I'd be surprised if this becomes a permanent, regularly scheduled flight, given the carrier's business model. I could be wrong. Regardless, as an avgeek I'd sure love to fly in a former Emirates first class seat, or heck, I'd settle for seeing one of these cool planes at a US airport.
Has anyone flown on a Jordan Aviation flight before?