Yesterday we needed to fly from Queenstown to Sydney, and booking a revenue ticket ended up being the most practical option. Virgin Australia had a flight in the afternoon, while Jetstar had a flight in the morning. The timing of the morning flight worked out much better, so we went ahead and booked it.
I have to admit upfront that I had no clue what to expect from Jetstar. I knew they were an ultra low cost carrier who charges for everything, but I wasn't sure whether the experience would be more like Easyjet/Ryanair/Air Asia, or more like JetBlue. What I did know is that Jetstar has A320s with 180 seats, featuring 29″ of pitch. That's tight, and the same number of seats that Easyjet crams on their A320s.
I assumed it would be like the former, based on the booking process. I don't remember the last time I've booked a ticket which involved so many upsell options.
From entertainment to discounted inflight vouchers, there were so many things they tried to sell us on.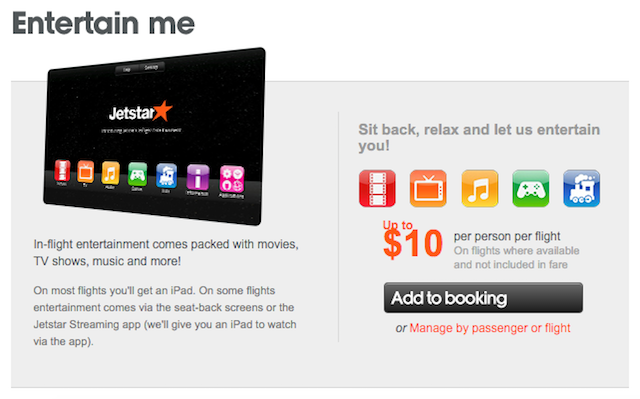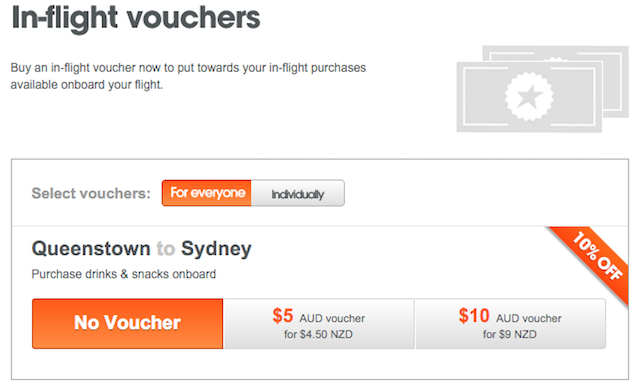 While I normally exclusively travel with carry-ons, I assumed there was no way they'd let me get away with my massive carry-ons, so I pre-purchased a 15kg checked bag for 25NDZ.

We also went ahead and paid 31NZD (~20USD) to sit in an exit row for the flight. I find this to be well worth it on ultra low cost carriers for a couple of reasons:
It gives you significantly more than 29″ of seat pitch
In my experience many on ultra low cost carriers are looking for the absolute lowest fares, so aren't as likely to pay for exit row seating as on other airlines; therefore your odds of having an empty middle seat are better (otherwise you'll want to resort to Travis' method for securing an empty middle seat)
Anyway, we flew out of Queenstown, which is a tiny and beautiful airport. We arrived about 75 minutes before departure, and there were no queues for check-in, which was one of my biggest concerns about flying with them. I guess that's one benefit of flying out of an airport with only one flight at a time.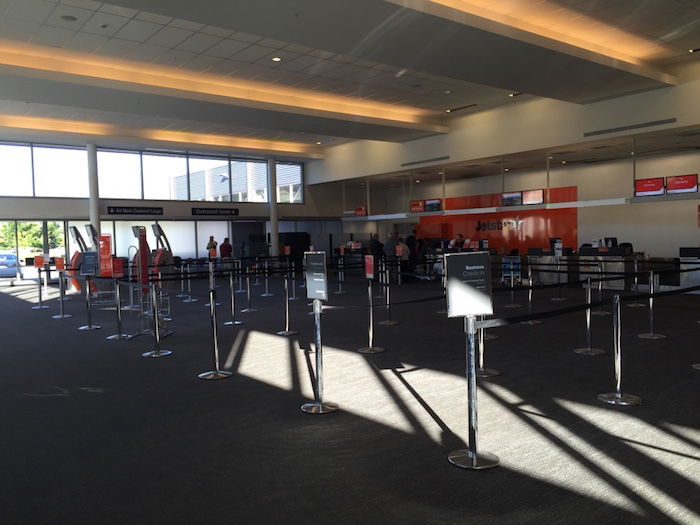 Jetstar check-in Queenstown Airport
You board directly through the stairs in Queenstown, which always makes for some great views.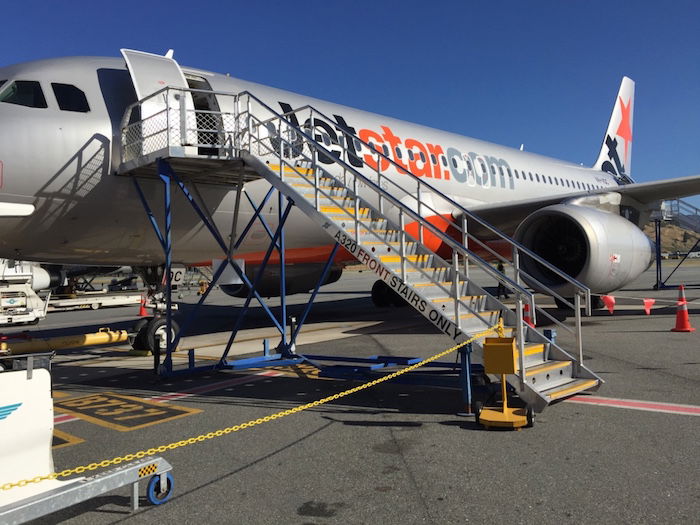 Jetstar A320 Queenstown Airport
As I boarded the plane I couldn't help but think "yow, that's a lot of seats."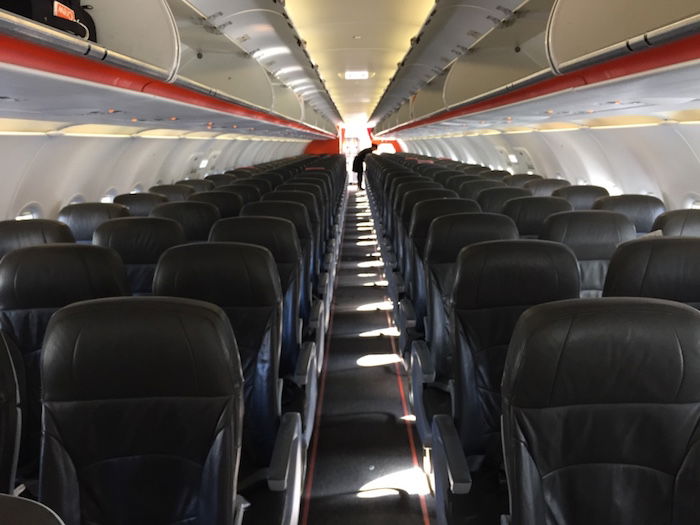 Jetstar A320 cabin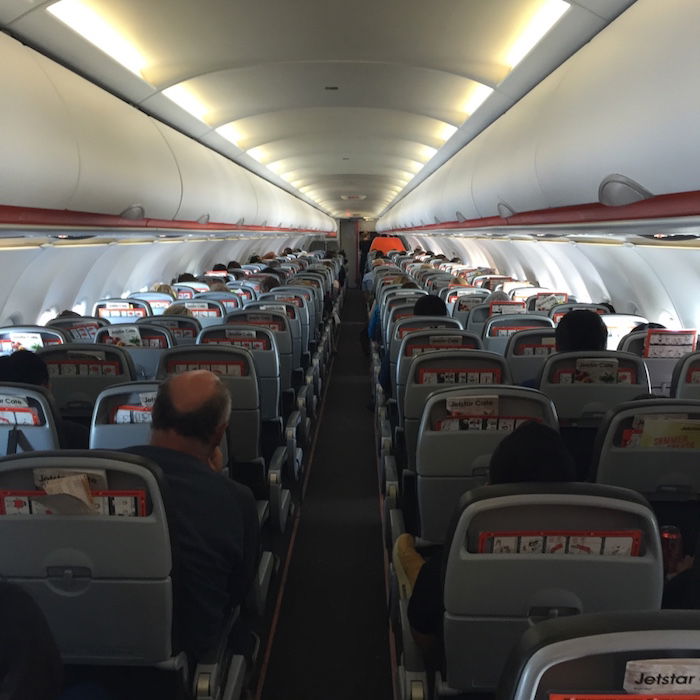 Jetstar A320 cabin
The legroom looked tight, though not as bad as I was expecting.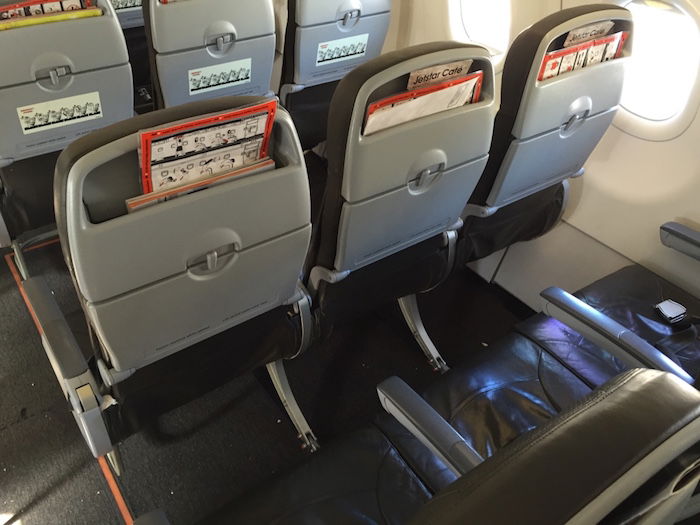 Jetstar A320 legroom
In the exit row the legroom was excellent, and I was happy with the ~20USD we spent to snag those seats.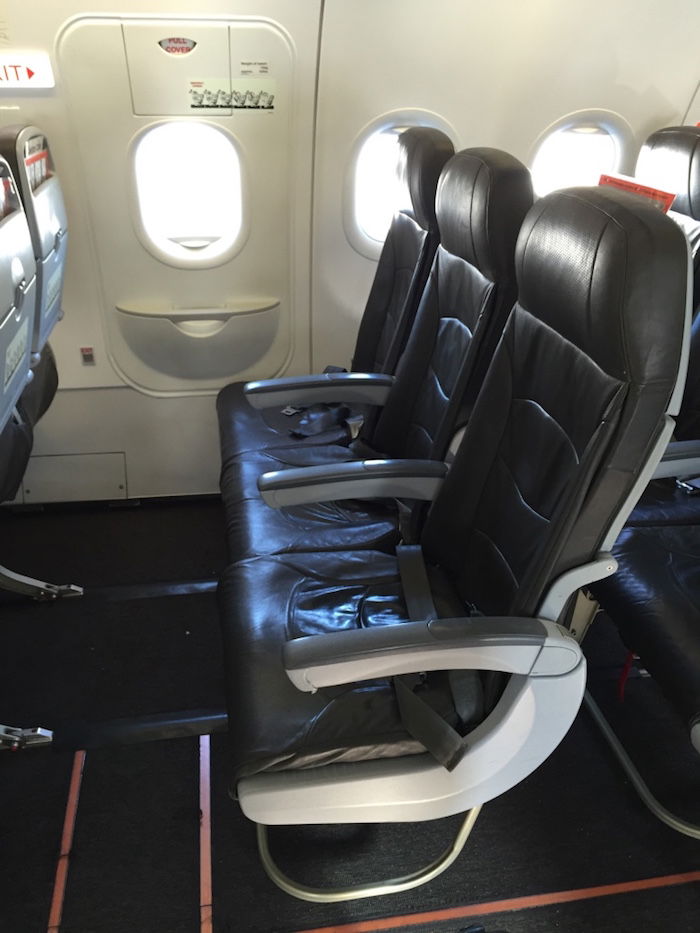 Jetstar A320 exit row seats
But what impressed me most was the crew. It didn't fully "click" with me until I was aboard that Jetstar is wholly owned by Qantas, and that was clearly reflected in the service.
There were four female flight attendants, all in their upper-20s or early-30s, and they couldn't have been friendlier or more professional. So even though the airline operates on an ultra low cost model, I was extremely impressed by the professionalism of the crew.
If you want any food or drinks on the plane you have to pay for them. On the plus side, the menu is decent, with fresh food options, and all kinds of drinks. Here's the food and drink menu for the flight.
I ordered a sparkling water and an egg & lettuce sandwich.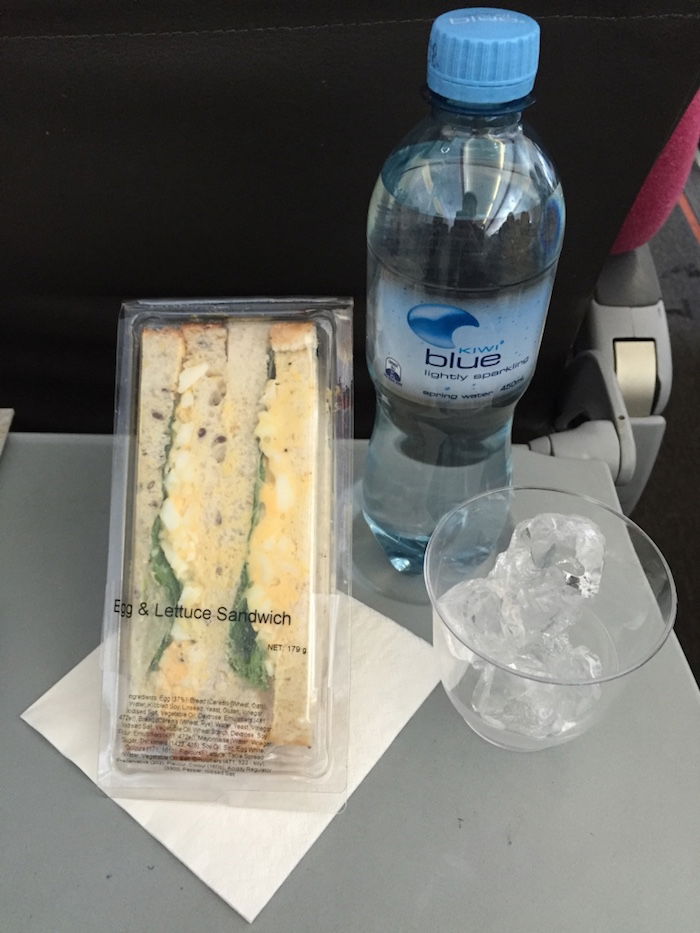 Jetstar food and drinks for purchase
I didn't buy an iPad for the flight since I worked on my laptop instead.
The flight time was just under three hours, and soon enough we arrived in Sydney. Unfortunately we were a bit early, and had to wait 45 minutes for a gate, as the Virgin Australia plane using our gate was delayed.
Bottom line
This was my first flight in a while on an ultra low cost carrier. What did I learn?
The money it costs to upgrade to an exit row is almost always worth it; however, the 29″ of seat pitch didn't actually look too bad
Jetstar is an extremely professionally run low cost carrier; this isn't like Ryanair, where they print the safety card on the seat in front of you, or Easyjet, where they plaster ads all over the cabin
The cabin crew were exceptional; they were every bit as good as on any "legacy" airline
So while I came into the flight not knowing what to expect, I was very pleasantly surprised, and wouldn't hesitate to fly with them again if the price is right. It just always makes sense to crunch all the numbers, especially if you have elite status with other airlines. It's not just about the base fare, but also about how much all the add-ons cost.
If you've flown Jetstar, what was your experience like?