Gary wrote a post yesterday about why he doesn't trust Jetsetter.com, a luxury hotel travel discounter. I'm actually dealing with exactly the same situation, so figured I'd share my experience so far, since I suspect it's not just Gary and I that are getting shafted here.
Back in January I posted about an amazing deal available on Jetsetter for airport transfers through GroundLink. Through this offer, towncar transfers to airports were available for as little as $29, which is a great deal in and of itself. The deal got better, though, since Jetsetter offers a $25 new member bonus when referred by an existing member. This meant car transfers could be had for as little as $4. Along the same lines, the existing member that referred the new member receives a $25 credit in their account good towards future travel when that new member makes their first purchase.
So let's be clear — the GroundLink deal wasn't a mistake. Those were the rates as they were supposed to be. However, I suspect they didn't consider the implications of the offer in terms of referral credits.
I posted about the deal and also posted my referral link in case any new members wanted to sign up through it. Jetsetter makes personalized invitation links so you can post to refer people, since they encourage this kind of behavior. They even say this on their website: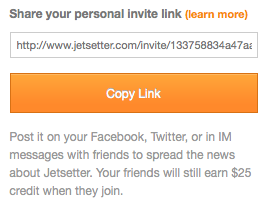 When you click on "learn more," it says the following:

That's right, they're saying you can invite friends via "email, Facebook account, instant messenger or any other way you communicate"… like a blog.
And here's what Jetsetter's FAQs say about referral credit:

I also mentioned very clearly that no one needed to use my link, and invited readers to post their links in the comments section so they could earn referral credits as well. And it wasn't surprising that dozens of people posted their links, which I was all for.
The promotion went well, until I logged into my Jetsetter account a couple of weeks later and noticed that all of my referral credits were gone. They hadn't contacted me to inform me of the situation, so I sent them an email, as follows:
Dear JetSetter Customer Service:

I recently referred many of my friends to your website, and was promised $25 of JetSetter credit per referral. While the referrals posted as expected, I noticed that they all disappeared tonight without me being informed. I played by the rules, and as your own website states "we suggest inviting every person you know so you can get millions in credit."

I'd appreciate if you could reinstate the credit or explain why this occurred.

Thanks,
Ben
Their response was as follows:
Dear Ben,

Thank you for your recent inquiry regarding your canceled referral credit.

After reviewing your account activity, we have concluded that your account has incurred one or more violations of Jetsetter's Terms of Service during our Groundlink sale. For further details of our Terms of Service, please visit our website at http://www.jetsetter.com/terms-of-service.

We therefore have cancelled your credits.

Sincerely,
Jetsetter Member Services
Given how vague the email was, I followed up:
Dear Member Services:

Thanks very much for your prompt response, though could you please advise which violations I incurred? I complied fully with the terms and conditions, which is why I'm so surprised my credit was taken away.

I'd appreciate your prompt attention to this matter.

Sincerely,
Ben
Their response, amazingly enough, was as follows:
Hello Ben,

We are not able to elaborate further other than the purchase was cancelled due to a violation in the Jetsetter Terms of Service.

Best,

Jetsetter Member Services
I then sent them the following email:
Dear Jetsetter Membership Services:

I wanted to follow up regarding the below inquiry. I have reviewed the terms of service and complied fully with them, though my credits were taken away without explanation. I would appreciate if you could either advise me why the credits were revoked or reinstate them.
Their response was as follows:
Hello Ben,

We hope this email finds you well. We have been looking into your inquiry about why your credits were expired. Please be advised that under our terms and conditions, Jetsetter reserves the right to void credits that were earned in a manner not intended by Jetsetter.

The Terms state that you may not conduct your own promotion in connection with the credit program, and may not engage in any promotional, marketing or other advertising activities on behalf of Jetsetter. This was an example of such a promotion, as you asked people to use your referral link.
If you have further questions, you can refer to our Terms of Service here: http://www.jetsetter.com/terms-of-service.

Warm regards,

Erica
Member Services
Interestingly enough Jetsetter's CEO, Drew Patterson, has his referral link posted in his Twitter bio, which is clearly as much "marketing" as I was doing with my blog.

Frankly I'm at a loss on this one. If you haven't read Gary's post on the topic yet I suggest doing so, as he engages in much more dialogue with them. Their lack of logic is frightening, to put it nicely.
So much like Gary, I'm curious to hear how many of you this has happened to as well?
Truly disgusting behavior on the part of Jetsetter, especially given that they didn't contact me to inform me my credits were being revoked, not to mention the lack of a decent reason for their actions.
If you'd like to help out in at least making this public (or maybe helping them live up to their end of the bargain), I suggest Tweeting them. Jetsetter's Twitter account is @jetsetterdotcom, their member services Twitter account is @askjetsetter, and the Twitter account of the CEO is @jetsetdrew. They need to know this behavior isn't acceptable (especially since it seems like they took away credits from lots of people, based on the comments section of Gary's post), and there's no better way to do that than social media nowadays.