Update: Read my full Japan Airlines Business Class 787 Dallas To Tokyo review.
Hello from Tokyo! i just took the 13 hour Japan Airlines flight from Dallas, and wanted to report back with my initial thoughts.
Japan Airlines 787 business class cabin & seats
Japan Airlines' 787-9 business class consists of a total of 44 Apex Suites in a 2-2-2 configuration. Apex Suites are among my favorite business class seats out there.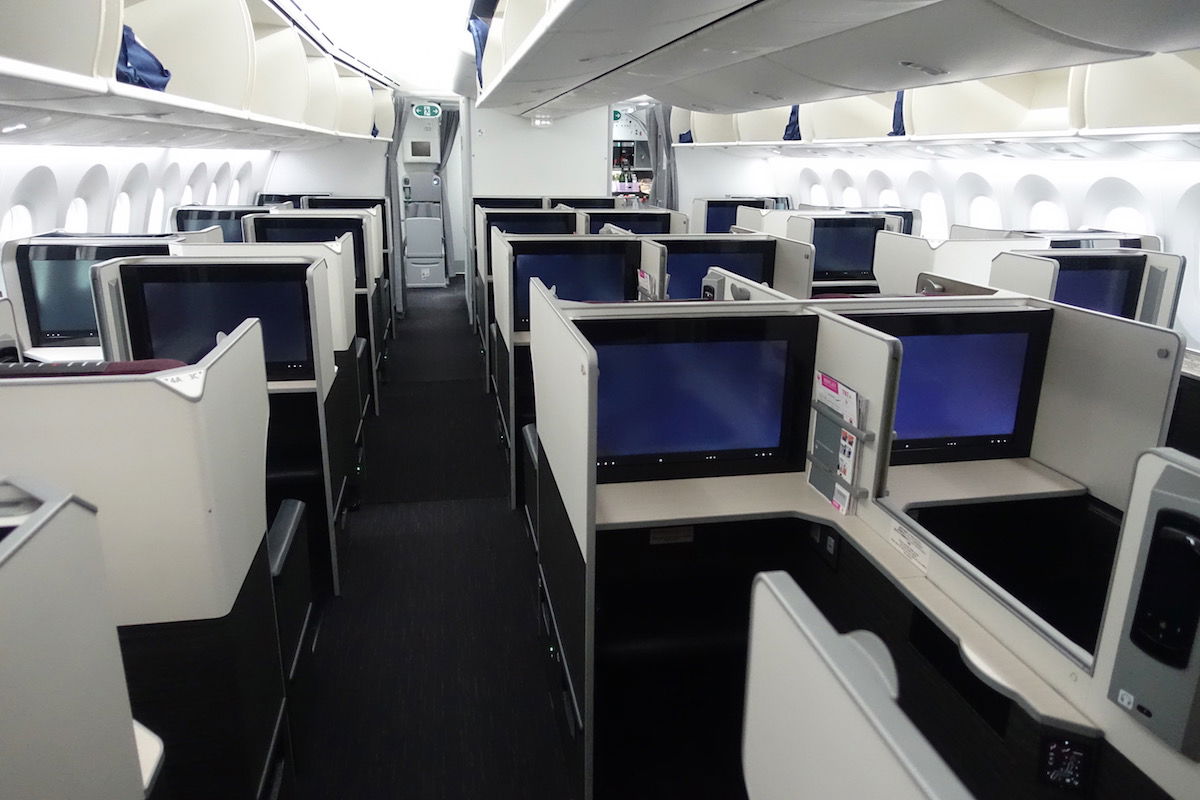 On the 787-9 the forward business class cabin has 24 seats, while the rear cabin has 20 seats.
At first glance these seats may not look like much, but the window seats in this configuration are really spectacular. There's a path that gives you direct access to the aisle, and then you can raise the shield between seats so you have full privacy. I also love that there's no small footwell you have to place your feet in when in bed mode.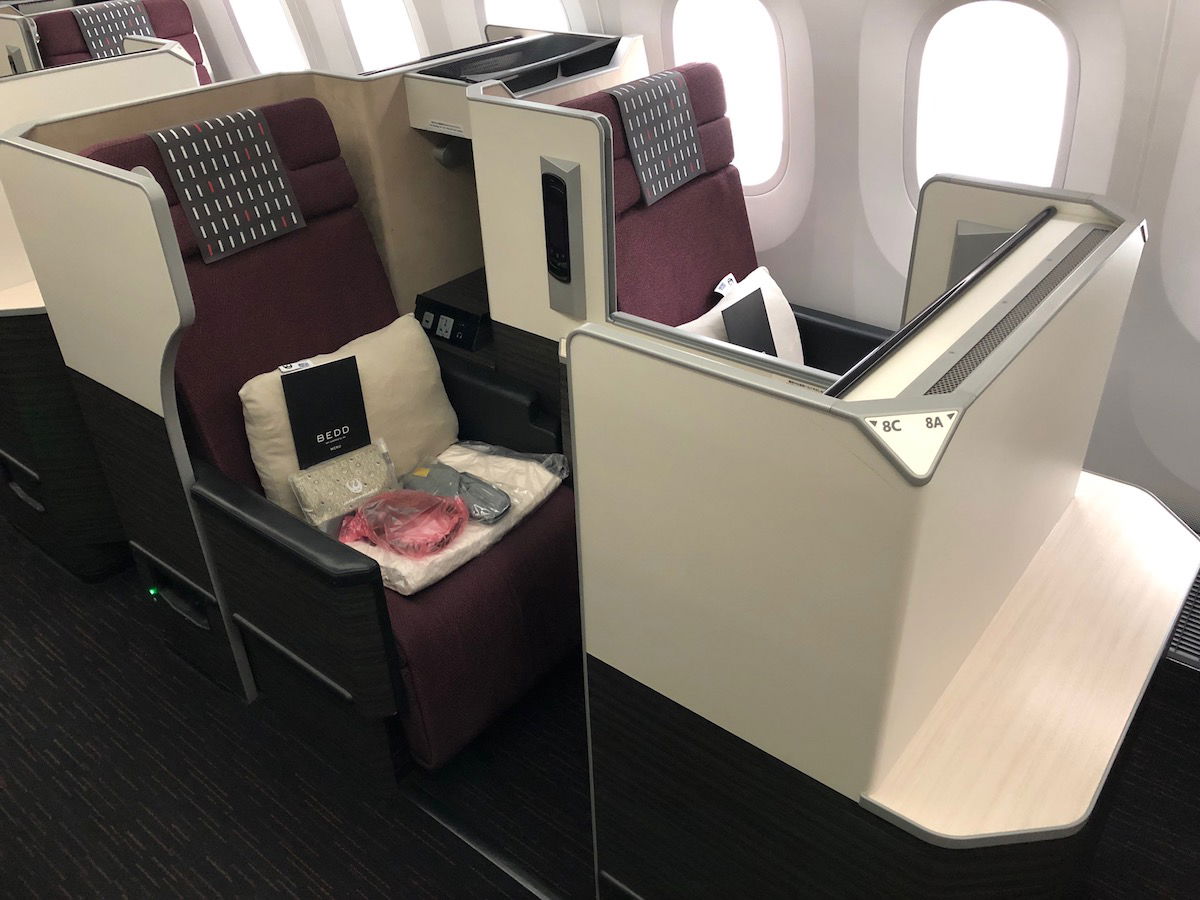 This seat is fantastic, whether you're looking to sleep, relax, or eat.
Japan Airlines business class food
As you'd expect, Japan Airlines has both Western and Japanese options for all meals.
After takeoff lunch was served. Ford tried the Japanese and I tried the Western so we could get pictures of all of them, and they were mostly pretty good.
The Western starter consisted of chicken terrine, grilled sea scallops, and smoked salmon escabeche.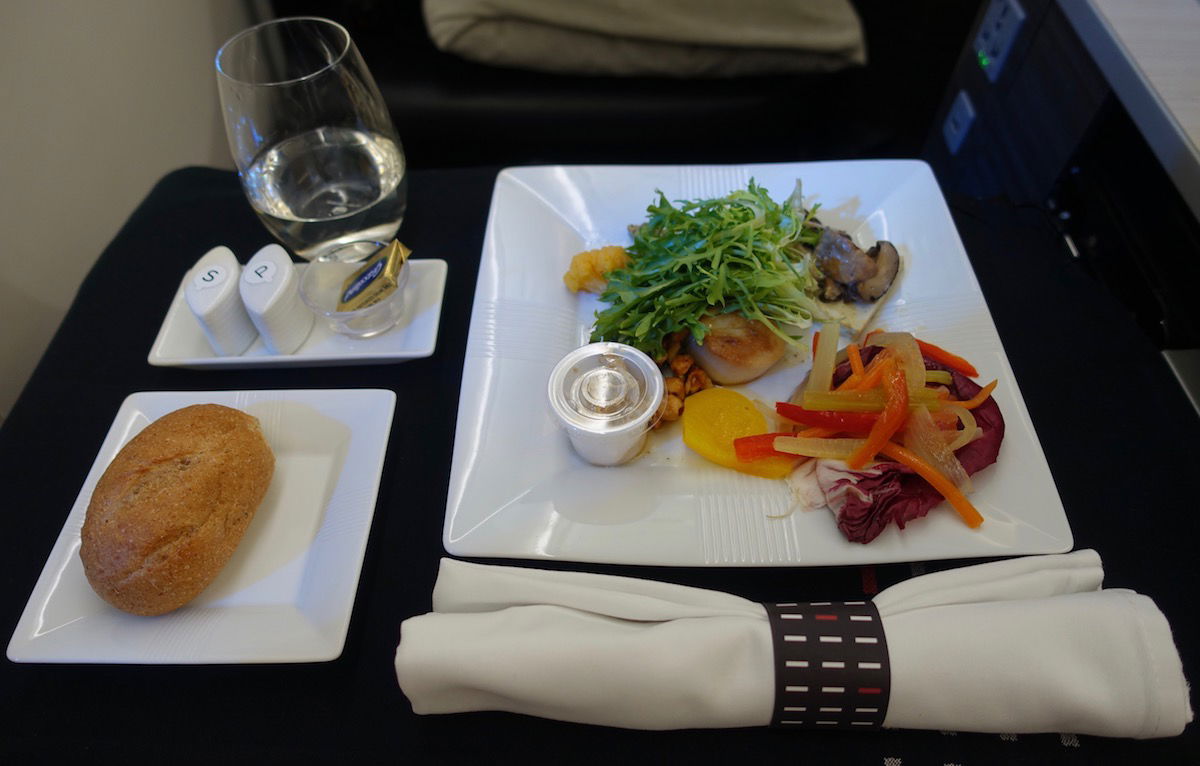 Then for the main course I selected what was simply described as sautéed white fish with mascarpone porcini mushroom sauce.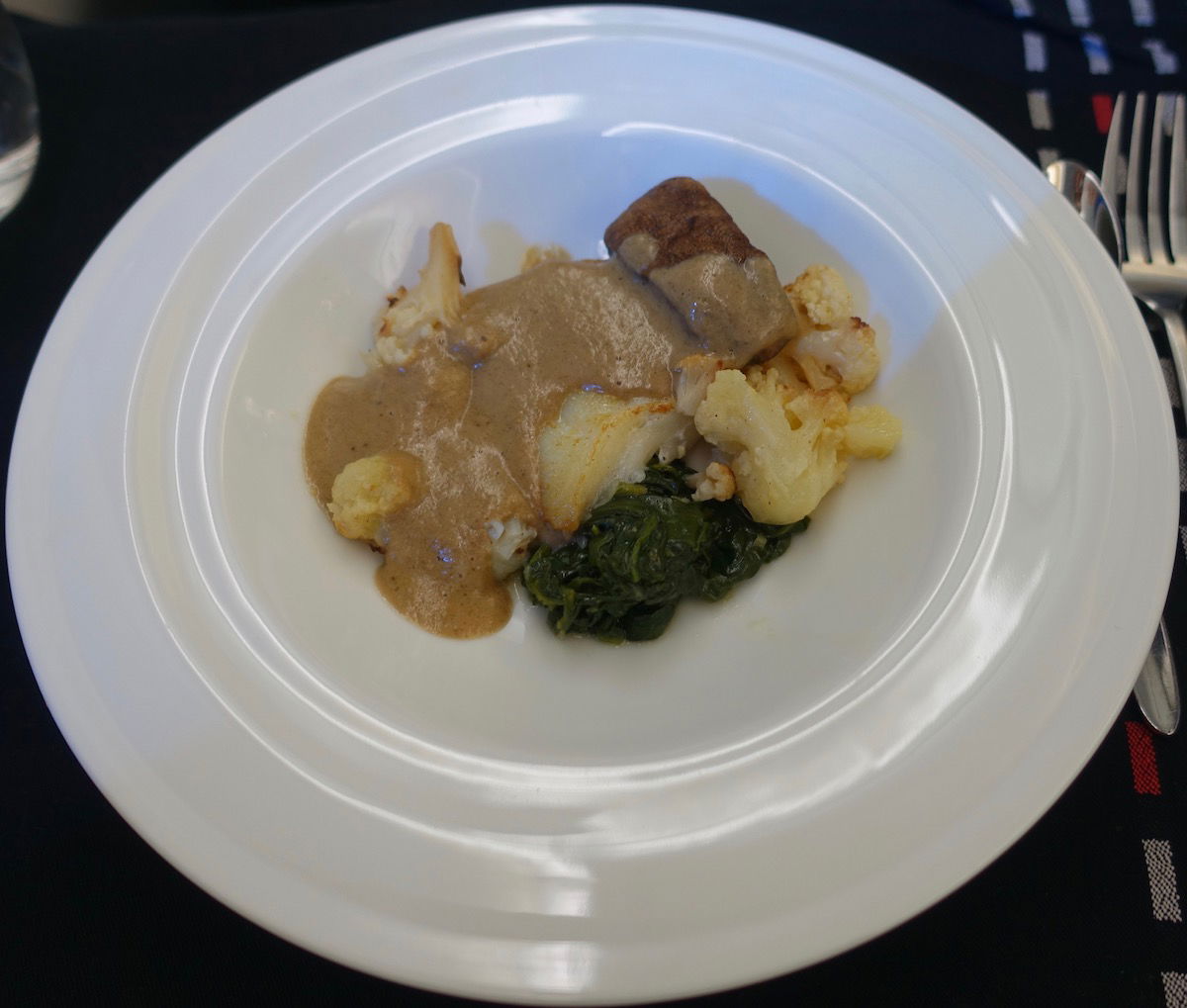 I'll save the full details of the Japanese meal for the trip report, since that's a lot to type out right now. 😉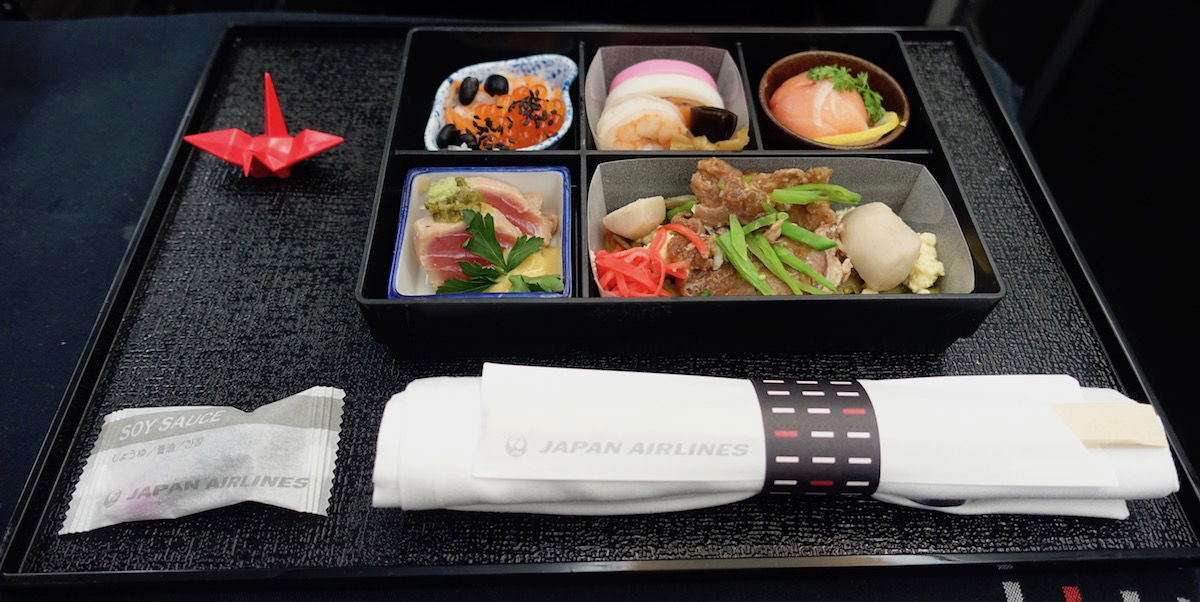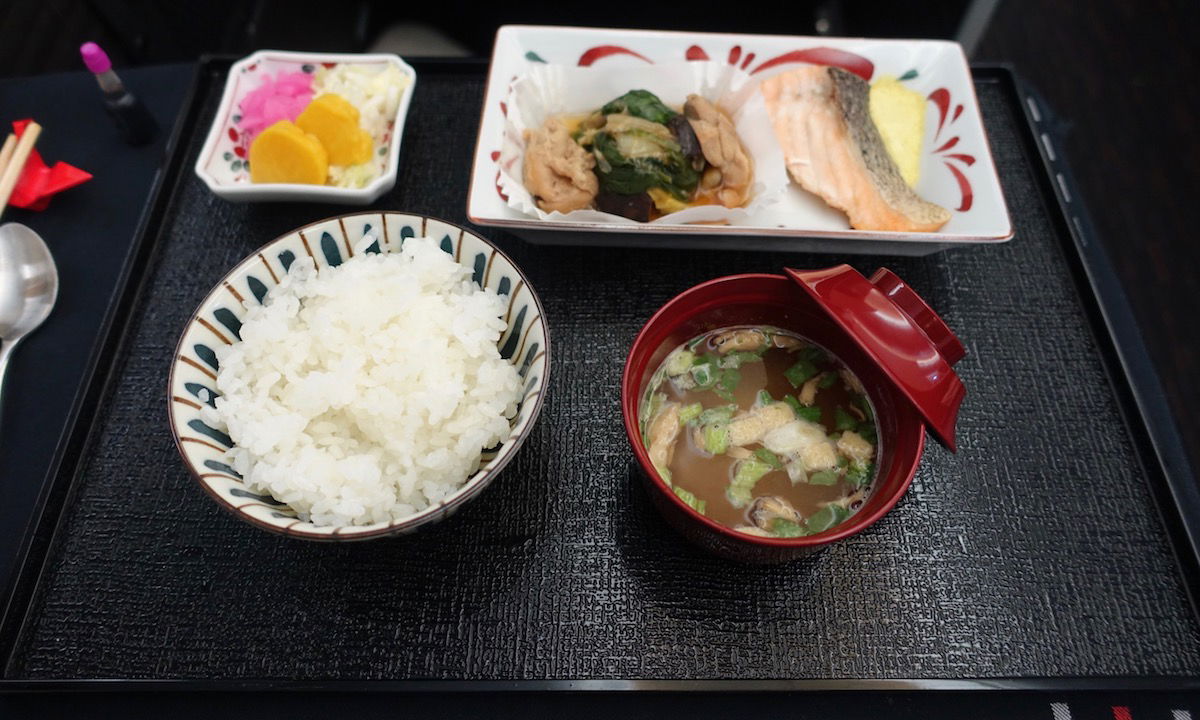 Then dessert consisted of a sweet potato pudding.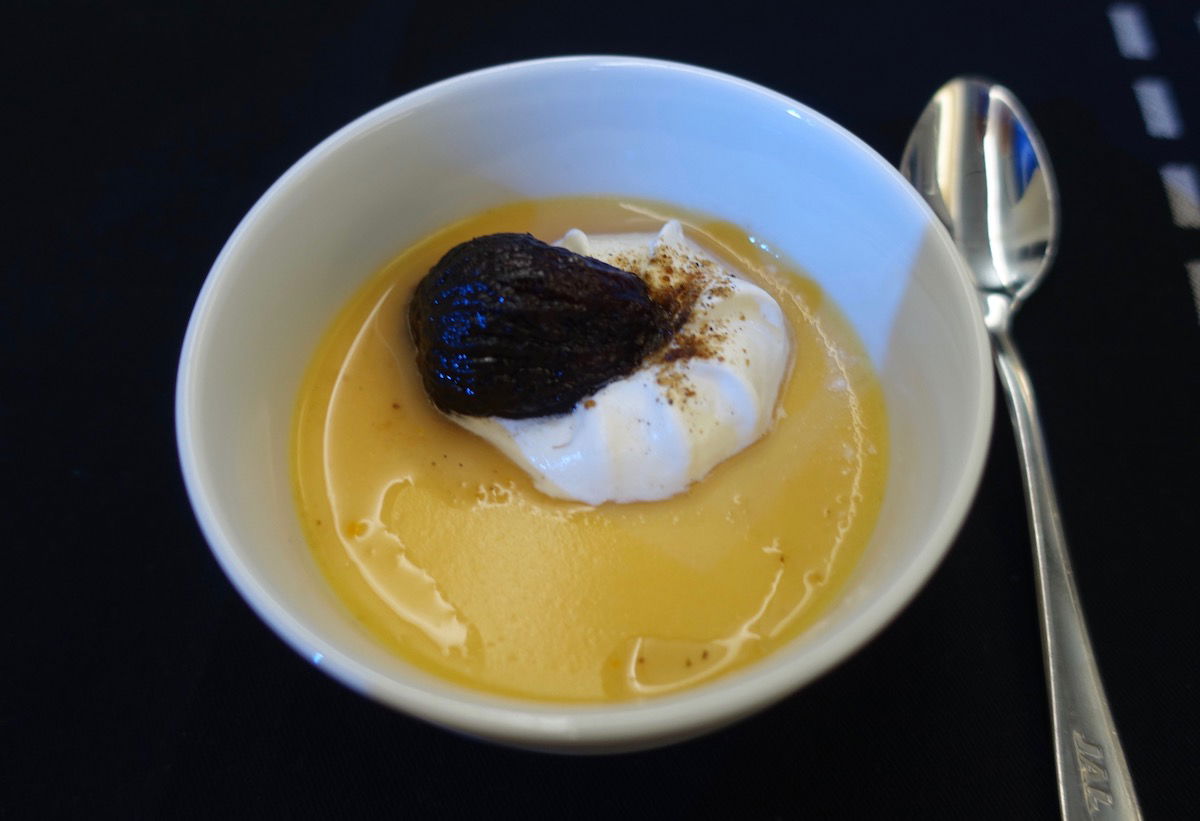 After the main meal it was a dine on demand concept, and you could order from a (fairly limited) number of options until 90 minutes before landing.
I will say that the menu doesn't have much variety. For example, for the main meal there's no choice of appetizer for the Western option, there are only two main course choices, and both Western and Japanese meals only have one dessert option.
Japan Airlines business class amenities
All business class passengers receive an amenity kit, which had some unique contents.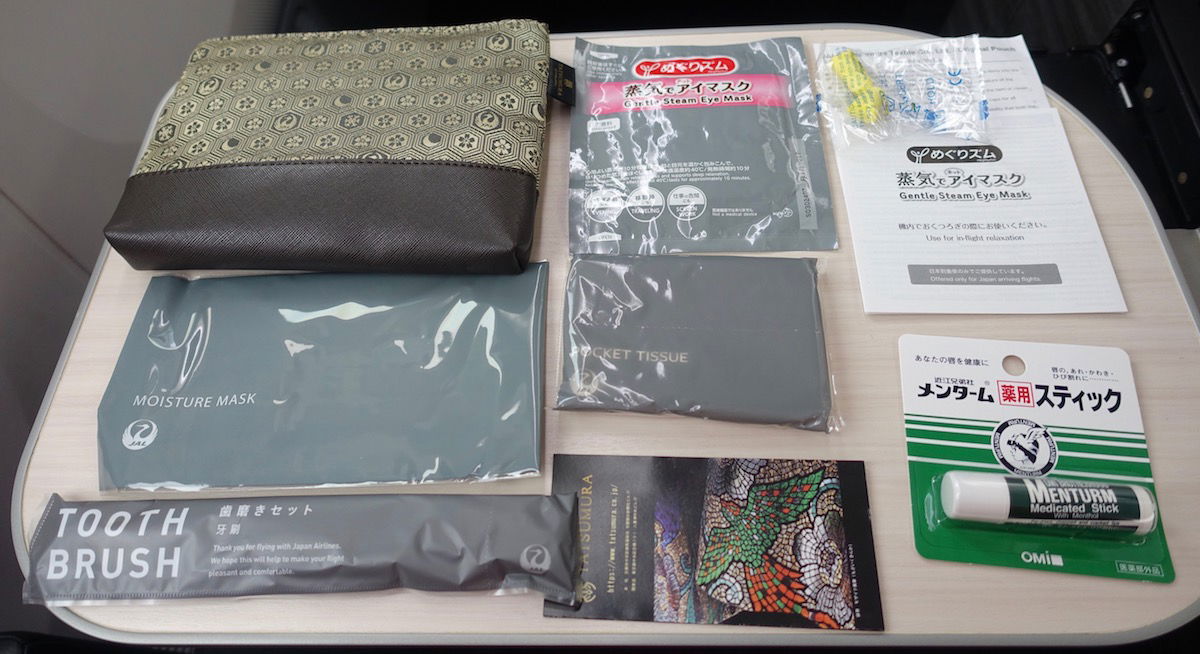 While JAL doesn't offer pajamas in business class, they do offer cardigans, which I've always found a bit… odd. Japan Airlines tends to keep their cabins really warm, so the last thing I need is a long sleeve shirt to put on. But I get that most Japanese guests have different temperature preferences than I do.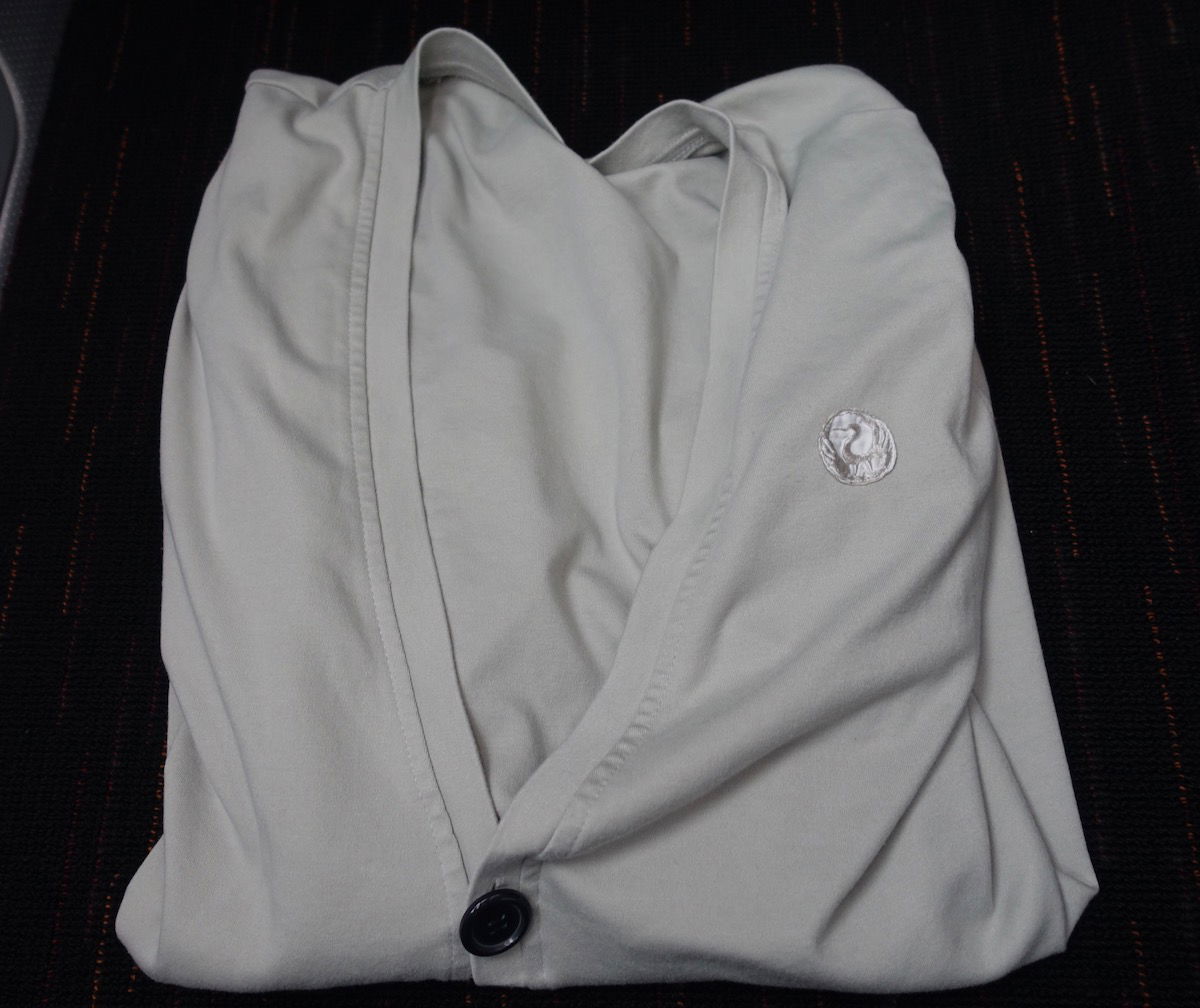 Japan Airlines also has pretty good bedding. There's a blanket that's comfortable but light, a mattress pad that makes the seat softer, and then a pillow.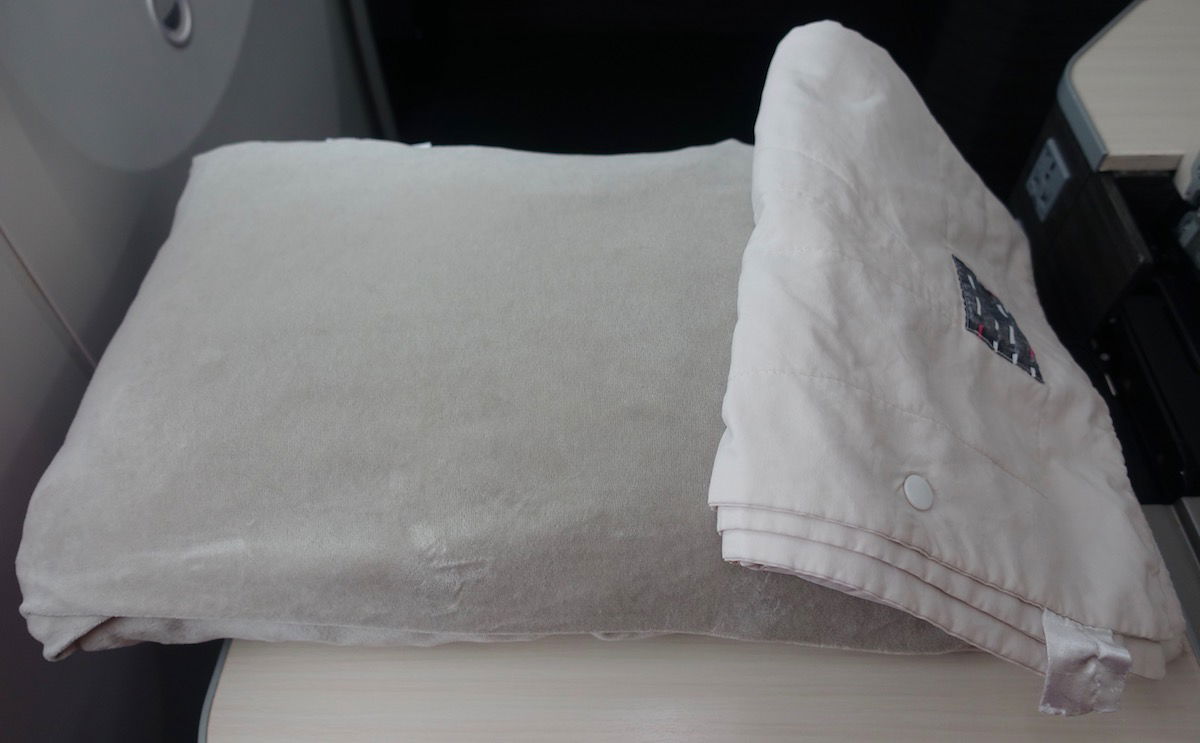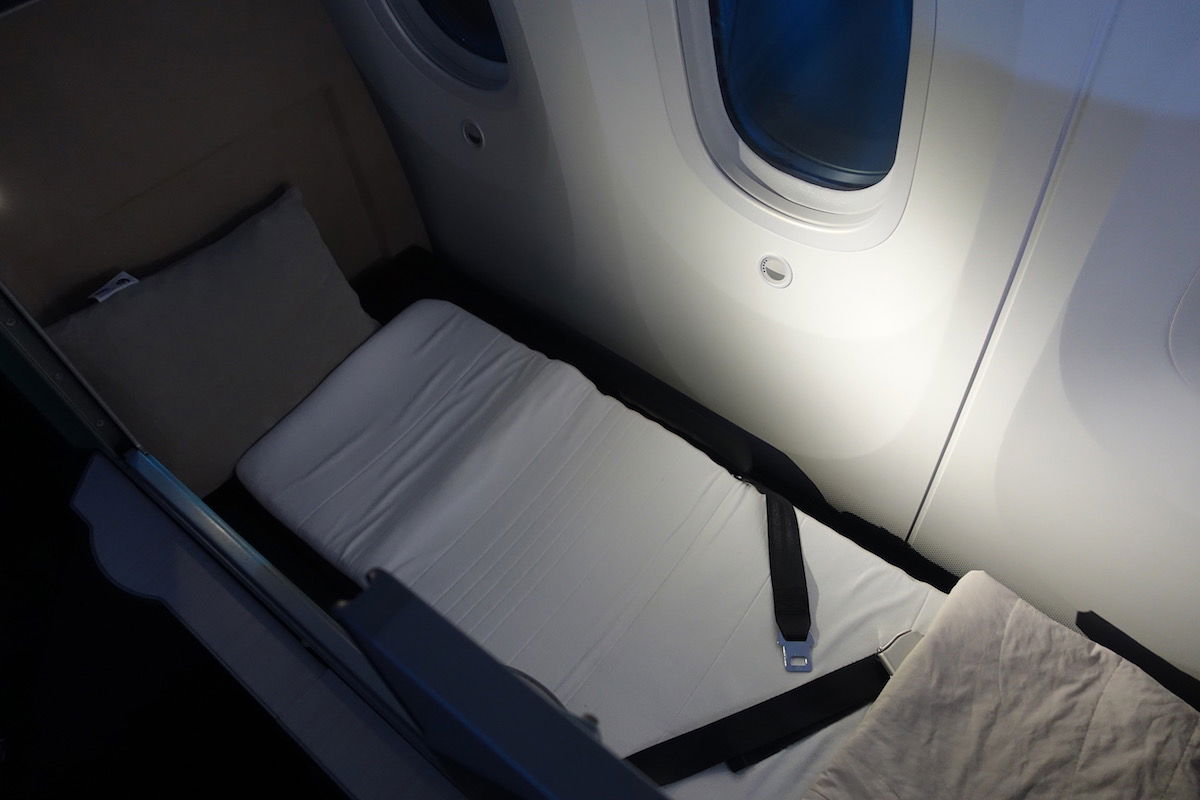 Japan Airlines business class entertainment & Wi-Fi
JAL's entertainment selection is limited, though perhaps even more annoying than the selection is that the monitor isn't touchscreen. So you have to control everything off the small controller, which I find complicated to use.
On the plus side, JAL has Wi-Fi without data caps for $18 for the entire flight, which is an excellent deal. I will say that Wi-Fi on this flight was slower than on past JAL flights I've taken, though I'm guessing that's just a function of the number of people using it.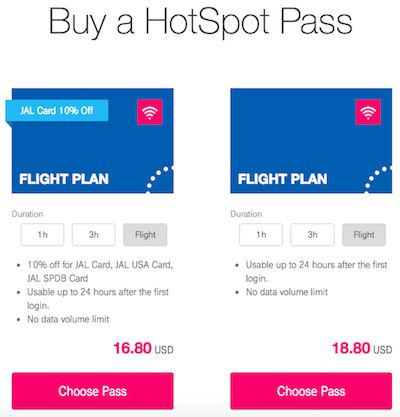 Japan Airlines business class service
Let me start by saying that the crew was friendly and well intentioned. After all, we're talking about Japan, a country where you get great service even at McDonald's.
All that being said, I didn't think the crew was that attentive. I didn't really mind that they only very rarely came through the cabin after the initial meal, since they were always responsive to the call button.
But it would take them forever to clear things. For example, when I ordered a snack they'd only collect the tray about 30 minutes later. Furthermore, if they took an empty bottle away from my seat they didn't ask if I wanted more water, but rather they just walked off with it.
Honestly the service was still very good, but we're talking about Japan Airlines here, which usually has stellar service. So I'm pointing this out to say that if I'd usually rate JAL 10/10 on service, the service on this flight was 9/10.
Japan Airlines 787 business class bottom line
As usual, Japan Airlines has an exceptional business class hard product. I love the Apex Suite, as the window seats in this configuration are one of the most private products out there.
Overall Japan Airlines offers a very good product, and I'd fly them again in a heartbeat, and would also recommend them. However, I don't think their business class soft product is as amazing as their first class soft product, as a relative matter.
I think airlines like Qatar and EVA are in a different league when it comes to business class service.
If you've flown Japan Airlines business class, what was your experience like?