Thailand has some of the strictest defamation laws in the world. An American man living in Thailand is experiencing this firsthand right now, as he's being sued for a negative hotel review that he left online.
Thai hotel accuses guest of defamation
A Facebook user shares how a friend of a friend was punished for a negative review. According to his side of the story:
The man was arrested at the school he worked at for posting a one star review on Google Maps about a resort he visited in Koh Chang
He was escorted 250km away to face a complaint made against him by the resort owner
Since it was a Friday, he ended up spending a couple of nights in jail before he was able to post a 100,000 THB (~3,200 USD) bail; if he didn't have that money, he would have to wait in jail for a long time
As the Facebook user concludes:
"In most cases, defamation laws are good as they are there to protect us. But it is sometimes abused. To have someone arrested at their workplace for posting a negative review is surely a step too far. Does this now mean none of us should post one star hotel reviews in Thailand?"
So, what was the negative review? He wrote the following:
"The staff was not friendly. Nobody could smile. The restaurant manager was very rude and full of himself. He is from the Czech republic. There are other hotels with better-friendlier staff. Avoid this place as if it was the Coronavirus!"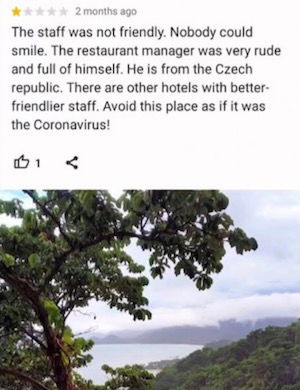 Is there more to the story?
As you might expect, there is more to the story. That's not to say that Thailand's defamation laws don't take it a bit too far, but…
The hotel claims the following in its response to this guest's situation:
The guest had left two negative reviews, the first of which was removed by TripAdvisor for violating review guidelines
The only purpose of the review was to defame the food & beverage manager
The guest had dinner in the restaurant the night he arrived at the resort, and brought his own bottle of liquor
When he was informed of the corkage fee of 500 THB by an employee, he dismissed her and used abusive language towards her
The food & beverage manager then intervened, and he decided to waive the corkage fee to avoid a disturbance
The hotel is "surprised" that even after this generous gesture, the guest still wrote negative reviews online
"We hope that other resorts don't have to go through the same experience as the one we had" (hah!)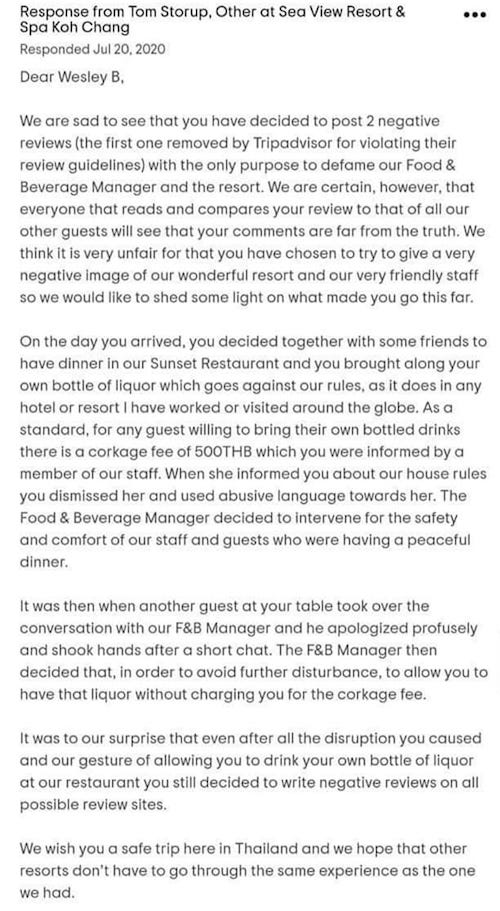 Next, the hotel had tried to reach out to the guest on several platforms, but he refused to negotiate. The hotel asked that the guest delete all reviews, and told him he needed to refrain from leaving any reviews about the hotel in the future.
After a police report was filed, the hotel said that if he agreed to those terms, they would write a statement to police saying that he has "officially apologized."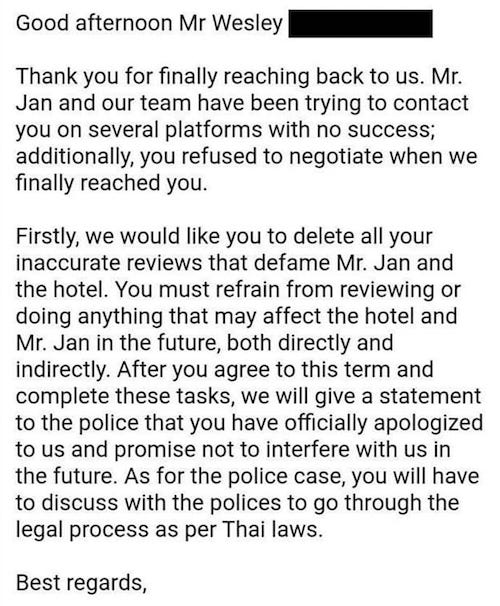 My take on this situation…
I do think Thailand's defamation laws take things too far. However, unlike the person who shared this story, my conclusions isn't that this means that "none of us should post one star reviews in Thailand."
It sure seems to me like this wasn't a good-faith, negative review of a place. Based on the information presented, it seems to me like this guy might just be a jerk, as the hotel made an accommodation and then he still complained publicly. Furthermore, the hotel did reach out to him, so it's not like the police just came knocking at his door without him having a clue that the hotel was going after him.
Do I think the punishment is a step too far? Yes. But in a world where "the customer is always right" and where people always tout "freedom of speech" (without understanding what it means), I'm not totally against businesses having some recourse.
Like I said, though, I think the government getting involved is a step too far. I think a better solution is what we've seen at airlines — some airline passengers have left vicious notes for flight attendants, and I 100% support airlines banning those passengers. The customer isn't always right, and everyone deserves a basic level of respect.
Bottom line
An American expat in Thailand is being sued for leaving a negative review of a hotel online. The hotel claimed it was especially accommodating to the guest and waived a corkage fee for a bottle of liquor he brought into the restaurant. The man used abusive language towards the staff, and then still left a negative review online.
The hotel asked him to delete the review, and when he refused, a police report was filed. This caused the man to be arrested.
What do you make of this situation?
(Tip of the hat to Kalil)