Sometimes coordinating travel can be tough. I'm sure we've all been there at one point or another where we couldn't get seats next to our travel companion, or one person's upgrade cleared but the other didn't, or whatever. Sometimes there's no perfect solution. In the past I've written a post asking if it's okay to fly in business class while your spouse is in economy, which was based on a Daily Mail story.
Personally I'd rather sit next to a travel companion in economy than be split between cabins, though I'll also typically offer the upgraded seat to my companion.
But what about when parents are flying with children? And in particular, young children? I have no problem with parents who fly business class and put their adult kids (or young kids with an adult companion) in economy. That's their decision to make, and they're not necessarily inconveniencing others by doing that.
However, I witnessed something on an Alaska flight yesterday that felt very wrong to me, and I'm curious if I'm alone in this regard.
As the flight attendant took meal orders, the couple in front of me said "our daughter is in seat ___, if you have any extra food could you give it to her?" First of all, that's an unreasonable request, in my opinion — if you leave someone in economy, don't expect they'll get free food because you're in first class. You can ask they charge your credit card for the food that's purchased in economy, but that's about it.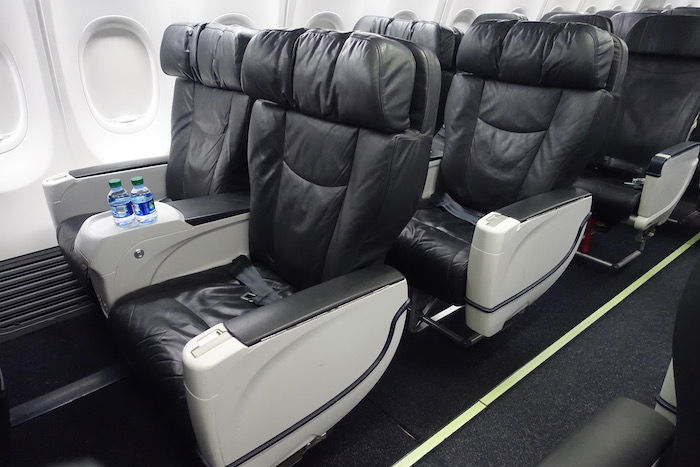 I figured that their daughter was an adult. However, towards the end of the flight the daughter came up to visit her dads, and I'd guess she was somewhere between eight and ten years old at most.
I don't think I've ever seen a couple leave a kid that young alone in economy while they knocked back a handful of drinks each in first class.
I'm curious how you guys feel — is this unusual, or more common than I think? And is it okay?
The way I view it, they should either buy her a first class, all sit in economy, or have one of the parents sit in first class with her, and the other in economy.
This just seems completely unfair to the daughter (who doesn't have much of a say at that age), and also unfair to her seatmates, given that presumably they have to at least watch after her somewhat. It's one thing if she needed to travel as an unaccompanied minor, but her parents were on the plane, and they were returning from a vacation; the situation was completely preventable.
But maybe I'm completely off base… I'm curious to hear what you guys think!