On Wednesday I was part of a panel focusing on the customer perspective at the IATA World Passenger Symposium. The first question we were asked was "is flying glamorous? Why or why not?"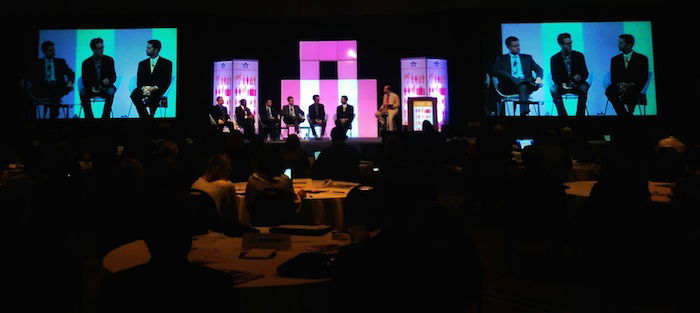 It's a simple question with a not-so-simple answer, in my opinion. Chances are that 99% of people would answer "no, it's not glamorous." Or perhaps "no, it's not glamorous, but I'm okay with that, since I can actually afford to fly where I want to go regularly, unlike in the past."
Popular opinion is that air travel has gone from being something exclusive and luxurious to bland transportation for the masses. And that's certainly true… to an extent.
When was air travel really more "glamorous"?
Was it the 1930s? A "flight" between London and Singapore on Imperial Airways took over a week. A week!
In a noisy, turbulent, aircraft that went slower than modern trains, at a cost equivalent to over $17,000 in today's money.
A week.
Or are we talking about the late 1950's and into the "Golden Age" of the 1960's? That's when my beloved Lufthansa introduced their "Senator First Class" which featured "20 de-luxe reclining seats and 12 First Class seats, four of which could be converted to beds."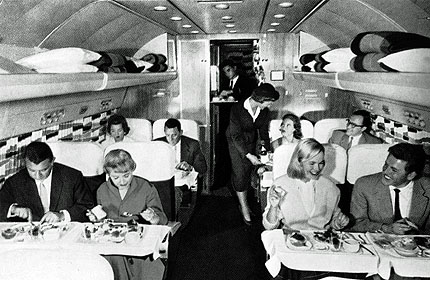 Lufthansa L-1649A Super Star, courtesy Lufthansa Technik
I don't necessarily need a separate seat and bed (though it sure is nice!) but I can't imagine the eight passengers whose seats didn't convert into beds were too happy.
And still, this was a luxury product only available to a select few.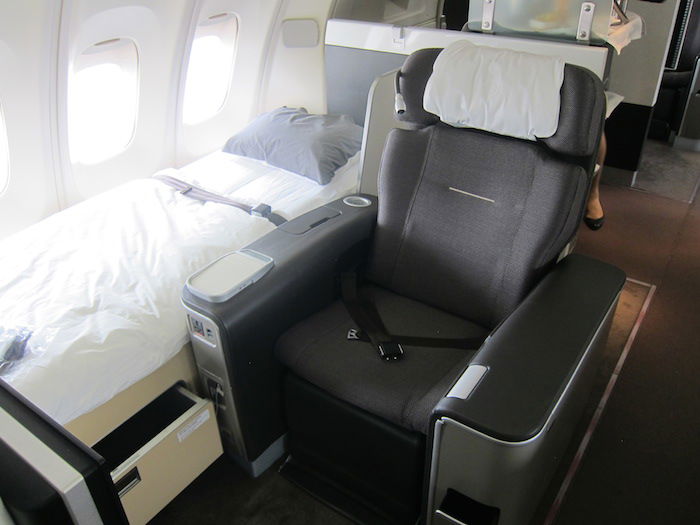 This hardly seems less glamorous
Looking at economy configurations in the 1970's, even the "designed for comfort" eight-across TWA configuration doesn't look particularly great:
Granted, perhaps it was glamorous compared to some of the 10-across seating we see on widebodies today, though at least now we have power ports, Wi-Fi, on demand entertainment, etc.
Is it about the crews?
An argument could certainly be made that flight attendants are less "glamorous" nowadays than at the height of the jet age.
We don't have white-gloved hosts carving roasts in the aisle, and I can't imagine (and don't want to) a Dallas-based American flight attendant participating in an ad campaign like this one:
But have you seen a Singapore Airlines crew parade through a terminal? Hardly unglamorous, in my opinion.
Does exclusivity equal glamor?
I think a large part of why travel is no longer perceived as being glamorous is because of how accessible it is.
Let me make a parallel to frequent flyer programs. Last week Delta announced that they'd be raising the Medallion Qualifying Dollar requirement for next year by 20%. In other words, in order to achieve status you have to spend more money.
What fascinated me is how they marketed it. Below is the graphic they used for the email they sent SkyMiles Medallion members, with the tagline "When Everyone's An Elite Flyer, No One Is." Think about that for a second. They're basically telling customers "well, even though your patterns haven't changed, you're no longer important to us because everyone else is as well."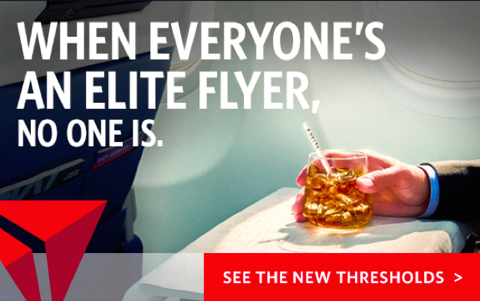 It kind of reminds me of this motivational poster: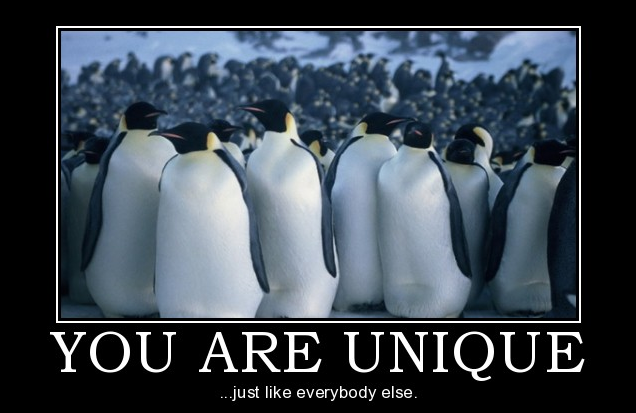 When only the select few are flying, it's glamorous. It doesn't matter if it's actually glamorous, but the perception is there, since most people never had the chance to do it.
The opportunity is actually on the ground
This was my main point on the panel, and something I wish the airline industry would pay more attention to.
For the average traveler, it's not the airplane that's become uncivilized, it's the airport.
Yes, the TSA and security experience is terrible. But that's what? Maybe 15-20% of the airport experience? It's the cumulative indignities of baggage unloading and queuing for check-in, schlepping through poorly signed terminals, hunting for outlets near uncomfortable seats, and a lack of communication from airlines.
Domestically, even with elite status and lounge access you're still faced with lines for nearly everything, you're still having to navigate through crowds of people and retail, the boarding process is still obnoxious, etc. And that's all assuming you're flying out of an actual gate — remote stands are another issue altogether.
I had lunch with Scott Mayerowitz on Wednesday and he made a throwaway remark that "by the time people get on the plane they're already cranky."
And I really think that's true.
We have airlines offering AVOD at every seat on international (and many domestic) flights. Internet is quickly becoming a standard feature. Business class seats are longer and wider than first class seats were ten years ago. We have double beds, tended bars, and showers. The on-board amenities are plenty luxurious.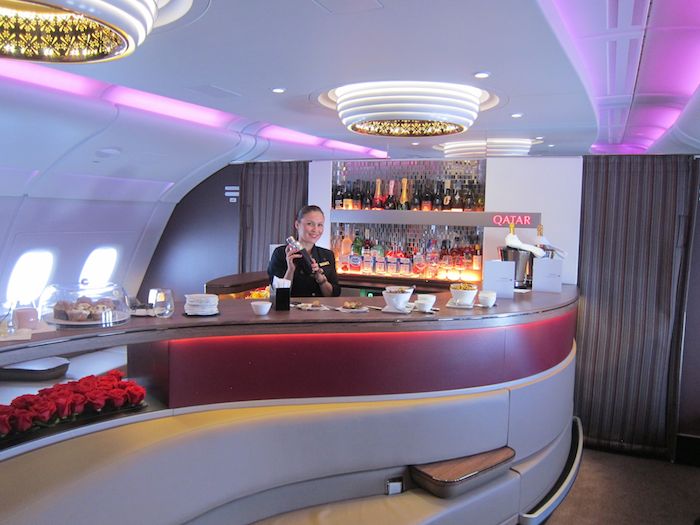 Qatar Airways A380 bar
But even in the premium cabins the airline is starting at a disadvantage, because with few exceptions the airport experience is miserable. It isn't always as awful as the Etihad Pre-Clearance facility in Abu Dhabi, but in very few instances do the ground services help to create a positive impression of the airline.
That's part of the reason why I love the Lufthansa First Class Terminal. To me it represents how air travel could/should be. From arriving at the terminal to boarding the aircraft the process is smooth and seamless. And admittedly we'll never get to the point where that's offered to all passengers, but even at the pointy end of the plane this experience is the exception rather than the rule.
Air travel in and of itself is glamorous
For me, the incredible thing about flying is the sheer miraculousness of flight. I've flown millions of miles now, and I still gaze at departures boards with the same awestruck wonderment I did as a child flying Condor economy class with my mother. The simple fact that you'll see flights from adjacent gates leaving to different continents is incredible, in my opinion.
Heck, I've been on four continents in the past week. It's amazing that's even possible.
I think this video of two ladies flying for the first time perfectly captures how glamorous flying is:
https://www.youtube.com/watch?v=zD2NtzEPBcA
Admittedly they're flying in a private jet, but what are they more impressed by — the plane or the fact that they're flying… through the sky… like birds?
The world is beautiful, amazing, and terrifying all at once, and being able to hop in a metal tube, watch a few movies, and be someplace new and foreign…I can't even describe how glamorous that is.
Everything else is just an added bonus.