If you stay in hotels with any frequency, you've probably dealt with pesky "resort fees." These have become the norm at many destinations.
Why "resort fees" are charged
They were initially introduced primarily for two reasons:
They're a way for hotels to try and get more revenue without increasing the "transparent" room rate
It works out better for the hotel than an increase in the room rate, since they don't have to pay travel agents a commission on the resort fee; in some areas it also allows them to skirt the typical occupancy tax that otherwise applies on the room rate
Resorts were able to get away with it at first since they could throw in amenities like beach chairs, etc., which they might otherwise charge for. The problem is that once a majority of hotels in certain destinations introduced these fees, it made it tough for other hotels not to.
They were at an extreme disadvantage if they didn't charge these fees. If they simply raised their rates they'd appear more expensive than the competition, given how good many hotels are at hiding resort fees.
Then "destination fees" were introduced
An alarming evolution of this is that we've seen so many city hotels now add "destination fees." This works exactly the same way as a resort fee, but for city hotels. New York City is probably the biggest offender in this regard, as a countless number of hotels there have this fee.
This trend is now expanding to Los Angeles, as we're seeing several hotels add a similar fee. A few weeks ago I wrote about the Andaz West Hollywood adding a "destination charge," and now another LA-area hotel has added a similar fee.
The InterContinental Los Angeles' "facility fee"
The InterContinental Los Angeles Downtown has added a $25 per night plus tax ($28.93 total) "facility fee" to their room rate.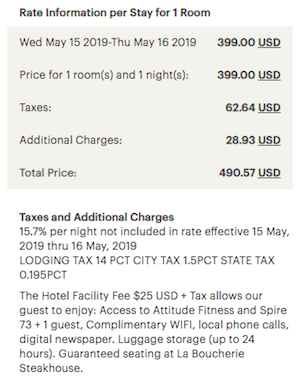 So, what are you getting for an extra $28.93 per night?
Access to the hotel's gym
Access to Spire 73, the hotel's rooftop bar
Complimentary Wi-Fi
Local phone calls
Digital newspapers
Luggage storage for up to 24 hours
Guaranteed seating at La Boucherie Steakhouse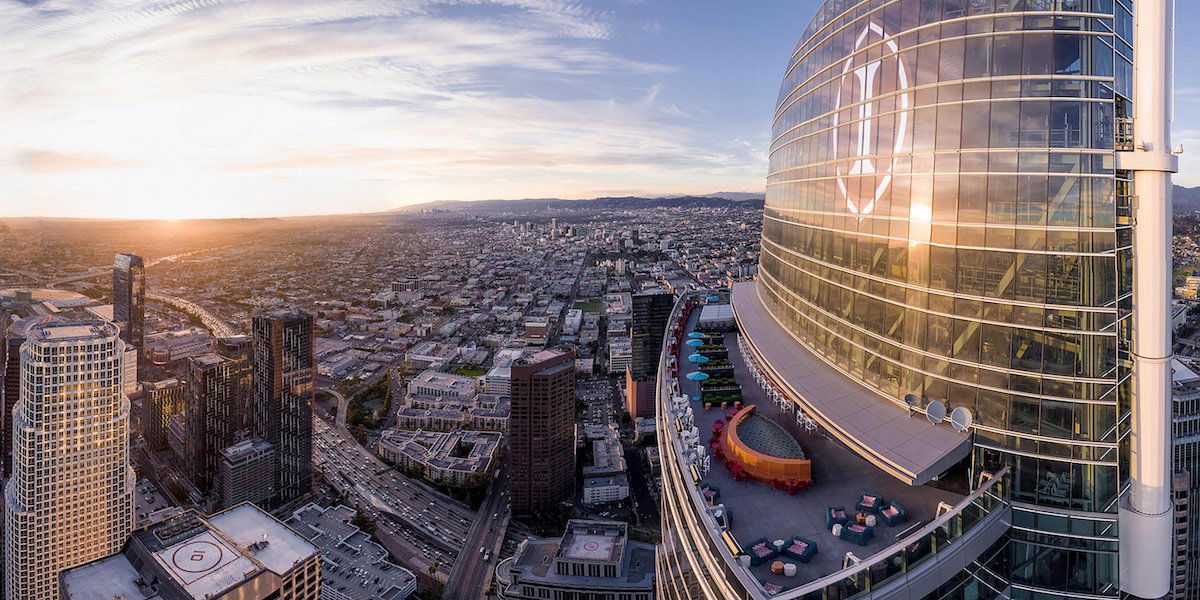 I'm always amazed by the non-benefits that hotels pretend they're adding when instituting these fees. It's one thing to add junk benefits, though even more ridiculous is suggesting that things that were previously included are now covered by the "facility fee."
Luggage storage, free Wi-Fi, and access to the gym? That's something every hotel should offer. Then local phone calls and digital newspapers probably aren't useful to many.
The hotel has long offered guests free access to Spire 73, which otherwise has a $10 cover. And I also wouldn't consider a guaranteed reservation at a steakhouse to be much of a benefit.
What's next? Including air conditioning and electricity in the facility fee?
I also take issue with the lack of disclosure here. Nowhere during the booking process does it clearly or obviously state that there's this additional fee. Rather when you pick a room rate you'll just note that the rate is quite a bit higher than you'd expect, and you have to look in the fine print to notice that.
Bottom line
Unfortunately these "destination fees" keep expanding, with no end in sight. I take issue with them in general, but even more so take issue with the lack of disclosure.
To me it's very similar how airlines sometimes handle carrier imposed surcharges. It's one thing if they're clearly disclosed, but when they're just bunched into the total, some might assume that these are in fact government taxes or fees, when they're not.