If you stay in hotels with any frequency, you've probably dealt with pesky "resort fees." These have become the norm at many destinations.
Why "resort fees" are charged
They were initially introduced primarily for two reasons:
They're a way for hotels to try and get more revenue without increasing the "transparent" room rate
It works out better for the hotel than an increase in the room rate, since they don't have to pay travel agents a commission on the resort fee; in some areas it also allows them to skirt the typical occupancy tax that otherwise applies on the room rate
Resorts were able to get away with it at first since they could throw in amenities like beach chairs, etc., which they might otherwise charge for. The problem is that once a majority of hotels in certain destinations introduced these fees, it made it tough for other hotels not to.
They were at an extreme disadvantage if they didn't charge these fees. If they simply raised their rates they'd appear more expensive than the competition, given how good many hotels are at hiding resort fees.
Then "destination fees" were introduced
An alarming evolution of this is that we've seen so many city hotels now add "destination fees." This works exactly the same way as a resort fee, but for city hotels. New York City is probably the biggest offender in this regard, as a countless number of hotels there have this fee.
While it has expanded to several other markets, it has now been added to a Los Angeles hotel that I've collectively spent well over a hundred nights at.
The Andaz West Hollywood's new "destination fee"
The Andaz West Hollywood has added a $23.10 nightly "destination fee" to their room rate.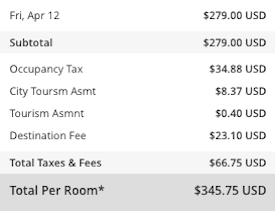 So, what's included with this $23.10 per night fee?
$10 credit to our hotel's acclaimed Riot House Restaurant and Bar for dinner
$20 day pass to Cycle Bar. Includes drop-in ride, free branded water bottle and free amenities
15% discount on tickets to Escape Room with code: andazguest (3 person minimum)
10% off Starline Tours for Celebrity Homes Tour, Hop On Hop Off 48 Hour Tour and Grand LA City Tour. (redeem online with code: Andaz2019)
Beverly Center VIP Passport to Shopping booklet. Present Shopping Pass Voucher at the Beverly Center Guest Services to receive your Passport to Shopping filled with special offers (Visit hotel front desk to pick up shopping pass voucher)
$3 off admission to the Grammy Museum at L.A. Live (bookable online at https://www.grammymuseum.org/ with offer code (ANDAZ)
Complimentary welcome bag, key chain and postcard at The Original Farmers Market. Simply present your room key to their concierge.
Fred Segal exclusive personal shopping experience with one of their concierge, refreshments from Fred Segal Café and a complimentary gift with no minimum purchase. (To book your experience please see the front desk host.)
Exhale Spa – $25 off any 60 or 90-minute spa therapy or $10 off a fitness class at the Santa Monica location (redeem by showing this listing)
15% discount off retail prices at Carlton Drew Men's Store. (redeem by showing your Andaz room key)
PinkDot -10% discount on purchases at the famed Sunset Boulevard store. (redeem by showing your Andaz room key or shop online using code: ANDAZ19)
What a long list of absolute garbage. Where do we even begin?
$10 off dinner at the hotel, really? Especially with how many good restaurants there are in LA, there's no reason to have dinner at the Andaz.
They're publishing virtually all of the discount codes online, so it seems you can use them regardless of whether or not you're actually staying at the Andaz.
Some of these "deals" don't even make sense, like $25 off a spa treatment in Santa Monica, rather than somewhere nearby.
Perhaps even worse than the destination fee is the Andaz's complete lack of disclosure regarding it. The only mentions of the destination fee are when you go to the booking summary page, where it suddenly appears, and the only place the fee is explained is in the "policies" section of the website, which is a tiny link at the very bottom that you'd never otherwise book.
Otherwise nowhere on the hotel's website or during the booking process is this disclosed. Not even in the rate rules. I find this to be incredibly dishonest.
Bottom line
I'm sad to see "destination fees" expand to the Andaz West Hollywood, and I suspect we'll soon see a lot more hotels add these in Los Angeles. It's a sneaky way that hotels can earn extra revenue, and despite guest frustration, they don't care, and usually get away with it
Buyer beware.