In the interest of full disclosure, OMAAT earns a referral bonus for anyone that's approved through some of the below links. These are the best publicly available offers (terms apply) that we have found for each product or service. Opinions expressed here are the author's alone, not those of the bank, credit card issuer, airline, hotel chain, or product manufacturer/service provider, and have not been reviewed, approved or otherwise endorsed by any of these entities. Please check out
our advertiser policy
for further details about our partners, and thanks for your support!
Link: Apply for the no annual fee Bilt Mastercard®
The Bilt Mastercard® (review) is an amazing no annual fee card for those who rent, given that the card lets you earn credit card rewards for paying your rent with no fee, up to a limit of earning 100,000 points per year. Given that rent is the single biggest expense for many people, this is an amazing points earning opportunity.
However, those who own and pay an HOA might be able to earn points on the Bilt Mastercard for that spending as well, so in this post I wanted to go over that. I first wrote about how this is theoretically possible a couple of weeks ago, and now wanted to report back with my firsthand experience — it was a success!
Why I picked up the Bilt Mastercard
I recently applied for the Bilt Mastercard, after hesitating for quite some time. There were two main reasons I held off on applying for the card for so long:
The Bilt Mastercard doesn't have an official sign-up bonus
The Bilt Mastercard lets those who rent generate lots of points, but it's less rewarding for those who own
However, in response to my hesitation, readers pointed out two things, which finally made me decide to apply.
First of all, while the card doesn't have an official sign-up bonus, there does seem to be an unofficial sign-up bonus for many. Specifically, the day I received my card, I was offered 5x points on my spending for the first five days, up to 50,000 bonus points. That's a pretty solid bonus, especially if you have a big payment to make by credit card during that period.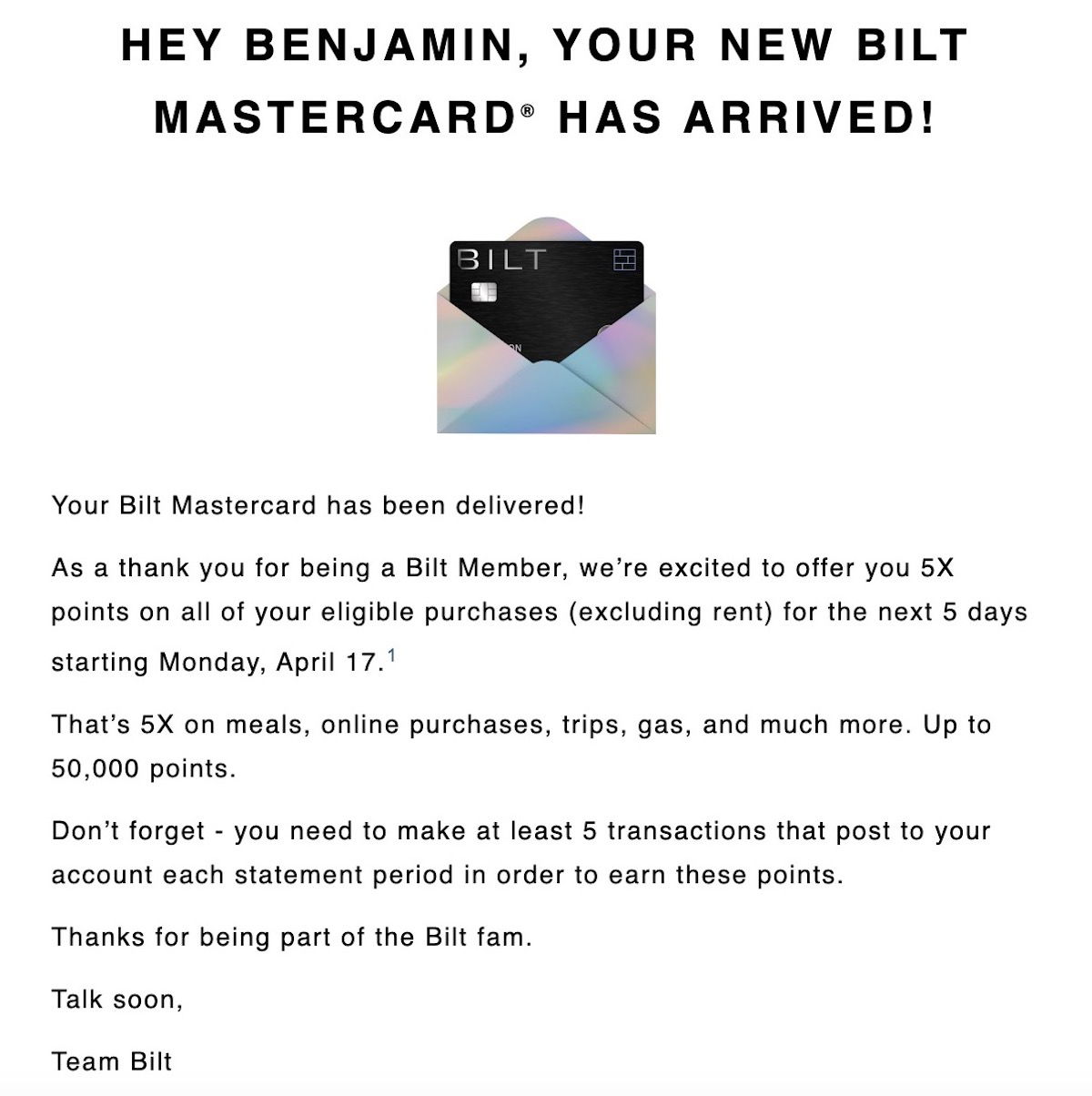 Second of all, several people reported not having any issues paying their HOA with Bilt in the same way that they'd pay their rent. I figured it was worth investigating that, which is another reason I picked up this card.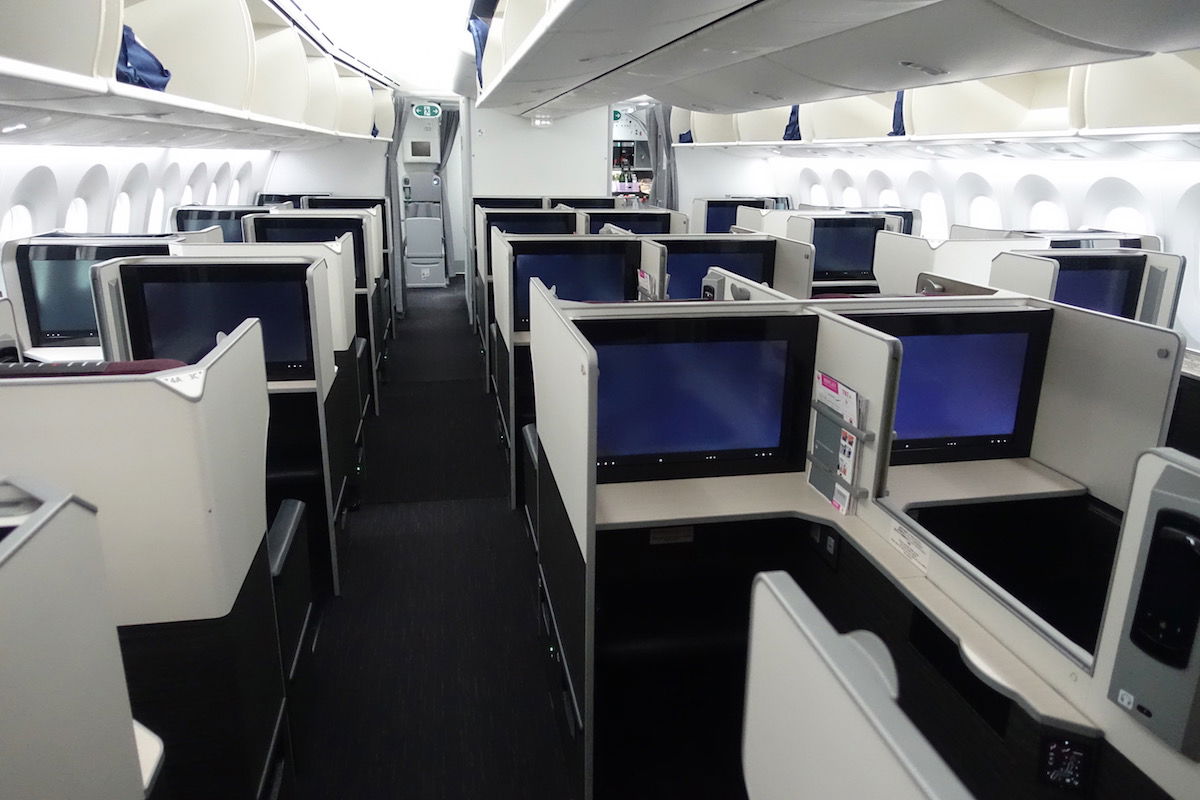 Can you pay your HOA with the Bilt Mastercard?
Several OMAAT readers have reported being able to pay their HOA fees via the Bilt Mastercard in order to earn points for free, in the same way they could use the card to pay rent. For those not familiar, HOA stands for "Homeowners Association," which can be in a building or a community. HOAs typically have fees, which cover the common expenses.
Before I talk further about paying your HOA with the Bilt Mastercard, let me make a few things clear:
In the terms & conditions, this isn't listed as something you can use the Bilt Mastercard for while earning points as part of the rent offer, so I can't guarantee that this will work for everyone, and we have no "right" to this
At the same time, many (including me!) have had success with this
Everyone has to use their best judgment, but this is something I feel comfortable with (which isn't to say that you should feel the same way)
The reason I feel comfortable doing this is because the people behind Bilt are very savvy and cut off all kinds of payment vendors, but it seems that this hasn't applied to HOAs, and I imagine that's not a coincidence; I'm confident that me writing about this isn't going to lead to anything suddenly being shut down, as I wouldn't be surprised if this is part of Bilt trying to grow market share
One other interesting thing is that up until recently, here's what Bilt's chat bot said when you asked if you could pay your HOA with the Bilt Mastercard:
Great question! Your Bilt Rent Account can be used for rent and rent-related charges. We have an internal team that validates these charges. Each rental statement can be a bit different, which is why our internal team reviews the payments.

Currently, you can use the Bilt Rent Account for the following transactions:

HOA Fees
Security Deposit
Electric Bill
Gas Bill
Water Bill
Condo Fees
College Living/University Housing (not paid as part of tuition)
Cable
Internet
Cell Phone Payment
Application Fee
In fairness, this has since been updated to the following:
Great question! You can only use our Pay Rent Online feature for rent and rent-related charges. These charges may include rent or additional charges from your landlord, like utilities or maintenance.

Our internal team validates these charges and ensures compliance with Bilt's Terms & Conditions. Each rental statement can be a bit different, so our internal team reviews each payment.
I've now gone through the process of paying my HOA with the Bilt Mastercard, and it has worked exactly as expected. Let me share the process, which is exactly the same as the one I outlined for paying rent with the card.
When you log into the Bilt app and go to the "Pay Rent" section, you have the option of either paying online or paying by check.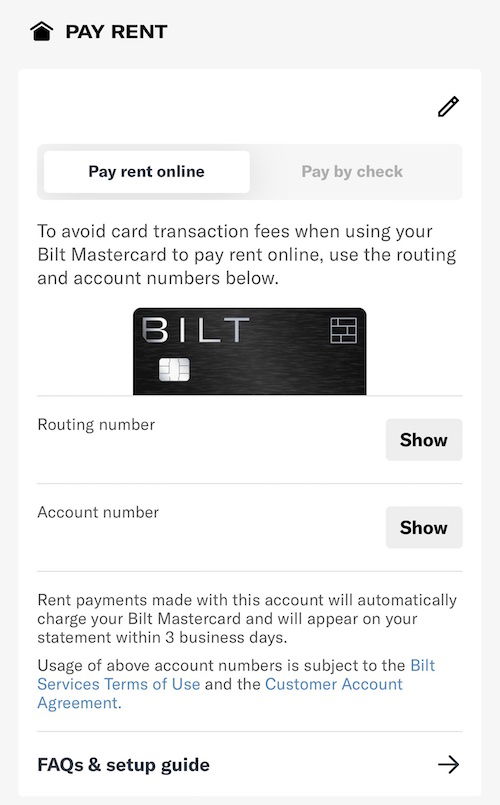 My building lets me pay my HOA online, either by credit card or by e-check. I don't want to pay directly by credit card, since that has a nearly 3% fee. So don't just pop your Bilt Mastercard credit card number in there. Instead you'll want to enter the routing number and account number provided by Bilt, so that you can pay without a fee.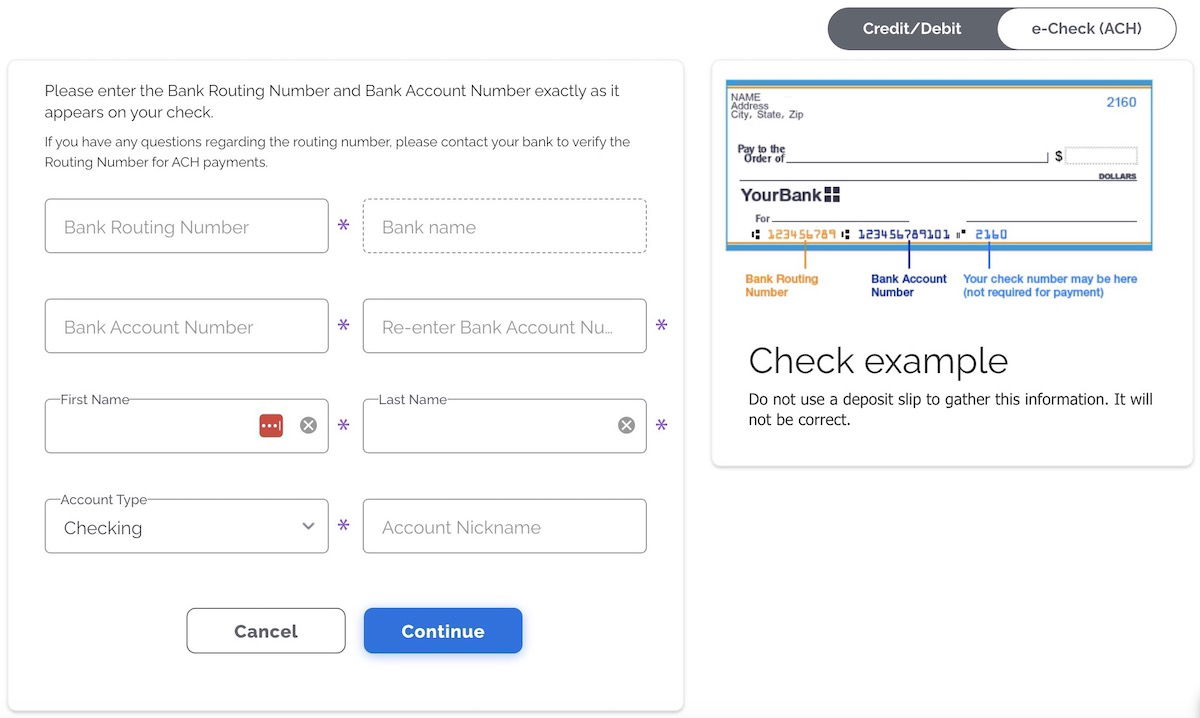 My HOA was due on May 1, and I had set up paying via Bilt through autopay. Sure enough, the Bilt e-check details worked, and then my Bilt Mastercard account was charged for the full amount.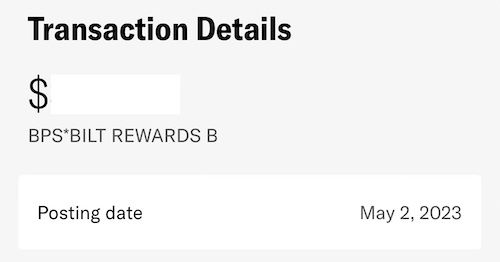 Then a few days later, the Bilt points posted to my account. While the points are backdated to May 2, they only posted to my account on May 5.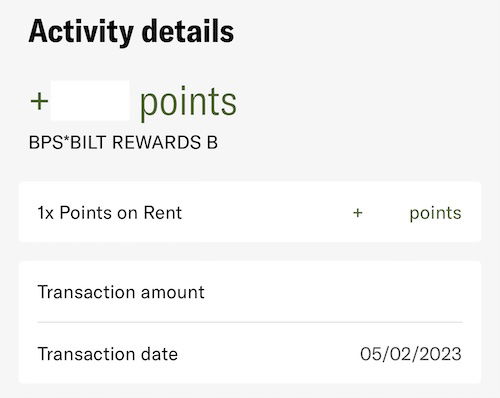 So yeah, this works exactly as I had hoped, which is awesome. This matches the experience that virtually every OMAAT reader has reported as well. I haven't seen any data points saying that it didn't work, though again, your mileage may vary (literally and figuratively, in this case).
What about paying your mortgage with the Bilt Mastercard?
While paying an HOA with the Bilt Mastercard seems to (unofficially) work, I'd note that you'll almost certainly not have the same luck paying your mortgage with the card, and I wouldn't even try, as that's much more likely to trigger issues.
After all, you pay your mortgage directly to a bank, and that's going to be blocked by Bilt. At that point you might as well put your customized Bilt account number and routing number into an email to a Nigerian prince who is offering you his fortune in exchange for a small upfront fee, as you have the same chances of that working out.
Bottom line
The no annual fee Bilt Mastercard is incredible for those who rent, given that you can pay your rent via credit card and still earn points at no fee. Based on my experience (and the experience of many others), it appears that you can also pay your HOA this way with Bilt.
Learning this was enough to get me to finally apply for the card, especially in conjunction with the card's unofficial spending bonus upon receiving the card. Suffice it to say that I'm a happy camper so far with the Bilt Mastercard!