Hello from Doha, as I'm currently on a quick surprise round the world trip with my dad. During our time in Doha, I decided to book us at Katara Hills, a property belonging to Hilton's luxury LXR portfolio.
This is the single points hotel in the world that I've been most interested in staying at, because it just seemed so weird. Well, I can report back that it was actually exactly what I expected, and I'm not sure if that's a good or bad thing.
Basics of Katara Hills Doha LXR
Qatar has seen a huge number of new hotel developments recently, with so many hotels opening right before the 2022 FIFA World Cup. Among those is Katara Hills, which is a 15-villa property located on a manmade hill in one of Qatar's "cultural villages." Each villa is two stories, and even has a private pool. The hotel has villas, an Indian restaurant, a small spa, and… nothing else.
Rates here are wild — when the hotel first opened, they were trying to charge nearly $3,000 per night for a base villa, even in the peak of summer. Now rates are under $2,000 per night in the off season, which is obviously still very high. Thanks to this property belonging to Hilton Honors, it can also be booked for 120,000 points per night.
I used a free night award that I earned with the Hilton Aspire Card for the stay. You've gotta love getting that kind of value from a card with a $450 annual fee (Rates & Fees) (and there are lots more perks to the card!).
So, how was our stay at this intriguing property? While I'll have a full review soon, I wanted to share my initial impressions.
The information and associated card details on this page for the Hilton Honors American Express Aspire Card has been collected independently by OMAAT and has not been reviewed or provided by the card issuer.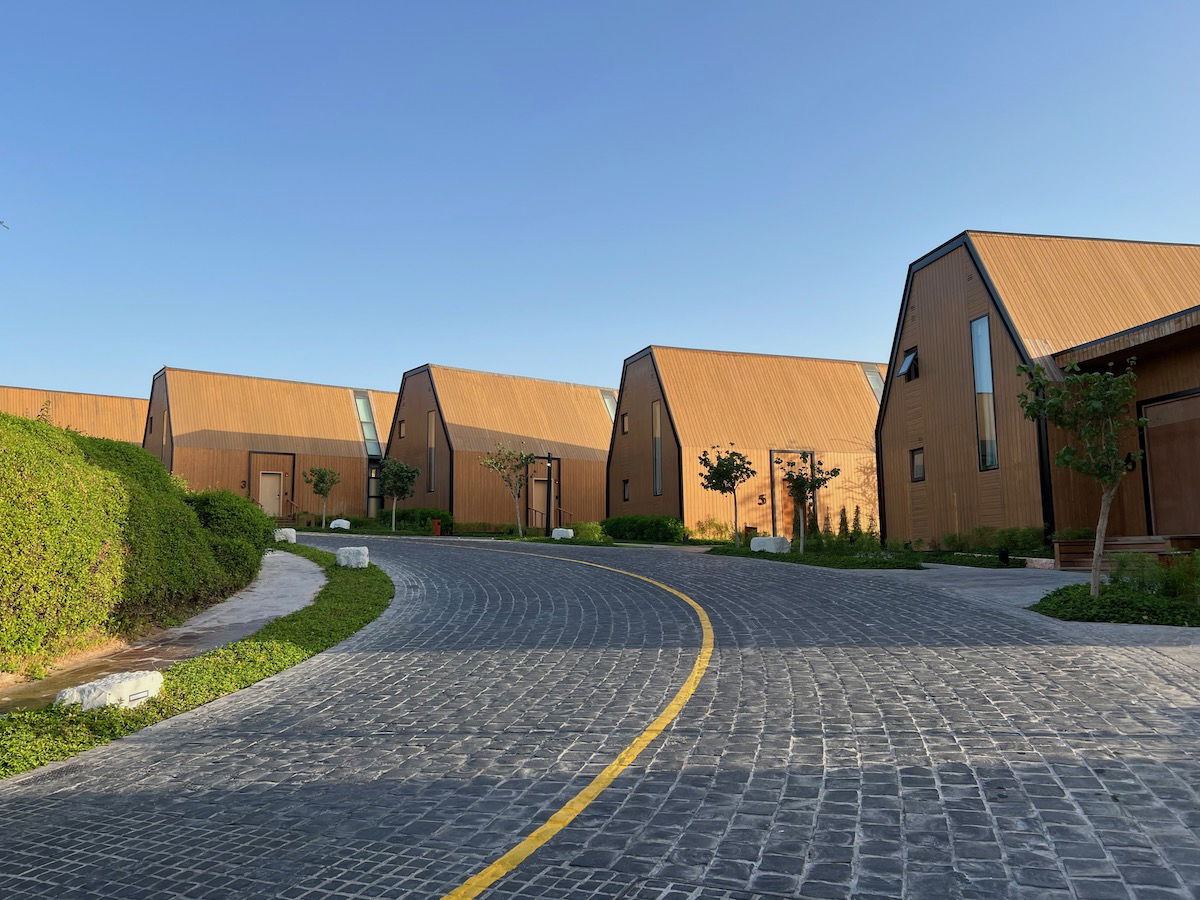 The Katara Hills Doha LXR villas are really nice
The villas at Katara Hills are genuinely very nice. Entry level rooms are 1,765 square feet (164 meters), so they're huge. The ground floor of the villa had a living room, with a couch, chairs, a dining table, and a kitchen. The kitchen had some complimentary drinks and snacks, and on top of that there was a very nice welcome amenity.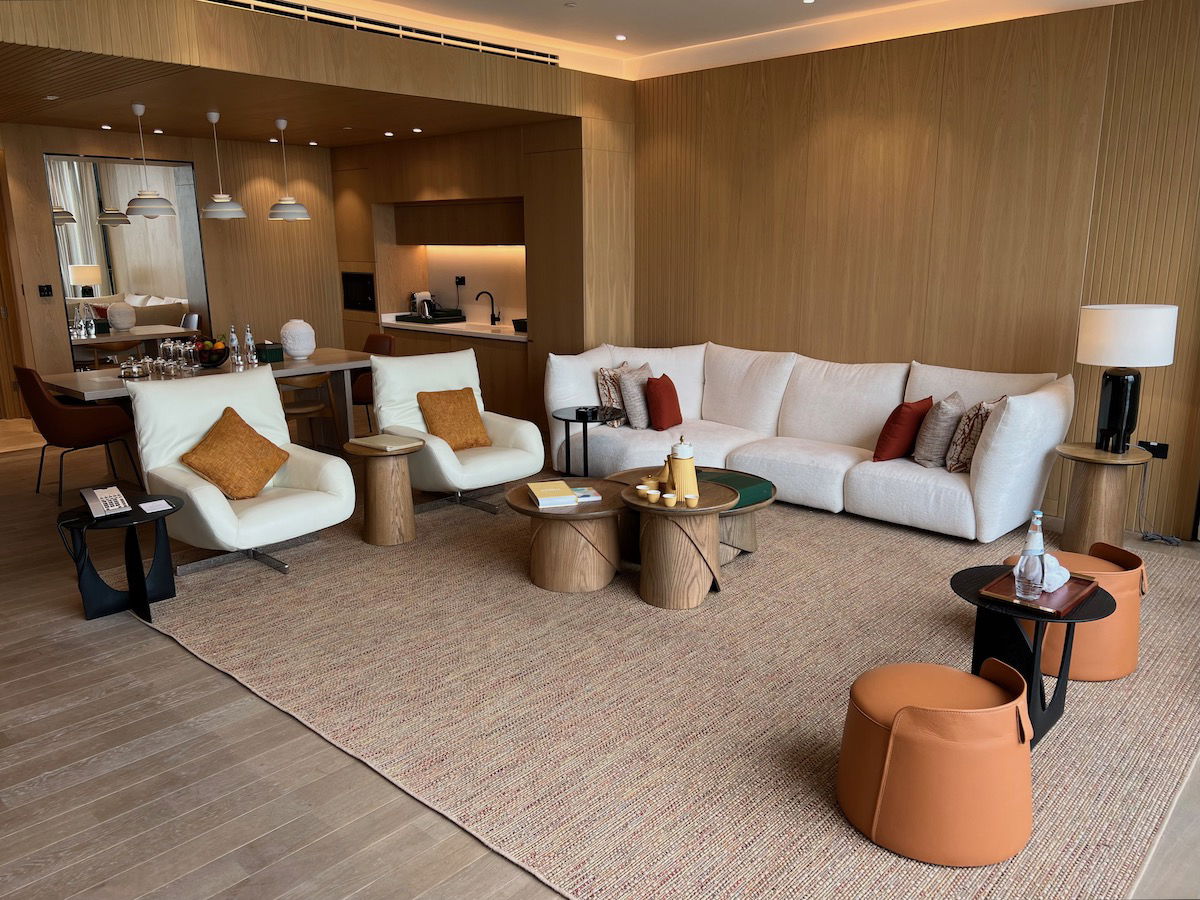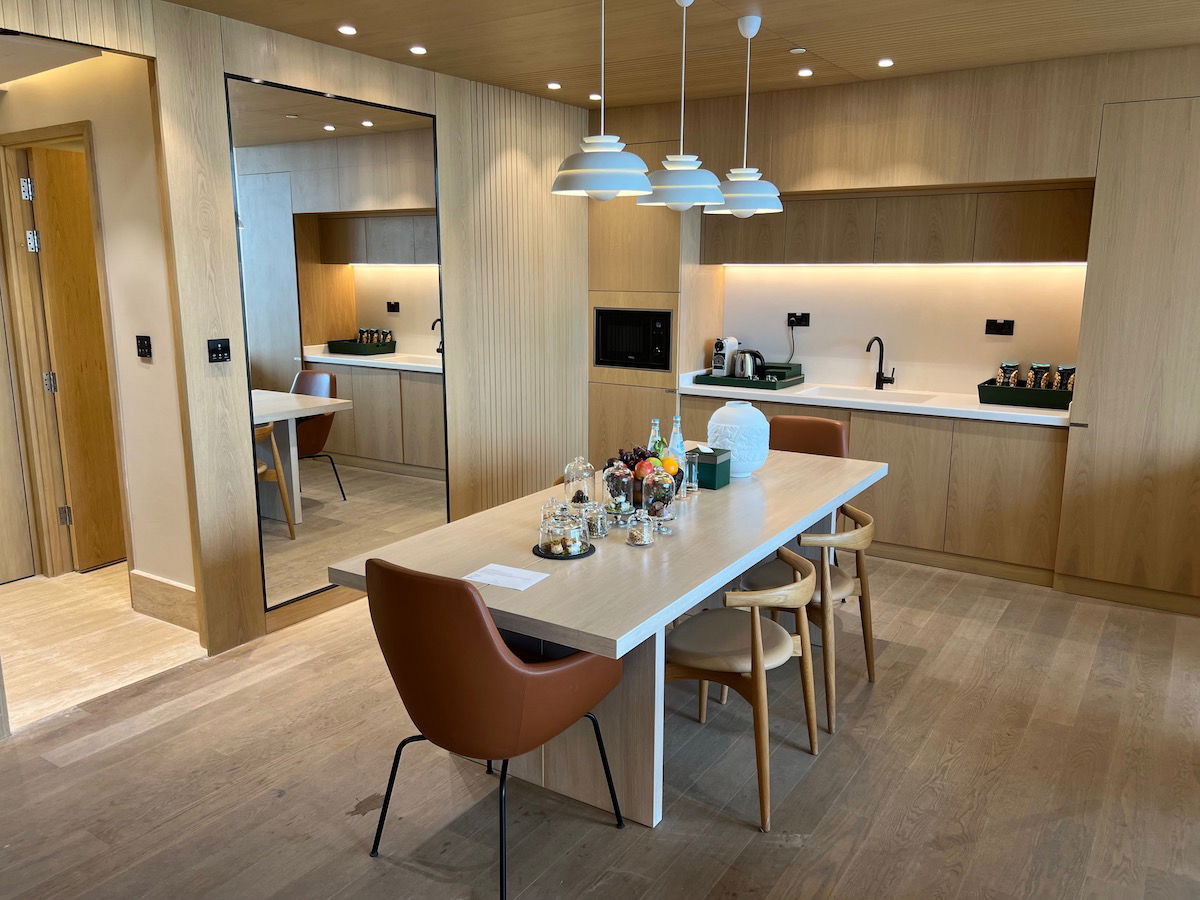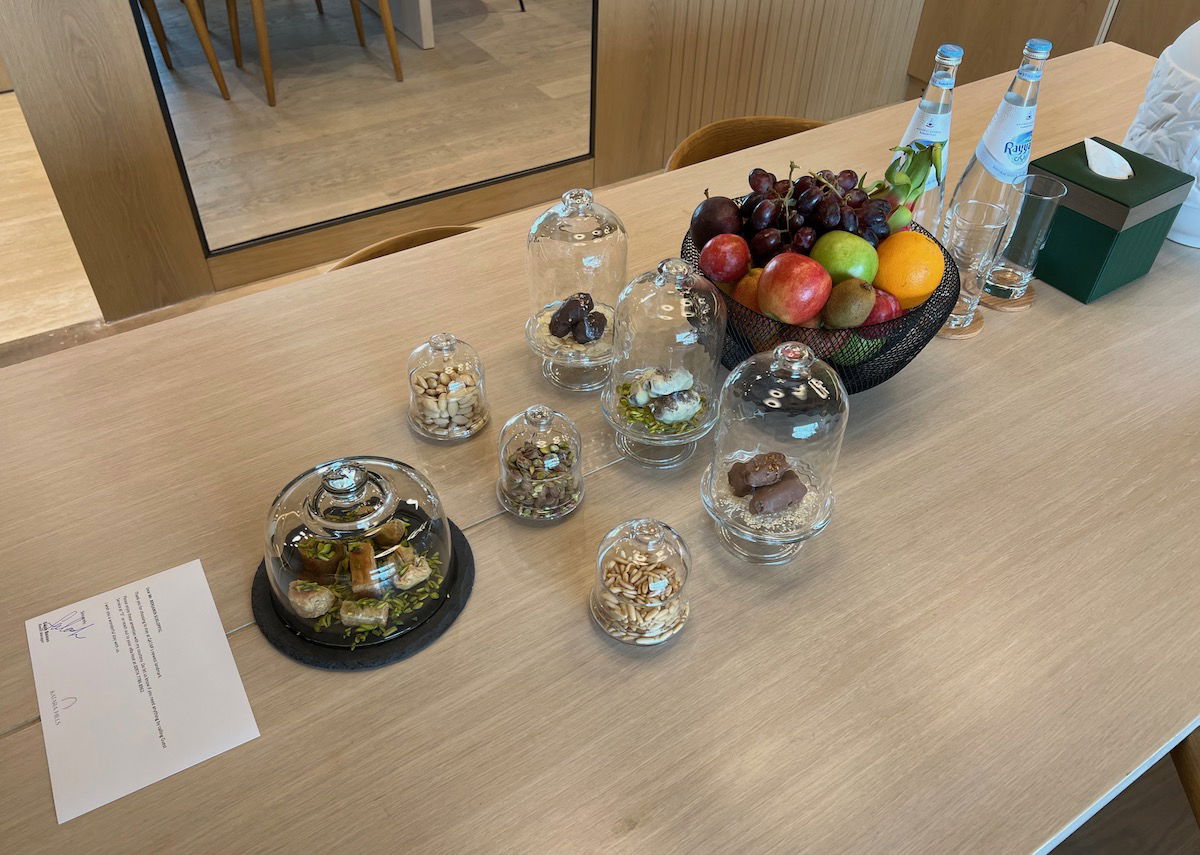 There was also a full bathroom on the first floor. We had a rollaway bed (the hotel doesn't charge extra for these), so it's almost like having two rooms.
Then there was the deck area, featuring some seating and a small pool.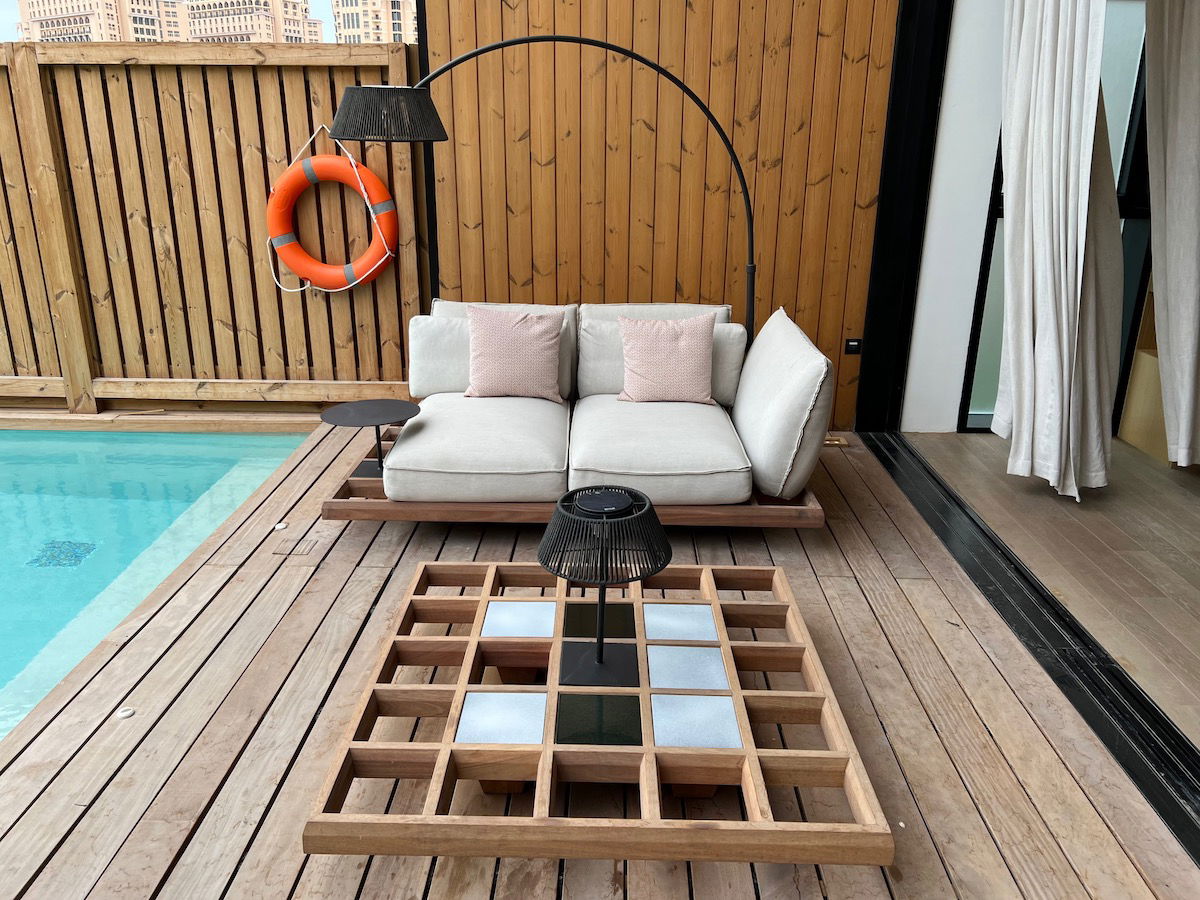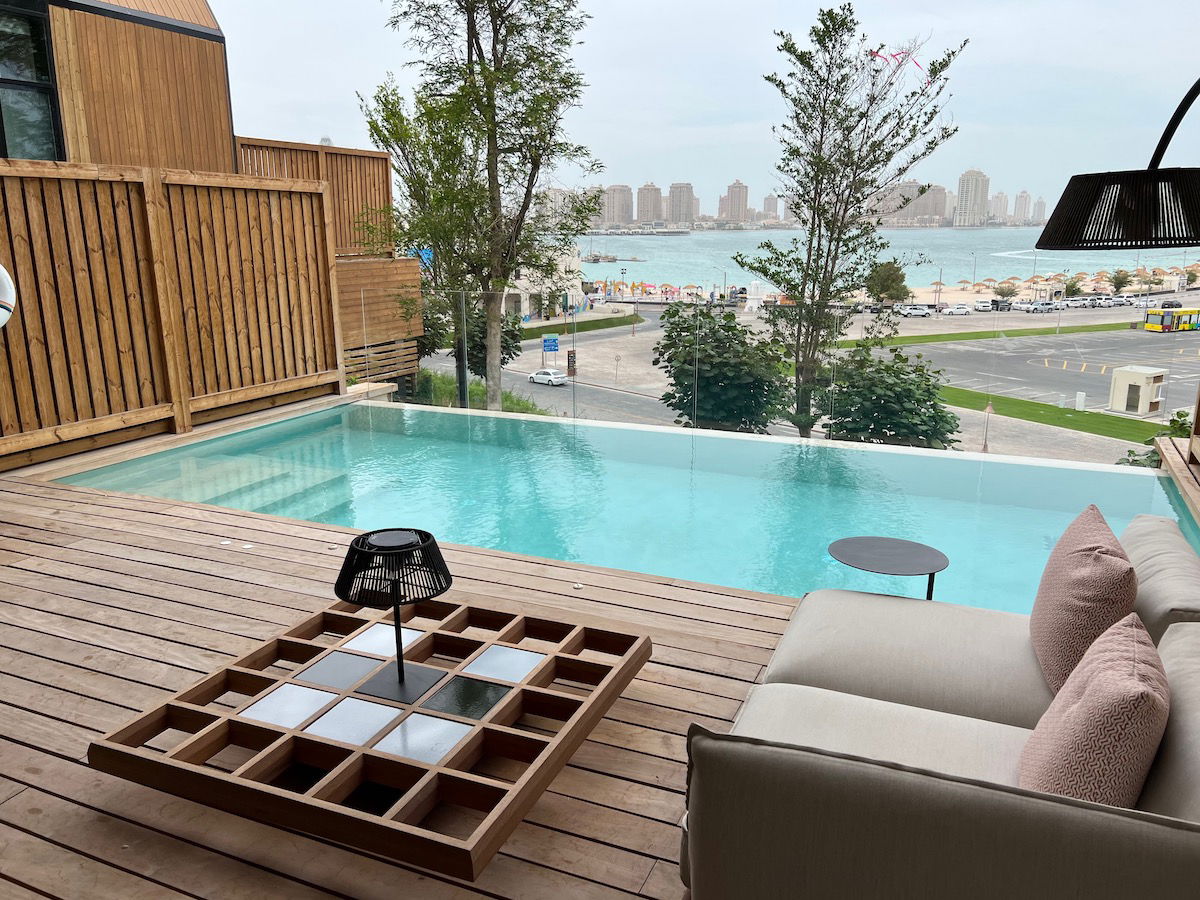 The views from Katara Hills gave me slight Aegon Mykonos vibes. Who doesn't love panoramic views of… what must be world's biggest parking lot?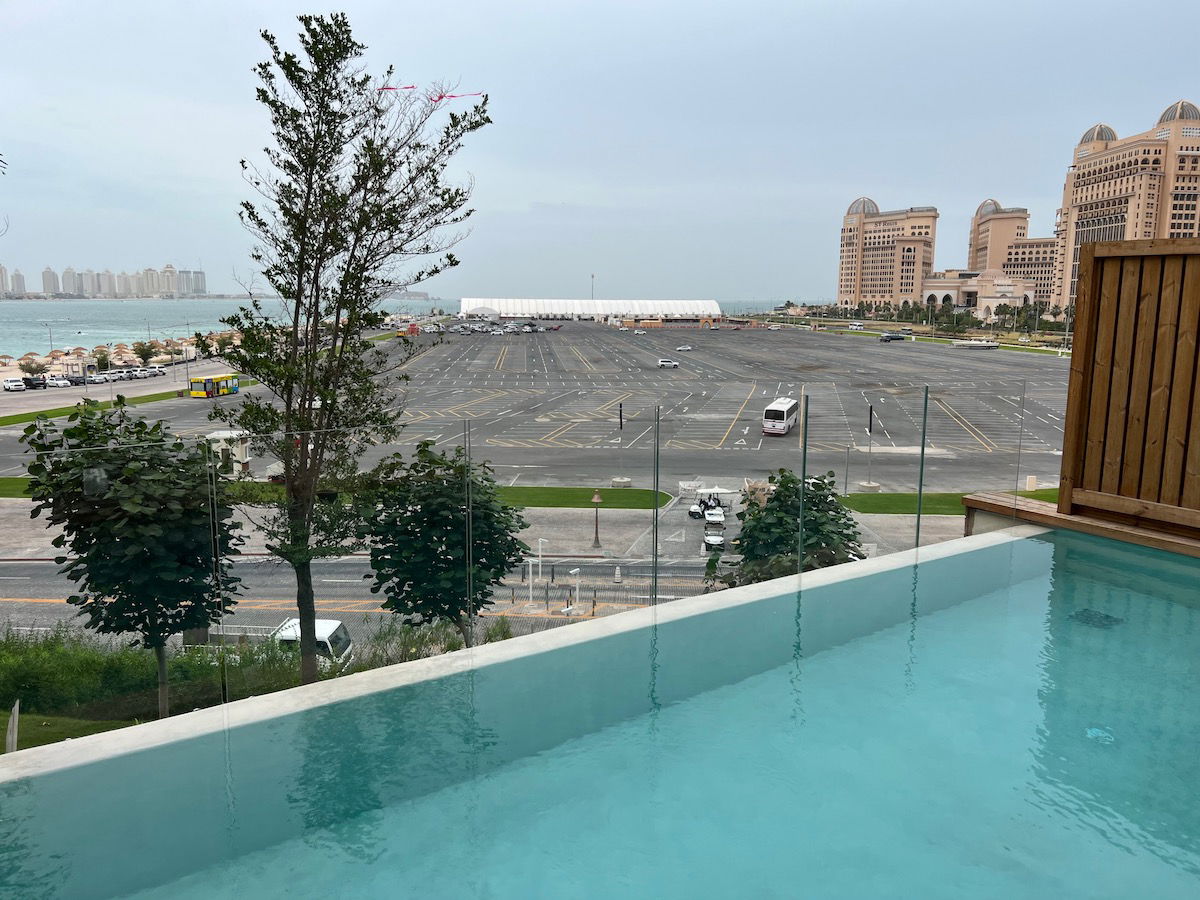 There's then a staircase leading up to the second level, which has a cool bedroom with a comfortable bed and a large bathroom, with BVLGARI amenities.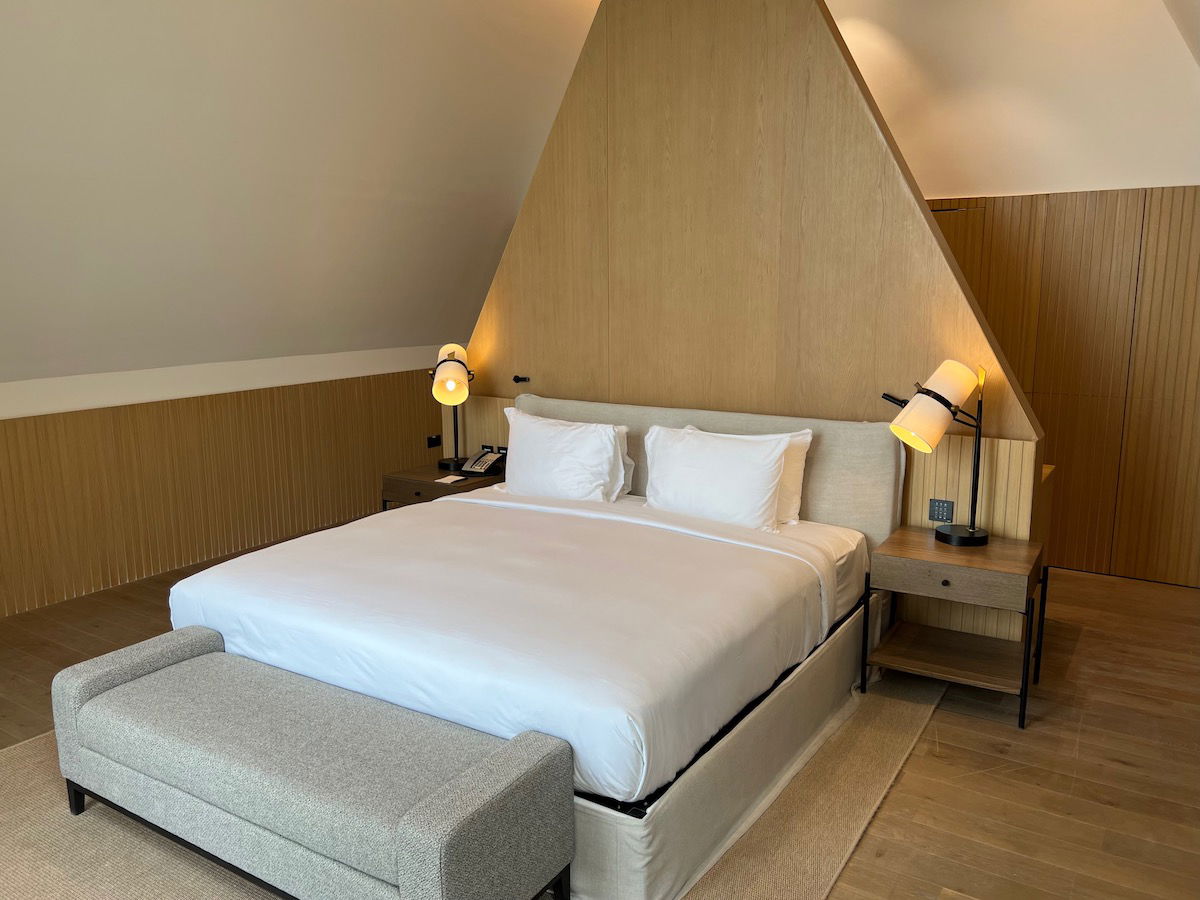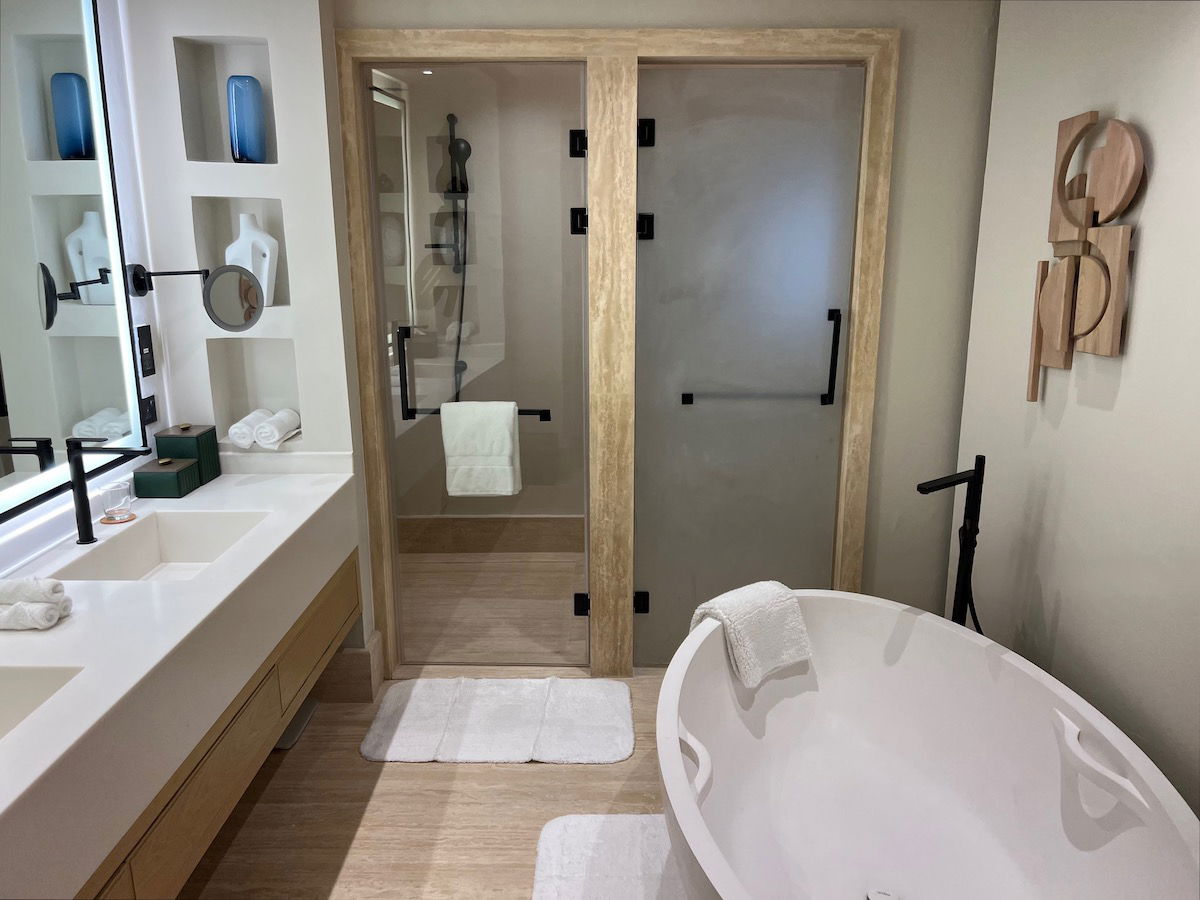 So yeah, the rooms here are awesome, and I have nothing bad to say about them… other than the views.
Service at Katara Hills Doha LXR is friendly
Everyone we interacted with at Katara Hills was genuinely friendly and wanted to ensure guests had a good stay, so I have absolutely no complaints there. Ultimately there was only so much they could do, since it's not like the hotel has many amenities to enjoy.
Gymkhana had tasty Indian food
We ate dinner on property at Gymkhana, the hotel's Indian restaurant. I'm a huge fan of Indian food, and living in South Florida, we don't exactly have the biggest or highest quality selection of authentic Asian dining (it's one of the things that I miss most about living in the Pacific Northwest).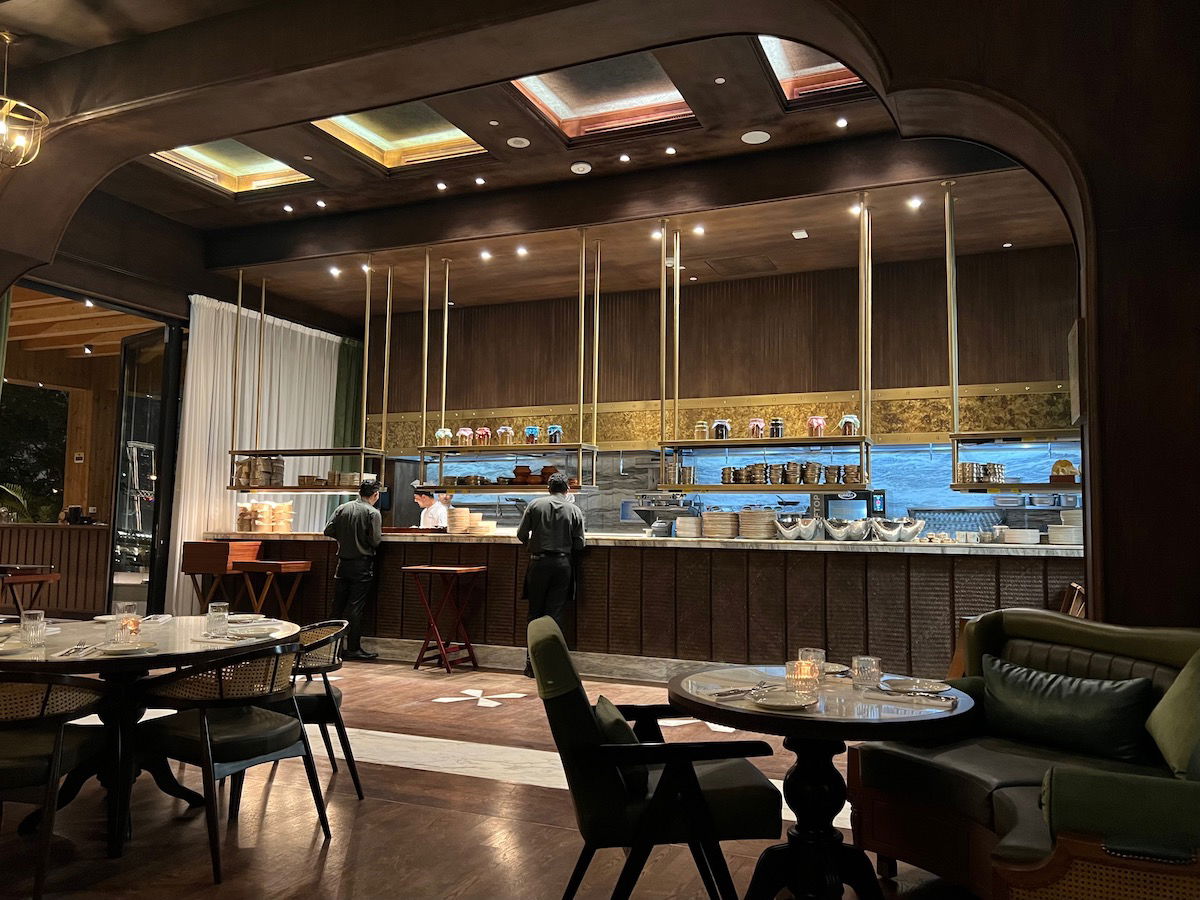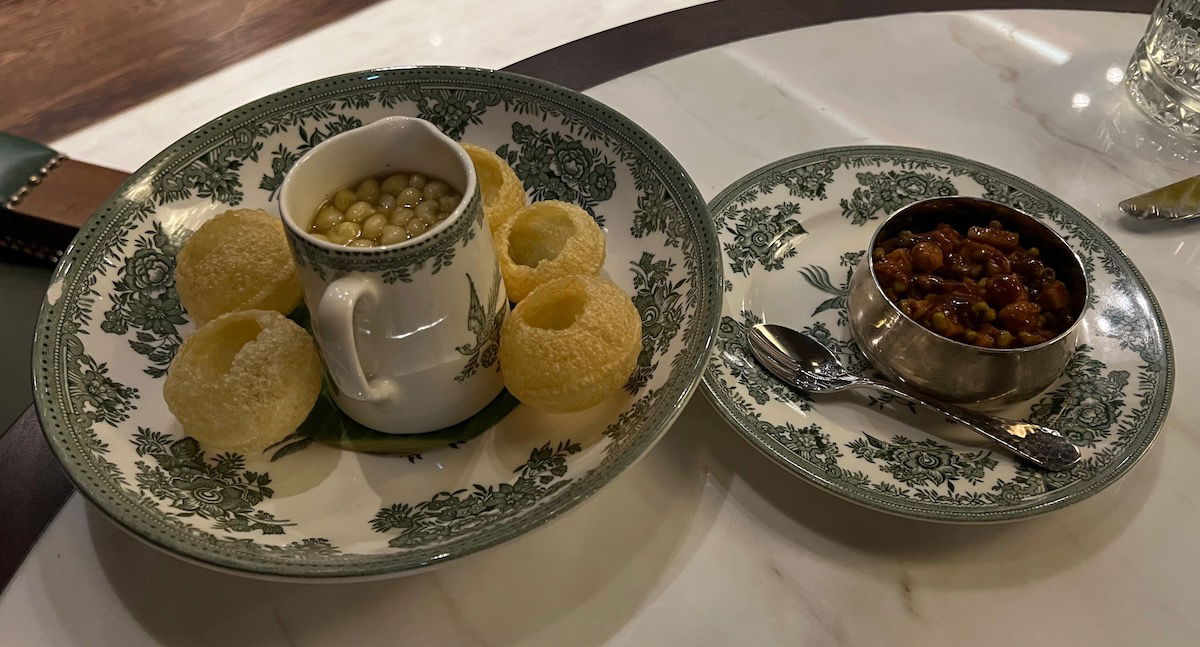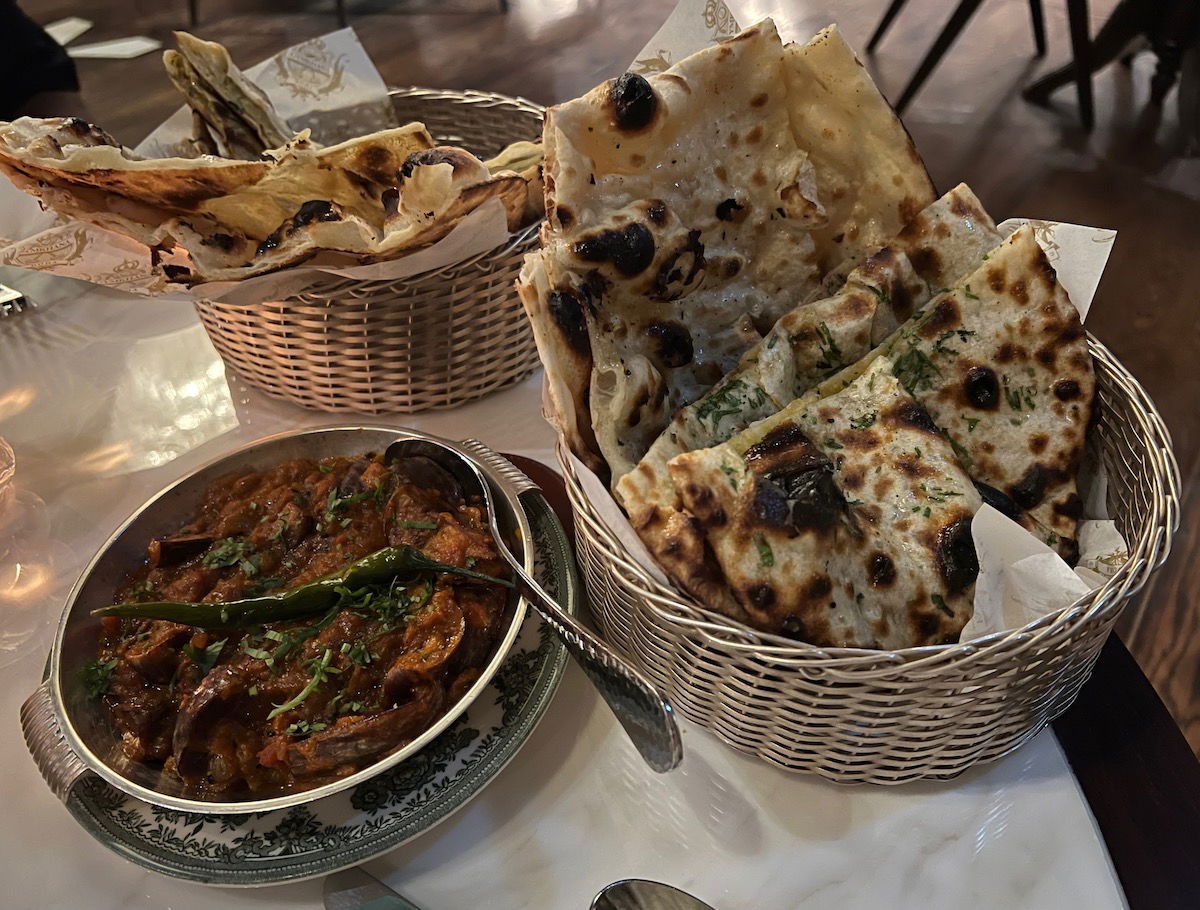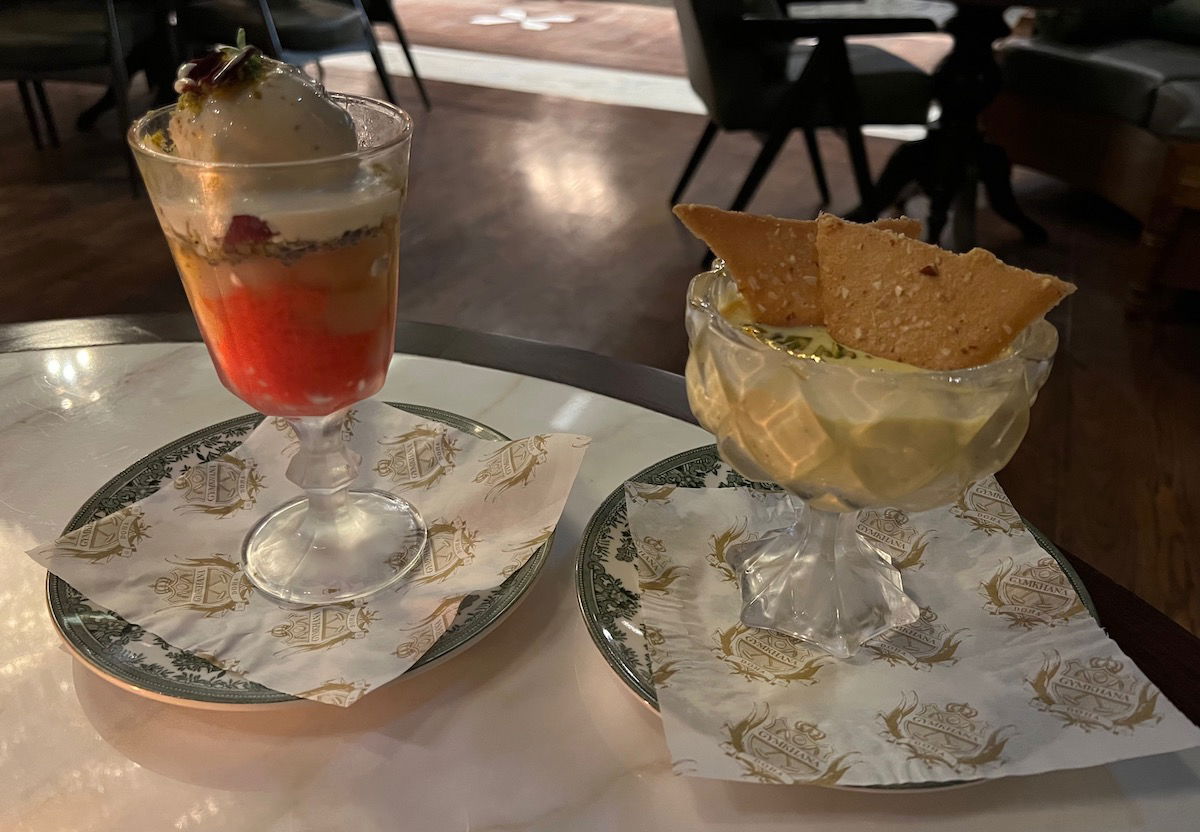 We did the tasting menu, and the food was really good, and the service was well-intentioned. There wasn't much of a vibe to the restaurant, though, as it seems the restaurant struggles to attract local guests. There were just two other diners there, so it all felt a bit dead.
Everything else about Katara Hills Doha LXR is strange
There's absolutely no vibe to Katara Hills. I assume the hotel is more catering to clientele from the region who want privacy above all else, rather than a fun resort setup. Fair enough, since it's not like the hotel claims to be party central.
But there was so much about the hotel that I found weird, especially given the rates they're charging:
The lobby was under construction, so the hotel uses the spa reception for check-in, which is a small room with two chairs; when we arrived we were told our room wouldn't be ready for 30 minutes, there was nowhere to sit other than there, and it's not like you can just go on a brief stroll when the UV index is 11 and it's 100+ degrees
The hotel is still heavily under construction, with several villas still being finished, and lots of workers and construction equipment on property
The hotel doesn't have a gym, though there are some weights and a yoga mat in the room; that's still tricky for cardio, since it's not like jogging in Doha is practical this time of year, at least during the day
The hotel's restaurant doesn't serve alcohol, since Katara Hills is considered part of a "cultural zone," which seems… random; Qatar has strange alcohol laws at this point, as it's no longer that all hotels can serve alcohol and all non-hotels can't
The hotel just has some weird policies; for example, breakfast was included on account of being a Hilton Honors Diamond member, but when I asked for some water to drink with breakfast, I was brought a bill just for that… seriously?!
There were some basic things the staff couldn't help with, through no fault of their own; for example, my dad likes to walk, so he asked for a plastic bottle of water he could take with him (or something), since it's not practical to walk with a big glass bottle or water, and when we asked for that, the below is what showed up, as it's the only plastic bottles they have
The hotel ultimately feels more like a luxury Airbnb complex than a hotel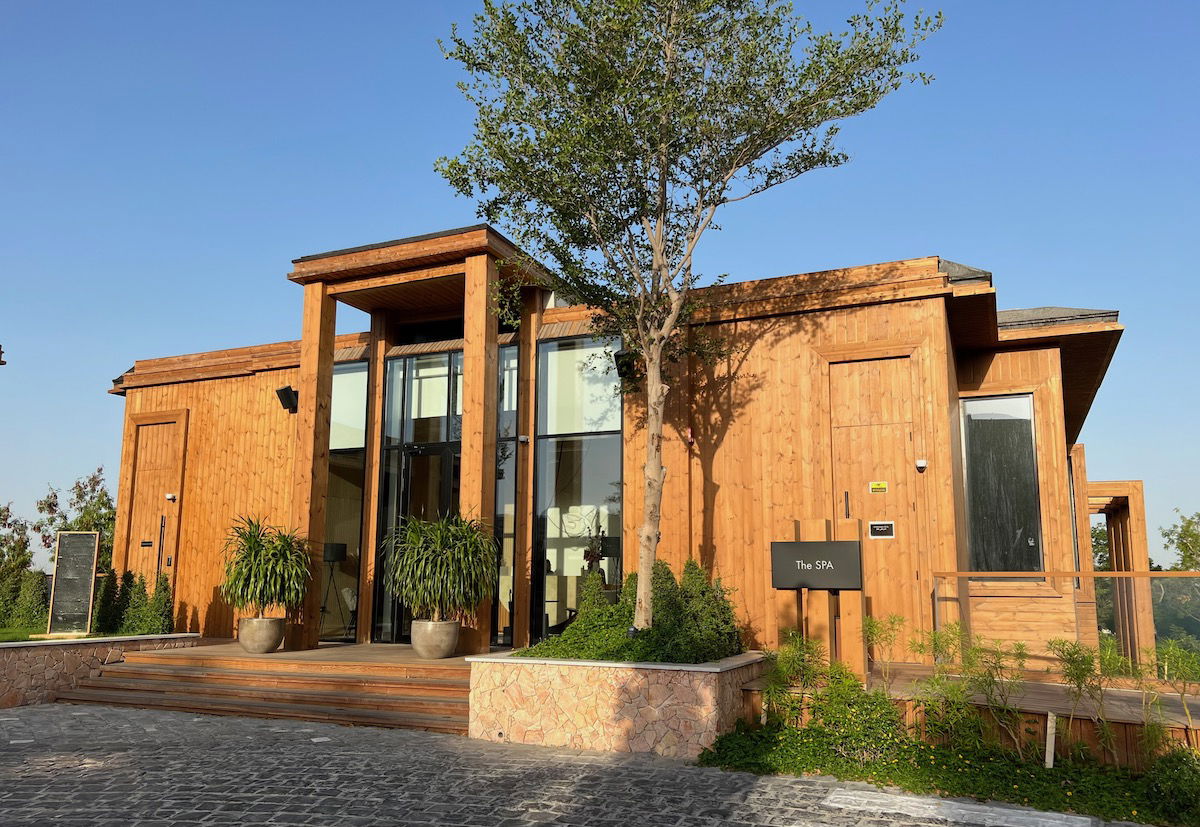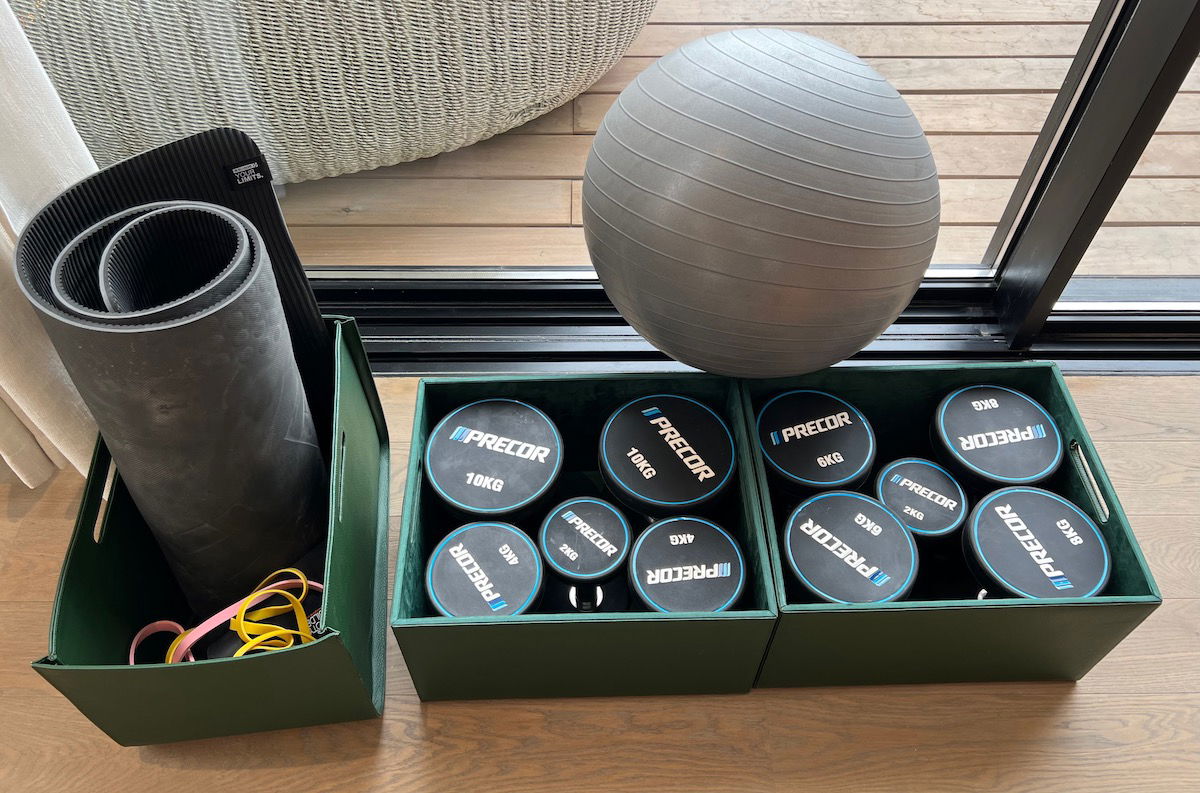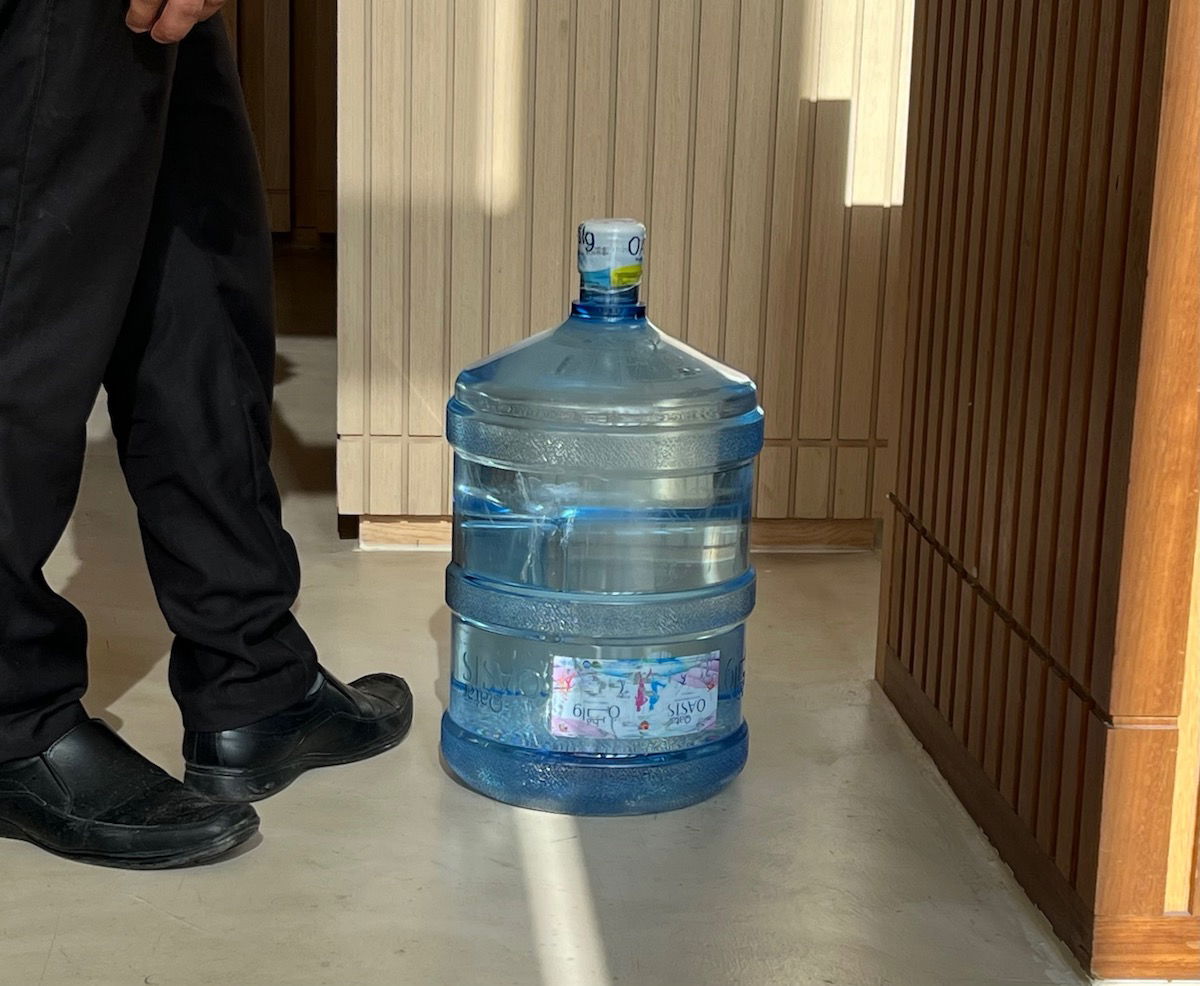 Bottom line
Katara Hills Doha has fascinated me since it opened several months back, and I'm glad I had the chance to check it out. It's most definitely a unique property.
Am I happy I stayed? Absolutely, since I was curious about the property. Would I stay again? No, for me, this is a "one and done" property. I'm happy to have experienced it, but I like hotels with amenities, a vibe, several dining and drink options, etc.
Would I recommend this hotel to others? I mean, there's no denying that it's a phenomenal use of points, but beyond that, I can't imagine paying these rates. But if you're like me and are curious about the concept, it's a perfectly nice place to spend a night.
What do you make of Katara Hills Doha?
The following links will direct you to the rates and fees for mentioned American Express Cards. These include: Hilton Honors American Express Aspire Card (Rates & Fees).