Some days I really do hate the rental car industry, and today is one of those days. It's mind-boggling just how customer unfriendly rental car companies can be, and somehow we normalize this behavior? Since I was renting from Hertz, I guess I should at least be grateful that I didn't get arrested?
Hertz won't honor my rental car reservation
Earlier today, I made a Hertz rental car reservation at Santa Rosa Airport (STS), with plans to pick up a rental car later today. I made the reservation shortly before boarding my flight, and when I landed at the airport, I saw that I had a voicemail:
"I'm calling in regards to the reservation that you just made. Um, so unfortunately, we are completely sold out of vehicles. The only thing that I do have available, however, is a large SUV, it would be a Chevy Tahoe. Usually they go for about $250 more a day, but because you're a President, I can bring it down to $150 more a day. It you would like to get into that, please give me a call and let me know so I can make sure that is ready for you."
For those not familiar, the "President" comment refers to me having Hertz President's Circle status, which, in theory, is supposed to get you a car upgrade.
Hertz is "completely sold out of cars" and can't accommodate me… unless I'm willing to pay for a more expensive car (even though I should be getting some sort of an upgrade anyway due to my status)? Clearly we have different definitions of what completely sold out means.
Here's my much bigger issue — it's being claimed that I'm being given some amazing deal on a large SUV, as it usually costs $250 more per day, but they'll give it to me for just an extra $150 per day.
I pulled up the same cars for the same location next week, and the medium sedan I purchased would have cost $110 per day, while the large SUV would have cost $150 per day. That's a $40 difference, not a $150 difference, and certainly not a $250 difference. I've looked up a handful of sets of dates across the year, and haven't found a single date where the rate difference between these cars is $250 (let alone $150).
Though ironically for today, Hertz is continuing to sell the exact car I had reserved (which is not available), but not the SUV they're willing to upsell me to (which apparently is available).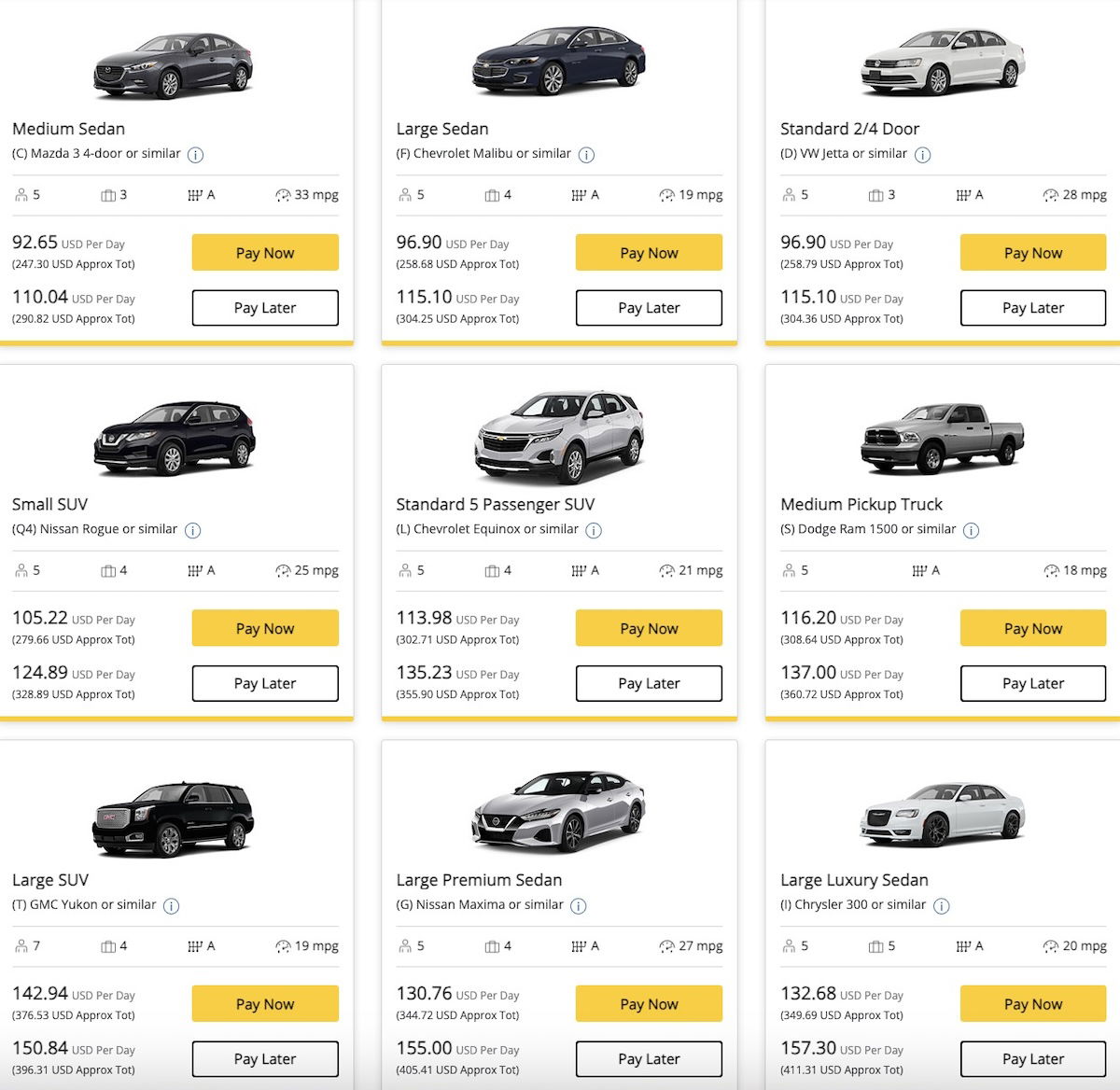 So let's just recap — they're "completely sold out," only they're not. But they're willing to sell me a more expensive rental car, and because I'm such a good customer, they'll give me the reduced price of only an extra $150 per day, when usually that car goes for an extra $40 per day.
My experience at the Hertz counter
Since I only discovered this once we were on the ground minutes before the planned rental, I figured it was best to just go directly to the Hertz counter. Usually I find that by being polite but firm, you can get a reasonable resolution to most problems.
I approached the Hertz representative and gave her my name, and she immediately said "I tried to call you, we don't have a car for you." I explained I was on a flight, and she responded that "I wasn't aware of that." You'd think that wouldn't be the first time that has happened at an airport location?
She insisted there was nothing she could do, and I could either take the Tahoe for an extra $150 per day, or I could cancel the reservation. She further emphasized that Hertz oversells by 33%, and that the manager was doing me a favor by giving me the reduced price, and that if I had an issue with that, I could talk to the manager.
So I asked to speak to the manager. He showed up within a few minutes, and my gosh, he was a jerk. There were no niceties, or anything, but he just said "what's your issue?""
I explained my disappointment that I was being denied a car even though a car was available. I then explained that if I was going to be charged a premium for a different car, the premium being suggested was unreasonable, as the rate difference is never as much as I was being charged.
His response? "The price is the price, take it or leave it." At that point I just asked him to cancel my reservation.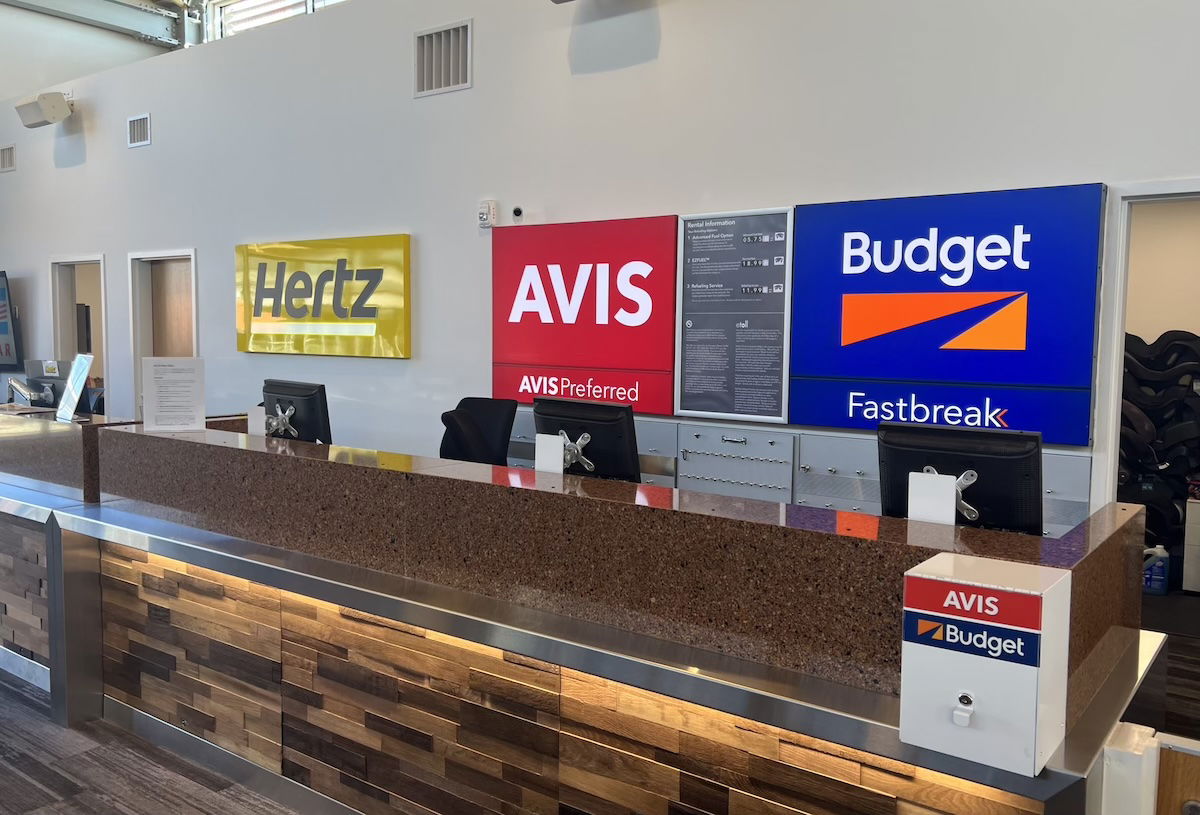 Isn't it time the government regulate rental car agencies?
I appreciate how the government is trying to force airlines and hotels to be more transparent with pricing. But if you ask me, if there's an industry that needs government intervention, it's the rental car industry.
I made a reservation for a product that Hertz didn't have, and I was then told that if I wanted my reservation honored, I'd have to pay a lot more. Mind you, even after all of this, the rental car agency was still letting people reserve these same exact cars, even though they knew that they had no cars to offer.
Let me be clear, I don't blame the frontline employees here — working in the rental car industry must suck, because I'm sure they don't like these policies either. It's also not surprising that the industry doesn't tend to attract great customer service talent, because who would want to work in an industry where they have to apologize for their company's constant mistakes?
But isn't it downright deceptive to continue accepting rental car reservations when you know you don't actually have any cars available? And then to charge someone a "discounted" upsell cost that's actually multiples higher than the usual price difference?
Admittedly problems with the rental car industry and overbooking go back to the Seinfeld days…
Bottom line
I made a pretty last minute Hertz reservation today, and was then informed that the agency was "completely sold out," but nonetheless could upsell me to a more expensive car. The discounted upgrade cost was way higher than the typical price difference between the car I booked and what I offered. Add in the terrible customer service, and this wasn't a great experience.
What would you have done in this Hertz situation?