Most airlines offer some sort of lifetime elite status for especially loyal flyers, though the value of the status and the qualification requirements vary by airline. I've written in the past about the Delta SkyMiles lifetime elite status program, which offers elite status for life plus a gift.
Delta recently revamped its gift selection for Million Milers, so in this post I wanted to take a look at Delta's selection, as it's quite thoughtful.
What are the benefits of Delta Million Miler status?
Delta has six published lifetime elite status recognition tiers:
With Delta One Million Miler status you receive Silver Medallion status for life, plus a gift
With Delta Two Million Miler status you receive Gold Medallion status for life, plus a gift
With Delta Three Million Miler status you receive a gift
With Delta Four Million Miler status you receive Platinum Medallion status for life, plus a gift
With Delta Five Million Miler status you receive a gift
With Delta Six Million Miler status you receive Diamond Medallion status for life, plus a gift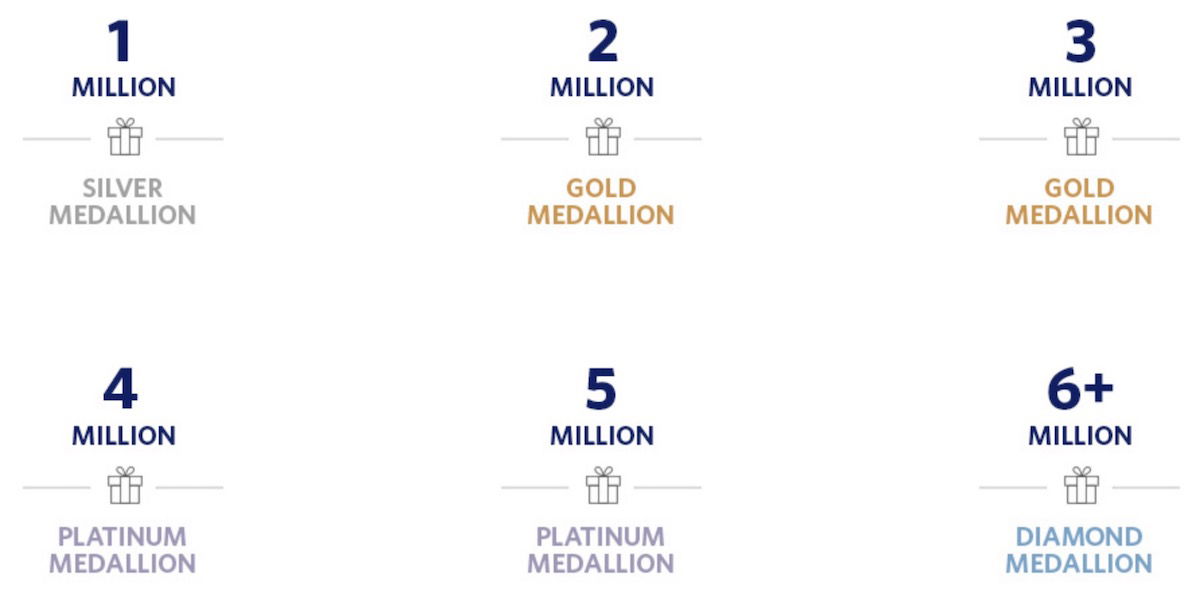 For context on qualifying for Million Miler status, Delta includes all Medallion Qualifying Miles (MQMs) that you earn in the program toward Million Miler status. This includes MQMs earned through flying Delta, through flying eligible partner airlines, and even MQMs earned through rewards on Delta Amex Cards.
The five Delta Million Miler gift choices
Shortly after you qualify for Million Miler status with Delta, you should receive an email congratulating you on your achievement. For example, if you earn One Million Miler, you'll be congratulated for achieving Silver Medallion status for life.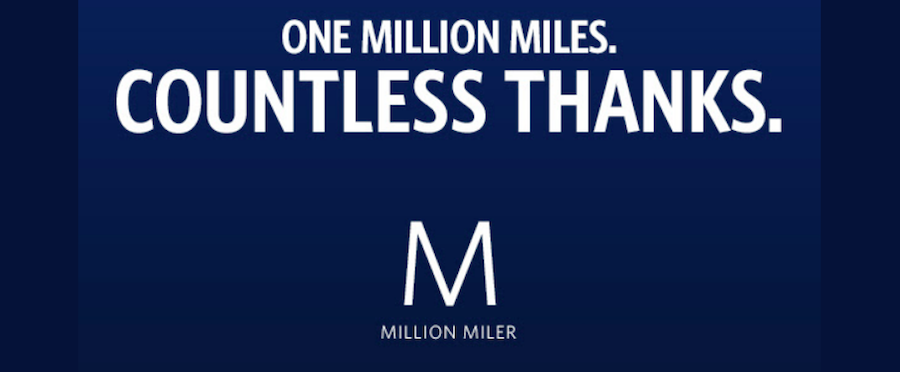 In addition to that, you'll have the option to select a gift of your choice. You can make your selection within 90 days of achieving Million Miler, and if you don't make a selection within that timeframe, you'll be sent a pre-selected gift.
Back in the day you could select from items from Samsonite, Tiffany & Co., or Tumi, though in 2022 Delta revamped its gift selection for Million Miler. Someone who just qualified for One Million Miler shares the gift choices, so I figured OMAAT readers might be interested in seeing these as well. I'd say the new choices are a significant upgrade over the old choices.
So, what are the options? Here they are, in no particular order…
$1,000 Delta eGift Card
The first gift choice — and the easiest to value — is a $1,000 Delta eGift Card. I think this is pretty self explanatory, as it can used toward Delta flights, and doesn't have an expiration date.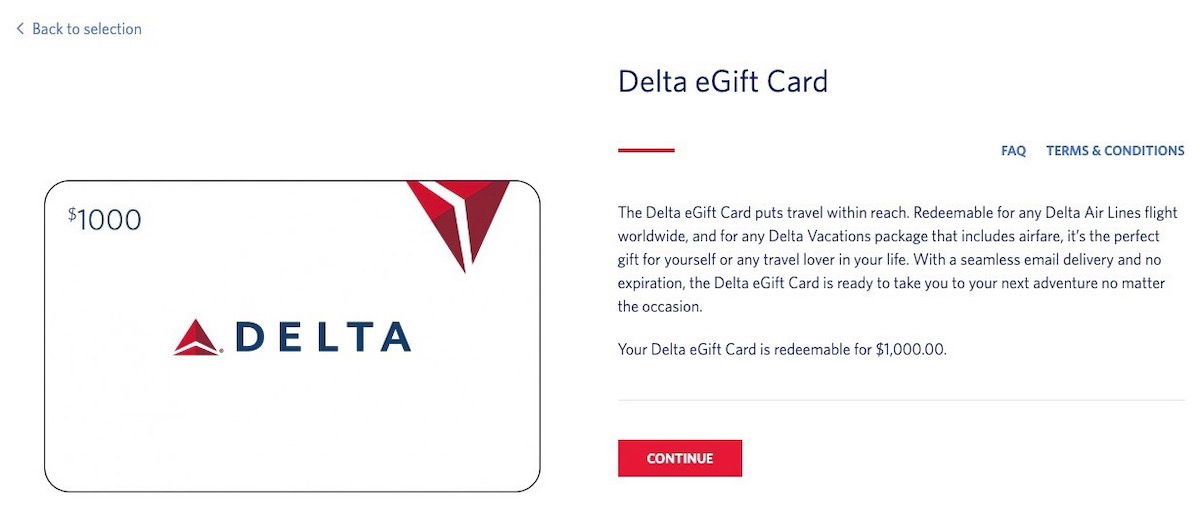 Delta Airbus A350 aircraft model
The next gift choice is one that avgeeks might like, and it's a 1:100 scale Delta Airbus A350 model. This can even be customized with a plaque, displaying your name and your Million Miler tier. It's hard to put an exact value to this without knowing who produces it, but most 1:100 scale Delta A350 models cost anywhere from $250 to $600.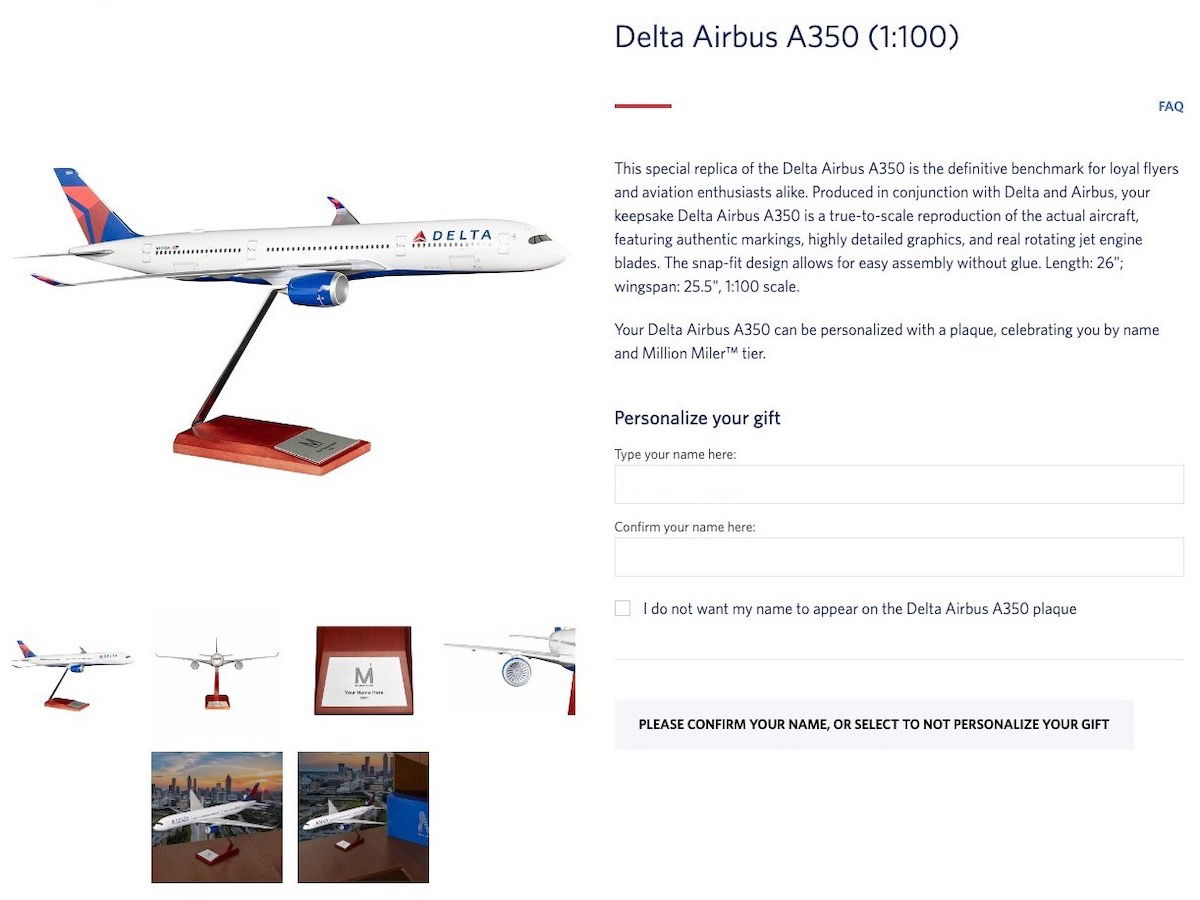 Delta heritage logos
Delta really thought of avgeeks with its Million Miler gift choices, as the next option is a wall plaque featuring Delta's heritage logos. All of Delta's logos over the years are on a silver-finished aluminum plate, and you can even add a plaque showing your Million Miler status plus your name.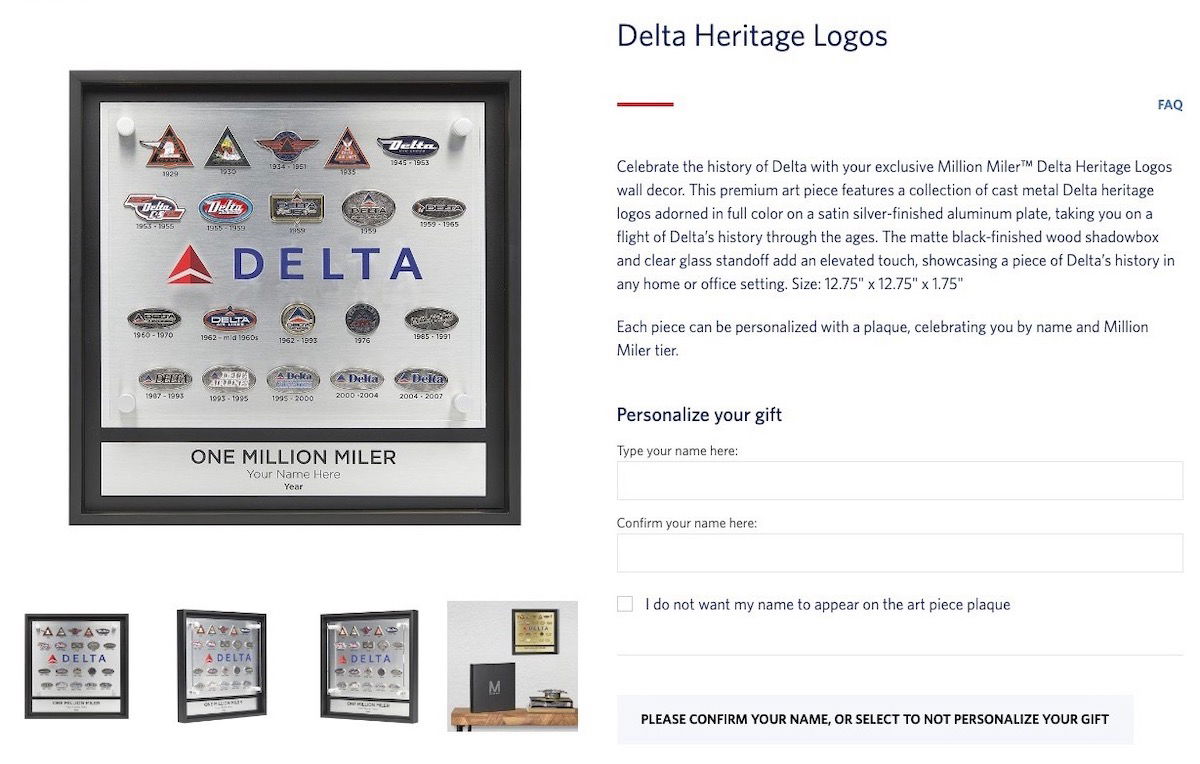 ROYCE backpack
The next gift choice is a ROYCE backpack, with a design that's exclusively for Delta. This can be customized with monogrammed initials, as well as a luggage tag depicting Delta's widget logo. Again, it's hard to know exactly how much this is worth since it's customized for Delta, but it seems most comparable ROYCE backpacks go for around $500.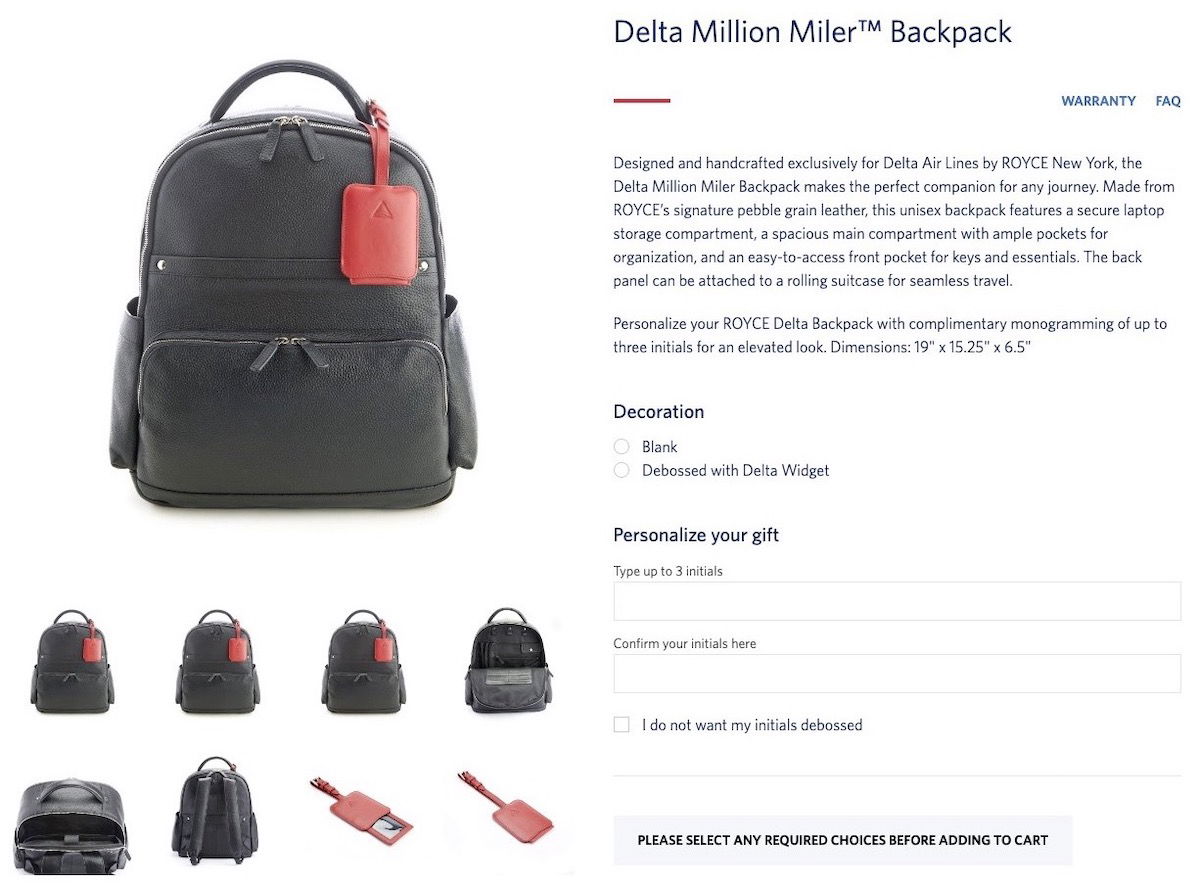 Delta wine & glassware
The last Million Miler gift choice is a special wine set. This includes a Delta slide top box containing an etched bottle of either cabernet or chardonnay, plus Million Miler glassware. The wine bottles (Far Niente Napa Valley Cabernet Sauvignon or Far Niente Napa Valley Chardonnay) seem to retail for $50-100, but of course many will appreciate the Delta customization.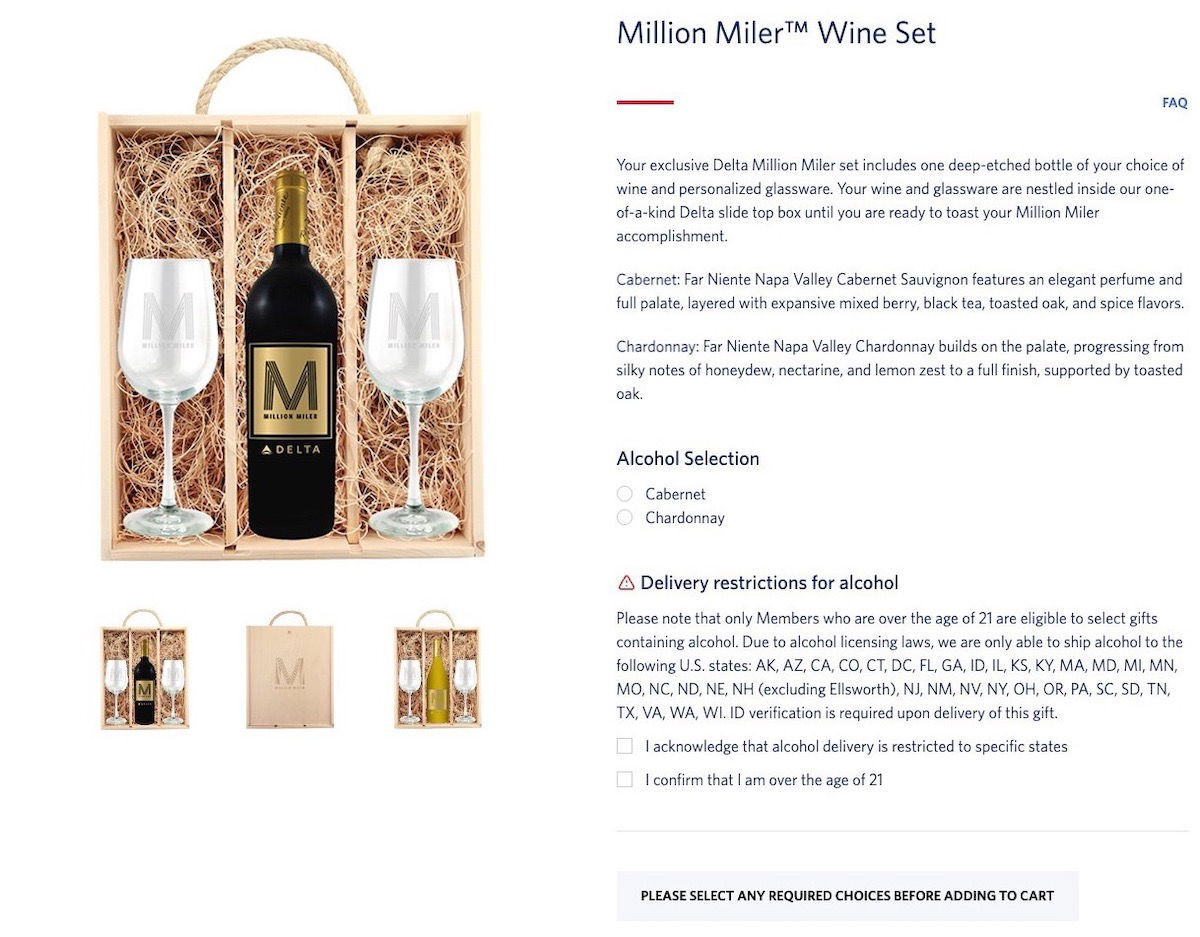 Which Delta Million Miler gift is best?
There's no right or wrong answer as to which of these gifts is the best option. I will say that in general the $1,000 Delta gift card probably has the highest cash value, as it's worth around face value. The other gifts are going to be worth at most around half of that, but admittedly what you can't put a price to is how nicely they've customized these options for avgeeks.
For example, it would probably be hard to argue that the Delta heritage logos plaque is worth over $1,000. At the same time, if you're a big fan of the Delta brand and you've spent countless years flying regularly with the airline, the sentimental value of that can be huge.
Bottom line
Not only do Delta Million Milers receive elite status for life when qualifying for this threshold, but they can also select a gift. Delta recently overhauled the gift selection, and I have to say that the choices are pretty cool.
At a minimum, you can select a $1,000 Delta eGift Card. However, if you'd prefer a more sentimental option, you can select a cool model airplane, a plaque with heritage logos, a Delta backpack, or Delta branded wine.
What's your take on Delta's Million Miler gifts, and which would you choose?