I'm not sure what to make of this, though it sure is strange. Is someone just playing a trick on me, or is this part of a larger problem? I first wrote about this situation around a month ago, but it has now happened to me again, though in a slightly different way…
My first suspicious credit card situation
In early April, I got a phone call from Citi, asking to speak to someone with the exact same middle initial and last name as me. However, his first name was Brian, while my first name is Benjamin (interestingly both start with "B").
I was confused, and explained the above to the agent. The other thing is that I have a distinctive last name, and I know that no one with the name she asked for exists. The agent thanked me for my time, and that was it. I thought that whole situation was weird, but didn't put much more thought into it at the time.
Then around a week later, I received a letter in the mail with a credit card rejection for the Citi Diamond Preferred Mastercard. The letter stated that the rejection was because Citi "couldn't verify some of the information" on the application.
There's only one thing — I never applied for this card, and it was once again addressed to Brian (with the same middle initial and last name), rather than me.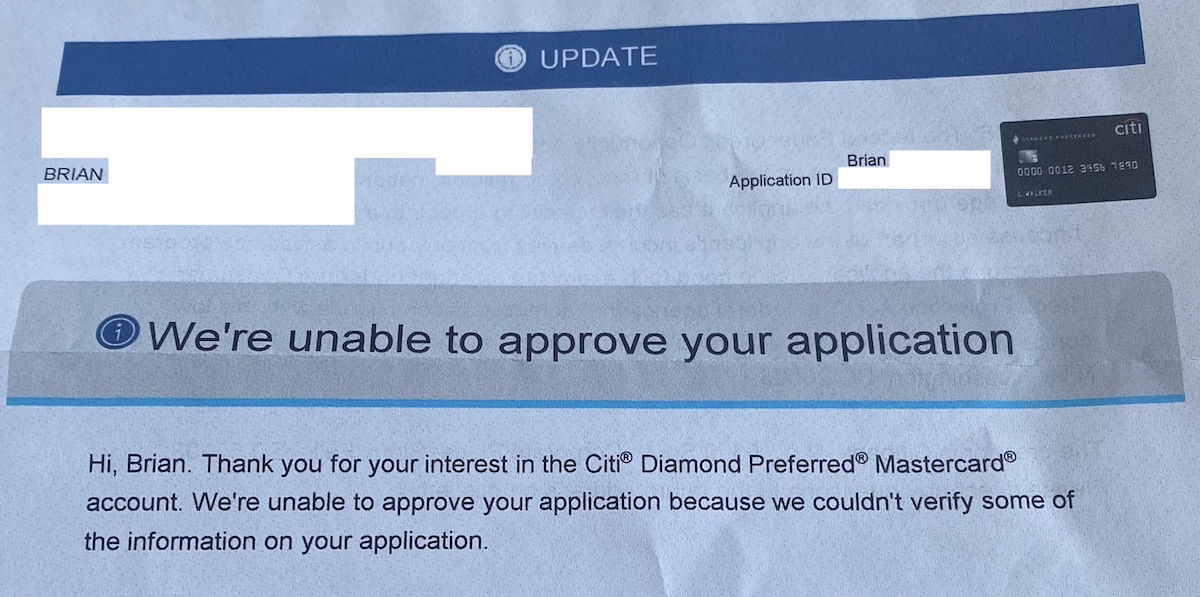 My second suspicious credit card situation
I wrote about the above situation about a month ago, but now there's a further update. I just received a letter in the mail for my application for the Bloomingdale's American Express Card. I got rejected for the card, on the grounds that they were "unable to verify identity information."
I'm sure you can guess what I'm about to say next — no, I didn't apply for a Bloomingdale's American Express Card. This rejection letter is the first notice I received about my alleged application.

I'm not sure what exactly to do here?
Obviously I could call up Citi and American Express regarding this, but I'm not sure what that would accomplish? Once they realize I can't verify whatever details were put on the application, they won't be able to talk to me about the account, never mind that they likely won't have any information to share.
I would imagine that what's going on here is somewhere between a practical joke and an attempt at identity theft. Over the past 15+ years of blogging, I've had a countless number of people try to screw around with me. This ranges from people canceling my airline tickets, to people ordering room service on my behalf while at a hotel. It's one of the reasons that nowadays I usually write about my travels after the fact. I'm not sure why people do this, exactly, but… I've gotten used to it.
But this situation is kind of odd, because I'm not sure I get the motive. There were no inquiries on my credit report for either of these applications, so it doesn't look like this person has actually managed to steal my identity in any sort of meaningful way. So that makes me think that it's more a weird practical joke than anything else.
The only other thing worth mentioning is that I've had some odd fraud-related situations in the past several weeks. For one, my AAdvantage account was shut down and replaced by a new account, due to alleged unauthorized access (though no details beyond that were shared with me).
Furthermore, I had a fraud alert on a Citi card, where I was told that Citi had identified that someone had allegedly tried to call in as me, but couldn't make it through the automated system. However, this person didn't actually attempt to make any purchases, or necessarily have access to my account info.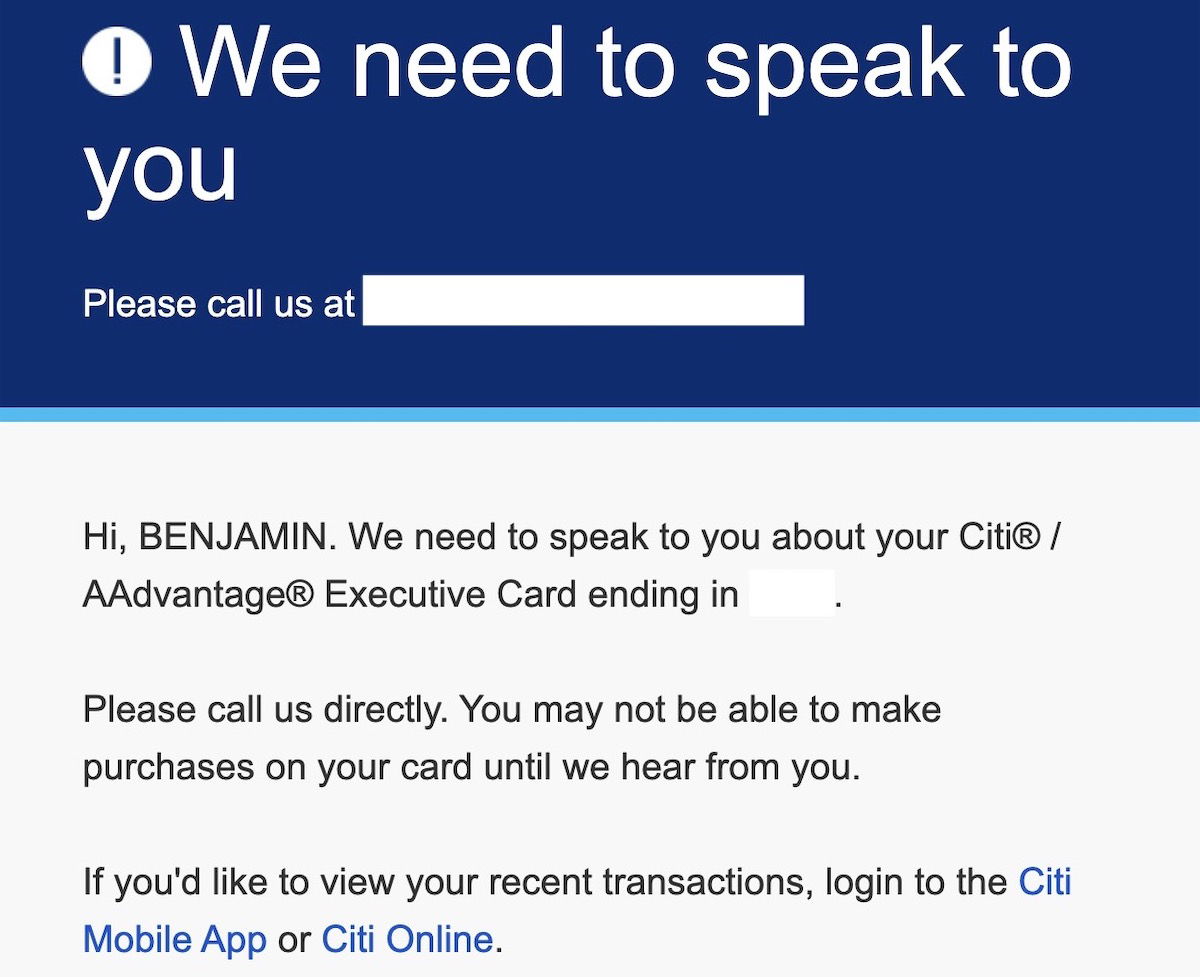 I continue to closely monitor my credit, use two factor authentication, track my points balances, etc. I'm not sure if there's anything I should be doing beyond that, as I don't think there's a lot of action I can take here.
I know many people would suggest that I should probably freeze my credit. However, that seems like a headache, and I'm not sure what that would accomplish, exactly:
There's nothing suggesting that anyone has stolen my social security number, based on the rejections being due to lack of available information, and no new credit inquiries showing on my credit report
In other words, freezing my credit wouldn't actually change anything compared to what's happening now; I could keep getting rejection letters for cards I never applied for
While I realize freezing credit falls in the category of "better safe than sorry," it's kind of an annoying thing to do if you're like me, and apply for credit cards with some frequency
Bottom line
I've dealt with credit card fraud in the past. If someone tries to make a $500 purchase at Kohl's in Irvine, that's easy enough to fix, because it's obvious fraud that's easy to identify, the charges are removed, and a new card can be issued.
But this is a bit different, as it's hard to know what exactly is going on…
What would you do in my situation?