Is this a trap, or what exactly is going on?
I recently applied for two Amex business cards
In general I've been taking a break from applying for credit cards, as I'm trying to get under Chase's 5/24 limit. However, in March I submitted two spur of the moment credit card applications. I wasn't intending to apply for cards, but:
Why did I apply for these offers?
Amex business cards don't count towards Chase's 5/24 rule, so I could be approved for these cards without it impacting my ability to get Chase cards in the future
Amex has a "once in a lifetime" rule on cards, and I've had both of those cards before, but the offers specifically didn't have this lifetime language
In other words, I think this wasn't a glitch. I assume Amex decided it made sense to target me for these cards (and give me the bonus) even though I've had both of the cards in the past. And I'm happy to pay the annual fees on the cards and add them back to my portfolio, and sure do appreciate the 190,000 Amex points I've earned this way.
Now I'm getting another Amex Business Platinum offer?!
I logged into my Amex account this morning and received yet another pop-up for an Amex Business Platinum Card, this time offering 150,000 bonus Membership Rewards points after spending $15,000. As you might imagine, I'm a bit confused:
I already have an Amex Business Platinum, which I acquired through a similar targeted offer just a few months ago
At the same time, there's nothing in the terms & conditions stating that I'm not eligible if I already have the card, and I was specifically targeted for this offer while logged into my account despite the fact that I already have the card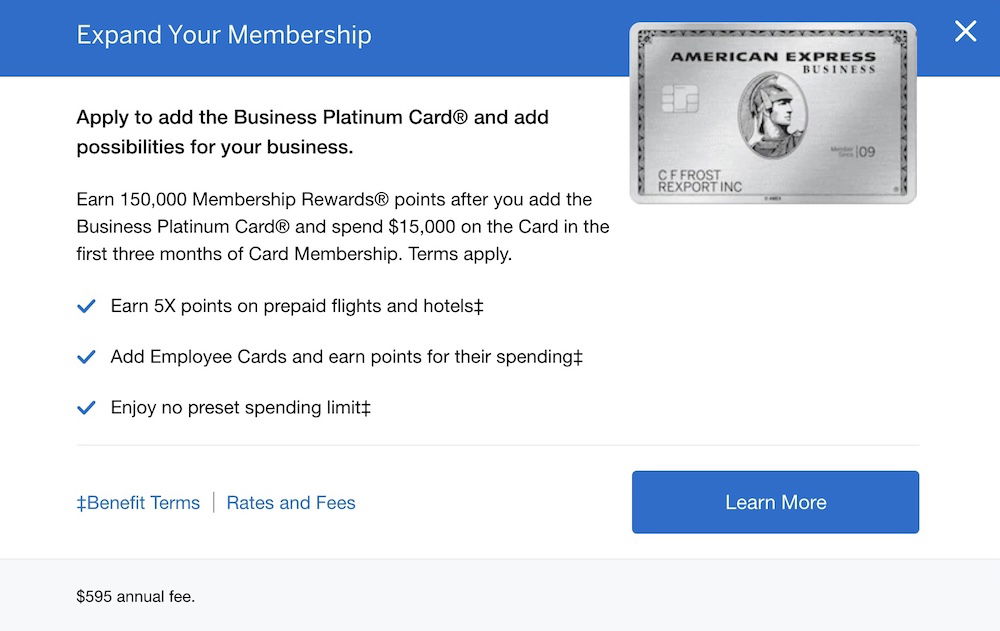 The only thing in the terms & conditions that's of concern is the following, which is standard language for Amex card applications:
If we in our sole discretion determine that you have engaged in abuse, misuse, or gaming in connection with the welcome offer in any way or that you intend to do so (for example, if you applied for one or more cards to obtain a welcome offer (s) that we did not intend for you; if you cancel or downgrade your account within 12 months after acquiring it; or if you cancel or return purchases you made to meet the Threshold Amount), we may not credit Membership Rewards® Points to, we may freeze Membership Rewards® Points credited to, or we may take away Membership Rewards® Points from your account. We may also cancel this Card account and other Card accounts you may have with us.
I'm a firm believer in playing by the rules when it comes to credit cards — not just what's published, but also the spirit of the rules. It's not worth trying to pull a fast one and potentially having your account locked and points forfeited.
But I really can't figure out where exactly this falls on that scale? I'm quite literally being directly targeted for this offer and there's no language precluding me from getting this card even though I have it already. At the same time, surely Amex doesn't want to give me another 150K points? What am I missing?
Does Amex want me to have two Business Platinums for the same business? Does Amex want me to open this card for a second business? What's going on?
Bottom line
It's not unusual for credit card companies to have targeted bonuses for members based on their customer profile. I benefited from this twice in recent months with two Amex business cards.
Now I'm getting yet another amazing Amex business card offer for the same card I just picked up a few months ago, and the offer is even bigger. It seems I'm deliberately being targeted, but why though?
Has anyone experienced something similar? What am I supposed to do here?!