I spent last night in Dallas due to a missed connection on American Airlines, but it didn't need to be that way…
The basics of my American missed connection
Yesterday afternoon I was scheduled to fly from Puerto Vallarta to Dallas to Miami, with a 2hr4min connection in Dallas. Everything was looking good in Puerto Vallarta, as the inbound plane arrived on schedule, and boarding was moments from starting.
Then right at boarding time, it was announced that there was a maintenance issue. At first we were told there would be a decision within 20 minutes, then we were told it would be another 10 minutes, then we were told it would be another 15 minutes, etc.
Long story short, the flight ended up departing Puerto Vallarta a bit over two hours behind schedule, leaving me with a very short connection in Dallas. Once we were airborne, I received an email from American informing me that I had missed my connection, and was rebooked the following morning.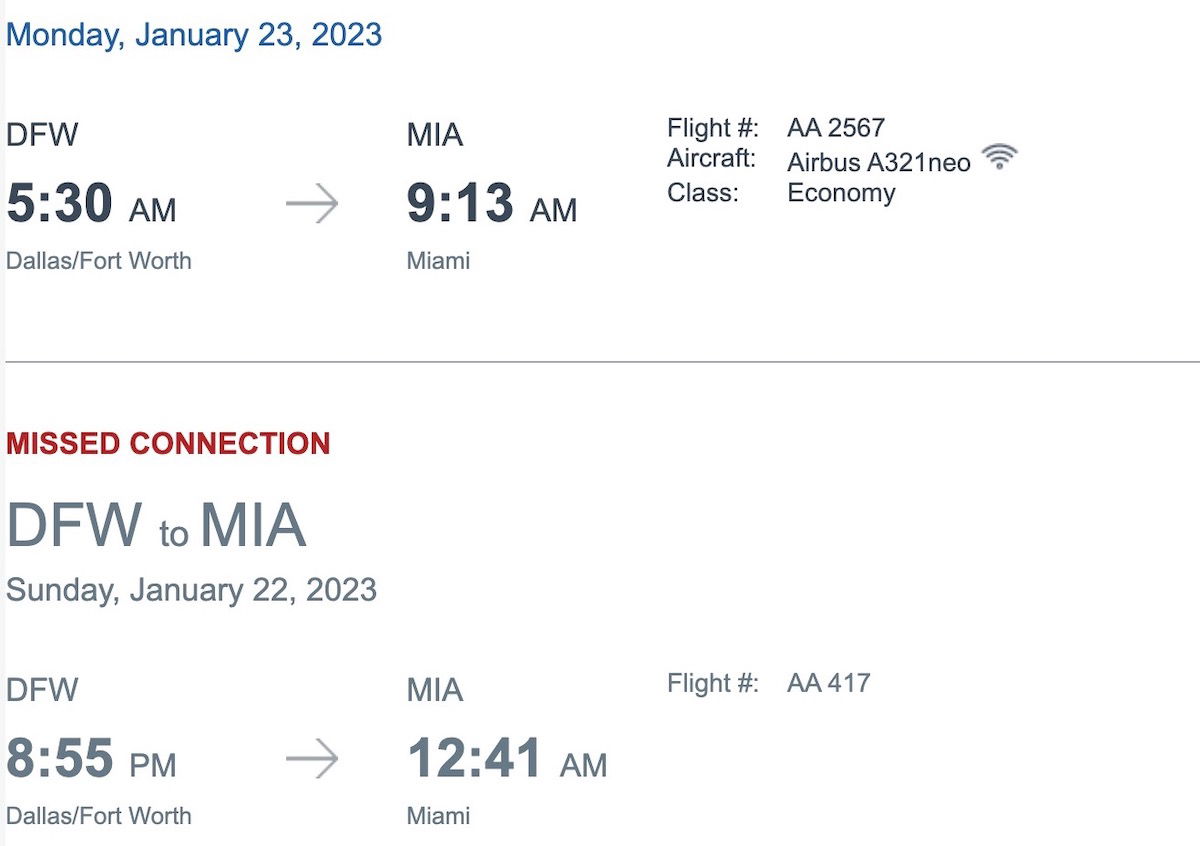 For what it's worth, I was on a paid business class ticket but was rebooked in economy. Again, that's fair enough too, since there were no first class seats left for sale.
I've been traveling frequently for a long time, and I really don't get bothered by these kinds of situations. Is it kind of annoying when you want to go somewhere and you're delayed? Of course. But statistically it happens. Aviation is incredibly complex, flying is very safe, and maintenance issues are bound to happen. There's no benefit to getting worked up over it.
Now, I do wish the communication during delays were better, like the American app at 4:21PM showing an on-time departure at 4:16PM, even though there was a maintenance issue and no one had boarded yet.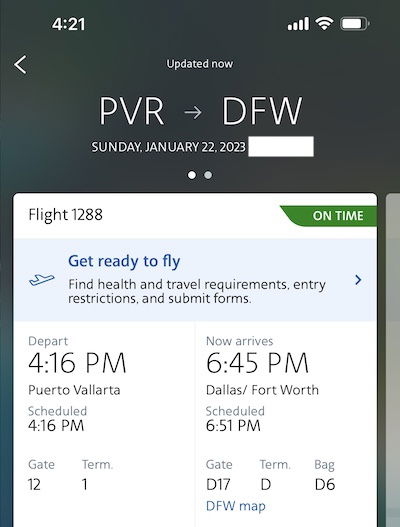 Why this misconnect could have been avoided
My flight from Puerto Vallarta to Dallas ended up arriving at 8:36PM, 1hr45min behind schedule, as we made up a bit of time in the air. I was through customs and immigration in a matter of minutes, and by shortly after 8:40PM I was landside in Concourse D.

Realistically I had accepted my fate at this point of probably not being on the 8:55PM flight:
I had actually been taken off the flight already, so my seat was given up, and I would have been downgraded if I wanted to be rebooked on it
Actually getting booked on the flight again would have taken time, eating into the little time I would have had to make the connection
The flight was showing an on-time departure from Concourse C, so it was unlikely I'd be able to clear security, take the train, and get to my gate, in time
So I headed to the Grand Hyatt DFW. While I had been taken off the Dallas to Miami flight, it was still showing in my American Airlines app, and I kept getting push notifications about the flight being delayed by a few minutes at a time.
Long story short, the flight ended up only departing at 9:34PM, 58 minutes after I arrived in Dallas. I would have made that connection with plenty of time to spare. Heck, my room service dinner arrived before the flight even departed.

I'm not writing this post because I feel I was wronged in some horrible way, but rather just because I find the situation amusing. If American hadn't taken me off my original flight (and instead just protected me on another flight while keeping my reservation intact), I would have tried to make a run for it, since I figured there was no downside. But since I was already taken off the flight, there were no first class seats left, and the seatmap only showed middle seats in economy, it seemed to me like a losing proposition.
Usually when you misconnect it's because you actually don't make your connection. In this case I was essentially forced into misconnecting because American was more confident in my connecting flight operating on-time than I was.
Bottom line
I missed a connection at DFW, even though there ended up being 58 minutes between my arriving and departing flights, meaning I would have made the flight with time to spare. However, after a delay of over two hours departing Puerto Vallarta, American rebooked me for the following morning, taking me off the original flight.
If American weren't so confident in its operational performance (assuming my connection would depart on-time), this wouldn't have happened.
I get it from American's side as well, though, as it's a lose-lose situation. An alternative outcome might be that someone runs to make the connection and misses the flight, and is then annoyed the flight wasn't held for them.
Has anyone else ever unnecessarily misconnected in this way? Would you have handled this situation differently?