We've seen some major airline meltdowns over time, most recently with United Airlines, which canceled thousands of flights prior to the July 4th holiday. The meltdowns are typically initially caused by some sort of weather event, and then get significantly worse due to airlines not having the technology required to recover, in terms of scheduling crews and aircraft as efficiently as possible.
While American Airlines hasn't historically been the most operationally reliable airline, the Fort Worth-based carrier is showing off a tool that it claims has prevented 1,000 flight cancellations in the past year alone (and I can't help but feel like the timing of this being announced is no coincidence).
American Airlines' HEAT tool helps manage storms
American Airlines is sharing the details of "cutting-edge technology" that it has developed in-house, which keeps customers moving when severe weather impacts hubs. The system is called Hub Efficiency Analytics Tool (HEAT), and it dynamically moves flight schedules around to ensure that customers, crews, and aircraft, keep moving when weather threatens to disrupt the schedule.
HEAT optimizes data about weather, how full flights are, customer connections, and gate availability, as well as air traffic control and crew restraints. Then an advanced algorithm weighs this data and shifts arrivals and departures around at hubs.
The people working in American's Integrated Operations center (IOC), the nerve center of the operation, use HEAT to help prevent severe weather impacts. American claims that since initial deployment last year, HEAT has prevented nearly 1,000 flight cancellations.
Here's how Timothy Niznik, American's Director of IOC Analytics, describes this tool:
"HEAT is an innovative tool and part of our irregular operations playbook that will only get smarter with use. Each time we run HEAT, we analyze the results, and incorporate those findings so we can continue to improve the strategies and technology that help keep our operation moving."
My take on American's HEAT system
Credit where credit's due, American's HEAT system sounds great, assuming it works as well as the airline is claiming. Airlines have pretty antiquated technology across the board, and the meltdowns at both Southwest and United have shown us the extent to which technology (specifically around crew scheduling) fails airlines during major operational disruptions.
While American highlights how this system has prevented 1,000 flight cancellations, it's not clear at what cost. Did the airline have a significant increase in the number of delays spread across many flights to avoid these cancellations? After all, it's explained that this tool dynamically moves flight schedules around. Regardless, hopefully this system prevents American from having a large scale meltdown.
Now American needs to develop a similar system for being realistic during flight delays, not posting delays by five minutes at a time, and not claiming that a flight will leave in 10 minutes when the inbound flight hasn't even arrived at the gate. 😉
This technology also raises a bigger point about airline delays and cancellations being preventable. Airlines always do what they can to blame operational disruptions on weather, since that leaves them with the least liability.
Yes, there may very well have been weather somewhere, but really a cancelation may have been caused by a carrier's inability to recover from weather. As you can see here, American is claiming that it prevented 1,000 weather related flight cancellations. If the cancellations can be prevented, can they really be blamed on weather? 😉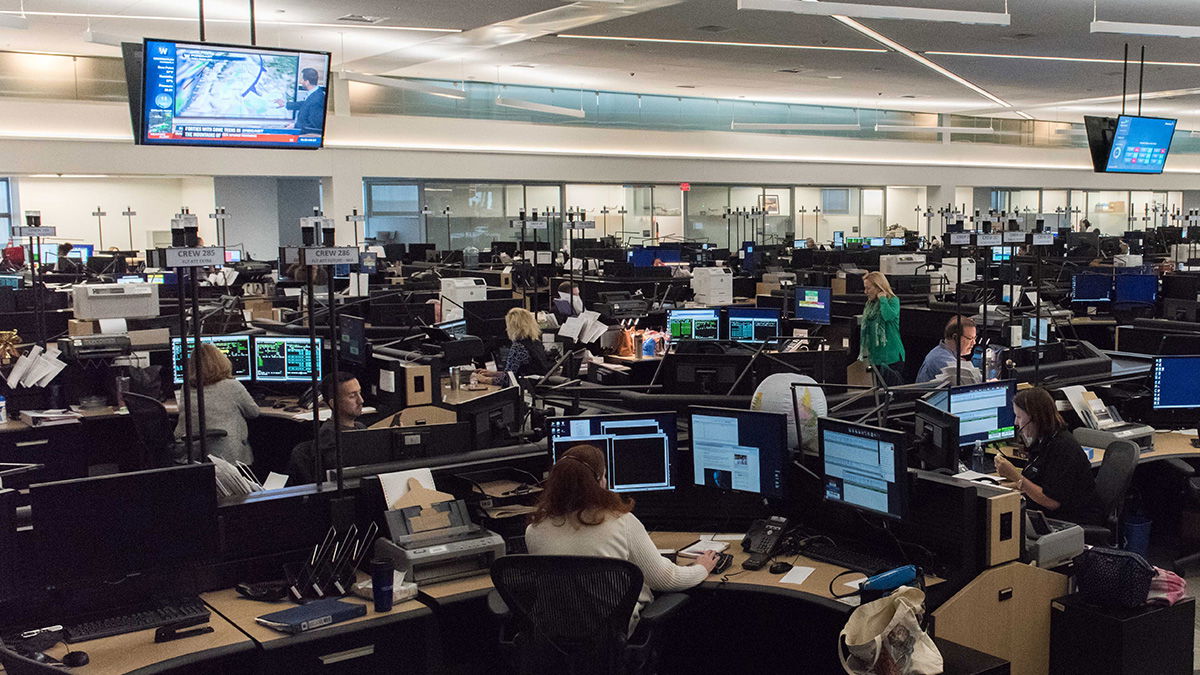 Bottom line
American Airlines is publicly sharing the details of HEAT, a system that was developed in-house to avoid flight cancellations when there's severe weather. Presumably American is trying to brag a bit after United's recent meltdown. Hopefully American doesn't have a large scale meltdown itself in the coming months, or else there will be a lot of questions about HEAT.
What do you make of American Airlines' HEAT tool?