Hello from Miami! After flying Japan Airlines' 787-9 business class from Osaka to Los Angeles, I connected to American Airlines' 787-8 business class from Los Angeles to Miami. It's always quite the reality check to get off a flight from Japan and board a domestic flight in the United States, in terms of service, passenger behavior, and more.
How was this four hour afternoon flight on American to Miami? Well, I have to say, flying a wide body domestically in the United States is always a treat. That's especially true when it's a "premium" route, and gets proper bedding, the international meal service, and more. That being said, as you'd expect from American, it wasn't perfect.
In this post I wanted to share my initial thoughts on the experience, and then soon I'll have a full trip report.
American's 787 business class seats are… sort of good?
American's Boeing 787s have two kinds of business class seats — some have the Safran Concept D seats (which is what was available on my flight), while others have the Collins Aerospace Super Diamond seats, which you'll find on many airlines.
The Safran Concept D seats are all fully flat and feature direct aisle access, and alternate between being forward and rear facing.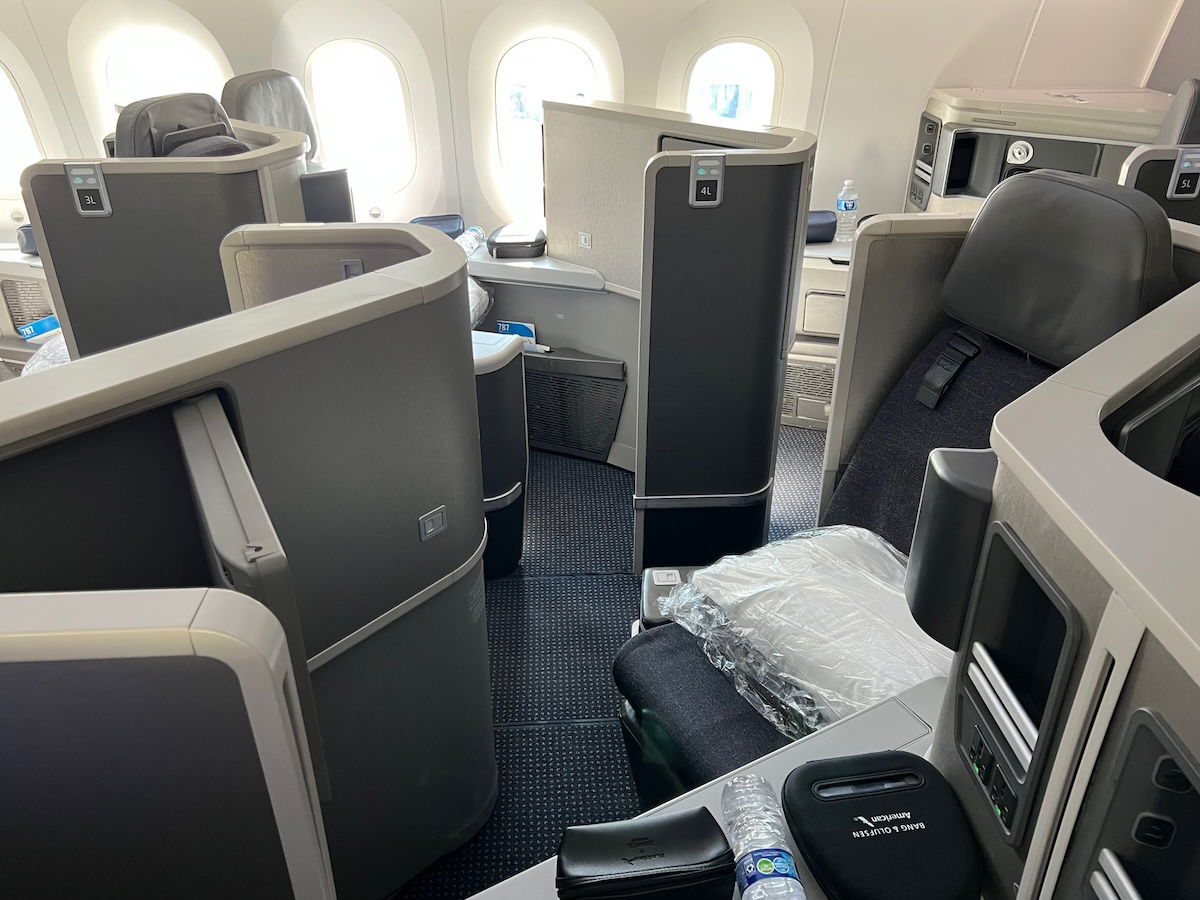 These are generally considered American's worst wide body business class seats, and that's for two reasons. First of all, the seats lack storage space, which is definitely a bit annoying. But the bigger issue is that the seats tend to "rock."
Essentially, each pair of forward and rear facing seats are connected, so if the person in one seat moves a bit, you'll feel your seat shaking. This can be really annoying on a long haul flight when you're trying to sleep. It's kind of unbelievable that the seats were produced in this way, and you have to wonder if no proper testing was done before these seats were put into service, or what.
Fortunately this issue can be avoided by selecting one of the seats not "paired" with another seat. For example, I assigned myself seat 5A, the window seat in the last row, which isn't connected to any other seat.
If you can score one of these seats that isn't subjected to the shaking issue, I actually quite like this product. That's because the seat is quite comfortable in bed mode, as you don't have any small footwell you have to cram your feet into. Rather the footwell offers an unlimited amount of vertical space, which you don't find in many modern business class products.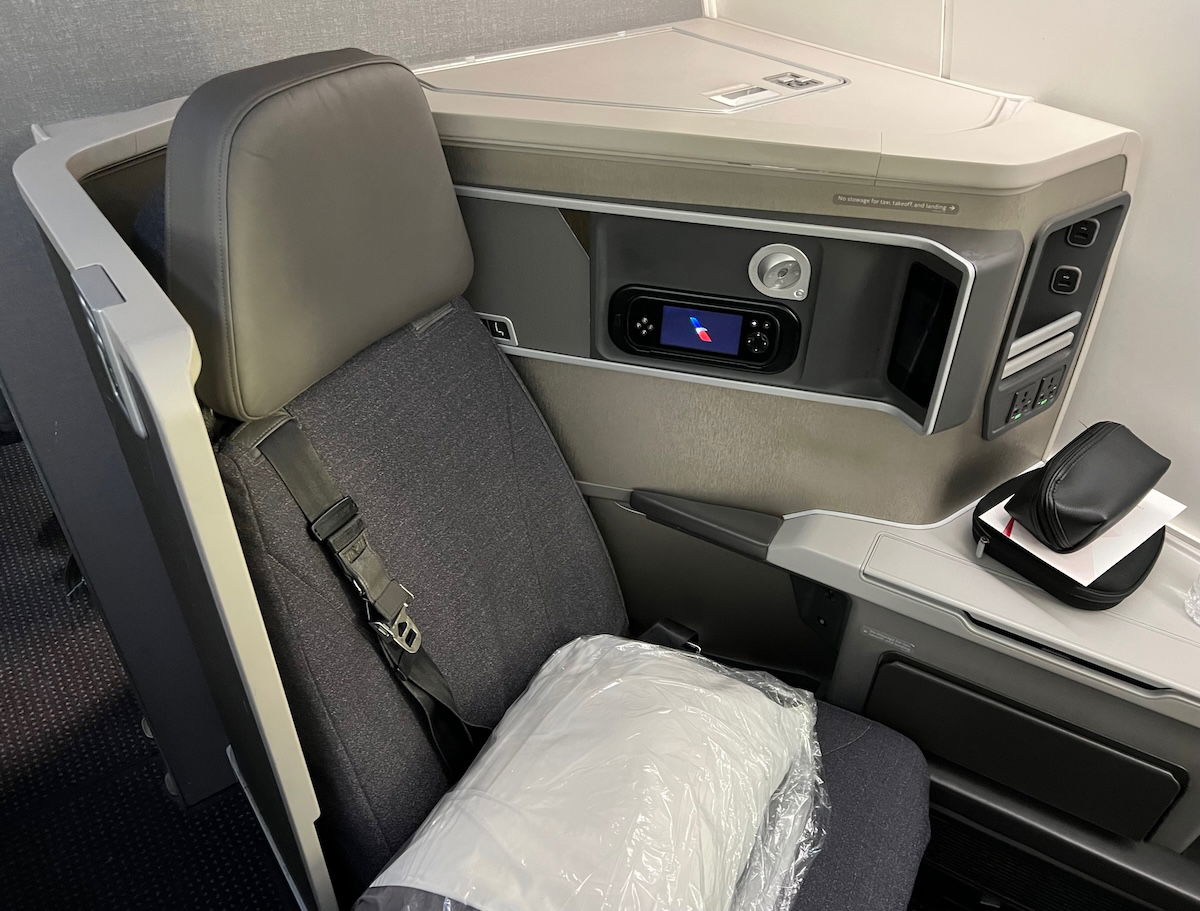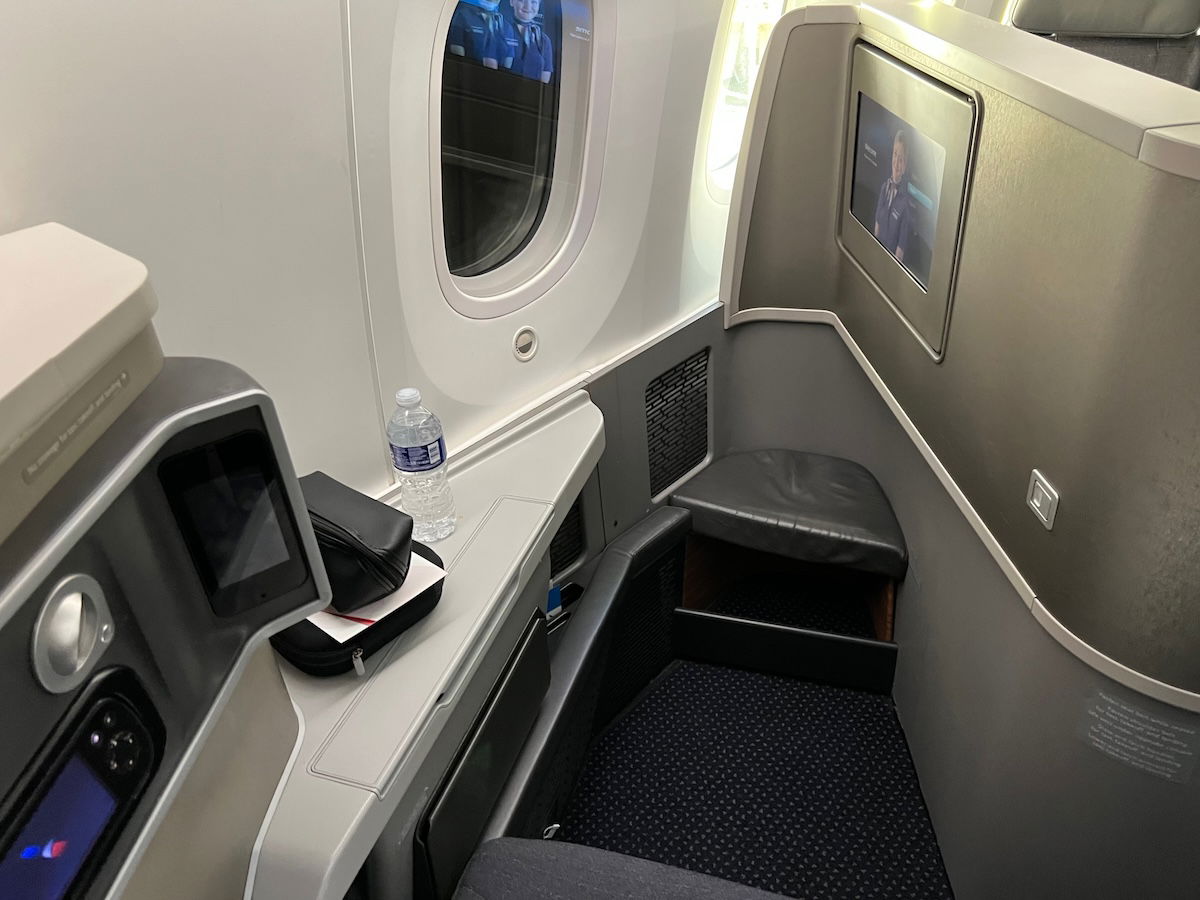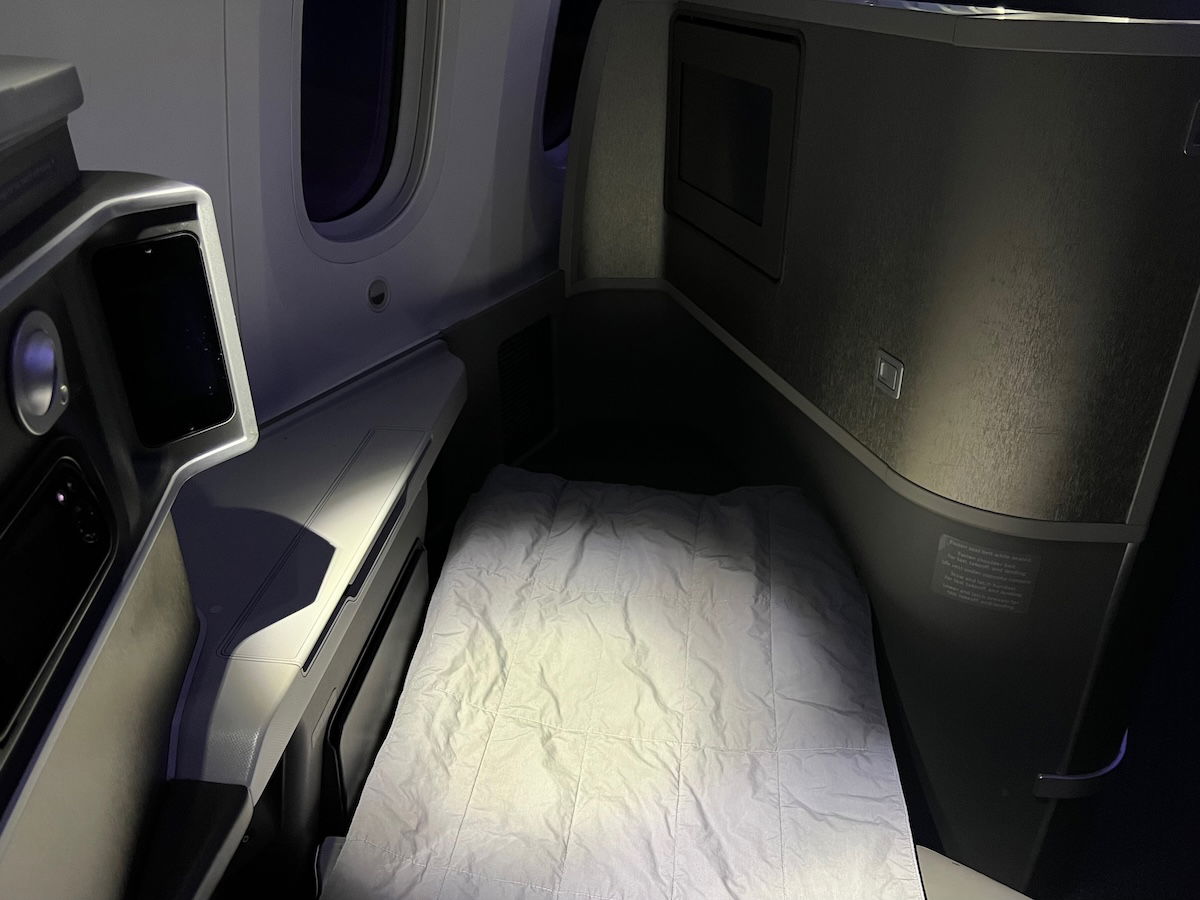 American's entertainment selection is extensive
American Airlines' entertainment selection on wide body jets is very good. I appreciated that more than ever coming off a Japan Airlines flight, where the entertainment selection was almost non-existent. American has tons of movies and TV shows, so you should easily be able to stay entertained for the entire flight.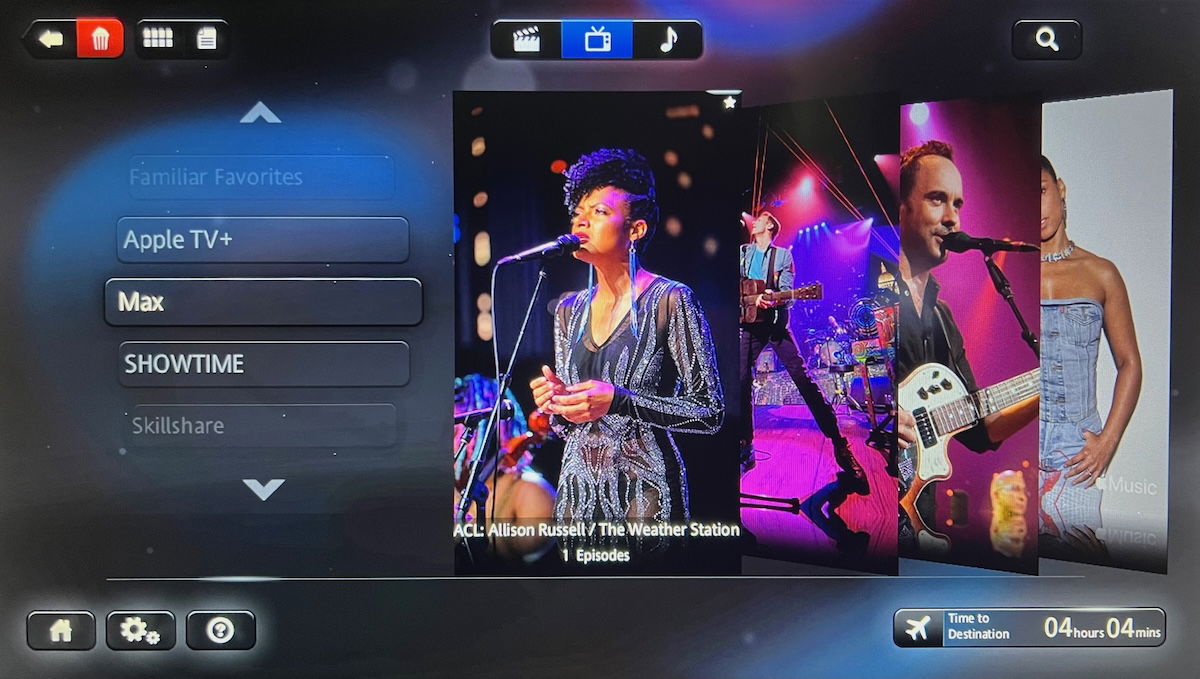 American also offers Bang & Olufsen headphones in business class, which I'd consider to be the best headphones offered by any airline in the world in business class.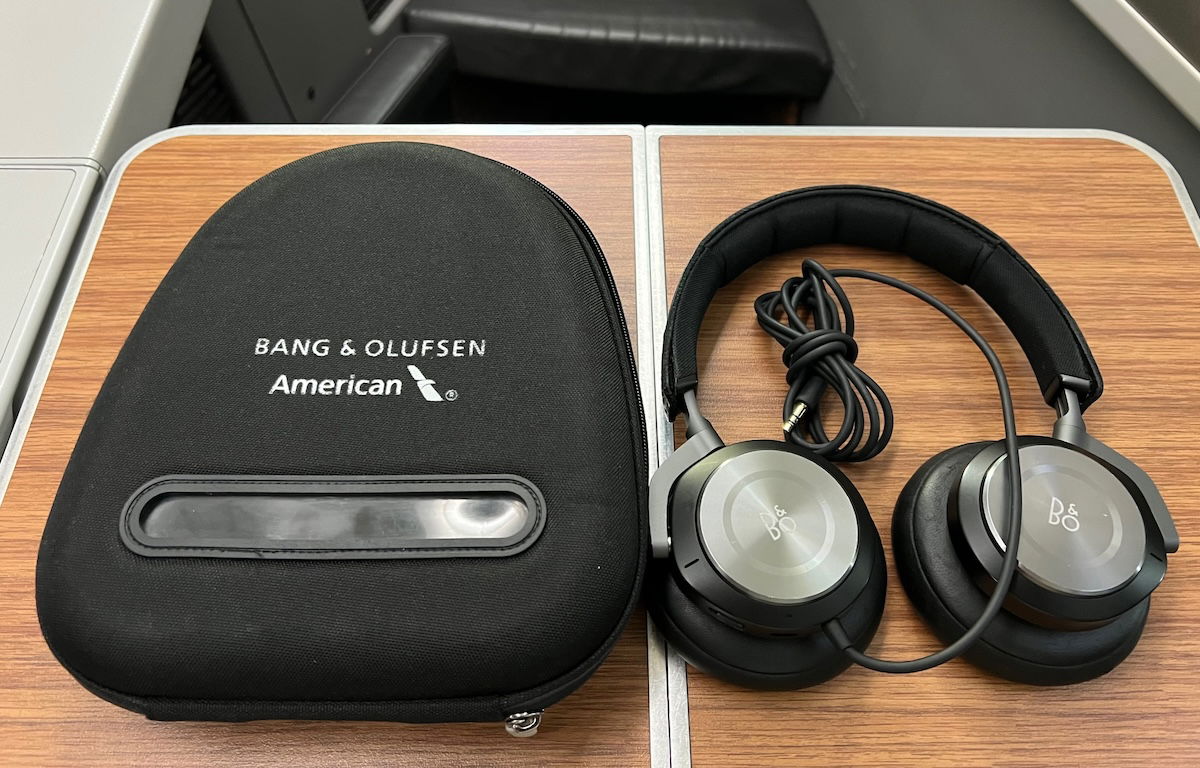 Wi-Fi is a bit different of a situation. American's Boeing 787s have Panasonic Wi-Fi, and pricing is quite high. A pass for the entire flight cost $29 with no data caps, which is steep. American's narrow body aircraft have Viasat Wi-Fi, which is much faster. Then again, while Delta has introduced free Wi-Fi, that doesn't yet apply on wide body planes, so it's not like you'd be better off on a comparable Delta route.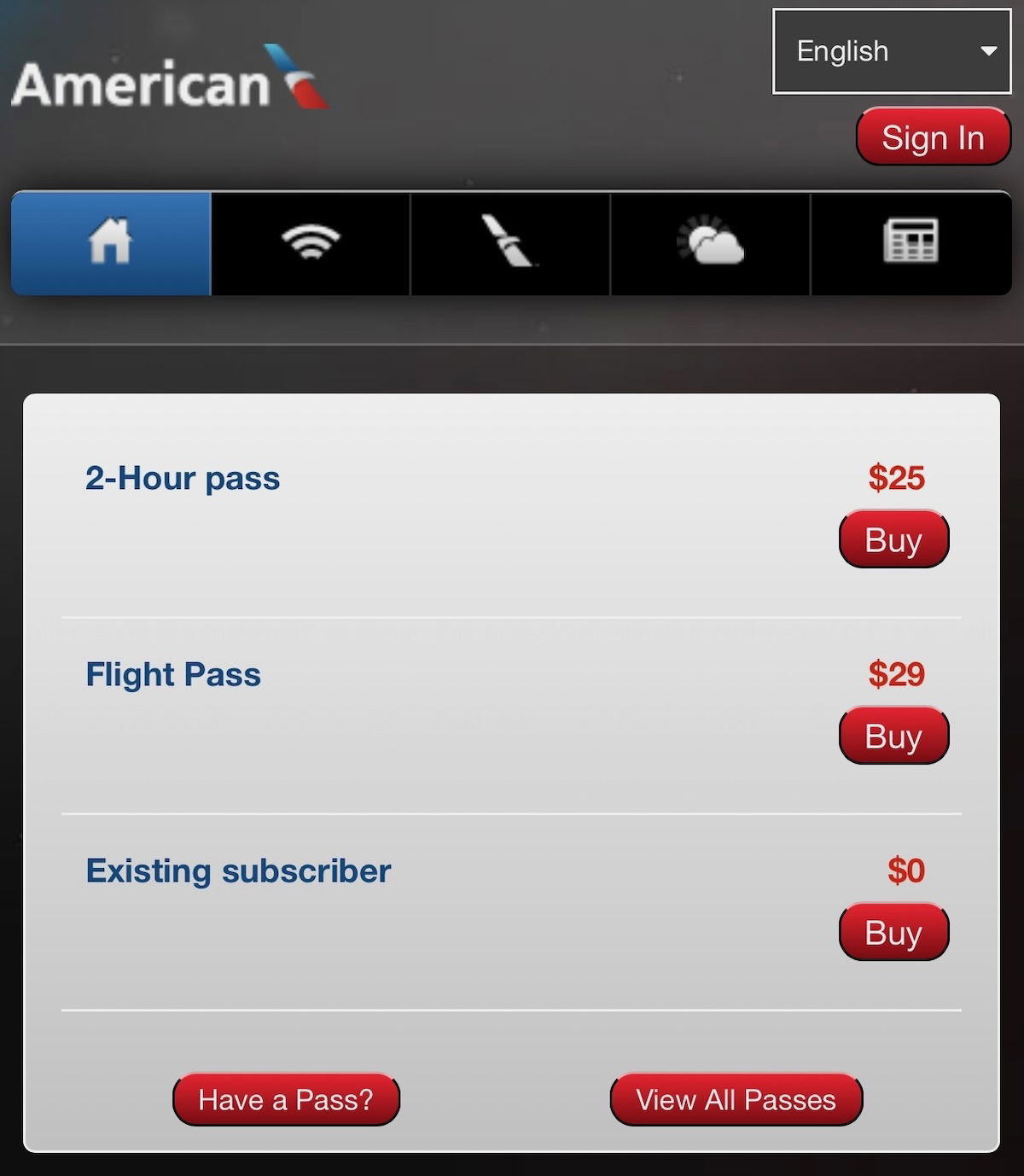 American's business class soft product is solid
This is an area where it's kind of hard to decide how to judge American. I was on a domestic 3hr56min flight, and received the same soft product you'd receive on a long haul American flight. I'd say this was an amazing product for the flight I was on, while it would be less exceptional on a transoceanic flight.
Anyway, at each seat there was Casper bedding, including a comfortable blanket and a thick pillow, much better than on my previous Japan Airlines flight.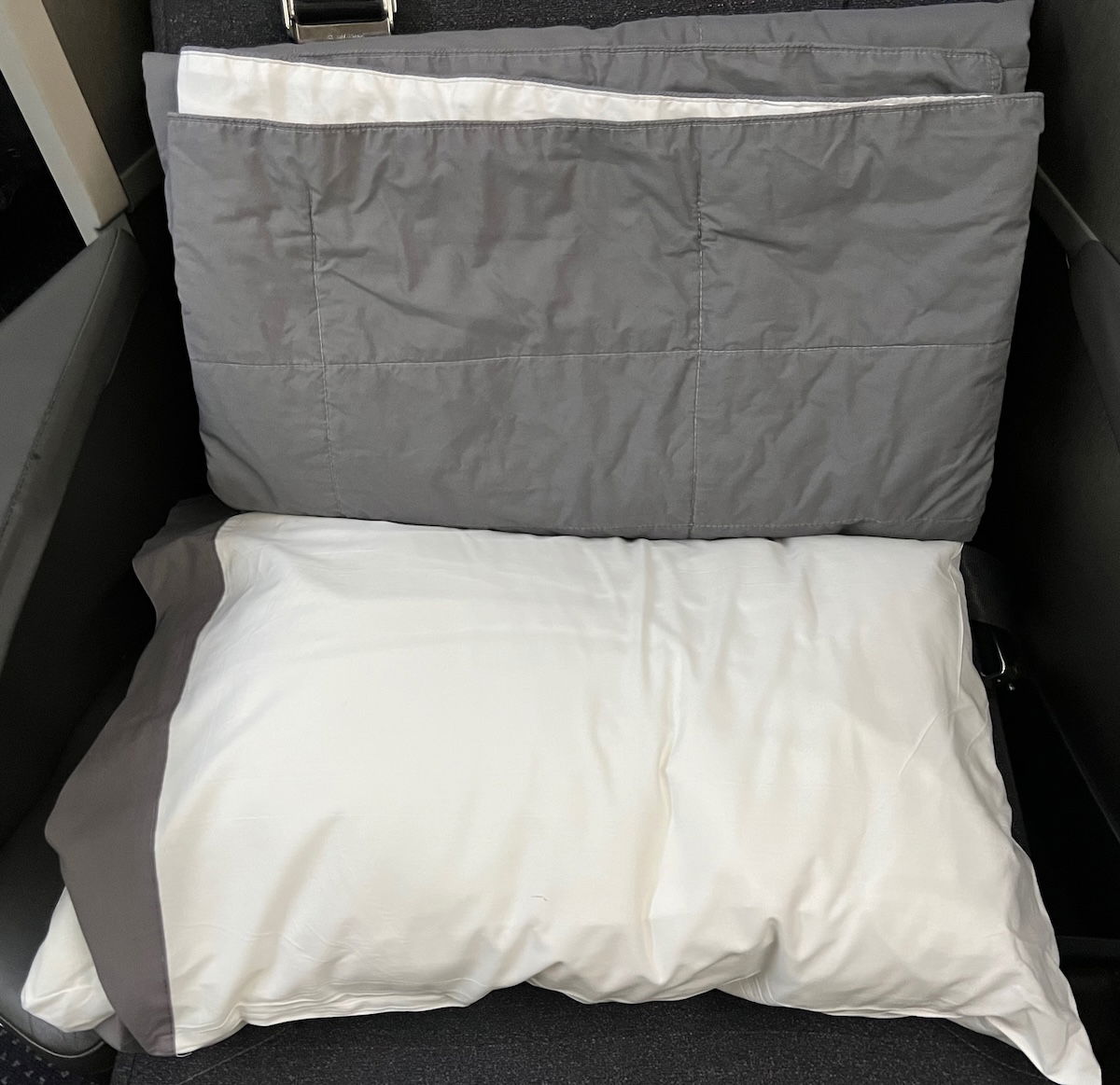 There was also an amenity kit, with a dental kit, eyeshades, socks, earplugs, lip balm, and lotion.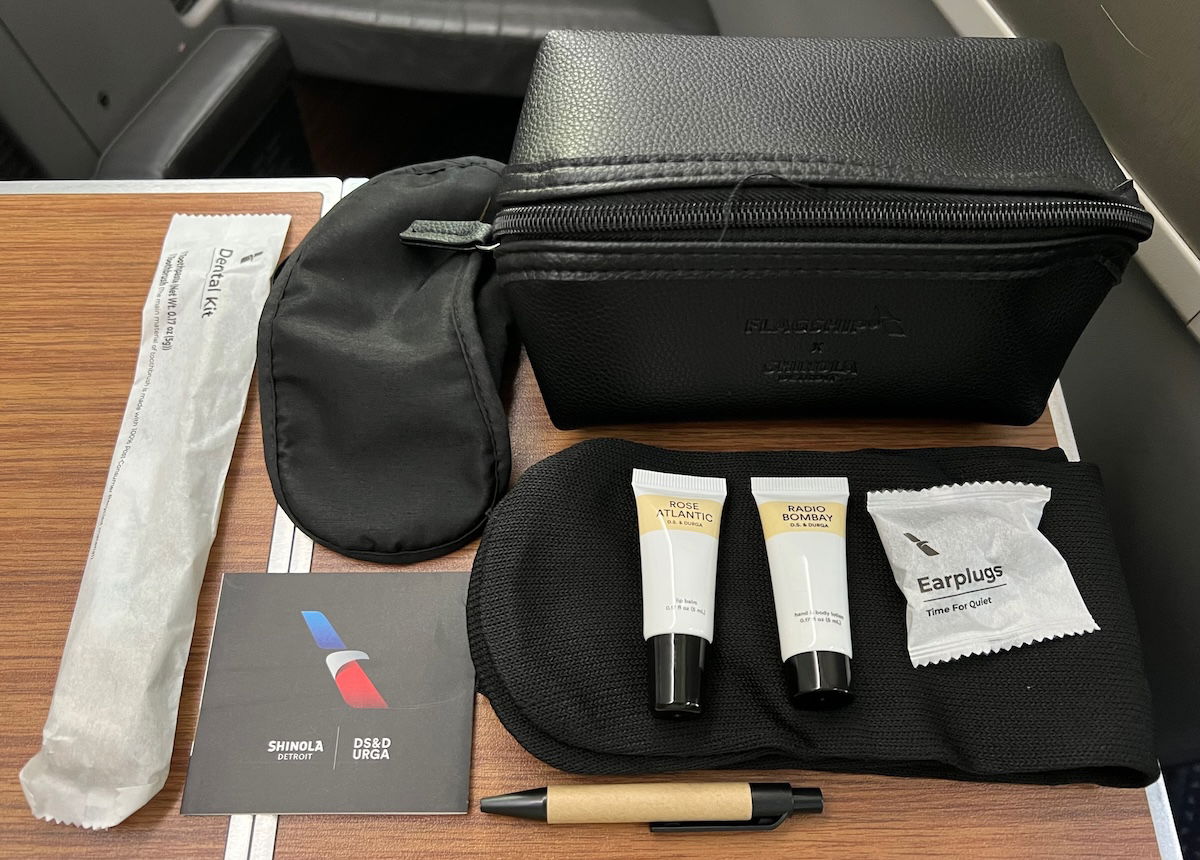 There were menus, and then a lunch service after takeoff. This began with drinks and mixed nuts.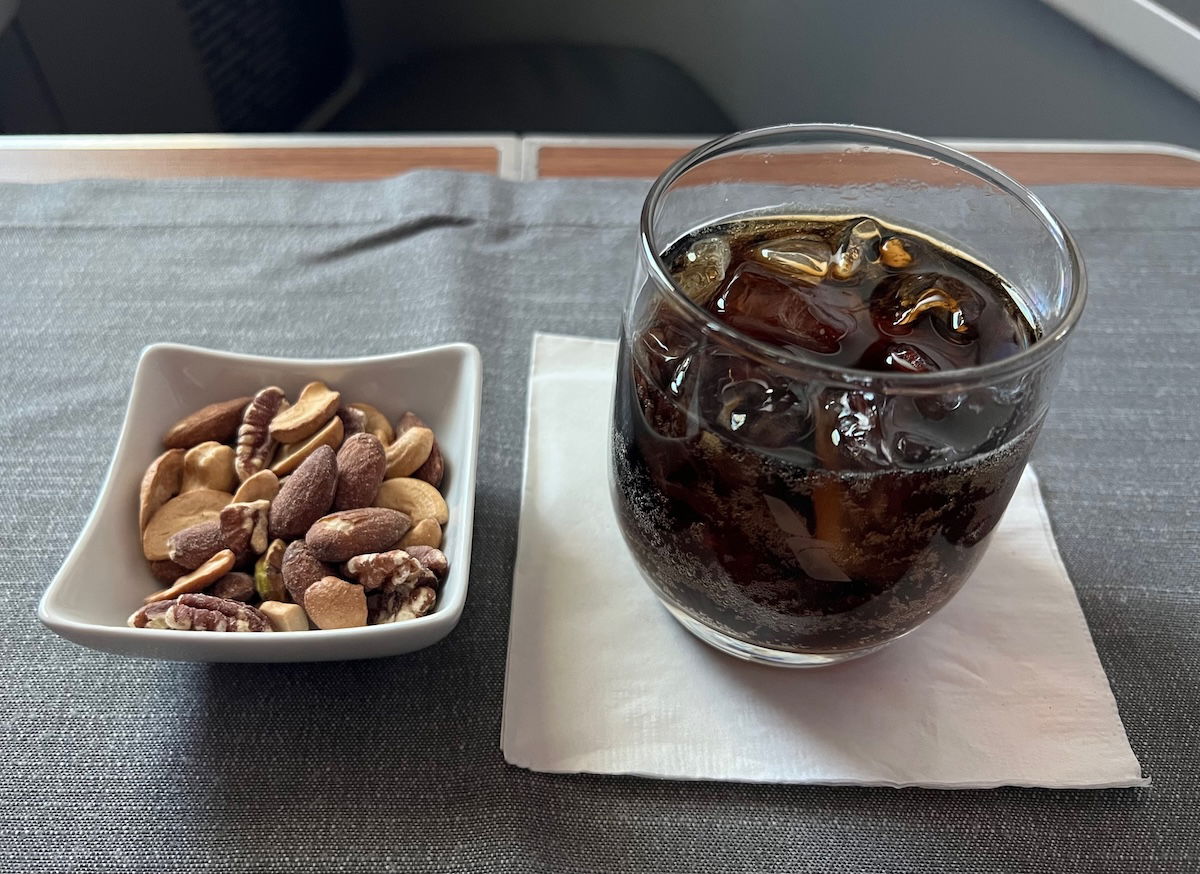 Service then began with an appetizer of tomato goat cheese strata, plus a salad with strawberry, goat cheese, and sunflower seeds. Um, is that really how the appetizer is supposed to be presented? It looks more like the trimmings for a burger than an appetizer.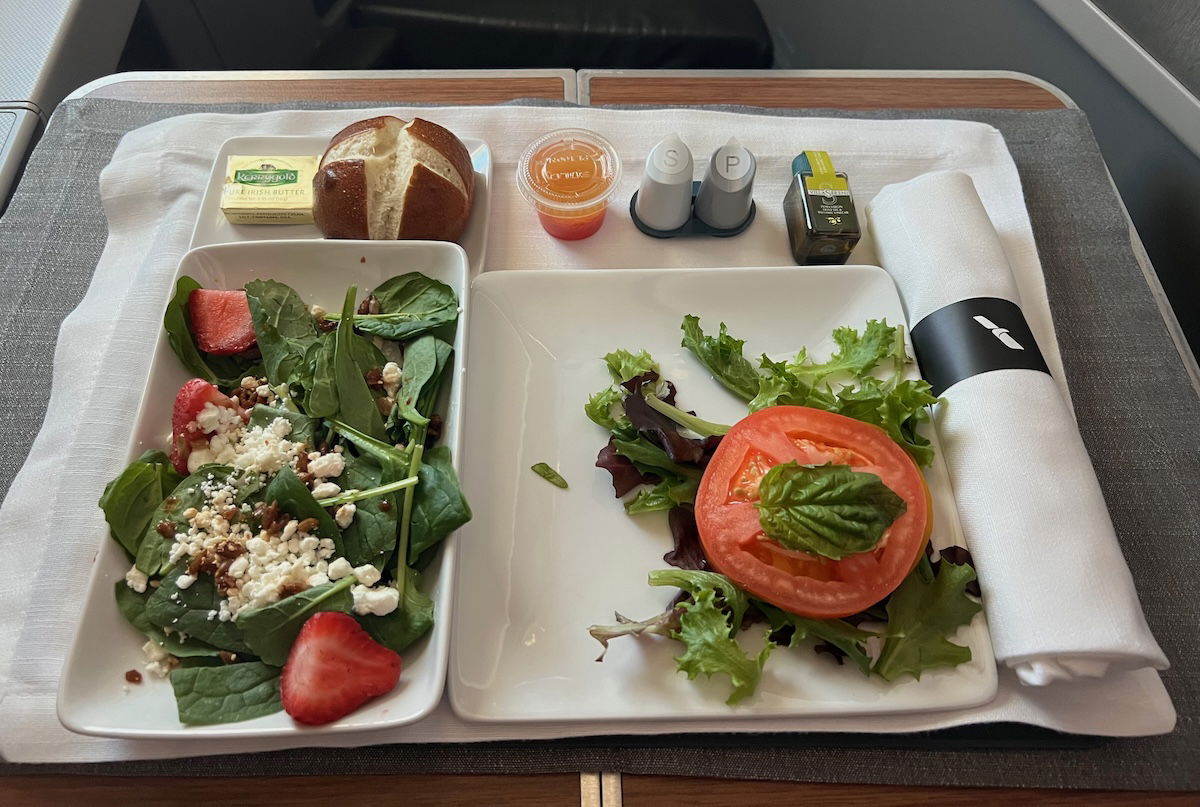 For the main course, I pre-ordered the miso saba roasted sea bass, which was… surprisingly tasty? While the presentation wasn't great, the dish was flavorful.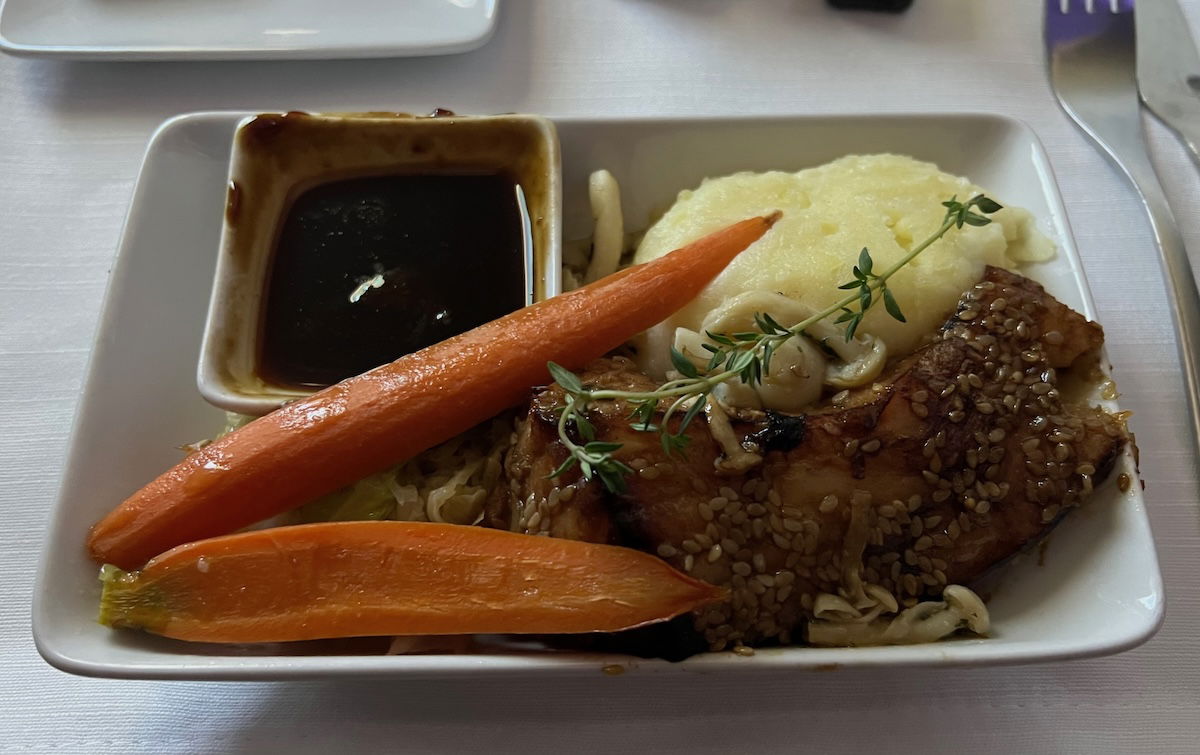 Then for dessert I had the traditional ice cream sundae, which was yummy. Honestly, it's about as good as dessert gets on an airplane.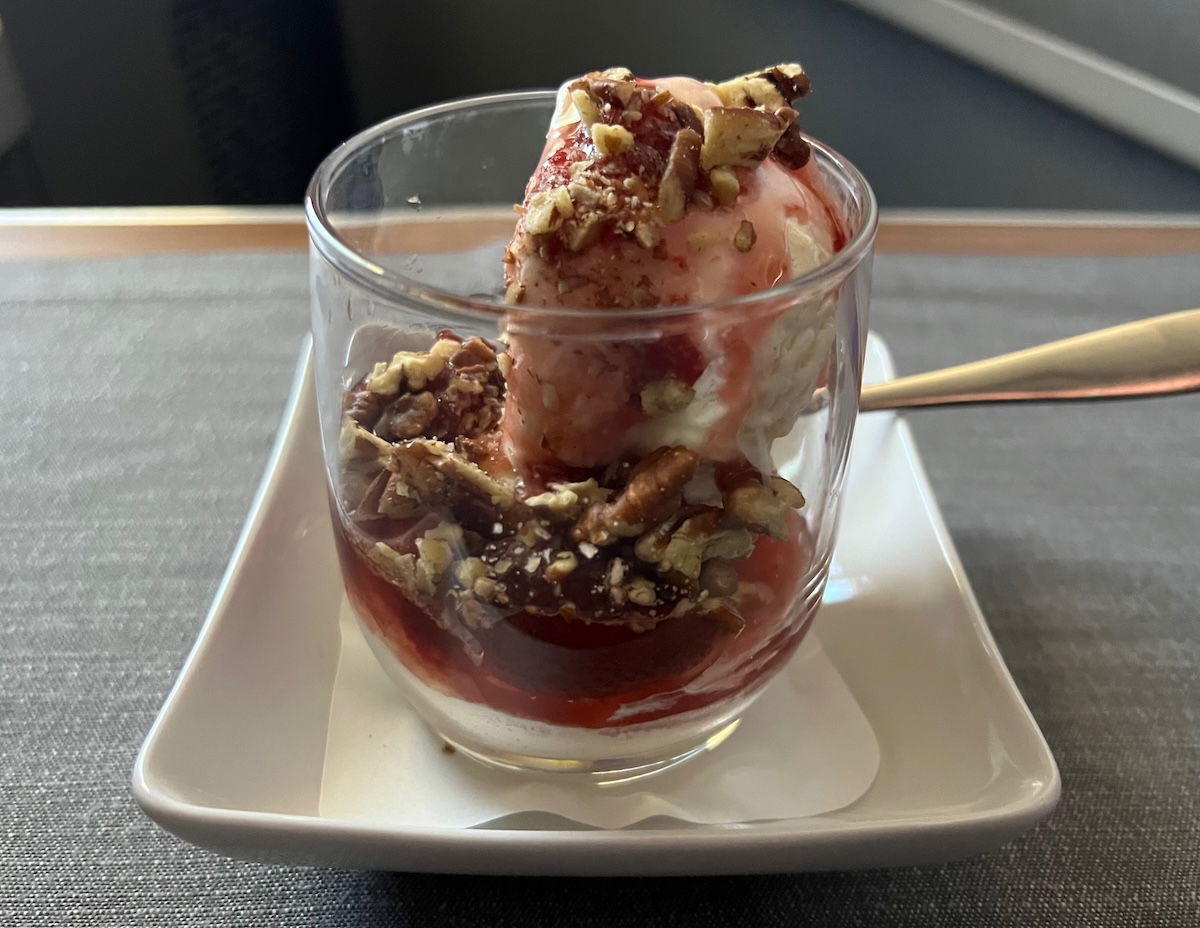 Before landing, there was even a cookie service, plus a selection from the snack basket.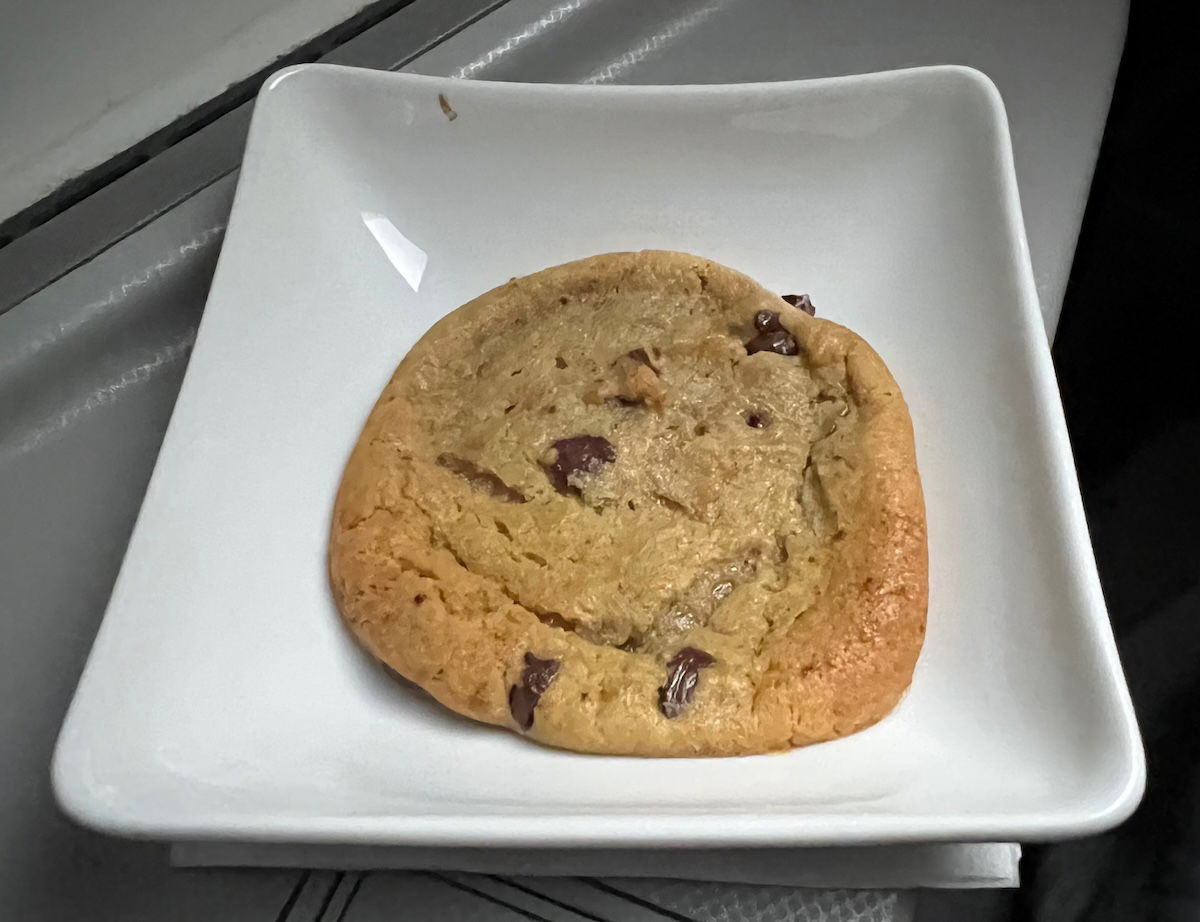 American's business class service is confusing
Service on American Airlines just puzzles me sometimes. It was 90 minutes from the time that we boarded until the aircraft pushed back (we had a maintenance delay, and on top of that boarding starts a bit early on wide body aircraft).
Despite there being only 20 business class seats and there being no foot traffic in business class, the crew didn't offer pre-departure drinks. There were four flight attendants in the galley by door two chatting loudly for over 20 minutes. But nope, no pre-departure drinks (and yes, the flight had been fully catered, so it's not that they were still waiting on the galley carts).
While I don't personally care much about pre-departure drinks, whether or not crews offer them is often a good indication of what service will be like after takeoff. To my surprise, the crew was actually pretty friendly after takeoff and throughout the meal service. They didn't really pass through the cabin much after the meal, but at least they were friendly.
I'm not sure what exactly to make of this. I realize that flight attendants are currently going through contentious contract negotiations, so is this related to that, or are crews just selectively friendly and providing the service they're supposed to?
Bottom line
I had a solid business class flight on American's Boeing 787-8 from Los Angeles to Miami. Flying a wide body on a domestic flight is always a treat, especially when it also has an elevated soft product, including bedding, amenity kits, and improved catering.
I don't dislike the Zodiac Concept D seats quite as much as others, especially when being deliberate with seat selection. This flight also had pretty good food, excellent entertainment, and sort of friendly service.
What's your take on American's Boeing 787-8 business class?