A Twitter user reached out repeatedly today to share a travel horror story.
@OneMileataTime https://t.co/ZZWOV1muI4

— Danaja Brinkley (@UgotDANAYAed) July 7, 2017
Since she also tagged travel advocates Usher, Katy Perry, and Taio Cruz, I couldn't help but read. 😉
Please help me share our story and uncover the unjust @TurkishAirlines @davidguetta @Usher @TaioCruz @StephenCurry30 @katyperry

— Danaja Brinkley (@UgotDANAYAed) July 6, 2017
She describes this as a horrific and gut wrenching customer experience with Turkish Airlines. First I'll share her Facebook post in its entirety, though I'll provide a summary below in case you want to skip:
My husband and I were suppose to be on a sailboat in Croatia right now catching rays. But we are not, thanks to #Turkishairlines.

Josh (my husband) was suppose to be meeting my family for the first time and I was coming home after long 4 years. And this is our traumatic story with Turkish airlines representatives.

Our flight was on July 2nd at 11pm (Washington Dulles-Istanbul-Venice).We came to the airport at 7pm to check in. I've flown internationally before plenty of times. This time it felt different. I felt eyes on us (eyes on him). I didn't think much of it because eyes and stares are a part of our daily lives.

It was our turn to check in. My last name on the travel certificate didn't match my ticket (I had called Turkish airlines about this matter weeks before the trip and sent over my travel certificate, marriage certificate, green card and birth certificate). They sent me an email back a few days later after reviewing my case stating I'll be able to board my flight as long as I present my marriage certificate.

Also when we were checking in I told them we want to take our bags out in Istanbul (my parents got us tickets to fly from Istanbul to Split-Croatia instead of Venice because it was more convenient since the sailboat was in Split). They checked me and my husband in. We were issued the tickets, our bags have been tagged and sent off. We went through the security and document check. We both came out clean as a whistle. We decided to go have dinner and relax before we head to the gate.

After our delicious meal we spoke with our parents briefly to inform them that we are good to go and flying out in two hours.

My husband has never flown out of the country and he has high anxiety when it comes to flying all together. When we got to the gate I was trying to lighten him up by watching funny animal videos and taking silly pictures with our new selfie stick we purchased for this trip. We tried guessing what new movies they have as choices for us to watch during the flight and what will we be eating for dinner AGAIN.

As we were patently waiting for hours to board our flight BOTH of our names have been called on the intercom. Mind you this is all happening 30 minutes before our flight is scheduled to board. We walk up to one of the Turkish airlines representatives and her face is giving up signs of panic. She is trying to explain to us that we have to run all the way back to where we initially checked in. My heart dropped. My husband and I started to run as fast as we could. When we got to our initial point of check in we just stood there for 5 minutes.

All of the Turkish airline representatives are giving us looks but not one of them is trying to assist us. After a game of looks and whispers one of them asks us to step forward. Lady at the counter told me I will not be able to board my flight because they found something wrong with my travel certificate. Final destination of my ticket is Venice but my travel document sates its for return to Croatia only (which is my final destination). At that point I started to cry at the counter, my husband raised his voice slightly stating that this is unacceptable (he is 6'6″, 240 pounds and African American). The police showed up out of nowhere in a matter of seconds. My husband realized what is going on and he proceeded to remove himself from the situation and sat down on the floor with his head down.

At this point I am crying hysterically.

Im trying to explain that I am flying to Croatia from Istanbul. That's why we are picking up our luggage in Istanbul. At this point a representative comes over (I don't know his name), starts raising his voice at me, reading out loud what says on the document.

I told him to stop yelling at me and then he proceeds to throw my travel document on the counter. At this point I'm on the phone with a travel agent trying to make changes to the ticket but he is not able to. It's too late.

If they told us all of that in a timely manner at 7pm when we got to the airport to check in, we would have time to make changes. We would be in Croatia right now. They waited 30 minutes before our flight is boarding to do this to us. And I still don't have a clue why my husband wasn't able to board that flight and why his name got called on the intercom as well.

This has been the most traumatic customer service experience ever.

Joshes and my vacation time went into the wind. Our dog sitter money went into the wind. My parents sailboat money went into the wind.

And all the memories that we never made went into the wind.
To summarize best I can:
A lady who is a Croatian passport holder and her husband (a US passport holder who had never left the country) were booked on Turkish to fly from Washington to Venice via Istanbul
They checked in just fine, and had their bags short checked to Istanbul, since they ended up buying a separate ticket from Istanbul to Split since it was more convenient, and were going to drop their segment from Istanbul to Venice
They cleared security, had dinner, sat in the gate area, etc., and everything seemed fine
30 minutes before boarding was scheduled to start they were told they needed to go back to check-in due to a problem, and the lady was informed she wouldn't be able to travel because there was something "wrong with [her] travel certificate"
Her husband "raised his voice slightly," the police showed up, though nothing further happened regarding that
The Turkish Airlines employees allegedly also raised their voices
The couple missed their dream trip due to this ordeal, and this would have been the first time the husband met her family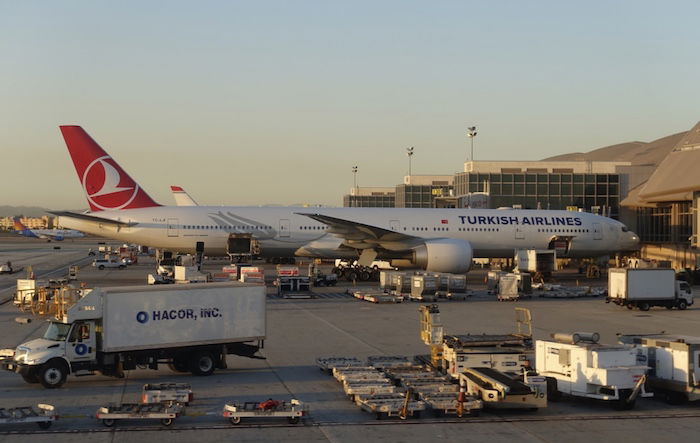 Turkish 777
I really sympathize with the couple. Clearly they were trying to follow the rules best they could, left plenty of time before their flight, etc. But unfortunately there are a couple of issues here. First of all, you're not allowed to throw away a segment of a ticket. In other words, if you're booked to Venice you have to fly Venice, and can't just get off in Istanbul and book a separate ticket to Split.
This is in the contract of carriage for airlines, but the issue is that no one reads the contract of carriage, since it's dozens of pages long and highly technical. So I can't blame them for not knowing, but at the same time the airline was only enforcing their policy. Had they been allowed to fly to Europe, their return flight would have been canceled as soon as they skipped a segment, so they would have otherwise had a horrible experience on the return.
Furthermore, most airlines have a policy against the practice of "short checking" bags, which is when you don't check bags through to your final destination. This is precisely to make sure people don't engage in throwaway ticketing. That being said, I'm not positive this applies to Turkish.
Lastly, as pointed out by Sean in the comments, the biggest issue perhaps was that she was traveling on a single use travel certificate, which likely wouldn't have allowed her to enter Turkey. If she wanted to short check her bags to Istanbul then she'd need to clear immigration to do so, and she wouldn't necessarily have been allowed to do that.
What's unfortunate here, however, is that Turkish didn't let them know sooner. They said they arrived at the airport hours early, and the airline should have caught this during the initial check-in process. Of course airline employees also sometimes don't know all the rules, so it seems like they only caught on later in the process.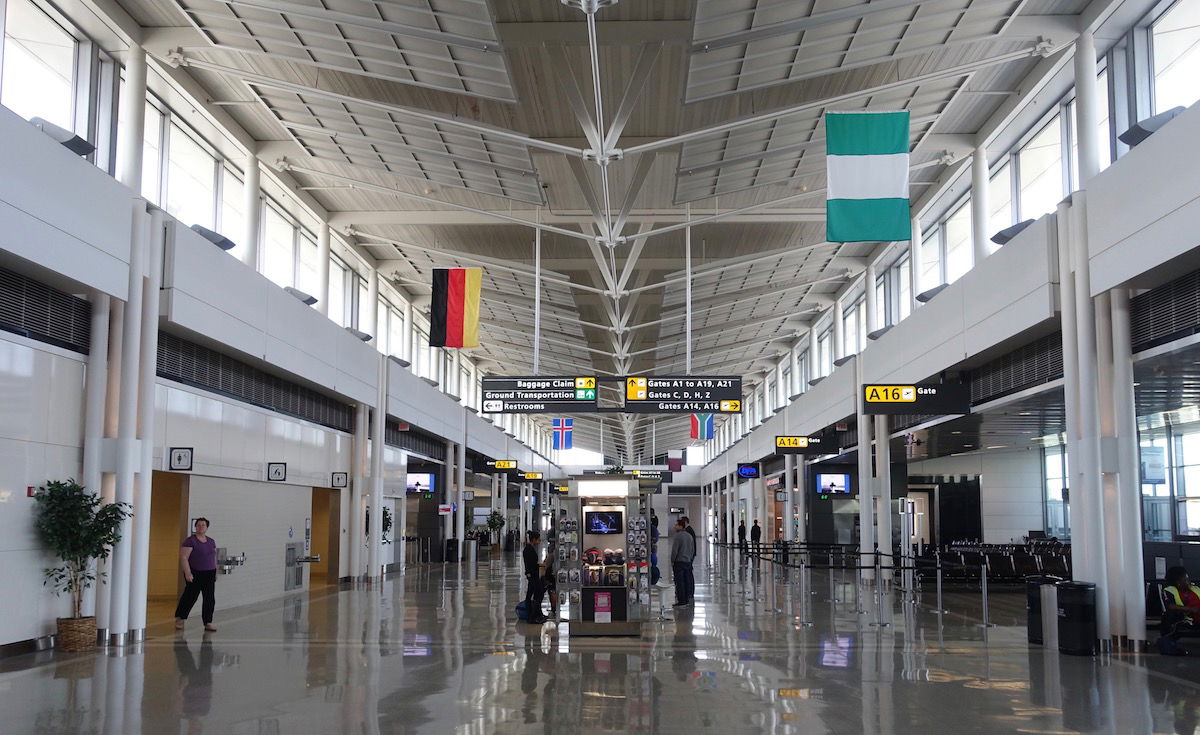 Washington Dulles Airport
This is an all around crappy situation, though I'm not sure just one party is to blame here. This is the tough part about travel. Airline rules are ridiculously complicated, and I'm not surprised the couple didn't know that throwaway ticketing isn't allowed. At the same time, it's something they agreed to when they booked their ticket, as it's in the contract of carriage.
However, that doesn't mean the airline is fully in the clear here. They should have let the passengers know earlier, in my opinion. It's possible that there may have been more to this, though, as she doesn't fully explain what issues there were with the "travel documentation."
While I realize hindsight is 20/20, the other lesson to learn here is to always leave an extra buffer if you're planning a special trip. I know this is easier said than done since people have limited vacation days (especially in the US), but you should never make it so that a single missed flight will cause you to miss a special trip entirely. This is especially true for folks taking cruises, etc., where there's zero leeway. Always arrive a day early. Again, I know it's easier said than done, but it's the only way to avoid stuff like this.
Again, I really sympathize with the couple, but I'm afraid the airline wasn't completely in the wrong here, even if they didn't handle it ideally. And all of this is just based off the couple's story.
What do you make of this unfortunate situation?