Oh, shoot, no, I mean I'm going to the Philippines. 😉
In all honesty, I've always heard good things about Colombia, and am planning a visit there shortly. A few days ago I wrote about getting a head start on American Executive Platinum status for 2016, and how I'm planning a paid business class trip to Panama City. As I explained at the time, there's a huge incentive to travel on any "good" deals in the first half of next year rather than the second half, given the upcoming AAdvantage changes.
For example, there are ~$800 business class fares between Los Angeles and Panama City which can be routed creatively. Under the current mileage system, I earn ~33,000 miles for the ticket, while under the new revenue based system I'd earn ~7,000 miles for the ticket.
As a result, I'm trying to get in as many of the "good deal" revenue tickets as I can before the change.
I've always been intrigued by Colombia, and have heard that nowadays it's quite safe and fun to visit.
Fares from Los Angeles to Colombia are only a bit higher than to Panama City, and can be had for under $1,000 roundtrip in business class, with a similarly awesome routing. Here's an example of the fare: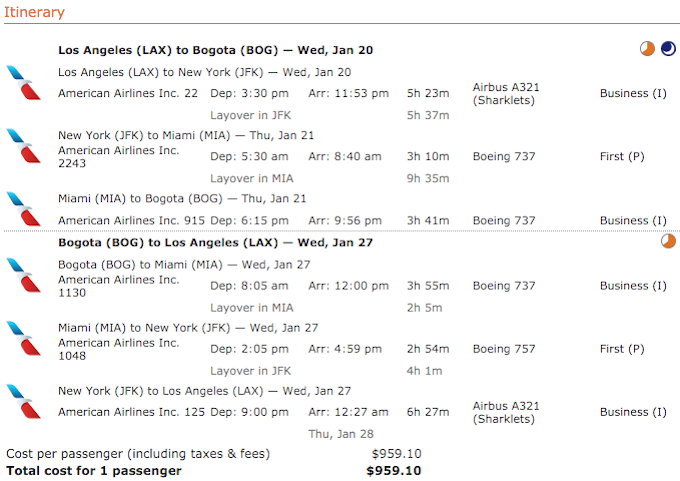 And to put that on a map: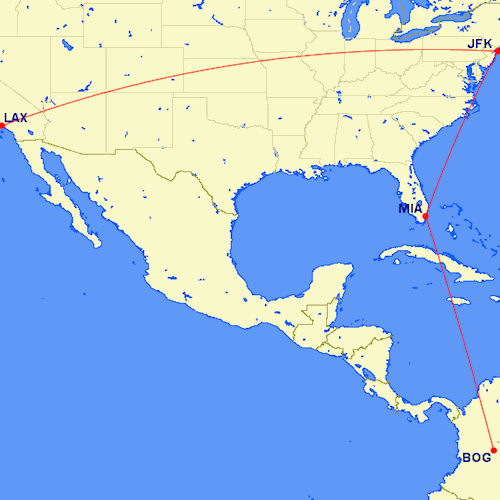 That's over 20,000 elite qualifying miles and over 34,000 redeemable miles. That's a fantastic deal.
In terms of time in Colombia, I was thinking of spending about a week there, and splitting my time between Bogota and Cartagena. The W Bogota looks like a great hotel, and I was going to book four nights there using the Citi Prestige Card fourth night free benefit. Then I was thinking of booking three nights at the Hilton Cartagena, to finally give my Hilton Diamond status a shot.
Flights between Bogota and Cartagena are super cheap — under $100 roundtrip on Avianca or LAN.
Of course I welcome all suggestions in terms of whether I'm crazy for wanting to go to Bogota and Cartagena, which hotels to stay at, and what to do.


Cartagena, Colombia
Bottom line
American's upcoming AAdvantage changes are really prompting me to take as many "good deal" revenue trips as quickly as I can. This trip seems a lot more fun when I'm earning ~34,000 redeemable miles rather than ~8,000 redeemable miles. At this rate I'll be requalified for Executive Platinum in the first quarter of 2016.
Anyone else getting as many revenue American flights out of the way as possible early in the year? And any tips/thoughts on Colombia are appreciated!