InterContinental hotels have always had an interesting position within the IHG Rewards Club program (formerly Priority Club).
Even though InterContinental properties are part of IHG Rewards Club, they have an additional loyalty program. So while you accrue IHG Rewards Club points for InterContinental stays, the status that really matters with them is Ambassador and Royal Ambassador, as opposed to Gold and Platinum.
IHG Rewards Club has also offered a different points earning structure for InterContinental properties than their other brands. Their other brands offer 5-10x points per dollar spent at the property.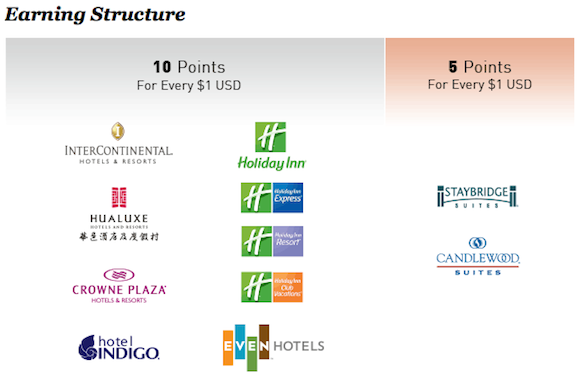 Meanwhile, historically IHG Rewards Club offered 2,000 points per InterContinental stay. So if you made a one night stay at an InterContinental for $100, or a 10 night stay in a presidential suite at an InterContinental for $100,000, you'd earn 2,000 points. If the alternative were earning 10x points per dollar spent, that means you're basically not earning points beyond the first $200 you spend on a stay, which I always found ridiculous.
I was always told that the logic was that InterContinental guests cared more about recognition than about points, so they would rather reward them with other perks.
In early 2012 IHG Rewards Club changed the earnings structure for InterContinental hotel stays. As of February 15, 2012, stays at InterContinental properties in the United States, Canada, Mexico, Latin America, and the Caribbean accrued 10x points per dollar spent, as opposed to a flat 2,000 points per stay.
Meanwhile the other InterContinental properties continued to accrue just 2,000 points per stay.
Well, IHG Rewards Club will finally be updating this policy. As of July 1, 2014, all InterContinental properties worldwide will offer the same earnings structure:
Beginning July 1, 2014, IHG Rewards Club members who stay at any of the 178 InterContinental Hotels & Resorts across the globe will earn 10x points per dollar spent on qualifying revenue
Regardless of what is spent at the hotel, there is no maximum number of points a guest can earn under this new program
The current earn for InterContinental Hotels outside the Americas is 2,000 points per stay structure.
This is great news and long overdue, in my opinion!