As I mentioned yesterday, I was flying from Washington Dulles to Tampa, and both my mom and I got bumped off the flight in exchange for $400 in travel credits each. As I briefly explained, the experience was less than stellar. Well, this afternoon we flew from Washington Dulles to Chicago to Tampa (the most direct routing home), and they needed volunteers on the Chicago to Tampa flight. I volunteered, while my mom couldn't, since she had an important appointment tomorrow morning.
The gate agent bumped me almost instantly, and couldn't have been more professional or courteous. She gave me $400 in travel credits, a $15 meal voucher, and a seat in first class tomorrow down to Tampa. She then asked me what hotel I wanted — "Sir, I can offer you the Crowne Plaza, Ramada, Hampton Inn, or InterContinental. Which would you like?"
Of course I went with the latter, and after bidding my mom farewell, was off to the hotel. At check-in I showed my Royal Ambassador card (top tier status with InterContinental), and asked if they'd honor elite benefits. The agent gladly obliged, so now I'm sitting in a lovely suite with a free minibar and free internet while I wait for my flight tomorrow morning.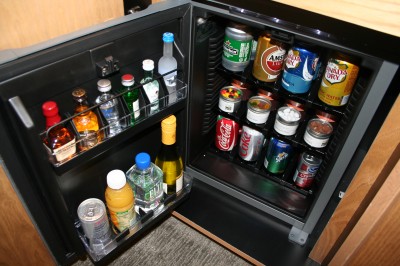 Life's not too shabby right now! Just gotta hope I make it out of here by Wednesday, so I can still make it to Maui.