One of the many things I enjoy about flying in premium cabins is trying out all the special meals, no matter how obscure they might be. Last weekend I flew with FlyerTalker MatthewLAX from IAD to DEN on a reconfigured 767 in business class. The seat was, as usual, incredible, but all they serve for breakfast is a fruit plate or a deli plate. Pathetic. I decided to order a "low calorie" meal. Let's compare: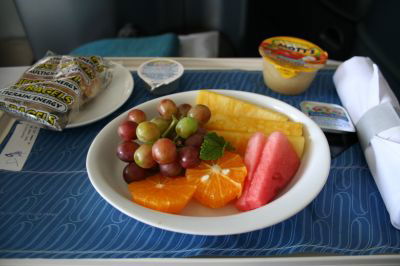 My low calorie meal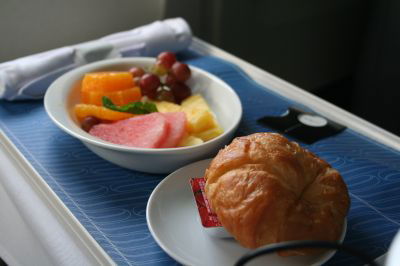 Matthew's fruit plate
The first thing I noticed was how similar, wait, scratch that, identical, the main courses looked. Second, my "low calorie meal" has a bagel, cream cheese, and apple sauce, while the normal breakfast has a croissant with jam. While I'm no nutritionist, I do have to wonder which has fewer calories?