Back in November Hyatt announced an award chart devaluation, which was quickly followed up by some positive changes the following week, including the introduction of Points + Cash awards as well as the introduction of My Elite Rates, both of which kick in today, January 7, 2014. This morning I wrote about Hyatt's new My Elite Rate, which offers 20% off the Hyatt Daily Rate at select hotels, and actually exceeded my expectations in terms of availability.
Points + Cash is what I was most excited about, though, for a few reasons:
Confirmed Diamond suite upgrades can be applied on Points + Cash reservations
Points + Cash reservations are eligible for elite stay & night accrual, as well as points accrual
So how good of a value is Points + Cash? Here's the award chart: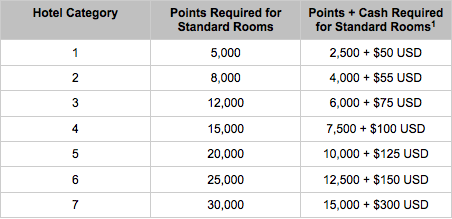 Basically they're giving you an option to pay for your stay partly in cash, though the savings in Gold Passport points varies by category, as follows:
Category 1 save 2,500 points for $50 (2.0 cents/point)
Category 2 save 4,000 points for $55 (1.375 cents/point)
Category 3 save 6,000 points for $75 (1.25 cents/point)
Category 4 save 7,500 points for $100 (1.33 cents/point)
Category 5 save 10,000 points for $125 (1.25 cents/point)
Category 6 save 12,500 points for $150 (1.20 cents/point)
Category 7 save 15,000 points for $300 (2.00 cents/point)
It's a particularly spectacular value for Category 6 properties, since there are some amazing hotels among them, it's the best value on a "cent per point" basis, and they're also the Hyatts I most want to stay at. Between now being able to use suite upgrades on these stays and having them qualify for elite nights/stays and promotions, I'd say this is theoretically a huge win.
So how good is availability through Points + Cash? The big downside of the new offering is that Points + Cash can only be booked by phone, and since they're capacity controlled it gets a bit tricky. So the best I can go off is my experience from calling Hyatt about a handful of times this morning.
So how good is Points + Cash availability with Hyatt? Based on what I've asked about it's exceptionally good, though not perfect.
I asked about Points + Cash space at the following properties:
Grand Hyatt Kauai
Grand Hyatt Cannes
Grand Hyatt Hong Kong
Hyatt Regency Hong Kong Sha Tin
Hyatt Regency Hong Kong Tsi Sha Tsui
Hyatt Escala Lodge
Hyatt Regency Nice
Andaz Maui
Park Hyatt Maldives
Park Hyatt Moscow
Hyatt Escala Lodge
All but a few of the hotels had Points + Cash space for all the dates I asked.
The Grand Hyatt Cannes didn't have any Points + Cash space
The Hyatt Escala Lodge and Grand Hyatt Kauai only had Points + Cash space for some of the dates
For what it's worth, there were standard rooms available, and traditional points awards available for all dates I enquired about
I've also read reports of Diamond members already being able to apply suite upgrades to these reservations, though apparently it takes a few phone calls to find an agent willing to do it, since the rules for the upgrades say they're only available on "eligible" rates. I suspect as time passes this will become less of an issue.
Bottom line
All things considered I actually think Hyatt's changes which kicked in today are positive, so I'm extremely pleasantly surprised. While six hotels joined the new category seven and went up by 8,000 Gold Passport points per night, the addition of My Elite Rates and especially the addition of Points + Cash more than outweighs that and any other award chart devaluation, in my opinion.
I can't wait to book Points + Cash stays at Category 6 properties and apply suite upgrades and earn elite stays/nights that count towards promotions. Now we can only hope that Points + Cash availability stays this good.