Yesterday I posted about Hyatt's new "My Elite Rate," which offers a 20% discount on revenue rates for elite members on a capacity controlled basis. When you look up these rates on hyatt.com there is something interesting in the rate rules, which reads as follows (bolding mine):
– Valid 07JAN14-31DEC14 – Must provide valid Hyatt Gold Passport Membership at time of booking – Valid tiered member must be the registered guest staying at the hotel – Rate valid for Platinum, Diamond, Lifetime Diamond, Diamond Premier, and Courtesy Card tiered members only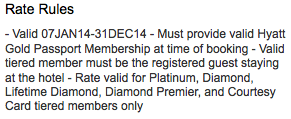 We know about Hyatt Platinum, Diamond, Lifetime Diamond, and Courtesy Card status (Hyatt's invitation only status level), though I had never heard of Diamond Premier status.
I received a handful of emails from readers that noticed the same thing, asking what Diamond Premier status is, so I shot off an email to Hyatt to get an answer. As it turns out it's not a "secret" tier for high value Diamond members, but rather a program for owners of Hyatt hotels, whereby (I assume) they're getting that status designation with Hyatt.
Now, there's no doubt that hotels rank guests even within their elite tiers, but Diamond Premier status isn't one of those cases where it's a secret elite tier for "conventional" high value customers. If nothing else, going back a few years Hyatt ranked guests on a scale ranging from "V1" to "V8," which I believe is still going on. It's explained in this FlyerTalk post:
V1 is infact for high profile people as well as hyatt execs and other company execs
V2 is for VIP of the hotel itself, not so much of Hyatt as a company. Sometimes a diamond member can get a V2 based upon the hotel
V3 is the normal diamond classification
V4-V7 are for different categories of sales that will place people in.
V8 is a person who has had a problem at a hotel and the hotel has an alert to look out for this person as they have had issues at another property before or complain often.
Hopefully that clears it up…