There's always a balance when it comes to reporting on events and how they impact travel. Like many of you, we've been glued to coverage and updates of Hurricane Irma for the past several days, and there have certainly been plenty of travel-related announcements, but there's a point where it can be a bit much, hence why we haven't reported on every hurricane development over the past few days.
I think this image from U.S Customs and Border Protection showing the status of the various Florida Ports of Entry sums things up in many ways: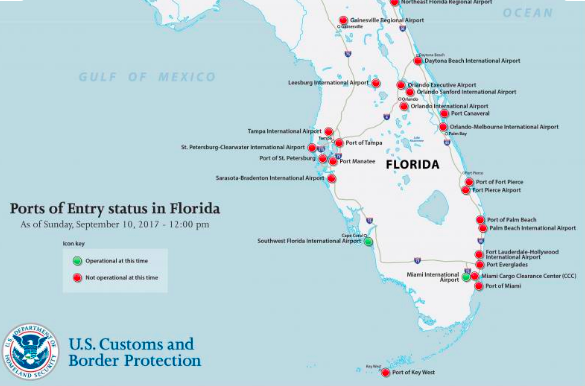 Ben's parents also live in the Tampa Bay area, and like most people in the city, hadn't evacuated based on the initial trajectories. So it was a very tense weekend, and while Floridians certainly have a long and difficult recovery ahead of them, and there will be continued impacts to other cities as Irma heads north, we're breathing a bit more easily this morning.
That being said, there are still major and serious storms throughout the Southeast, and over 7 million people are without power. Nearly 4,000 flights have been cancelled. And as even minor travel disruptions tend to impact the entire route network, an update seems appropriate.
The status of Florida Airports
Almost without exception, every airport in Florida from Tallahassee and Jacksonville down to Key West received rain and major wind gusts during Irma, in many cases destroying radar and other instruments.
South Florida airport weather readings. At least what's left of them. #Irma pic.twitter.com/9LInpCIFQ1

— Jason Rabinowitz (@AirlineFlyer) September 10, 2017
As a result, most airports continue to be closed today, and possibly tomorrow. Crews have to clear debris, inspect runways and taxiways to make sure they're safe for heavy airplanes, fuel lines and tanks may have to be repaired, and so forth. There's a lot of work to do.
In all cases, you should definitely not go to the airport if your flight isn't operating. And for the most part, any flights scheduled over the next few days probably aren't operating. To give some highlights:
If you intend to travel to or through Florida in the next few days, you'll want to contact your airline ASAP to make other arrangements.
If you're flying American or JetBlue anywhere, you'll want to pay particularly close attention to your flights.
Having the Florida airports closed means 24% of American's flights for today have been canceled, and the Caribbean situation has led to 41% of JetBlue's flights being canceled, so there's a significant impact on the fleets and staffing for both carriers.
Irma continues to pose a threat to the Southeast United States
While Florida seems to have avoided the worst-case scenarios of direct hits on Miami or Tampa, the storm isn't over.
Jacksonville has major flooding, the sea levels are incredibly high in Charleston, and there are high winds and tornado warnings across the Southeast.
As a result, we're seeing major flight cancelations. There have been almost 1,000 flights canceled at Atlanta alone, representing 19% of Southwest's operations, and 13% of Delta's. Your plane or crew could be impacted even if you aren't flying through the Southeast, so you'll want to monitor pretty actively.
Post-Irma impacts to Leeward Islands
As was unfortunately expected, the smaller islands in Irma's path have been decimated. There are major issues with food and supplies in Saint Martin, and we're seeing some similar stories out of the U.S. Virgin Islands.
The Saint Maarten airport, particularly, appears to be in very bad shape.
Princess Juliana International Airport is completely destroyed.. #HurricaneIrma #PrayForSXM pic.twitter.com/FpPqM2Ushh

— Chiara Rojo (@chiararojosxm) September 7, 2017
At this point it's difficult to know when or if these islands will be ready to receive non-relief flights. If you have imminent plans to travel to the Leeward Islands, and aren't a disaster-relief specialist, you'll obviously need to cancel them.
If you aren't traveling for a few weeks, I would probably sit tight for a few days. Assessing the damage will take time, and I would expect that we'll see more generous cancelation policies as the situation becomes more clear. And Irma is still causing problems as it heads north, so let's try to keep the phones open for those traveling in the next couple of days.
Change your flights for free
In general, the airlines are going to accommodate you if you're able or willing to move your plans around — after all, they don't benefit from having cranky passengers stuck in the terminal either. There are nuances to each policy though, so you can see the individual policies on the airline sites.
Anyway, you can find the current change rules for each airline here:
Keep in mind that as the severity of the storm increases, the parameters of the waiver can change. We've already seen that with Irma, and I expect that we'll continue to see exceptions made due to the residual impacts of the storm. Some people have already reported being able to cancel and refund their flights for free, even if the carrier's waiver doesn't specifically allow it.
Basically — call. And if you get an answer that doesn't make sense, try calling again.
Tips for rebooking
Regardless of the reason for flight cancelations, phone queues can get ugly fast. Given that many people need to rebook at the same time, you might be able to get new plans confirmed more quickly by using an alternate method. Miami and Atlanta are massive international hubs, so this is going to get complicated quickly.
Try the club lounge
If you're already at the airport en route to/from/through the Southeast, start with the lounge agents. They tend to have fewer passengers to deal with than the gate agents, and thus may have more time (and more patience), when it comes to rebooking your flight.
Reach out on social media
I've had good luck changing flights by sending direct messages to American via Twitter. Several other airlines have a Twitter presence as well, and while they might not be able to fix your reservation, it's worth trying:
Avoid the domestic call centers
If you're willing to spend a few dollars on Skype or Google Voice credit, calling the international call center for an airline can often save you an hour or more of hold time.
Almost all of these call centers have an English-speaking option, but you can also call Australia, or even just Canadian numbers can get you through faster.
¿Hablas Español?
If you have a rudimentary understanding of Spanish (like, just enough to get through the computer system), you can try the Spanish-speaking numbers. Again, fewer people calling means shorter hold times, and the agents typically speak English as well.
American Airlines Spanish line: 1-800-633-3711
Southwest Spanish line: 1-800-VAMONOS
United Airlines Spanish line: 1-800-426-5561
Be your own advocate
This is maybe more a life philosophy than one specific to travel disruptions, but it holds true — no one cares about you (or your travel) as much as you do.
So be nice, but ask questions, present alternatives, be prepared to book your own hotel rather than waiting in line with a hundred other people for a voucher, and so forth.
If you stand around and wait, you will almost certainly have a worse time than those who are actively finding solutions to the situation.
Check your credit card coverage
If you purchased your tickets with a credit card, you may have some additional protection and benefits when your flight is delayed. Check with your credit card company, or see our list of popular travel cards with good delay coverage.
These cards will often cover your hotel, or the cost of a new flight, and so forth, so it's good to know both the benefits and the requirements to file a claim.
Bottom line
The impacts from Irma are obviously tremendous, and the recovery will be long. The airports will likely be operational well before the cities they serve, but even that will take some time.
As I say every time we have a weather event, you want to be as proactive as possible in these situations. Pay attention to your flight, along with the status of your inbound aircraft, and be prepared to react quickly and creatively.
If you have plans to travel to the region, I'd suggest rescheduling now, as the ground situation is complicated enough without tourists. And keep in mind that even if you aren't traveling in, to, or through the storm corridor, your aircraft might be, so you could still be impacted by this storm.
This isn't a situation you can control, but you can lessen the impact on your life. The best thing to do is pay attention, and be as proactive as you can.
If you're in the path of the storm, please be safe, and know that we're thinking of you.