Etihad is behind the times when it comes to parts of their website. For example, while it has long been possible to book the Etihad Chauffeur through Etihad's website, it hasn't even been possible to select seats online for a partner booking. In the past I shared a workaround for selecting seats through Etihad's website, though unfortunately that trick stopped working a while back.
Their call center doesn't usually have long hold times, though it's still annoying to have to pick up a phone to select seats. And for that matter their call center has a super annoying prompt system, and the representatives ask quite a few verification questions as well, so it's not the fastest process in the world.
Well, it seems like Etihad now lets you "legitimately" select seats through their website, though it's not that straightforward of a process.
To select seats you'll first need your Etihad confirmation number. If you're booking through a partner airline (like American) you'll want to ask them for the Etihad confirmation number. For example, if redeeming American miles on Etihad there's no way they can assign those Etihad seats for you, though they can give you the Etihad locator.
Then go to Etihad's website, where on the right side you'll see the "My trip" section. Enter your booking reference and last name, select the "Modify booking" option, and click "Retrieve booking."
On the next page you'll see a dropdown at the top which reads "Additional Services." and then click "Add Baggage / Seats."
On the next page you'll see options to pay for extra baggage, though you'll just want to click "Continue."
Then you'll be on the seat selection page, where you can select your preferred seats flight-by-flight.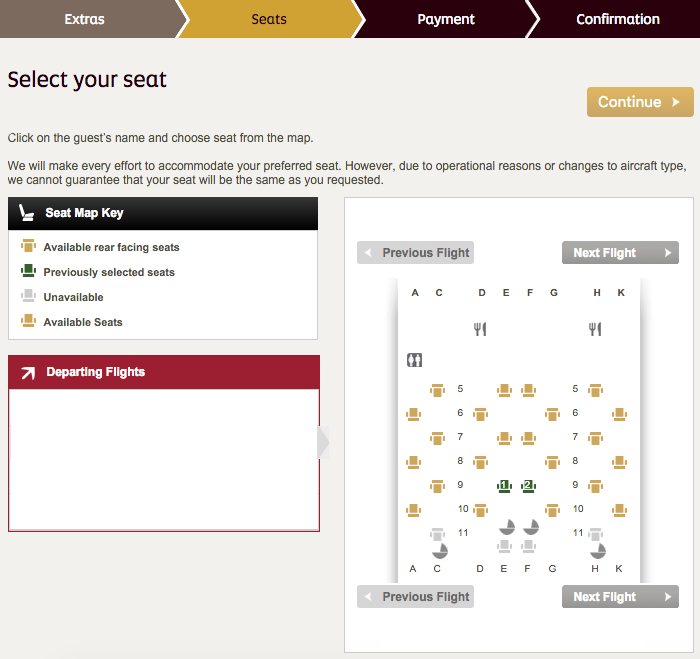 The next page will confirm the seats you assigned.
Bottom line
Kudos to Etihad for finally adding a seat selection functionality to their website, including for partner bookings. While the old workaround was better than nothing, it had stopped working, so calling was the only way to select seats for such bookings. This should save everyone a few minutes when making Etihad bookings.
(Tip of the hat to Jimmy)