Maxim has an interesting article (I realize the phrases "Maxim" and "interesting article" don't usually go in the same sentence) in which they interview Heather Poole about how to seduce a flight attendant. Heather is pretty awesome and kind of the voice of flight attendants worldwide, and I think there's actually some decent advice in here.
No personal experience, of course (hi, mom!), but based on what I've witnessed from others over the years, I think many of these tips are actually quite useful.
Like the one that the article starts with:
One important thing to remember: it's not illegal to join the mile-high club, but it is illegal not to follow crew commands. Keep that in mind.
This is, indeed, true. After all, the maximum occupancy of the Emirates shower suite is two. Why? So a passenger that needs extra assistance can be helped. It's up to your friendly crew to interpret what constitutes "assistance," of course. 😉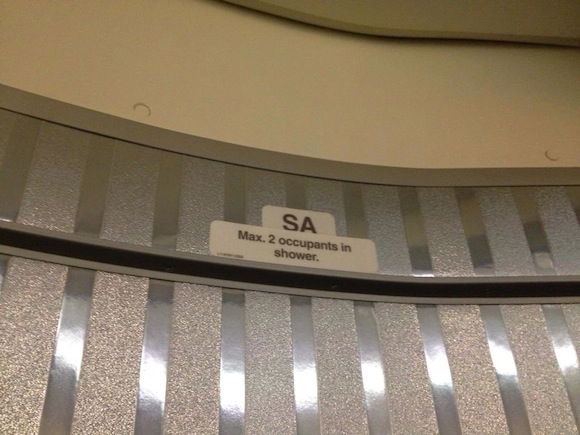 What's are the odds of getting a flight attendant's attention?
About as good as they'd be in any other public environment. Start with a 'hello' when your flight attendant greets you at the boarding door. You'd be surprised how many people don't even acknowledge our existence when we say, 'Good Morning' when they walk on board. During the service, try using 'please' and 'thank you.' Good manners are rare and really stand out these days. Mix in a little eye contact and we might blush. It's nice to be noticed.


Let us do our job, but once the service is over walk to the back and ask for a glass of water or something. While she's pouring the drink, ask a question about where to go and what to do in the city you're traveling to. That should get the ball rolling. You'll know you have a shot if she doesn't walk away to pick up trash or shoo you off the linoleum.
What else can you do to get their attention?
When you see someone who needs help with something, like a bag, by all means help. Nothing says 'nice guy' more than that. My heart kind of swoons whenever I see somebody helping their fellow man, it's such a rare thing these days. And I'm prone to follow it up with more wine or water for them. But who knows, you might get farther with someone else. I almost cried once when a businessman switched seats so my son and I could sit together. I hadn't even asked him. Kindness is sexy, and anytime is a good time to pull that trick out of your hat.
Check out the full article.
I think the moral of the story is to be a nice person and take the "hints" from the flight attendant you're interested in. If they're not showing interest, don't push it. That's creepy, especially in a confined space.
Similarly, chances are you won't impress a flight attendant by loudly closing a billion dollar deal on your cell phone during boarding. Or by playing Words With Friends after the boarding door has closed.
Anyone have any other tips to share, regardless of whether you were on the giving or receiving end of the attempted inflight pickup?