I'm a huge fan of Uber, and use them a lot. I don't have a car given that I live in hotels full time. And I find Uber to be the next best thing. UberX is in virtually all cases cheaper than a taxi, while UberBlack often isn't that much more, but is a lot more comfortable. Also keep in mind that Uber has a pretty lucrative referral program, whereby you can get a free ride of up to $20 by being referred.
Generally I find Uber drivers to be fantastic. And that probably has to do with the instant feedback loop. With every ride you're asked to rate the driver, and have the option of leaving feedback. The driver won't actually see what score you leave them, but instead will only see their overall score.
But here's what most people don't realize — Uber drivers are also rating Uber riders. Just like you have the option of giving them a 1-5 star rating with every ride, they also have the option of giving you a 1-5 star rating.
Now the truth is that the rider's rating doesn't matter quite as much as the driver's rating. In other words, if a driver's average rating falls below ~4.5 stars or so, they could be in trouble. Meanwhile as a rider you're unlikely to be "rejected" from a ride unless you have a really low score.
With that in mind, Uber actually lets riders request to see their rating.
How to check your Uber rating
To check your Uber rating, simply open up the Uber app and be sure you're signed in. At the top left you'll see a button which opens up a bunch of options.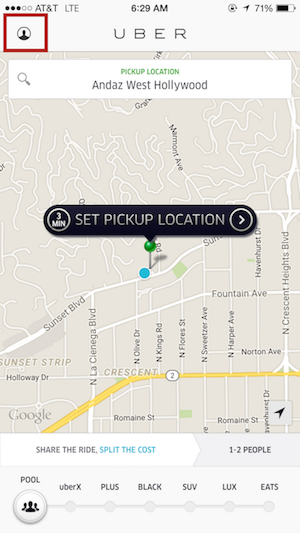 Then click on the "HELP" button.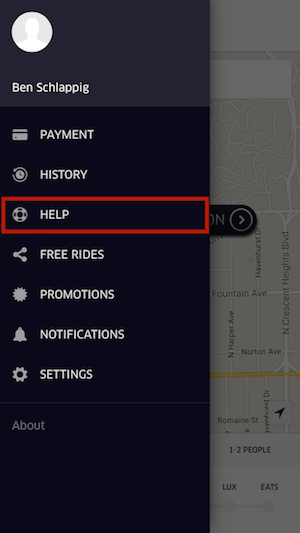 Then click on the "Account" button.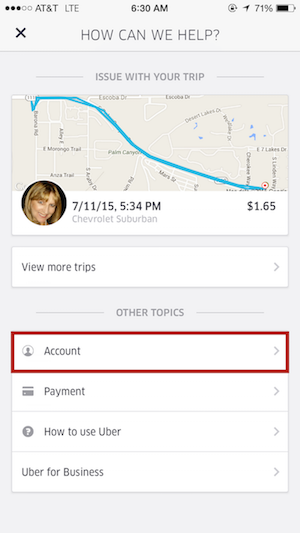 Then scroll to the second thing from the bottom of the page, which reads "I'd like to know my rating."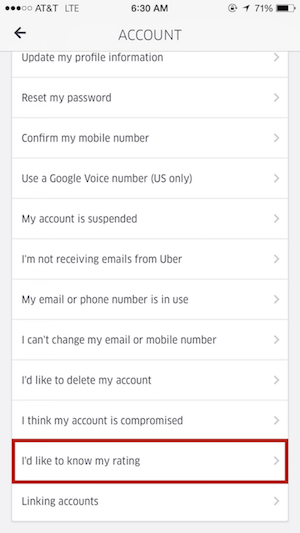 The next page explains what you can request, so hit "Submit" to request your Uber rating.
I'd like to know my rating

After each trip, riders and drivers are given the opportunity to rate one another based on their trip experience.

The rating system works to make sure that the most respectful riders and drivers are using Uber. Ratings are always reported as averages, and neither riders nor drivers will see the individual rating left for a particular trip.

You may learn your average rating by tapping Submit below.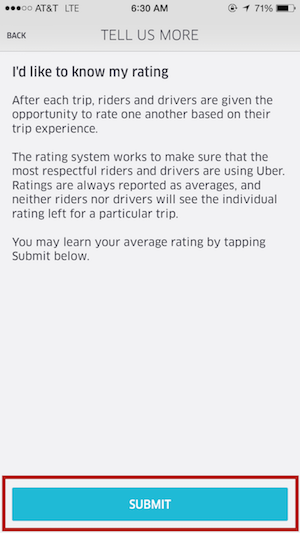 Then lastly you'll get a pop up confirming your request.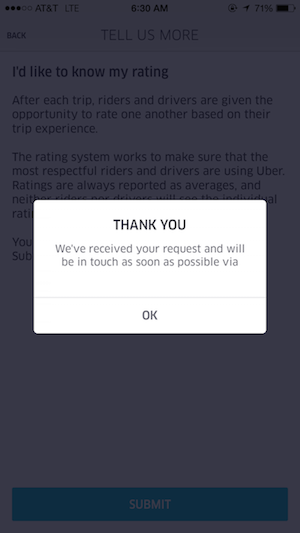 Within a couple of hours you should receive an email from Uber with your rating. Here's the email I received:
Hi Ben,

Thanks for reaching out! Your rating is an average of all your trips taken so far. At this time, it is 4.8.

Fostering a community of mutual respect between both riders and drivers is important for all to get the most out of the Uber experience. You can find out more about how ratings work here.

I've collected some additional information that may be helpful for you related to ratings:

Please let me know if you ever have any other questions. I'm always happy to help!

Jonica
help.uber.com
I was damn near devastated when I found out I only had a 4.8 rating, given that I go out of my way to work for that 5 star rating. 😉 Presumably that includes the one star rating I once got from a driver who insisted I had to tip, but…
Is the Uber rating system broken?
I'm a pretty easy going guy, so out of hundreds of Uber rides I've only once not given five stars. Not because all rides were perfect, but ultimately because I'm only going to give less than five stars if the driver truly intentionally wrongs me somehow (as the one driver did who demanded a tip).
But is that really how the system should work? On a scale of 1-5, should giving 5 stars really be the default, as opposed to 3 stars, which presumably would be average? Uber seems to think so, because drivers with less than a ~4.5 star rating can get in trouble.
I actually had a conversation about this with an Uber driver a while ago. He was really nice, though I was sort of shocked about what he had to say about how he rates riders. He said "yeah, if someone is just on their phone the whole time or not friendly, I'll just give them 2-3 stars." I was sort of taken aback by that, given that if someone took that approach towards rating him, he wouldn't have a job.
Bottom line
Unless you're consistently rude or causing problems, your Uber rating shouldn't matter much as a rider. You're unlikely to have your ride rejected because of your rating, unless it's really low. Still, it can be interesting to see what drivers think of you.
So… what's your Uber rating? And do you by default rate drivers 5 stars, or what "system" do you use?