Yesterday I wrote about the situation that unfolded on Thursday's flight DL129 from Seattle to Beijing. Someone seated in business class (who was the son of an employee) clearly lost it and was on something, and tried to open the emergency exit. While passengers sometimes go crazy, they can typically be detained with reasonable force.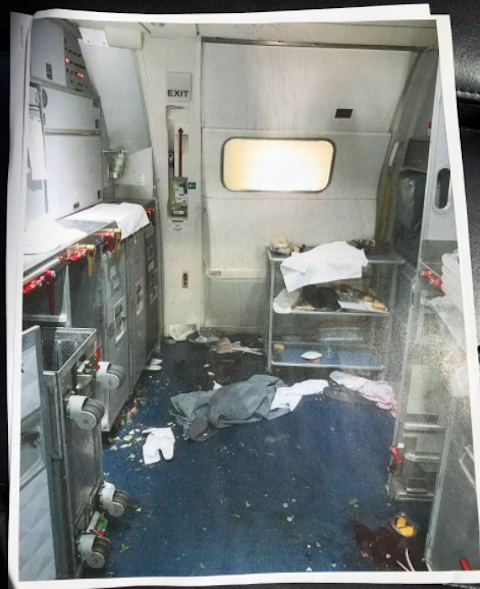 That wasn't the case here, however. The passenger punched several others (including flight attendants and fellow passengers), tried to throw dessert wine bottles at people, etc.
What's interesting is that the flight attendants tried to smash two bottles of wine over his head. One apparently broke over his head, though he didn't seem to be impacted, and responded with "do you know who I am?" (well, now we all do).
I think what's clear based on this story is that the guy was on something serious, where he couldn't feel pain. Anyone else would likely be debilitated if a wine bottle was smashed over their head, while that wasn't the case for this guy.
https://twitter.com/ScorpiScorpi808/status/883506664799739904
In the comments section of yesterday's post, it's interesting how several people questioned whether it was appropriate to use as much force against him as they did. For example, Bryan T said the following:
Serious question. If someone tries to do something stupid like that, does it really give you free reign to do whatever you want to the guy?

I know they want to subdue him, but that gives someone Carte Blanche to smash a wine bottle over him?

He obviously can't open the door due to pressurization, I question the need to try and kill him.
Greg said the following:
The wine bottles by the FA are melodramatic. Flight crew should have known the door wasn't an issue.

Let him fail then get him when he backs away.
They're valid questions, though let me say first and foremost that I think the crew and passengers deserve to be commended for their actions, because this was clearly a highly unusual situation.
However, I do think the above points are worth addressing. The passenger didn't pose an immediate threat to the aircraft itself (which is different than posing a threat to the people on the plane):
You can't open the emergency exit at a high altitude, so no matter how hard he tried, he wouldn't have been able to open it until the plane descended to a lower altitude
Some mentioned he could have entered the cockpit, though nowadays there are reinforced cockpit doors, so there's no way he could have gotten in the cockpit
What that doesn't address is how incredibly violent and out of it he was. He was punching people, throwing bottles at people, and clearly wasn't in a position to be reasoned with. The absolute top priority was to get the zip ties on him and have him sufficiently restrained so that he couldn't do any more damage.
But where should the line be drawn in terms of what kind of action can be taken against someone like that? Personally I think there isn't a limit. It's one thing if someone is just intoxicated, being belligerent, etc. However, it's completely different when someone is having what can only be described as an out of body, drug induced (or something) reaction. This sounds like something out of a horror movie.
It's true that he didn't pose an immediate threat to the aircraft as such. That's to say that as long as he was restrained prior to the plane getting to a lower altitude, there was no risk that he could have opened an exit or entered the cockpit. However, he absolutely did put other passengers' lives at risk with his violence.
When someone can't be reasoned with and is having an out of body experience, I do think it gives the crew and passengers carte blanche to use whatever force necessary to stop him, even if it had been deadly. Fortunately that could be avoided, but I don't think any of the passengers or crew crossed the line in trying to stop this guy. I'd rather see this guy seriously injured than anyone else on the plane.
What do you guys think?