Many of you probably heard about an incident that occurred on yesterday's Delta flight from Seattle to Beijing, DL129. At first the details were limited, though we knew that several people were injured in an altercation, and that the plane returned to SeaTac Airport a couple of hours after it departed.
Now the details have emerged of what exactly went down on the flight, as a criminal complaint has been filed against Joseph Hudek IV, the passenger who caused the disturbance. Here's the report, per @jonostrower:
Criminal complaint against Joseph Hudek IV on #DL129. It was an absolute melee in the forward cabin. Worst buddy pass flyer ever? pic.twitter.com/oPXUGl5pPs

— Jon Ostrower (@jonostrower) July 7, 2017
You can read the entire complaint, though I'll share a few of the highlights here. First of all, this situation was much crazier than I expected. I thought this was some mild disturbance, but no, a full fledged fight occurred, as the crew and passengers fought to detain the passenger. They even tried to control the passenger by smashing a wine bottle over his head, and that didn't work.
Here's what went down:
The passenger who caused the disturbance was seated in 1D, and was actually flying on a "dependent" pass, so he was related to a Delta employee (someone is getting their flight privileges revoked, me thinks)
About an hour after takeoff he went into the forward lavatory, then exited quickly, asked a flight attendant a question, and then went back into the lavatory
When he emerged from the lavatory he lunged towards the emergency exit and tried to open it, though of course it didn't open due to the pressurization difference, as the plane was at such a high altitude
Two flight attendants and other passengers tried to restrain him, though he wouldn't give in, and even hit a passenger in the head with a dessert wine bottle
As passengers continued to try and detain him, he punched several people in the face, and kept trying to open the exit
A flight attendant smashed two wine bottles over his head in an attempt to stop him, and one even broke over his head; he didn't seem impacted, and simply responded with "do you know who I am?"
A passenger got him in a headlock, though he managed to get out; eventually enough passengers assisted so that they could get zip ties on him, and then they held him down until the plane landed in Seattle
I mean, seriously, take a look at what the galley looked like on landing: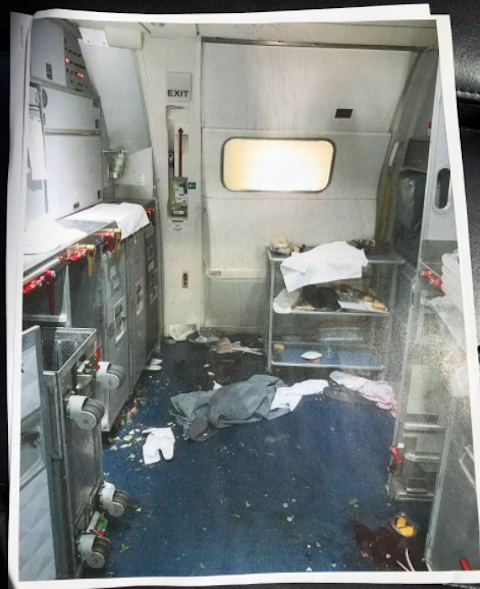 The passenger is in custody, and faces up to a $250,000 fine and 20 years in prison.
A big kudos to the crew and passengers who stepped in. Clearly something wasn't right in this guy's head, so hopefully he gets the help he needs.
But seriously, wow, what a situation…