While the other perks are somewhat straightforward on Hilton Credit Cards, a lot of people don't have a sense of how much value you can get out of 100,000 Hilton points. That's understandable, since Hilton doesn't have formal award categories anymore (and even when they did, there was a huge variance within each category).
For example, the DoubleTree Kuala Lumpur costs 10,000 points per night, and Hilton offers elite members a fifth night free. That means that five nights would cost you 40,000 points, or an average of 8,000 points per night. That means that 100,000 points would get you 12 free nights at that hotel.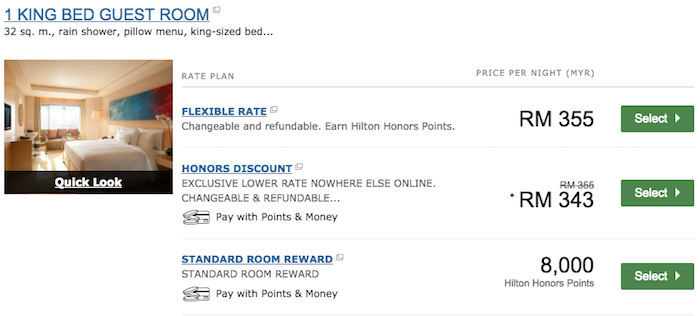 On the other end of the spectrum, Hilton's most expensive properties go for 95,000 points per night. This includes properties like the Conrad Koh Samui.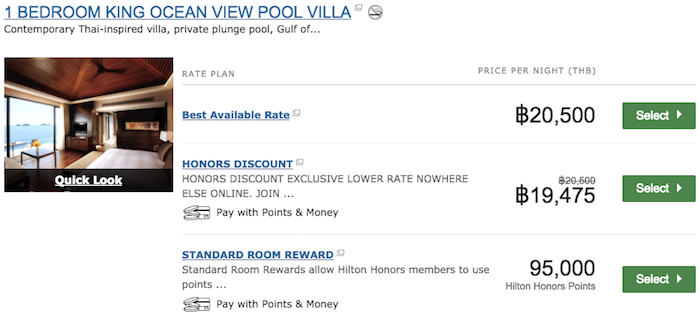 But Hilton also recently introduced Points & Money awards, which allow you to pay part points and part cash towards the cost of any stay. It actually turns out that this is a pretty decent value.
You can pretty reliably get over 0.5 cents worth of hotel "rate" per Honors point under the new program. The exact value varies based on the hotel or date, but I'm finding that to be a pretty average redemption value.
Let me give a couple of real-life examples — this isn't cherry-picking, but rather the upcoming Hilton stays I'm looking at.
I'm planning on visiting Tallinn, Estonia soon, and the rate at the Hilton Tallinn is 133EUR.

Alternatively, I could redeem 27,000 Honors points, which is roughly 0.54 cents (in USD) per Honors point.

Or I can redeem part cash and part points towards a redemption, at roughly the same ratio. You could redeem 13,000 points to take 63.98EUR off the cost of the stay, which is also roughly 0.54 cents (in USD) per point.

As another example, I'm spending a night near JFK soon, and am considering the Hilton. All the hotels near JFK are pretty expensive that night, and the Hilton costs $261.02 all-in.

Alternatively I can redeem 50,000 points, which is 0.52 cents per point.

Or I can book a Points & Money award, and redeem 25,000 points in lieu of paying $148.77. That means I'd be getting roughly 0.6 cents per point.

Maybe I'm in the minority, but the Points & Money awards are actually working out quite well for me. Nowadays it's easy to consistently get more than 0.5 cents of value per Hilton point at a majority of properties. So I'd say 100,000 Honors point should easily get you more than $500 worth of hotel stays.
However, do keep in mind that when you redeem points there's the opportunity cost of the points you're not earning by booking an award stay, so that should ultimately be valued in as well.