On Tuesday I had the chance to fly United's brand new 777-300ER from San Francisco to Hong Kong, which featured their new Polaris business class seats. While United has been marketing the Polaris product for flights since December 1, 2016, in reality only a few planes have the new seats so far (specifically, only the 777-300ERs). Furthermore, the first 777-300ER just started flying internationally as of this week.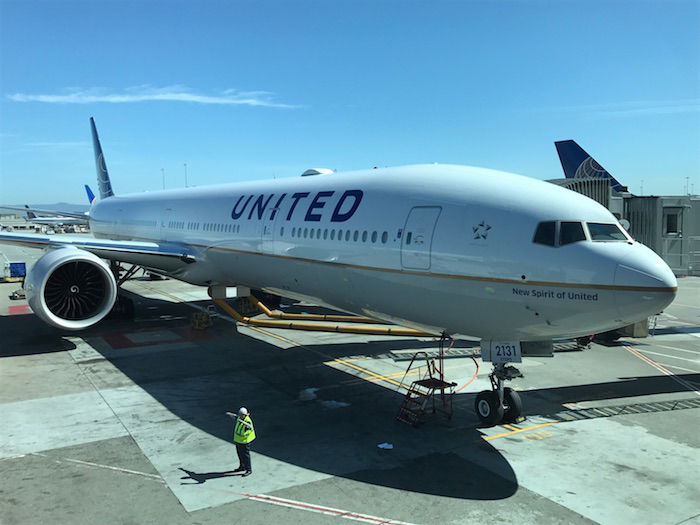 There are some great business class seats out there nowadays, and many of them are common configurations that different airlines share. United, on the other hand, went with a custom design from Zodiac, which looks a bit unusual on the surface. So I was curious to check out the seat quality for myself on this 14 hour flight.
I've seen some others share their thoughts on the seat, though feel like I haven't seen many direct comparisons between this product and other leading business class seats. So in this post I first wanted to talk about what makes a great business class seat, what I consider the best existing business class seats to be, and where United ranks.
What Makes A Great Business Class Seat?
Everyone has different preferences, though here are the most important factors that make a great business class seat, in my opinion:
Not having a seatmate/direct aisle access. I have a strong preference for any seat where you don't have to sit next to someone, and where you have direct aisle access from every seat. Many airlines strike a great balance here, by having some "single" seats, and also some seats where people can sit together.
Lots of privacy. This might sound the same as not having a seatmate, but it's not. There are plenty of solo seats which feel "exposed," because there's not any built in privacy. Similarly, there are plenty of seats with seatmates where you still have full privacy thanks to the presence of shields, barriers, etc.
Plenty of room for my feet. While many airlines have fully flat seats in business class nowadays, I find the biggest deficiency to often be the lack of room for my feet. What's the point of a fully flat surface if you have to squeeze your feet into a tiny cubby where you can't sleep in a natural position?
The gold standard of business class seats
The way I see it, the two best business class configurations in the world are reverse herringbone seats and Apex Suites.
Reverse herringbone seats
This is a common business class configuration offered by many airlines in many forms nowadays, including Air Canada, Air France, American, Avianca, Cathay Pacific, Finnair, Qatar Airways, and many more. They all have minor differences, though overall I think they're similar enough so they can be lumped into one group without being too unfair.
There's a lot to love about reverse herringbone seats. Each seat has direct aisle access, and there are only four seats per row. Furthermore, all the seats are roughly equal, so there's not a huge variance in quality based on where you're seated.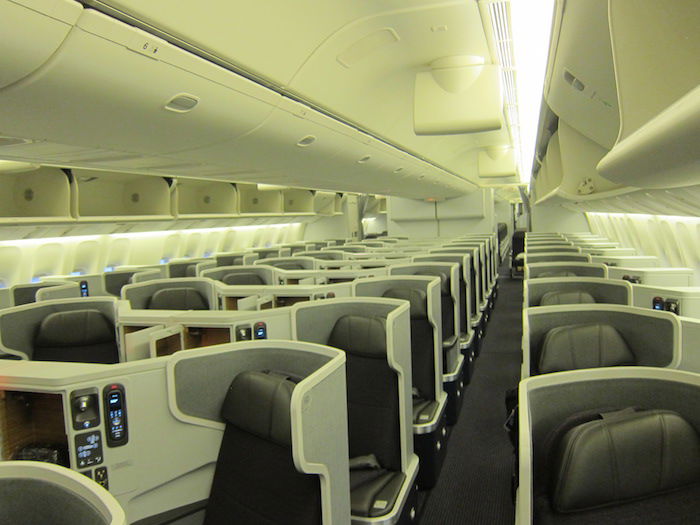 The window seats are angled towards the window, while the center seats are angled towards the center. The seat controls are easy to use, and there's plenty of counter space. Your feet go on a fairly spacious ottoman, and the TV swivels out from the seat in front of you. Best of all, the seat is extremely private, since everyone is sort of facing away from one another.
However, the downside to reverse herringbone seats is that they're not ideal if you're traveling with someone, since you can't comfortably talk, even if you choose the center seats.
Apex Suites
Apex Suites aren't nearly as common as reverse herringbone seats. So far I've flown this configuration on Oman Air, Japan Airlines, and Korean Air. While virtually all reverse herringbone seats are equally comfortable, the same isn't true of Apex Suites.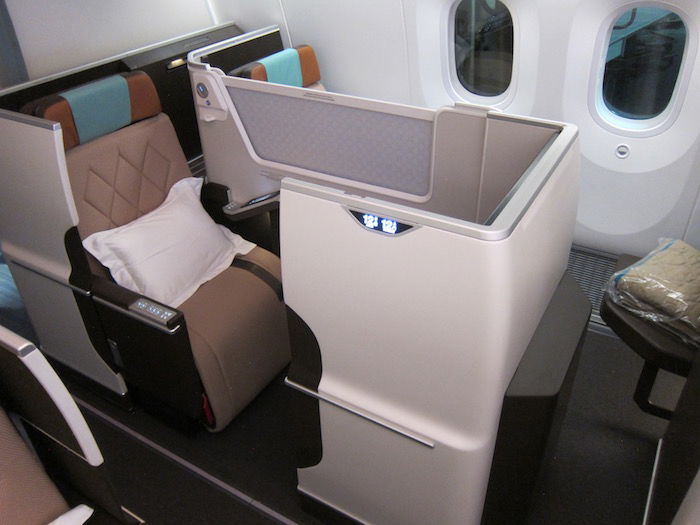 The key with this configuration is to select a window seat. The window seats are among the most private and spacious out there. You don't have to jump over your seatmate, but rather have a separate walkway through which you can enter your seat.
While you're technically sitting next to someone, there's a privacy shield between seats, so you'll never even know you have a seatmate. The seat is private and spacious, and feels like a cocoon. Perhaps, best of all, when you're in the fully flat configuration, there's plenty of room for your feet. They don't fit into some small cubby, but rather you can stretch them out as much as you'd like.
What's the new United Polaris seat like?
United's new 777-300ER Polaris cabin is massive. It has 60 seats, spread across two cabins. The forward cabin has 28 seats, while the rear cabin has 32 seats. The Polaris cabin takes up nearly half of the square footage of the cabin.

I'd also note that this is an extremely efficient layout for the airline. They fit 28 seats between doors 1 & 2, and manage to even squeeze a galley into the rear portion of that section. In a standard reverse herringbone configuration you can squeeze 28 seats between doors 1 & 2 without any sort of a galley at the back of the cabin.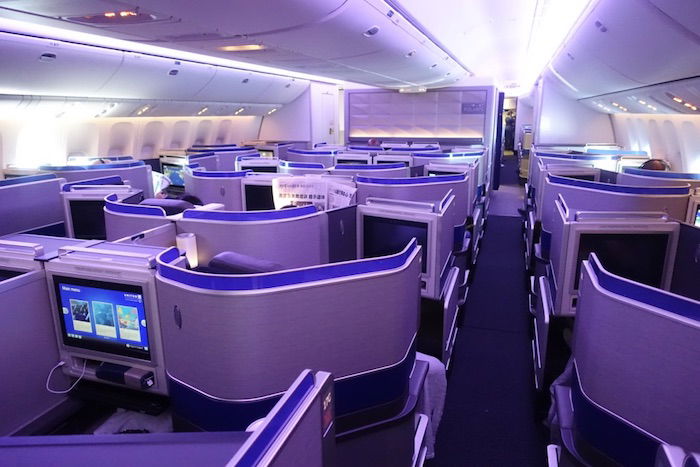 The Polaris configuration is staggered. For example, along the windows, seats are either fully forward facing and extremely private, or they're angled towards the aisle and not as private.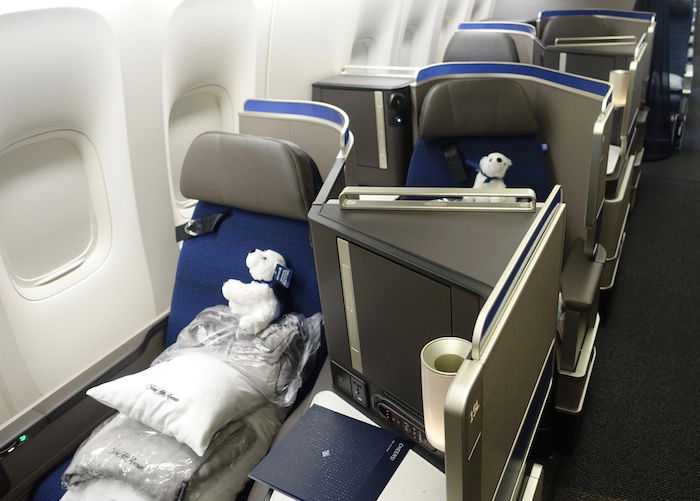 The odd numbered rows are the more private seats, as they're further from the aisle. When you're seated in one of these rows you won't see any other passenger.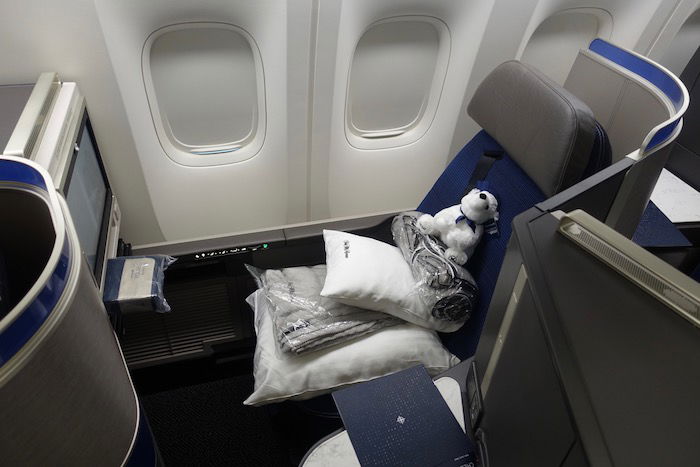 There's a console closer to the aisle, which creates a private cocoon that gives you a lot of separation from everyone else.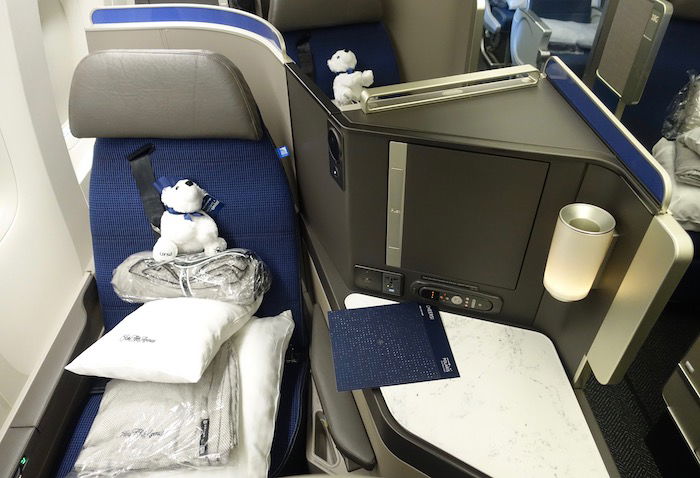 The downside to the window seats is that they feel a bit more claustrophobic. The Polaris seat feels pretty narrow. I'm not necessarily talking about the surface of the seat as such, but because you're surrounded on both sides by barriers, there's not much shoulder space. In these seats, the area for your feet is pretty tight. I wouldn't say it's super constraining, but you won't be able to bend your knees much in the fully reclined position, if that's something you care about.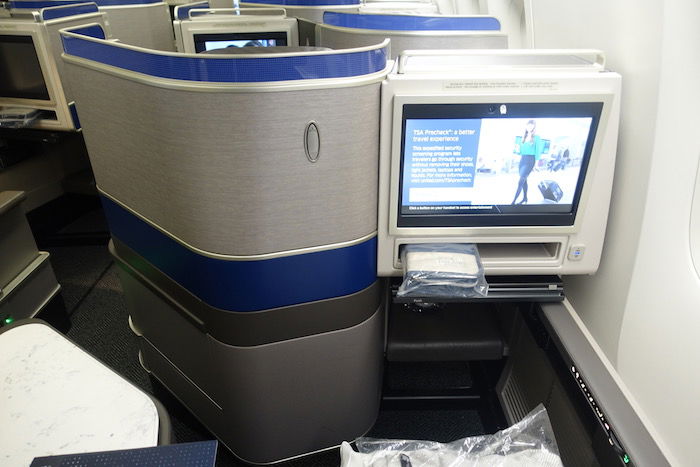 All the same things are true for the center seats in the odd rows, except you're seated just a couple of inches from the person next to you. However, there's a shield, which should be up when you board, but can be lowered if desired. So unless your seat opponent is gassy, you may not even know they're there. 😉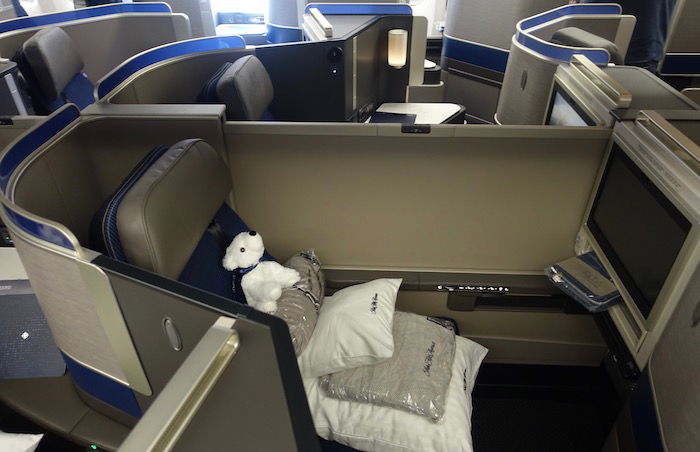 The even numbered rows have a design that takes some getting used to. The seats are angled towards the aisle, but oddly they don't start at the window. They're closer to the aisle to begin with, and then still angled even further towards the aisle.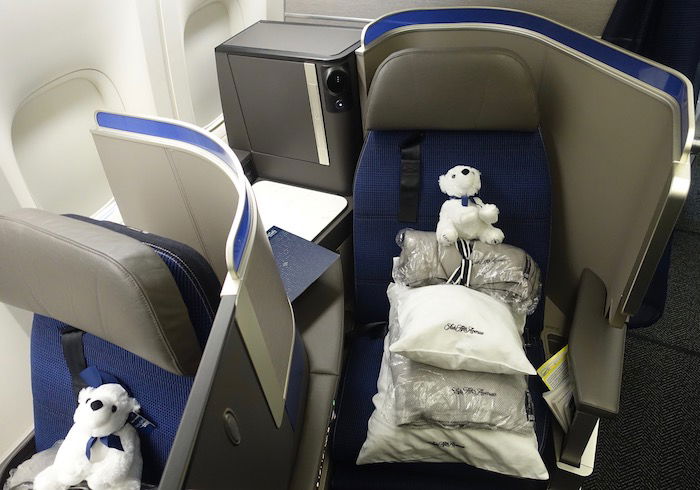 These seats are significantly less private than the window seats, and in a way you feel like you're seated in the aisle. This is the seat I had, since I booked pretty last minute.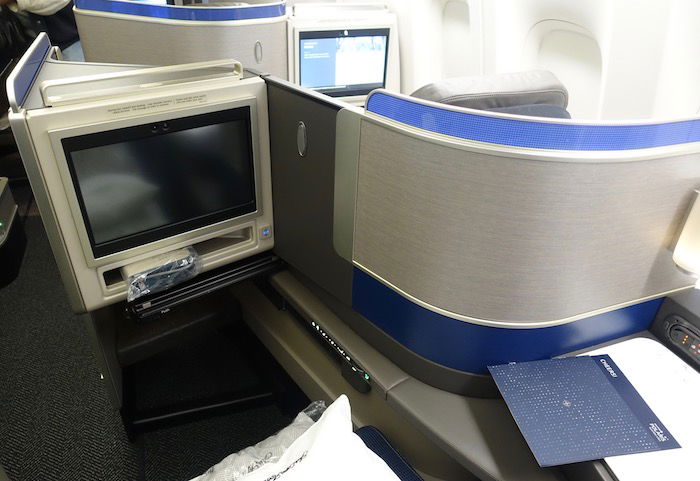 However, later in the flight the position of the seat bothered me less. United did a great job of making these seats feel as private as they can, due to the "shell" on the outside of your seat.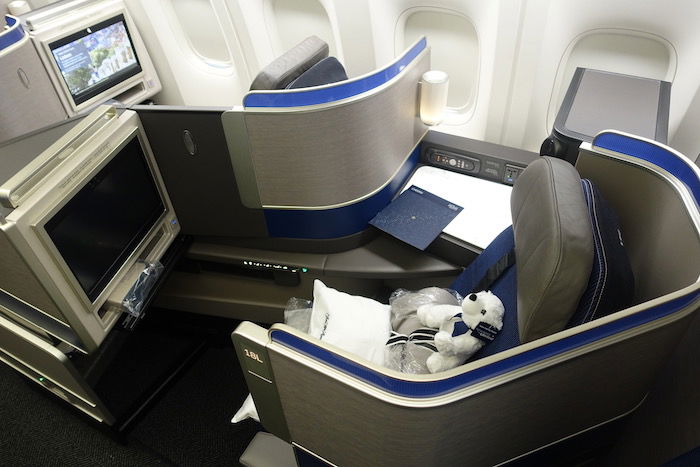 So when you're in bed mode it feels private, and you even have the advantage of having a bit more room for your knees to stretch out, due to the aisle opening.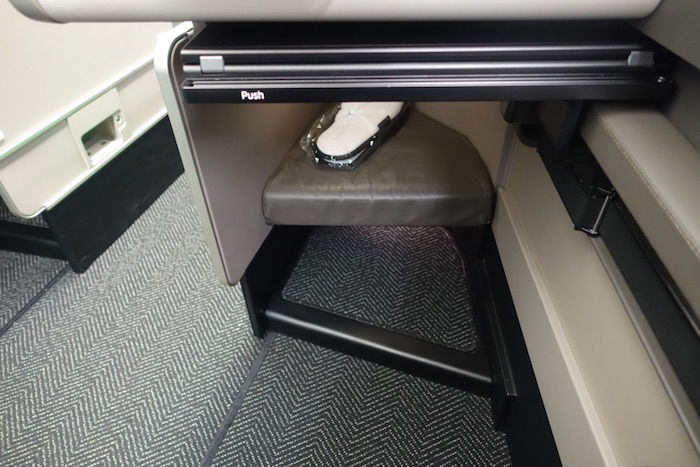 The center seats in even numbered rows are also closer to the aisle.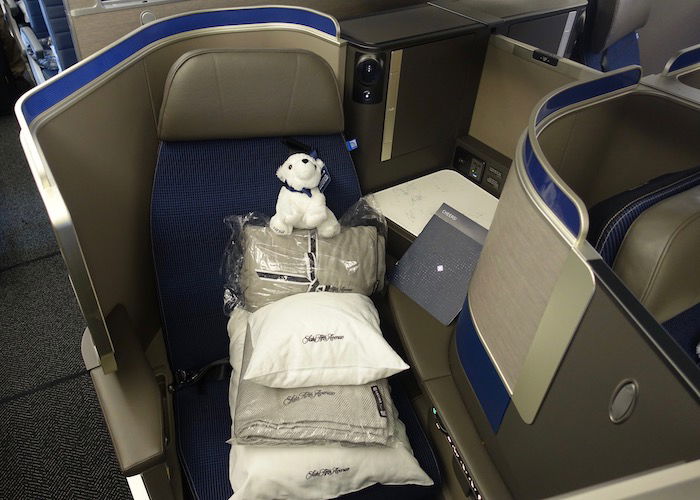 Pros & cons of United's new Polaris seats
The pros of United's new Polaris seats include:
The seats are extremely private, especially in odd numbered rows
The cabin is so chic and stylish, unlike what I've seen on any other US carrier
The ability to sit next to someone if you want, but also to have full privacy if you prefer
The counter space is great, as you can place a laptop, book, etc., there
This isn't really part of the seat/hard product, but the bedding is incredible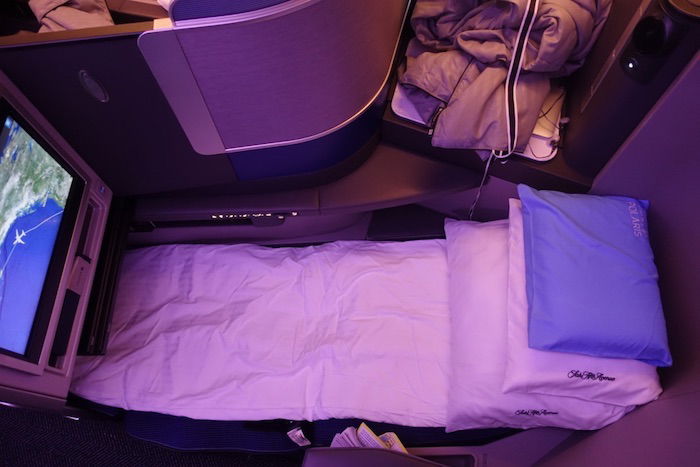 The cons of United's new Polaris seats include:
The seats feel narrow and somewhat claustrophobic, especially in the window
The seat has virtually no storage compartments, aside from a small compartment for headphones
The foot cubby isn't very spacious, so you'll be somewhat limited in terms of the positions in which you can rest your feet.
A quarter of the seats are really the best, so there's not much "equality" with these seats
Where does United's new Polaris seat rank?
Personally a window seat in an Apex Suite configuration is still my favorite product in the sky. It has full privacy, yet allows you to sit next to a travel companion if you'd like. Furthermore in bed mode you won't feel like you have to contort your body to get in an acceptable sleeping position.
I'd say this seat is roughly equal in terms of comfort to a reverse herringbone seat. I'd add the further disclaimer that this configuration is preferred if you're traveling with someone, since you can actually sit next to them, while I'd prefer a reverse herringbone configuration if traveling alone, since all seats are more or less the same.
Bottom line
United's new Polaris product is a massive improvement over the old product. Having direct aisle access from every seat and a ton of privacy is great. Is this some revolutionary new hard product that puts all other airlines to shame? No. But I'd say it's one of the top five business class hard products out there.
Now that I've covered the seat and bedding, stay tuned, because next up I'll have a "10 pictures" post about the flight experience itself.
If you've flown United's new Polaris seat, what did you think of it?