People often ask me how I overcome jetlag when traveling. My answer is pretty simple — coffee. Lots of coffee. Lots and lots of coffee.
I do talk about hotel coffee quite a bit on the blog, partly because it's something I spend a lot of time thinking about while in my hotel room jetlagged at 3AM. When a hotel has a good coffee setup it instantly gives me a favorable impression of the property, though I realize I'm probably in the minority on that one.
For example, I love the Sheraton Frankfurt Airport if for no other reason than that they set up a complimentary espresso machine and croissants in the lobby in the morning. I know it sounds crazy, but I always look forward to waking up in that hotel at 4AM for that alone. What can I say… it's the simple things in life. 😉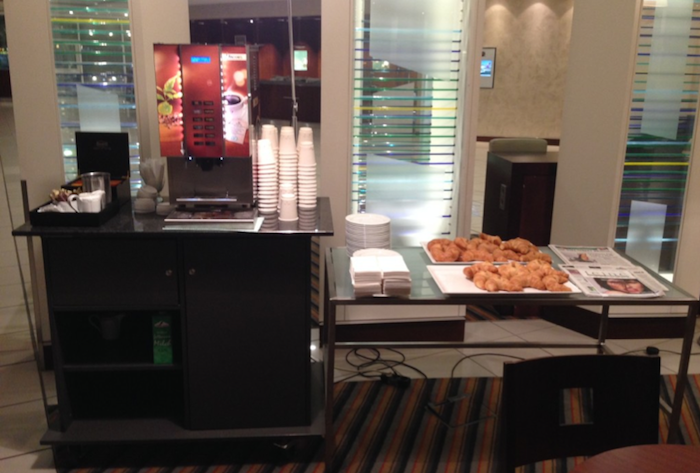 To put my past week in perspective, I spent time in Seoul, Cairo, Doha, London, Charlotte, and now Los Angeles. To say that sleep has been limited would be an understatement.
But I came to a bit of a realization this morning when I woke up at my airport hotel in Charlotte at 3AM. I was desperately in need of coffee. I went to the club lounge, which is open 24/7, though there was no coffee. I went to the lobby and asked if they had coffee. Nope. And then I did what I absolutely hate doing, but will do when the situation is desperate enough — I was going to order room service coffee. Well, as it turns out this hotel doesn't have 24/7 room service.
So I did something I've never done before — I brewed coffee in my room.
For those of you that aren't aware (aka those of you that have been reading the blog for less than a week), I'm a selective germaphobe. The thought of using an in-room coffee machine just disgusts me. And that doesn't even account for the fact that the coffee coming out of the machines is typically vile at best.
But I used it for the first time, and as I brewed coffee I couldn't help but think of how much effort must go into keeping these replenished and clean. You have to pour water in the machine, put a coffee bag in, open all the plastic wrappings with the cream and stirrer. It's not a cheap investment between the coffee machines and how much effort has to go into restocking them daily, though it's something that virtually all hotels do.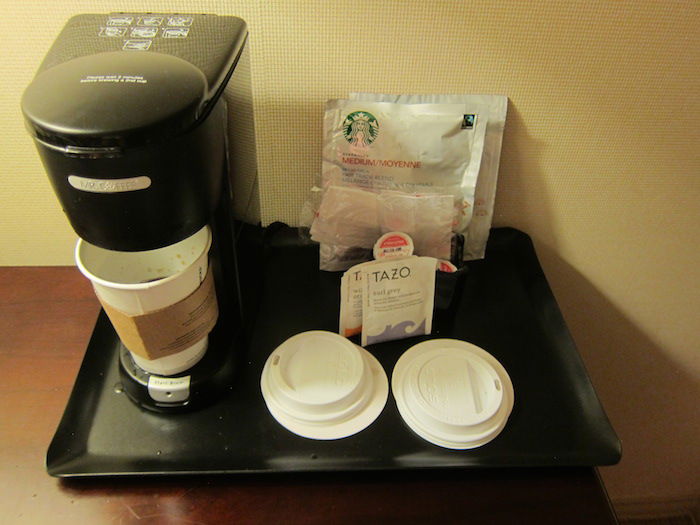 It got me wondering, wouldn't it be cheaper and more efficient if hotels got rid of in-room coffee machines and just had coffee available in the lobby 24/7?
And I guess that brings up another question I have — does anyone actually like in-room coffee, or do people just drink it because it's free and in the room? In other words, given the choice between complimentary in-room coffee and complimentary coffee in the lobby, which would you choose?
Please vote in the poll and let me know your thoughts in the comments below — I'm curious!
[poll id="47″]