I have fairly low service expectations in the UAE in general. I realize most "labor" is imported, and often working conditions aren't good, so I'm more forgiving than I'd be elsewhere.
Last night I wrote about my baffling experience at the Hyatt Capital Gate Abu Dhabi, where we got a "happy anniversary" cake. I actually thought there were psychic because it did just happen to be our anniversary, but it seems that wasn't the case.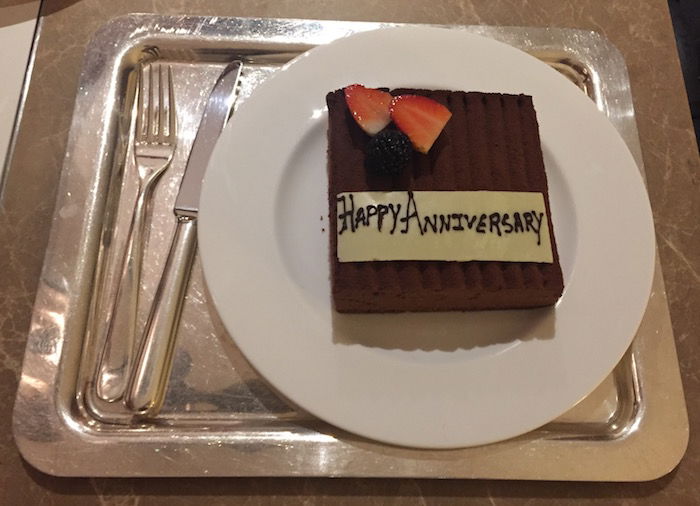 Instead the consensus seems to be that the "happy anniversary" cake was offered because I was using my Chase Hyatt Visa Card anniversary free night certificate. That doesn't really make sense given that you can use it any time over the course of the year, so there's no correlation between using the certificate and your card anniversary date. But it was certainly a nice touch and showed some attention to detail, which impressed me.
Well, that was only the second most baffling aspect of this stay.
Around 2AM we decided to order room service breakfast, since we were severely jetlagged. Ford wanted poached eggs, while I wanted the omelet on the menu, which was described as follows (it was the only omelet on the menu):
OMELETTE Cheese, Tomato, Mushrooms, Salmon and Scallions
So I phoned up room service to place our order.
"I'd like two poached eggs with chicken sausage as a side, and then the omelet with cheese, tomato, mushrooms, salmon, and scallions. I'd also like a large pot of coffee for two people, please."
He read back the order: "Two orders of poached eggs with chicken sausage and salmon and one pot of coffee."
"No, sorry, let me repeat. One order of poached eggs, and one omelet, which comes with cheese, tomato, mushrooms, salmon, and scallions. Also a large pot of coffee for two."
"The poached egg comes in orders of two. So you want two?"
"Right, one order of poached eggs, which comes with two poached eggs."
At this point I figured we were on the same page, given the repetition.
The room service order took a while, almost 40 minutes. Eventually the order showed up, which consisted of two orders of poached eggs and no omelet. Grrr! On top of that, the large pot of coffee I ordered for two people was enough to fill two cups about two thirds of the way. So it didn't even consist of a full cup of coffee for both of us.
I pointed out the issue with the poached eggs to the room service attendant, and explained I had ordered an omelet. I even pointed to the omelet I had tried to order on the menu. The nice guy apologized profusely and returned 10 minutes later… with an omelet which had nothing in it. That's certainly not the omelet I ordered originally, and also not the one I pointed to on the menu after the mistake had been made.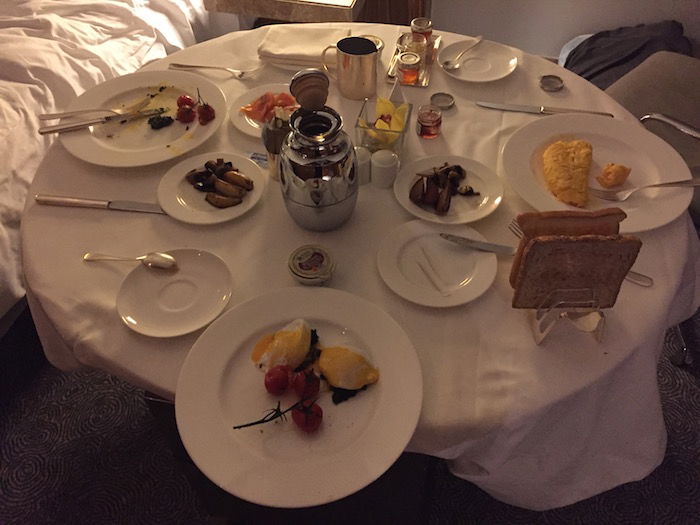 Whatever, it wasn't a huge deal. I tried to charge the order to my room, but was told I had no "credit" on my room, and would need to pay by cash or credit card. Huh?! I had given a credit card at check-in for incidentals, so I found that puzzling. I decided just to pay cash and take this up with the front desk.
It's not often I complain to hotels, but between being sent the wrong order twice, my "large pot of coffee for two" consisting of not even one and a half cups, and not being able to charge my order to the room, I phoned the front desk and asked for the manager on duty.
As it turned out the guy who had answered the phone was the manager on duty. He was extremely professional and apologized profusely. He couldn't have been more understanding, and said "I'm so sorry, it's especially terrible this happened at 2:30AM. Let me investigate please."
We checked out at 6AM and were greeted by the manager on duty, Abhishek, who apologized once again, and even had the cash waiting for me which I had paid for room service, as a refund. I explained I wasn't looking for anything for free, but appreciated his professionalism. Furthermore, he said "there's no excuse, but the guy who took your order admitted you had said it correctly and repeated yourself several times, but he just didn't hear you correctly. The mistake was completely on our end." I thought that was extremely professional, rather than trying to make an excuse for what happened.
On top of that I had asked whether there was anywhere we could get coffee (since we had an early flight), and he immediately offered us some from the cafe on the house, and even sent us on our way with some freshly baked croissants.
Bottom line
While I was amazed by the incompetence of the room service experience, what I take away from it is how professional the manager on duty was. A little bit of service recovery can quickly make up for just about any amount of frustration.
I guess the lesson I should learn here is to stop ordering room service in the middle of the night, because it rarely ends well…