My mind is sort of blown right now.
Ford and I are staying at the Hyatt Capital Gate Abu Dhabi, using my annual free night certificate from the Chase Hyatt Visa Card. We are just in Abu Dhabi for one night enroute to our final destination, and the hotel is lovely as always. I really do love this hotel as a stopover point, and it's my preferred option if I actually want to go sightseeing in Abu Dhabi during a one night stopover (if I just want to relax, I prefer the Westin, as it's a bit closer to the airport but also more secluded).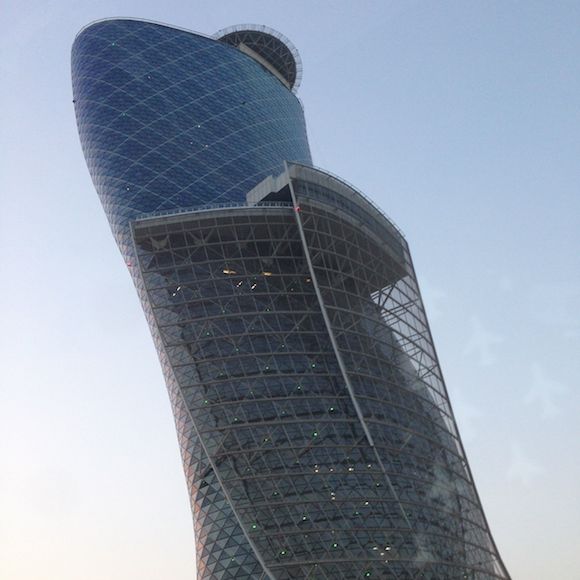 We went out sightseeing for the afternoon…
…and when we returned to the room this cake was waiting for us on the desk:
Okay, so here's the bizarre part. It actually is an "anniversary" for us, but:
I didn't order the cake
I certainly didn't tell anyone it was our anniversary, let alone where we were staying (I booked this only a couple of days before our stay)
I've never written online about our anniversary date
Ford didn't know what hotel we were staying at till we got to Abu Dhabi, so there's no way he or anyone could have arranged it
So I'm just plain baffled.
Did the hotel deliver us the cake on accident and it was just a really lucky coincidence, or HOW ON EARTH DID THEY KNOW?!?
This sort of reminds me of the time the Park Hyatt Dubai read my mind when it comes to the lackluster service they have at breakfast. I had thought one day about how bad service was at breakfast (though didn't say anything), and the next morning I had an email in my inbox apologizing for the lackluster service at breakfast.
But this is even more puzzling.
Anyone have any theories?
In the meantime, kudos to the Hyatt Capital Gate for this generous/sweet/creepy gesture!