Well this is quite… interesting. A Blackpool, UK hotel, charged guests £100 after they left a bad review online, claiming it's their policy. Via The Telegraph:
A couple have been "fined" £100 by a Blackpool hotel they described as a "rotten stinking hovel" on travel review website TripAdvisor.
Tony and Jan Jenkinson posted the negative comments after being unimpressed with the one night they spent at the Broadway Hotel.
The couple, from Whitehaven, later found £100 charged to their credit card. The hotel said its policy was to charge for "bad" reviews.

When the couple queried the surcharge, the hotel's manager said they had a 'no bad review policy' in their terms and conditions.

The policy stated: "Despite the fact that repeat customers and couples love our hotel, your friends and family may not. For every bad review left on any website, the group organizer will be charged a maximum £100 per review".
How's the strategy working out for them? Well, on TripAdvisor the Broadway Hotel is ranked #858 of #894 B&B/Inns in Blackpool, so not very well, apparently.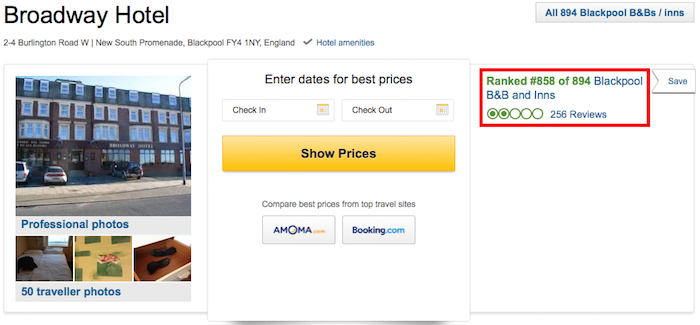 Or if you look at it a different way, I guess it's a brilliant strategy. I can't imagine they have very many return guests, so if you can get an extra £100 out of each guest, that seems like a good way to maximize revenue. 😉

This isn't the first time something like this has happened. Surely people running hotels aren't so stupid as to think this actually works? I have to imagine it's a publicity stunt, something designed to get people talking about the hotel. No one would choose to stay at the hotel based on the online reviews, so they might as well go the route of trying to get people to stay there out of curiosity… no? Or maybe they're just really old school, don't embrace the internet, and still think they can control what's said about them in the world?